Top 10 Headphones For Conference Calls – 2021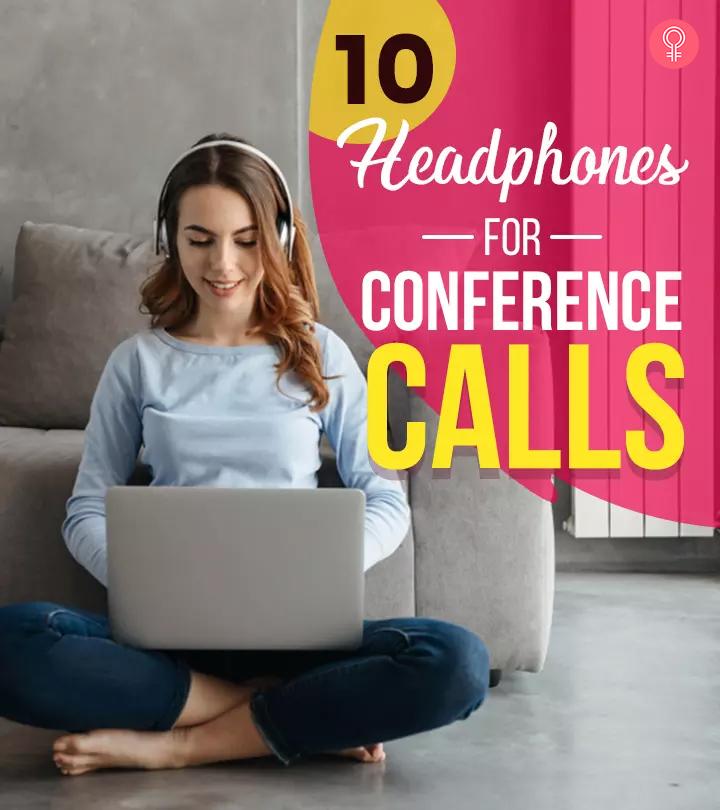 Working from home with the kids running around, neighbors playing loud music, or people talking can be difficult. This is especially true if you have to coordinate with people on multiple levels through conference calls.
In this case, what you need is a good pair of headphones to cancel the background noise. Here's a list of the top 10 headphones for conference calls. Choose the right one for your needs. Scroll down!
Top 10 Headphones For Conference Calls And WFH
Key Specifications: 2 x 6.5 x 8 in, 0.55 lb, Bluetooth 5.0, Bluetooth range: Up to 33 feet, USB-C charging port, Codecs: AAC and SBC.
About The Product
BOSE is a leading electronics company for headphones, home theaters, and speakers. The BOSE Noise Cancelling Wireless Bluetooth Headphones 700 come with Bluetooth 5.0 technology and support voice assistants like Alexa and Google. It has an adaptive four-microphone system that isolates your voice and cancels the noise around you. This lightweight pair of headphones has a stainless steel headband and angled cups that fit comfortably on the ears. It charges fast and looks sleek.
Pros
Sleek design
Great sound
11 levels of noise cancellation
Supports voice commands
Touch controls on ear cups
20 hours of battery life
15 minutes charging lasts up to 3.5 hours
Lightweight
Water-resistant
Comes with a carrying case
Cons
Key Specifications: 6.54 x 3.62 x 7.13 in, 0.85 lb, Hi-Fi Stereo, Bluetooth V 4.0&NFC, Noise Reduction Depth – 28Db, 40mm big speaker drivers.

About The Product
TheCOWIN E7 headphones are wireless, comfortable, lightweight. They offer good noise cancellation, and the 40 mm speaker drivers provide a deep bass sound experience. The headphones have a high-quality built-in mic. The NFC pairing is aided by voice prompts and promises quick and stable connection. The headphones have professional protein earpads and 90° swiveling earcups that provide cushion to the ears and offer comfortable around-ear fit. It offers 30 hours long playtime.
Pros

Wireless
Comfortable
Noise cancellation
Quality sound
30 hours playtime
Stylish design
Great mic quality
Aided by voice prompts 
Cons 
Poor quality construction (may break easily after a few months)
Key Specifications: 7.31 x 2.94 x 10.44 in, 0.56 lb, Frequency Response: 4 Hz- 40,000 Hz.

About The Product
The Sony Noise Cancelling WH1000XM3 Headphones offer good noise cancellation, sound experience, and wired and wireless connection. These foldable earphones make it easy to store and carry along on travels. Just 10 minutes of charging ensures 5 hours of playtime. These headphones offer 30 hours of playtime overall. They are good for conference calls, gaming, and listening to music. They are compatible with voice assistants and have touch controls that make the experience modern and in-style. 
Pros
Chic design
Comfortable
Noise cancellation
30 hours playtime
Foldable earphones
Wireless and wired connection
Carry case included
Voice assistant compatible
Touch control 
Cons
Key Specifications: 3.23 x 8.35 x 10.24 in, 7.05 ounces, Digital stereo sound, Frequency response (Microphone)- 100 Hz – 10 KHz, Headphone Sensitivity – 94dBV/Pa +/ 3 dB, Mic Sensitivity – 17 dBV/Pa +/ 4 dB.

About The Product
Logitech is a trusted brand, and the Logitech USB Headset H390 comes with great noise cancellation and clear sound. It has volume control buttons, padded headband and ear cups, and a rotating mic. It is compatible with Windows Vista, Windows 7, 8, 10, or later and Mac OS X(10.2.8 or later).
Pros
Noise cancellation
Clear sound
Affordable
Comfortable fit
Padded headband
Rotating mic
Good for calls, listening to music, and gaming 
Cons
Key Specifications: 7.5 x 5.4 x 2.5 inches, 7.2 ounces, Acoustic shock protection, 270 degrees of microphone boom arm's rotation, Plantronics Style Quick Disconnect, On-Chip voice/audio Digital Signal Processing(DSP).
About The Product
The IPD IPH-165 Binaural NC Headset is good for professional calls and meetings. It has excellent noise cancellation technology, great sound, adjustable head sliders, and comfortable ear cushions. It is lightweight and durable, and looks stylish.
Pros
Sleek design
Crisp sound
Noise cancellation
Adjustable and comfortable
Acoustic shock protection
Cons
Key Specifications: Dimensions – 6.76 inches x 7.6 inches x 3.86 inches, Weight – 11.4 ounces, Drivers – 50 mm, USB connection – 3.5 mm
About the product
Razer Kraken Tournament Edition is built for immersive gaming experiences. It provides industry-leading audio realism. The headphones come with cooling-gel-infused cushions that prevent pressure build-up and overheating. The noise-canceling microphone reduces the background noise for clear communication. This headphone comes with an analog volume control wheel and mic button.
Pros
Noise cancelling microphone
In-line audio controls
Cooling gel earcups
Durable
Cons
None
Key Specifications: 180 x 165 x 85mm, 280g weight, 20Hz-20KHz, Impedance: 32ohm, Bluetooth V4.1, 40mm stereo drivers, Bluetooth CSR chipset, 28 hours of music play time in wireless mode, 35 mm cable included, answer button and call mute 
About TheProduct
The Avantree ANC031 Active Noise Cancelling Headphones have both wired and wireless technology. They are designed for computer and TV and are great for conference calls and listening to music while working. These headphones have microphone and volume control buttons and offer up to 28 hours wireless play time and 20 hours with the Active Noise Cancelling function. These headphones come with a carry case that makes it easy to store and pack them.
Pros
Bluetooth technology
Can be changed to a wired connection
Affordable
Noise cancellation
Compact and lightweight
Comfortable
No audio delay
Cons
ANC function does not work if the battery is low.
ANC does not work for sudden, sharp noise.
Noise is reduced, not eliminated completely.
The mic and panel controls on the headphone do not work on the wired connection.
Key Specifications: 3.5 x 3 x 1 inches,3.2 ounces, 3.5mm Jack, professional Volume Control, On/Off answer button, Quick Disconnect Plug, On/Off answer button, Mic, Acoustic Shock Protection

About The Product
A great headphone at a great price point! This pair looks quite the 90s headphones, but it is built with the latest technology. The ear cushions are comfortable for long conversations. The headphones offer noise cancellation and give good audio output. The Acoustic Shock Protection protects your hearing. These headphones are durable, comfortable, lightweight, and compatible with iPhones and Android phones.
Pros
Durable
Lightweight
Great design
Noise cancellation
Good quality sound
Compatible with iPhone and Android phone
Affordable
Protects the ears
2 years warranty
Cons
Key Specifications: 11.6 x 9.4 x 4.6 inches, 10.4 ounces, Bluetooth, 85h Wireless Headphones, 36 hours of battery life, 8-mic call technology, voice command compatible, Operating range: Up to 10 m (33 ft), USB cable length: 30 cm.
About The Product
The Jabra Elite 85h is one of the best headphones for noise cancellation and quality sound experience. The Smart Sound technology in these headphones analyzes the surrounding environment sound and adjusts to give you the best experience. It has 36 hours battery life, and 15 minutes of charging can last for 5 hours! These headphones cancel wind noise and are certified water and rain resistant.

Pros
Compact and comfortable
36-hour battery life
Wireless
Noise cancellation
Excellent sound experience
Certified water and rain resistant
Compatible with iPhone and Android phones
Voice command compatible 
Cons
Key Specifications: M565C planar driver, 66mm driver size, 15Hz-50khz, 10 x 10.2 x 4.1 inches, 2.53 pounds
About The Product
The Monolith M565C Over-Ear Planar Magnetic Headphones are redesigned and re-engineered to enhance the sound quality and noise cancellation. They have a closed-back design that keeps the outside noise away and allows only the music in. These headphones deliver excellent audio isolation. The large and comfortable ear pads are made of faux leather, and the headband is padded, which makes them easy to use for hours.
Pros
Noise cancellation
High sound quality
Elegant design
Comfortable
3 different types of jacks
Cons
Expensive
Poor ear ventilation
Not wireless
These are the 10 best headphones to buy online for conference calls, listening to music, and gaming while you are on home quarantine. Here's a list of checkboxes to tick before you buy one.
Things To Consider While Buying Headphones For Conference Calls
Audio Excellence/Sound Quality: You need to pay attention to sound quality while selecting headphones for conference calls. Look for three parameters – driver size, resistance, and sensitivity – to help you pick the best one for your needs.
Bluetooth Connectivity: Bluetooth helps you operate over a short range within a room and also can be connected to your mobile phone seamlessly.
Battery Life: Wireless headphones offer a lesser battery life as compared to their wired counterparts. Estimate the hours you would need to use the headphone and then decide which one fits the bill. Also, keep in mind the charging time required.
Wired Or Wireless: This depends on where and how you want to use the headphone. If you are on-the-go, a wireless headphone is a good option. But if you are at home, consider going for a wired headphone.
Pricing: The budget is an important factor to consider. Do not opt for an inferior quality headphone because it is cheap. Do your research thoroughly and pick one that offers good quality performance in your budget.
Compatibility: The headphones need to support the devices you will pair them up with. Hence, make sure you check the hardware and specifications of the product to avoid future issues.
Comfort Level: Look for comfortable and ergonomic designs. Go for headphones that offer light padded headbands and comfortable ear cushions so that there is no pressure on the top of your head or ears. Headphones are available in three options – in-ear, on-ear, and over the ear. Over the ear headphones may offer better sound quality but may not be as comfortable as the former two.
Noise Isolation: Noise isolation is of two types – Active Noise Cancellation (ANC) and Passive Noise Cancellation (PNC). Headphones with ANC reduce noise by picking up outside noises and playing sounds in the opposite frequency to cancel the sound. However, this technology only works for certain frequencies. Headphones with PNC can block all external sound. Choose a headphone depending on the level of noise isolation you need.
Sound Leakage: Closed-back headphones reduce the amount of ambient sounds, and, as a result, they also leak fewer sounds outside. On the other hand, open-back phones allow ambient sounds through the headphone and leak more sound outside.
Microphone And Controls: Some headphones come with a built-in microphone, while others come with a dedicated boom mic. The latter has noise-cancelling properties. If you need clear transmission, opt for headphones with a dedicated boom mic. Controls help you adjust your audio experience – like volume control, changing tracks, and receiving, hanging, and muting phone calls. Some headphones have controls on the earcups, while others have them along the cable.
Conclusion
Working from home can be made easier with a smart investment on a good pair of headphones. Buy the one that suits your needs and doesn't burn a hole in your pocket.
Stay in, stay safe!
Recommended Articles
The following two tabs change content below.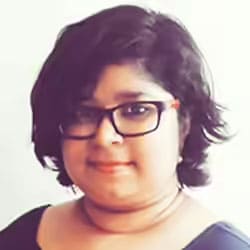 Pratyasha completed her master's degree in English from Shri Shikshayatan College, Kolkata, and is an avid lover of art and literature. She curates and reviews products and appliances that make the readers' household chores easy and keep their homes running smoothly. She started her career as a digital content creator and has written several engaging articles on topics related to lifestyle and travel. Pratyasha is also a massive fan of comic books and good films and dreams of becoming a famous fiction writer someday.