11 Best Rolex Watches For Women That Are A Must Buy In 2023
Adorn your wrists and create your fashion statement with these elegant watches.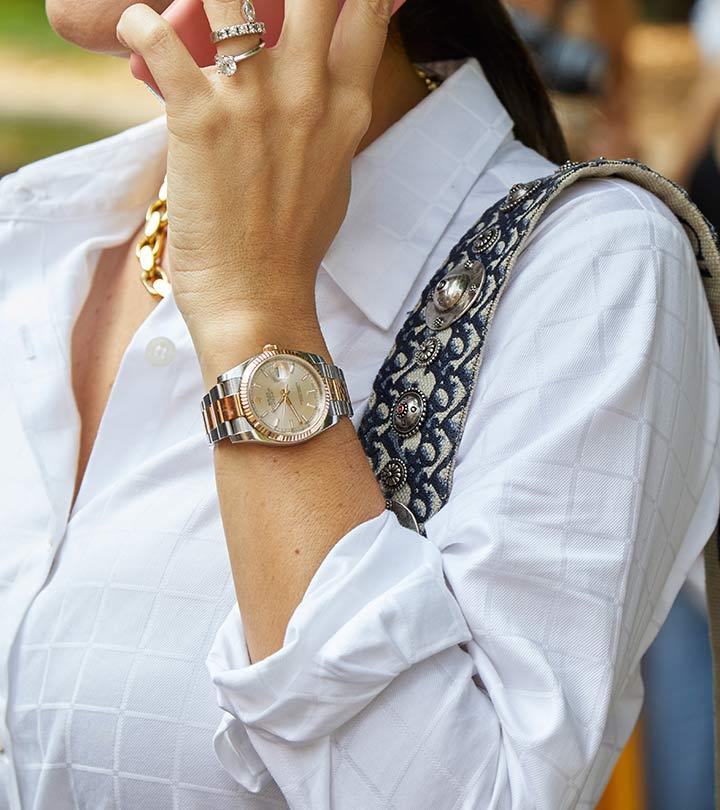 When you are looking for luxury watches, there is no better brand out there than Rolex. The watches from this brand are built with premium quality and constructed with the highest quality materials. The best Rolex watches for women are known for their durability, professionalism, and elegant designs, making them a fashion statement that exudes class and effortless beauty. If you are a watch enthusiast, your ultimate satisfaction would be to add a Rolex watch to your collection.
Are you looking forward to owning this age-old label of luxury? Here are some timeless and classic timepieces that each woman will adore and treasure. Keep reading to explore our top picks and choose one now!
11 Best Rolex Watches For Women
Owning a Rolex is one thing, but owning a Rolex Submariner puts you in a different league altogether. This beauty was introduced 60 years ago and has undergone a series of developments. All that just makes it more irresistible and tasteful.
This iconic watch was designed both for everyday wear as well as rough activities (like sports). The Rolex Submariner is a perfect fit for a woman who likes to spend time underwater. Libbie Mugrabi, a New York-based Fashion Designer, recommends this saying, "This is the perfect watch for adventurous woman to wear when traveling or during a workout! This watch will last for years and keep up with you!"

You can find various similar products but nothing can be purer than the Rolex Oyster Perpetual. This untimely beauty is the world's first-ever waterproof wristwatch. This must-have watch has been designed precisely with accuracy and delicacy.
Living to its quintessential reputation, the Oyster Perpetual is one among the few classic souvenirs that exude solidity and simplicity that speak volumes about the luxury label.

Price at the time of publication: $6995.0
The Sky-Dweller is considered by many as "The Watch For World Travellers." This exceptional timepiece by Rolex is characterized by its second-time zone display on an off-center disc on the dial.
The Sky-Dweller allows easy access to time zones and looks nothing less than a stunning piece of work. This the perfect watch for someone who travels but also wants to add a bit for luxury into their style! The gold within the watch really brings it all together.
Price at the time of publication: $26092.5
This iconic piece was introduced in 1963 and was designed to meet the demands of professional racers.
The Rolex Daytona demands attention toward precision, symmetry, and balance. This timepiece is unique, timeless, and requires confidence and sass for one to pull it off.
Price at the time of publication: $30950.0
An elegant gem and feminine in every sense, the Rolex Datejust has been the definition of class and accuracy since 1945. This gorgeous beauty is the first-ever women's date chronometer that marked the beginning of sheer elegance and feminine beauty. It also has a Cyclops lens to magnify the date in the window on the dial.
Datejust has been designed especially to suit the delicate and supple female wrist and is a perfect blend of alchemy, form, and function.
Price at the time of publication: $13995.0
Rolex Oyster Perpetual 39 is an influential watch that showcases a blue dial and a sunray design for the time. The watch comes with a stylish look and is made of Oystersteel. The screw-down case enables you to change the time quickly. This bracelet is broad, robust, and has flat three-piece links. The steel is highly resistant to corrosion and waterproof to 330 feet. The watch comes with an oyster-clasp folding with a 5 mm extension link. It has automatic movement and is self-winding. The power reserve of this watch is 48 hours.
Pros
Stylish looks
Robust construction
Water resistance
Automatic-winding
Cons
Price at the time of publication: $9995
This timepiece is an acquired taste. Only a few can pull off this bold, solid, and gorgeous accessory. The Rolex Pepsi is the ultimate representation of classic in its original form.
When this watch was newly made, its two colors represented day and night. This watch is extremely popular due to its colored bezel, which is truly rare. The best feature of the Rolex Pepsi is that it has an increased power reserve, unlike any other timepiece.
Price at the time of publication: $44995.0
Rolex Daytona Rainbow in Everose gold is among the few watches that are hugely extravagant and much talked about. It is extremely rare and reflects the highest skill of the Rolex craftsmanship. It exudes simplicity and charm whilst making a strong, bold statement.
The Rolex Daytona Rainbow consists of sapphires along with hints of rainbow gradation. These timepieces are difficult to reproduce, making them all the more valuable and rare.
Price at the time of publication: $29995.0
Let's just say, we've seen better of Rolex than this particular timepiece. The Rolex GMT- Master II Batman walks in the footsteps of the Rolex Pepsi.
This watch is well designed and lies comfortably on the wrist. The bracelet has been slightly modified with the 5mm Easylink extension. This particular bracelet gives the Batman model more elegance.
Price at the time of publication: $22500.0
The Gold Rolex watches capture radiance, beauty, and sheer elegance developed over the years of skill and craftsmanship.
This dream watch uses rare metals, sapphire crystals, and different types of gold (yellow, white, and rose). They are durable and a class apart, and their beauty lasts for generations.
Price at the time of publication: $59950.0
The Rolex GMT Master II is truly one of a kind, earning its reputation as an award-winning watch. This cosmopolitan watch is an aesthetic combination of peerless functionality and exquisite beauty that has gained attention worldwide, mostly among travelers.
The GMT Master II has been designed to show time in two different time zones during intercontinental flights. This timepiece has been manufactured from an extremely hard ceramic material that makes it long-lasting. Additionally, the Rolex GMT Master II features a chronograph function, allowing for precise timekeeping, and includes a convenient date window for added functionality. The Rolex GMT Master II is truly an oyster of the skies in all ways.
Those were our picks of the top 11 Rolex watches for women. Which one is your favorite, and why? Do let us know by leaving a comment in the box below.
Price at the time of publication: $19995.0
Why Trust StyleCraze?
The author, Pratima Ati, is a fashion aficionado and finds her passion in reviewing products and helping people pick the right ones. She has compiled the above list of the best Rolex watches for women based on her hours of research and a careful examination of the reviews shared by the users on trusted online portals. The watches are of premium quality and known for their elegant designs, class, and durability.
Frequently Asked Questions
Where are the best places where you can buy Rolex watches?
If you are looking to purchase a Rolex timepiece, visit an official Rolex retailer. Only the official Rolex retailers can guarantee authenticity and warranty with each and every part of your Rolex. They will help you with the know-how of each Rolex that will last a lifetime. The vast network of Rolex retailers covers more than 100 countries all around the world.
Do Rolex watches sell online?
Yes, Rolex watches do sell online. But it is best if the buyer double-checks for authenticity and warranty that many dealers may not provide. Some online markets do offer official Rolex watches.
Why are Rolex watches so expensive?
The Rolex washes are quite expensive since they are manufactured by skilled labor and made of 904L steel that is corrosion resistant and has an exemplary look.
Are Rolex watches real gold?
The Gold Rolex watches are not plated with gold, but manufactured with high-quality 18crt gold to impart a premium look to the watches.
Are Rolex watches handmade?
No. The Rolex watches are not handmade, but hand assembled and tested. Rolex owns a sophisticated watch-making machines unit in Switzerland that assembles timepieces, attachments, and aligning pins.
Does Rolex do custom watches?
Yes, the Rolex company offers customized watches with multiple permutations and combinations. So, you can choose a style of watch to suit your preferences.
How long do Rolex watches last?
Rolex recommends service every ten years. If the Rolex watches are serviced regularly, they might last a lifetime. However, on average, they may last for five to seven years.
How many years is the Rolex warranty?
Rolex offers a warranty for five years from the date of purchase. However, the claim does not include wear-and-tear, misuse, or loss.
Recommended Article