The 15 Best Curling Irons For Long Hair That Are Worth It – 2023
Get well-defined curls that look voluminous and bouncy with these best-reviewed curlers.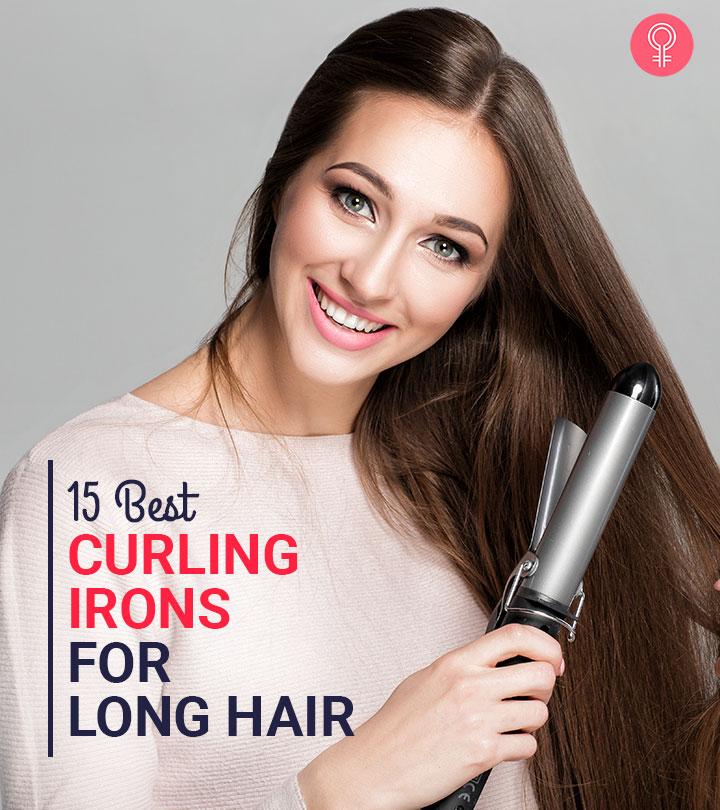 Having long hair can feel empowering; however, styling it can be a herculean task. To make this process easy, you need to get yourself the best curling iron for long hair, which will give you effortless curls in an instant. Please scroll down and look at our list and find your perfect match! Regardless of hair lengths, these curlers will give you the desired results with their ergonomic build and high functioning performance.
15 Best Curling Irons For Long Hair
The Hot Tools Professional Curling Iron has a 24K gold-plated barrel with an extra-long cooling tip to add extra sparkle to your long hair strands. You can create glamorous loops, romantic curls, and even lovely beachy waves with it. It has a fast heat-up control of up to 430°F that gets your hair styled in no time. This iron is equipped with a separate on/off switch, which allows the rheostat to memorize your favorite heat setting. The proprietary Pulse Technology ensures that the curling iron gets hot and stays hot. If there is a drop in temperature, the smart tool senses it and restores the heat to ensure consistent styling. The curling iron has a soft touch handle that provides a comfortable grip for an optimum styling experience. It has an 8 feet long swivel power cord and comes along with a foldaway safety stand that can protect countertops when the device is in use.
Pros
Suitable for all hair types
Fast heat-up technology
Comfortable handle
Heavy-duty swivel cord
Long-lasting heating element
Maintains consistent temperature
Comes with a foldaway stand
Cons
The barrel is not long.
Hair tends to get stuck.
Price at the time of publication: $43.7
The Conair Instant Heat Curling Iron is one of the best curling irons for beginners and is designed to create beautiful and soft waves. This iron has advanced features, and the barrel distributes heat through your hair evenly for shiny and long-lasting curls. With this product, you can get salon-like curls for your long hair at home effortlessly. The turbo heat feature increases the temperature of the barrel up to 36° F for faster styling. The barrel, composed of chromium, copper, nickel, and steel, delivers enduring and exquisite curls. The curling iron is equipped with Smart Technology to ensure no hot spots and provide uniform and stable heat distribution during styling. The device comes with 25 heat settings to suit all hair types. The best part is that this curling iron has an auto-shutoff feature that comes handy when you forget to turn it off. Watch this YouTuber's honest review to learn about the tester's experience to get a better idea about the product and its features.
Pros
Instant heating within 60 seconds
Multi-layer advanced technology
Non-slip handle
Auto-shutoff
25 heat settings
Suitable for all hair types
Twist-free cord
Cons
Price at the time of publication: $21.01
The INFINITIPRO by Conair is a wet/dry tourmaline ceramic curling iron that works on all hair types without damaging the hair. The device has a 1 1/4" barrel that ensures even heat distribution, and the steam vents help in styling damp hair. The iron has five precision LED heat settings up to 400° F for long-lasting results. It generates natural ions for maximum shine. The Tourmaline Technology reduces frizz and makes your hair healthy-looking and shiny. It comes with an auto-shutoff feature and a protective heat shield to prevent scalding. This video documenting the tester's experience will give you a better insight into the product.
Pros
30 seconds heat-up technology
Easy storage
Auto-shutoff
Lightweight
Easy to use
Comes with a protective heat shield
Can be used on damp and dry hair
Cons
Price at the time of publication: $26.99
The KISS Ceramic Instawave Automatic Curling Iron helps you create natural-looking and long-lasting curls with ease. It is a perfect hair styling tool for those who cannot style with regular curling wands and irons. The device is equipped with ceramic ionic technology that produces salon-style curls and waves at home with less frizz and damage. It has a ceramic-infused 1" barrel and two heat settings that can reach up to 420° F. The patented curl dial helps you create inner and outer-facing curls and the spinner has ridges to provide tangle-free results. Before using this product, make sure that your hair is completely dry and well-combed for convenient styling. Watch this video of the reviewer's experience for a thorough understanding of the product.
Pros
Detangles hair
Auto-shutoff after 90 minutes
Reduces frizz
2-year warranty
Cons
Price at the time of publication: $38.27
If you have thick, coarse hair and are tired of multiple twist attempts, the BaByLiss PRO Nano Titanium Spring Curling Iron is your best bet. It is one of the best curling irons for hairstylists to impart smoothness and decrease the possibility of cohesion. This curling iron has Nano titanium technology that produces gentle and far-infrared heat to style your hair without causing damage. The nanotechnology surface treatment helps impart shine, while the Nano titanium barrel evenly distributes heat without hot spots and generates negative ions to make your hair smooth. This curling iron has 50 heat settings up to 450 F and a turbo heat setting to increase heat for faster results and more defined curls. It is available in three sizes – 3/4″, 1″, 1-1/4″, & 1-1/2″. The Sol-Gel technology of this device helps in transforming nano particles of titanium and ceramic from liquid to solid form, ensuring higher and consistent concentrations of both. The barrel is strong, long-lasting, and resistant to chemicals.
Pros
Makes the hair smooth and shiny
50 heat settings
Has a turbo heat setting
Available in 3 sizes
Long-lasting
Resistant to chemicals
Cons
Not suitable for thin hair.
Price at the time of publication: $59.99
This is a versatile curling iron with three barrels to produce natural-looking, luxurious waves. It has fast heating technology and heats up to 420° F. The perfect heat line, along with triple ceramic coating, provides you with optimal heat for less damage and excellent styling. The Jumbo Waver is designed to provide long-lasting and smooth results by helping you style large sections of hair quickly. It has 30 heat settings up to 420º F for precise control and a salon-style finish for all hair types. It comes with a tangle-free swivel cord for ease of use and a hanging ring for convenient storage. Once you are done, all you need to do is press the barrels together and push the locking ring up to store the device.
Pros
3-barrel jumbo waver
Convenient storage
Tangle-free styling
30 heat settings
Tourmaline ceramic coating
Long-lasting results
Cons
Heavy
Cannot grip the hair for long.
Price at the time of publication: $27.98
The INFINITIPRO by Conair Curl Secret is perfect for creating beautiful, soft and shiny curls. It features auto-curl technology that draws your hair gently and automatically into the tourmaline ceramic curl chamber to form the perfect curls. The curling chamber has a V-shaped hair guide in the center that positions the hair while the professional heaters heat the hair from all directions to create gorgeous, flowing curls. The device is equipped with an auto-beep indicator that lets you know when your curls are done. The tourmaline ceramic technology ensures to reduce frizz and flyaways and protects your hair from damage. The device provides even heating up to 400 degrees. It has two heat levels and three timer settings (8.10. and 12 seconds) for customization. It has a sleep mode and a safety auto-off feature. It also comes with a chamber cleaning tool that keeps the device free of dust and debris.
Pros
30 seconds heat-up technology
Instant heat recovery
Long-lasting effects
Prevents hair damage
Auto-off
Brushless motor
Auto-beep indicator
Cons
Price at the time of publication: $84.99
This curling iron helps you create super-shiny, smooth curls, and waves. The "S" shaped barrel with tourmaline ceramic technology helps you create beachy waves in a jiffy, reduces frizz, and imparts shine. The high heat technology up to 400° F helps lock in the style. The multiple heat settings ensure that the device can be used on all hair types, and the instant heat recovery provides fabulous results that last all day long. The device also comes with a plate locking-switch for easy storage and a tangle-free swivel cord for easy styling.
Pros
Multiple heat settings
Tangle-free swivel cord
Quick heating
Works for all hair types
Reduces frizz
Imparts shine
Cons
Price at the time of publication: $33.99
This curling iron helps you create flawless curls and waves with the push of a button. The curling chamber draws your hair into it and tranforms it into perfect curls. The digital temperature display allows you to set the temperature as per your convenience and does not produce excessive heat. The directional buttons allow you to choose the way you want to curl your hair. The curling iron has preset temperature settings for different hair textures. The advanced technology ceramic heat technology generates far-infrared heat and the negative ions condition the hair, making it shiny, healthy, and beautiful. The device comes with an auto temperature lock and a one-hour auto-shutoff.
Pros
Digital display
Prevents tangles
Preset temperature settings
Softens the hair
Makes the hair manageable
1-hour auto-shutoff
9 feet swivel cord
Dual voltage
Cons
Price at the time of publication: $76.88
The TYMO CUES Curling Iron Set is perfect for your every styling need! It comes with 3 different types of ceramic barrels (1", ½", and 1 ½") to give you everything from a bouncy bob, and tousled waves to kinky and spiral curls. Moreover, it has 5 temperature settings ranging from 280 °F to 430 °F, and a LED display for effortless styling. It has an edge over other ordinary curling irons as it features NTC intelligent temperature control to give you just the precise temperature your hair requires! In addition to this, its thick ceramic-coated barrels help reduce frizz, smoothen hair, and lessen hair breakage. Further, it automatically shuts off after 60 minutes if not in use, which saves you from worrying about whether you accidentally left it plugged in for too long. In addition to this, it comes with protective gloves, 2 hair clips, and a premium leather bag.
Pros
60 min auto shut off
360° swivel cord
LED temperature display
Fast even heating
Variable temperature settings
Easy to use
Hair-friendly technology
Dual-voltage
Cons
Price at the time of publication: $69.99
The Xtava Twirl Curl Curling Wand is considered one of the best curling wands of 2023 that produces well-defined, tight curls. It is equipped with a ceramic tourmaline barrel and has ionic technology that eliminates static, frizz, and split-ends from your hair. The curling iron has a tapered wand and offers 22 temperature settings – from 200°F to 410°F – for all hair types. The temperature lock keeps the wand at the ideal temperature for precise styling. The devices features a dual voltage of 110 – 240V AC and a 60-minute automatic shutoff function. The package includes a heat-resistant glove and a carrying bag for convenient use and storage.
Pros
Universal dual voltage
Auto-shutoff
22 adjustable heat settings
8 feet 360 degrees swivel cord
Includes heat-resistant glove and travel case
Cons
Price at the time of publication: $29.99
The L'ANGE HAIR Ondulé Ceramic Curling Wand promises to give you the soft, lush waves and loose curls that you have always dreamed of! Its tourmaline-infused ceramic barrels create ultra-shiny, long-lasting curls. This curling wand comes in two barrel sizes- the medium-sized barrels create windswept bombshell curls, while the larger barrels create loose, glamorous waves. Furthermore, it is equipped with negative ion technology and infrared heat technology that help to eliminate frizz and flyaways. Also, it can heat up to 410° F and retain your curls for a long time. Additionally, the curling iron comes with a 360° swivel cord for easy styling. It has a soft touch handle that helps you grip it with efficient control, while the dual voltage facility makes it a travel-friendly appliance. The barrels are also stain- and corrosion-resistant, so they repel any buildup and impart only silky soft curls.
Pros
Corrosion and stain-resistant barrels
360° swivel cord
Lightweight
Enhances curl definition
Soft touch handle
Long-lasting effect
Easy to use
Dual-voltage
Cons
No temperature control dial.
Price at the time of publication: $49
The Le Angelique Curling iron boasts 8-inch extra long barrels that are designed to offer smooth styling and curling experience to people with long hair. These non-sticky barrels heat your hair evenly while protecting them from accidental burns. Not just that, it also comes with a safety switch light indicator for extra protection. It uses negative ions that smoothen out your hair and reduce excess frizz. Further, this curling iron has a comfortable grip and features a tangle-proof swivel cord which makes styling a breeze. Also, it comes with adjustable 5 heat settings to give you anything from beachy waves to perfect curls. This hot tool can heat up to a maximum of 752 F, to give you lust-worthy curls in no time!
Pros
Safety Switch Indicator
Adjustable heat settings
Heats evenly
Provides volume enhancement
Non-sticky barrels
8 ft swivel cord
Extra long barrels
Sleek design
Cons
Price at the time of publication: $62.99
The BIO IONIC Long Barrel Styler is specifically designed to style long hair effortlessly with its extra long barrel at 6.25 inches. The iron at 1.25 inches is perfect to create soft curls or beachy waves. It also features auto shut off, digital temperature controls, cool-touch finger grip, and 9-feet swivel cord. It comes with a long, tapered design that helps to provide perfect curls. Moreover, the ceramic coated plates help to minimize frizz and protect your hair from damage.
Pros
Hanging loop
Prevents hair damage
Easy to use
Multi-level heat control
Auto shut-off after 60 minutes
9-feet swivel cord
Cons
None
Price at the time of publication: $140.0
The Lanvier Clipped Curling Iron is ergonomically designed with 5 heat settings and a dual voltage design. It comes with an adjustable temperature range of 300℉ to 450℉ to suit different hair types. The dual voltage design allows the use of the curler even while traveling. Moreover, the curler comes with a temperature lock function to lock the styler at your desired temperature. This curling iron has a 9-inch long barrel to specially suit long and thick hair. In addition, it has tourmaline ceramic coated plates that provide consistent heat and high shine.
Pros
Adjustable temperature
Improves curl hold
Adds shine
Easy to style
Auto shut-off after 60 minutes
Worldwide voltage
Affordable
Cons
None
Price at the time of publication: $26.99
Curling long hair is a task that can be very draining if you don't have the right styling tools. Apart from picking the best brand, there are a few other key factors that one must consider while picking the best curling irons for long hair.
Factors To Consider While Buying The Best Curling Irons For Long Hair
Pick a curling iron with high-quality material to protect your hair from heat damage. Curling irons are commonly made of iron but come with four kinds of barrel coatings you must pick from.
Ceramic:This is the safest and most commonly found material in curling irons. It heats up instantly and provides consistent heat without damaging your hair. Suitable for dry, damaged hair.
Titanium:Most professional heat styling tools are made of titanium. This versatile material suits every hair type from thick, rough, fine to coarse. It heats up faster compared to ceramic ones and makes your hair more manageable.
Tourmaline:Tourmaline is a gemstone or mineral that is crushed and coated onto the ceramic plate. It is a safe option as it prevents the chances of your hair getting burnt or damaged.
Gold:The gold-plated curling irons are usually coated on metal, titanium, or ceramic irons. These protect your hair from overheating and make your hair look shinier.
Barrel size plays a key role in picking the right curling iron for long hair. Select a curling iron with a 1.5-inch to 2-inch barrel, as it will give you a more defined look and is easy to use. Use 2-inch curling irons for big waves and curls and 1.5-inch for mild waves and mid-size bouncy curls.
To avoid heat damage, select a curling iron that has adjustable temperature settings. For fine or chemically-treated hair, keep the temperature below 300 degrees. While normal or thick hair types can accommodate higher temperatures ranging from 350 to 450 degrees. So, get a curling iron that comes with an adjustable temperature setting to suit your hair type.
Pick a curling iron that is lightweight, compact, easy to use, and maneuver. Look for professional-grade tools with a long cord that comes with a swivel for swift and unrestricted movements. The curling iron must have additional features like multiple nozzles, an easy access clamp, auto shut-off function, a built-in foldaway safety stand, thermal styling gloves, an iron cleaner, and travel-friendly storage pouch.
Why Trust StyleCraze?
The author of this article, Oyendrila Kanjilal, is a certified skincare coach. Her expertise lies in both skin and hair care and she loves experimenting with a wide variety of products in her domain. To make a list of the best curling iron for long hair, Oyendrila has gone through many online product reviews to ensure that they are safe and effective for users. The products have an ergonomic build and provide high performance to give you your desired look.
Frequently Asked Questions
How to use a curling iron for long hair?
While using a curling iron for long hair, keep the following things in mind:
• Always use a heat protectant spray before curling your hair.
• Use a large detangling comb to detangle your hair before styling.
• Divide your hair into sections with clips. Equally divided strands make curling easy.
• Start by holding the curling iron vertically with the clasp facing forward.
• Hold a single strand of your hair about 1-2 inches from the end.
• Start wrapping the strand from the tips all the way up to the roots around the wand.
• Hold the strand for about 7-10 seconds and leave it gently.
What barrel material is the best for a curling iron?
Titanium is the best barrel material for curling thick and coarse hair. It makes the hair silky and shiny due to the discharge of negative ions. It is also lightweight and durable.
On the other hand, ceramic barrels are suitable for curling thin hair. They provide consistent heat and long-lasting curls.
Tourmaline is a new addition to the materials used for making curling iron barrels. It distributes the heat evenly and prevents your hair from getting damaged. Tourmaline is the right option for you if you want to curl without using excessive heat.
What temperature should I use for my hair type?
For those with thin hair, keep the temperature below 200°F. Heat above this limit might burn the strands. For thick and coarse hair, the temperature should be anywhere between 200-300°F.
How long do you leave long hair in a curling iron?
Get the curls or waves you want by holding each strand of the hair for at least 7-10 seconds. A little more is fine if you want tight curls. Always make sure that you unplug the curling iron after use to prevent any kind of mishap.
Is a curling iron or wand better for long hair?
A curling wand is better for long hair as it offers long-lasting curls and is easier and quicker to use.
What kind of curling iron is the best for long hair?
The 1.25-inch barrel is the best for curling long hair.
What type of curling iron is least damaging for long hair?
Ceramic curling irons are the least damaging as they help distribute the heat evenly on the strands.
Is it OK to use a curling iron every day?
No, using a curling iron or heat styling tool daily may damage the hair.
Recommended Articles