Top 9 Spiral Curling Irons and Wands of 2023
Add some fun and magic to your hairstyle with different kinds of bouncy and voluminous curls.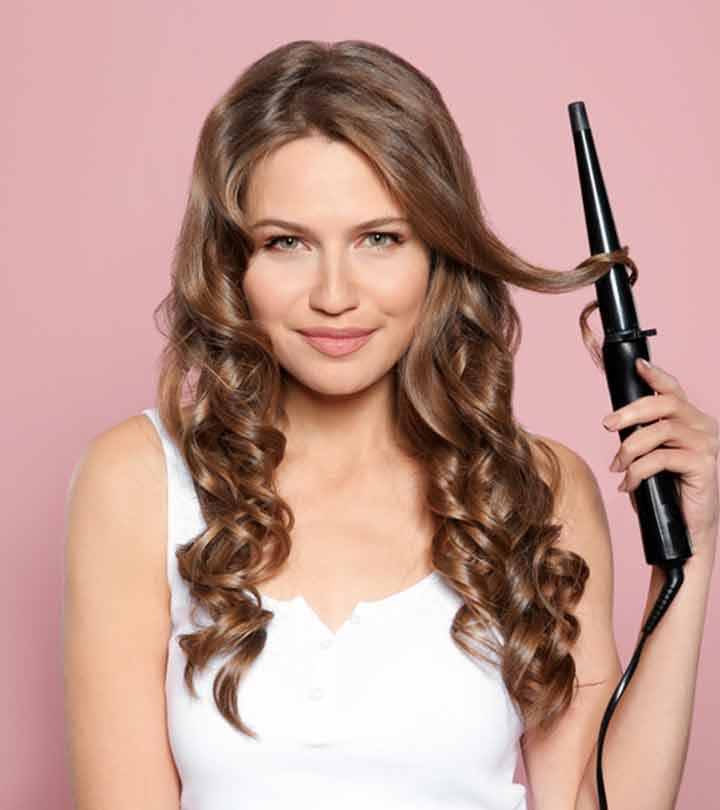 Curly hair looks charming. Unfortunately, not everyone has curly hair naturally. But if you have the best spiral curling iron, you can get beautiful curls on any type of hair. The curling irons help you make defined, smooth, and bouncy curls on your tresses. Its spiral design holds your hair well and makes the job easy. You can now get salon-like curly hair at home using these irons. In this post, we have mentioned the 9 best spiral curling irons so that you can get your dream curls. Check them out below!
What Is A Spiral Curling Iron?
A spiral curling iron is designed in a spiral shape to create salon-like defined curls within minutes. Also, they are available in different barrel sizes, with each barrel offering to make loose to tighter curls as you desire.
Now, who's ready to flaunt their curly side this 2023? Go on and browse through our list of 9 best spiral curling irons of 2023 below.
Read on to know more!
Top 9 Spiral Curling Irons and Wands of 2023
The Terviiix Spiral Warp Curling Wand comes with six temperature settings to give you a variety of stylish curls and loose waves. The curler is also infused with a positive temperature coefficient and temperature lock. This helps it to reach the desired heat level faster and prevent hair from damage due to overheating. It also has a cool shot tip to prevent overheating of the plates.
The curler has a tourmaline barrel infused with a ceramic coating and a keratin layer which offers even heat distribution and nourishes the hair follicles. The wand comes with features such as auto shut-off, a dual voltage system, and travel-friendly packaging. It comes in a variety of attractive color options and is available at an affordable price. The tool is equipped to give diverse styling patterns from beach waves to bouncy tresses. The ceramic iron comes with accessories such as clips, heat-resistant gloves, and a user manual to make styling easy.
Pros
Multiple heat setting
Protective temperature lock
Cool shot tip
Durable ceramic barrel
Offers even heat distribution
Auto shut-off feature
Dual voltage setting
Tangle-free swivel cord
Cons
None

With this user-friendly and advanced spiral curler with an ergonomic handle at home, you can ditch the salon forever. Super easy-to-use, and with a heat-resistant glove and clips included in the set, there will never be a sad curling session with this one! Also, with 5 interchangeable barrels giving you the freedom to jump from wave spirals to bouncy curls instantly, get ready to be named the curl goddess in the squad with Bestope Curling Iron. Learn more about this ceramic iron in this video featuring a tester's experience of using it.
Pros
110-240 universal dual voltage
Made of high-quality tourmaline ceramic
Ensures endless styling possibilities
Guarantees long and fast curls within minutes
Built-in smart chip auto shuts off the tool after 60 minutes to avoid overheating
Cons
For those who fancy long-lasting curls on the go, this sleek, titanium, and rectangular curling wand will be your ideal companion! Heating up in 30 seconds, you can create pretty curls without having to wait for too long. Plus, it gives you long-lasting curls for up to 3 days! This Chopstick Styler Hero Curling Wand Iron is an absolute must-try.  It has a temperature range of 120°C to 210°C, allowing you to customize the heat settings according to your hair type. Besides curling, this titanium iron locks in natural moisture and will keep your curls fresh and defined irrespective of your hair type and lifestyle. Yep, do not skip it, travelers, and workaholics! This video detailing a reviewer's experience of using the curling wand will give you more information about the product.
Pros
Adjustable barrel temperature from 120°C to 210°C
Delivers tight and confident curls
Shuts off automatically after 60 minutes
Includes a heat-resistant glove for added safety
Rotates 360 degrees to ensure high definition curls
Ideal to use on freshly-washed hair, human-hair wigs, and extensions
It has a digital temperature control system.
Cons
Curling may take time
The heat may be too powerful for thinner or finer hair.
Not just natural-looking curls, this one claims to add volume and shine too! Made of tourmaline ceramic, an advanced technology that is specifically known to lock in the natural moisture, your curls will never feel lifeless and worn out ever. Also, this hair tool has a unique mold that keeps the strands in place and delivers a salon-like defined and natural finish with every use. So, if you are looking for frizz-free, tangle-free, and long-lasting results, then Bed Head would be a great addition.
Pros
Heats up to 400° F (dual voltage)
Guarantees springy and tight curls
Clam-free, crease-free, and travel-friendly
Includes a protective glove for added safety
Tangle-free, anti-frizz technology
Cons
Curling thick or long strands may take longer
Curls look attractive, and you can easily obtain them with the GSK Bubble Wand Curling Iron. This ultimate styling tool helps get different types of curls- bouncy, tight, and big curls. The device comes with PTC heating technology and Tourmaline ceramic coating, allowing quick heating and sealing the moisture and shine of your hair. The adjustable multiple heat settings of 260℉ to 420℉ offer precise styling. The kit also includes gloves preventing scalding.
Pros
Hanging loop
Swivel cord
Auto-off feature
Resting stand
Protective barrel coating
Cons
None
Remington PRO 1″ Multi-styler with Twist & Rizle technology comes with unique twisted braided plates of 1 inch. These twisted plates help in styling the hair with ease. The heat control sensor protects hair from heat damage and discoloration by automatic adjustment. The titanium curling iron has ceramic-titanium plates that offer fast and even heat. It comes with 5 heat settings ranging from 300 degrees to 450 degrees Fahrenheit.
Pros
User-friendly LCD digital display
Instant 30 seconds fast heat-up time
Rotating cable
Easy-to-use
60 minutes automatic shut-off timer
Cons
Some users faced issues while curling.
With this professional curling wand, you can self-style like an expert at home! Designed with an extra-long, spiral-shaped barrel and a thin to thick structure, it claims to make perfect curls and natural beachy waves without causing any damage. Give your hair salon-quality results and expert-level finish with pulse technology that guarantees even heat distribution even when you travel! Upgrade your styling kit with this advanced tool today!
Pros
A reputed brand for 25 years
Adjustable heat up to 455° F
Heats up quick and has 4 heat settings
User-friendly dial and control system
Suitable for all hair textures and types
Lightweight, compact, and travel-friendly
Cons
Expensive
May not be ideal for beginners
BlueTop Professional Curling Iron comes with a dual voltage range between 100 to 240 Volts. The ceramic tourmaline plate offers uniform heating. It is designed with a PTC heater which provides fast heating and helps to curl your hair within a short period of time. An extended diameter handle offers safer curling and prevents burning your hands or hair. The 360 degrees rotating power cord enables easy styling of hair.
Pros
Travel-friendly
Easy-to-use
Lengthy cord
Even heating
Clipless design
Cons
Some users faced burning issues.
Lastly, this styling set that'll awaken the beauty maven in you! Explore your talent for styling and flaunt a new hairstyle every day with this wand set that includes 3 different barrels for you. Go on, add a bounce to your tresses during the day, or create some stunning waves for the night, your hair will never look lifeless again. And with the titanium and nano ionic-ceramic technology adding shine and smoothness instantly, get ready to be showered with compliments wherever you go!
Pros
Heats up in 30 seconds
Shuts off automatically after 60 minutes
Adjustable temperature and dual voltage
User-friendly design with a convenient LED display
Suitable to use at home, salon and in hair studios
A set of protective gloves is included for safety.
The barrel tip remains cool during styling and heating.
Cons
May not be ideal or easy-to-use for beginners
*The prices provided in this article are based on the latest available information. However, they may vary due to changes in pricing by the seller and/or promotional offers.
There you go! Those were the 9 best spiral curling irons that you must check out if you are craving beautiful curls this season. Do you need more assistance with buying the right spiral curling iron for your hair? Read our buying guide below!
Buying Guide – How to Choose The Best Curling Iron?
Look out for the following features before buying:
Hair Type: Pick a spiral curling iron that is suitable for your hair type. For example— if you have thick volume, then a curling wand with medium or low temperature may not give you the desired results, and similarly, a curling iron with a short barrel may not be ideal for loose spiral curls or a wavy look. So, pick your curling iron accordingly.
Technology: Ceramic, Titanium, or Tourmaline— these are some of the most common smart technologies that add shine, smoothness, volume, and protection while styling your curls. However, these technologies are suitable for a particular hair type only. So, inspect the technology and whether it is ideal for your hair before buying.
Barrel Size: Barrel sizes and shapes matter too! Ideally, for ultra-defined curls, one should opt for a short barrel. However, if you have long hair, then a larger barrel will be a great choice. And as far as the shapes are concerned, barrels are available in tapered and spiral designs to create perfect curls and wavy looks. So, as per your styling needs, pick the right one!
User-Friendly: Whether you are a beginner or an expert, having a user-friendly design helps to make the styling quick and easy, especially on the go.
Temperature: Inspect the temperature settings and whether they are suitable for your hair type before choosing a curling iron. Ideally, those with fine or thin hair should opt for medium heating, whereas thick hair users would require high heat temperature to get the desired look.
Safety: Curling irons can get extremely hot and can be hazardous for your hair, hand, and skin too. So, pick a brand that offers maximum safety measures so you can enjoy your styling session care-free.
How to Use A Spiral Curling Iron?
It's easy, and though there are several ways to use it, here are some simple steps for you:
Firstly, make sure your hair is washed and dried. You can then apply a heat-protectant serum to minimize the heat damage.
Next, comb and divide your hair into sections. Also, if you want more defined curls, then divide them into narrower sections.
Now, place the strand you want to curl on the barrel starting from the hair end and moving upwards.
Let it stay for about 8-10 seconds, depending on the thickness of the strands, and then release.
Continue the same process for all the sections and finish up with hair spray or mousse to extend the longevity of the curls.
What Are the Pros and Cons of Spiral Curling Irons?
Pros
They create perfectly defined and natural-looking curls with even heat distribution and styling.
The curls last longer irrespective of the lifestyle or weather conditions.
They have smaller clamps, which increase the comfort level and usability too.
Cons
Since they are designed to create defined circles, it may reduce the length of your hair. So, if you have short hair or neck length, you must avoid a spiral curling iron.
Using a spiral curling iron frequently may affect the health of the hair as you are exposing it to a high temperature while styling.
Why Trust Stylecraze
Medha Deb is a hair care and styling buff who loves reviewing various products for her readers. In this article, she has listed and reviewed the best spiral curling irons and wands after scouring countless websites and picking products with the highest user ratings across multiple forums. The shortlisted products ensure even heat distribution to give you the most flattering defined curls.
Frequently Asked Questions
Are Spiral Curling Irons Good For Hair?
It depends on how often you use it. These tools use heat to create hairstyles, so using them frequently or daily can result in hair damage or breakage. Hence, use them occasionally and also, always apply a heat protection serum before curling to minimize the damage.
Do Curling Irons Ruin Your Hair?
Yes, they can be harmful to hair if used frequently and without a heat protection serum. Curling irons use a high temperature to style hair, which can damage the tresses in the long run.
How Long Do Spiral Curls Last?
It may vary depending on the hair type and temperature used to create the curls. Some may last all day long and some for a few days. For example, Chopstick Styler Hero Curling Wand Iron claims to make your curls last for up to 3 days!
What size curling iron makes spiral curls?
The best barrel size to make spiral curls is between 3/8″ and 12''.
Should you straighten your hair before curling?
No. It is not necessary to straighten your hair before curling. You can simply wash, blow dry, and curl it.
Recommended Articles