14 Best Origins Products Of 2022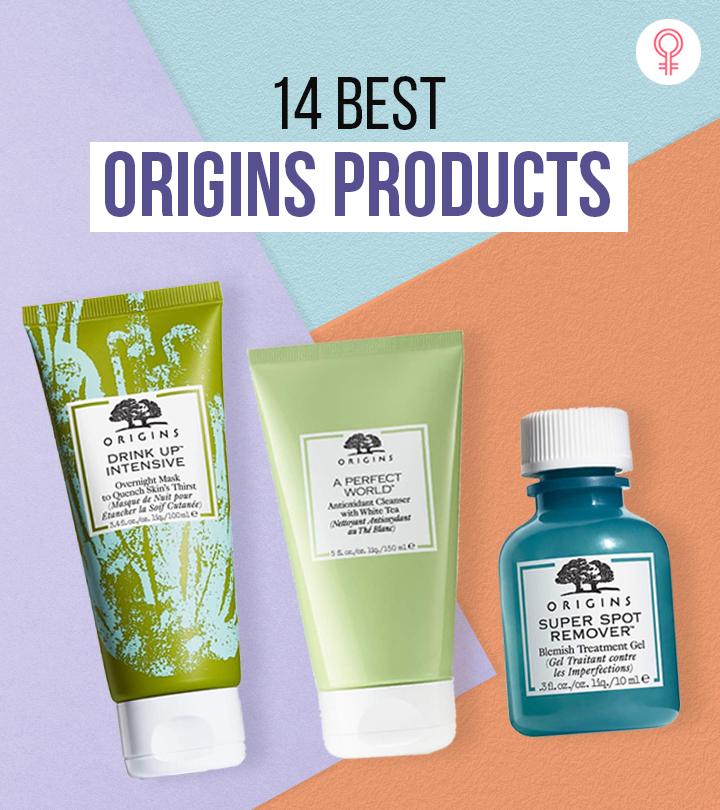 If you are on the lookout for the best Origins products we are here to help! When it comes to skin care, nothing beats natural ingredients. Chemical-filled beauty products can easily harm your skin, causing pimples, breakouts, and rashes. Origins, a well-known skin care brand, is inspired by nature and uses only natural ingredients. Their products are designed to be gentle on your skin. The top 14 Origins products are listed below. Take a look at them and see what you can find that meets your requirements!
14 Best Origins Products Of 2022
The Origins Clear Improvement Active Charcoal Mask will clear your skin from deep within and unclog the pores. It is fused with magical ingredients like white China clay that eliminates dirt, debris, and environmental toxins. The bamboo charcoal works like a magnet to clear the pores, and the lecithin cleanses the skin.
Pros
Detoxifies skin
Smoothening
Purifying
Clears blemishes
Cons 
The Origins Drink Up Intensive Overnight Mask delivers a boost of hydration to your skin as you sleep. This intensely moisturizing overnight cream works to reduce skin dryness and patchiness. It can also be used on your hands to moisturize them. The mask also contains avocado butter, glacier water, and hyaluronic acid that offer extra hydration to skin.
Pros
Hydrating
Moisturizing
Long-lasting
Smoothening
Cons 
May cause a burning sensation.
The Origins Ginzing Energy-Boosting Gel Moisturizer helps one achieve radiating and moisture-rich skin. It is suitable for oily, dry, normal, and combination skin types. This hydrating cream offers 72 hours of continuous hydration to dry, dull, and lusterless skin. Its oil-free formula works on your skin to restore its natural radiance. It is packed with nourishing ingredients like ginseng and energy-boosting caffeine that refresh and revitalize the skin. It is equipped with the Hydra-Hug technology that secures your skin moisture and gives it a supple feel. The blend of natural essential oils such as lemon, grapefruit, and peppermint work to re-energize your senses.
Pros
Hydrating
Seals skin moisture
Prevents sun damage
Oil-free
Cons 
The Origins Ginger Souffle Whipped Body Cream comes with the goodness of olive oil, rice bran oil, grapeseed oil, and apricot kernel oil. These moisturize your skin and keep it smooth. This delicate yet energizing body cream protects your skin against dryness and dullness. Its tangy, crisp, and refreshing scent spreads the magic on your skin and revives your spirits with a soft and relaxing feel.
Pros 
Moisturizing
Mild fragrance
Rejuvenating
Absorbs quickly
Cons 
Consistency could be too thick.
The Origins A Perfect World Age-Defense Moisturizer is an anti-aging cream that can be used on dry, oily, normal, and combination skin types. Its oil-free formula deeply moisturizes the skin and protects it from the harmful and damaging UV rays. It is infused with exclusive antioxidant-rich white tea. This moisturizing cream protects your skin from premature aging, infrared rays, and pollution.
Pros 
Anti-aging
Hydrating
Prevents sun damage
Oil-free
Mild fragrance
Cons 
The Origins Super Spot Remover Blemish Treatment Gel helps control excessive oil and reduces the occurrence of acne and blemishes. This topical treatment gel is suitable for normal, oily, and combination skin types. It helps make skin spotless by preventing discoloration. This anti-blemish solution consists of 1.5% salicylic acid that minimizes the pore size by removing excess oil, dirt, and debris. For best results, apply the gel 2 to 3 times a day, after thoroughly cleaning it.
Pros 
Prevents acne
Removes excess skin oil
Prevent blemishes
Minimizes pore size
Cons 
Protect your skin from the harmful effects of pollution with the A Perfect World Antioxidant Moisturizer from Origins. It is suitable for dry, oily, normal, and combination skin types. This hydrating moisturizer instantly boosts your skin moisture and also protects it from the harmful effects of UV rays and pollutants. The natural antioxidants of white tea prevent premature aging and oxidative damage caused due to sun exposure. It also contains edelweiss, a barrier boosting compound that strengthens skin against the effects of environmental aggressors. The moisturizer comes with SPF 40.
Pros
Anti-aging
Hydrating
Protects from sun damage
Strengthens skin
Moisturizing
Evens out skin tone
Cons 
Environmental stress and aging can cause changes in your skin's protein structure, making your skin look dull. But the Original Skin Matte Moisturizer from Origins helps hydrate your skin while adding a matte touch to it. The moisturizer is suitable for all skin types. It is equipped with willowherb that promotes skin hydration, refines its texture, evens out skin tone, and reduces the size of pores. This lightweight moisturizer also leaves a subtle touch of youthful luster on your skin. It is accompanied by a mild and fresh fragrance.
Pros 
Restores skin shine
Hydrating
Reduces pores
Evens out skin tone
Suitable for daily use
Cons
None
The Origins A Perfect World Antioxidant Cleanser works perfectly on dry to combination skin. This gentle foaming facewash is equipped with antioxidant-rich white tea infused with active minerals that help eliminate dirt. It also contains skin-nourishing palm coconut and oat amino acid that detoxify the skin and protect it from oxidative damage. You can use this foaming face cleanser twice a day to prevent skin issues like dryness, irritation, and dehydration.
Pros
Smoothening
Hydrating
Dermatologically-tested
Cons
Not suitable for sensitive skin
The Origins Dr. Andrew Mega-Mushroom Skin Relief Soothing Treatment Lotion makes an excellent choice for sensitive skin. This hydration boosting lotion reduces skin redness and moisturizes it deeply. It is formulated with active ingredients like reishi, Coprinus mushroom, sea buckthorn, and fermented chaga that promote supple and softer skin without any sign of redness. Reishi is known to possess skin-soothing properties that help calm skin. Coprinus mushroom helps relieve stress from the skin while fermented chaga kills bacteria that cause redness or irritation.
 Pros 
Moisturizing
Softening
Prevents skin irritation
Prevents pimples
Cons 
Consistency could be too thin.
You can now protect your skin from the dead skin cells and pimples with the Origins Out of Trouble 10 Minute Mask. Oily skin can cause many skin problems, including acne and excessive accumulation of dead skin cells. This texturing face mask is equipped with powerful ingredients like camphor, which calms the skin, zinc oxide, which helps absorb excess oil, and sulfur that removes dead cells and debris. The face mask is suitable for oily to combination skin.
Pros
Improves skin texture
Exfoliates skin
Cons
The Origins Plantscription Anti-Aging Cleanser is infused with the power of jasmine flowers, anogeissus, and oat protein. This skin-restoring and anti-aging cleanser helps remove dirt, impurities, and dead cells and makes your skin appear youthful and bright. Its anti-aging properties also reduce the early signs of aging and balance the skin moisture barrier levels. The cleanser is suitable for all skin types. It revives and smoothens skin.
Pros
Moisturizing
Anti-aging
Smoothening
Cons
The Origins High-Potency Night-A-Mins Mineral Enriched Renewal Night Cream gives an aromatic experience to revive your skin and expel dullness. This skin renewing night cream is enriched with vitamins C, E, and H, moisture-rich replenishers, and minerals that improve skin texture and reduce dullness. The cream also contains relaxing aroma oils that enliven your senses and eliminate dry and dead skin cells. It is suitable for dry to normal skin.
Pros
Brightening
Moisturizing
Exfoliating
Offers relaxation
Cons
Not suitable for oily and combination skin types
The Origins Checks And Balances Frothy Face Wash works brilliantly on any skin type. This deep cleansing face-wash thoroughly wipes away dirt, makeup, oil, and impurities to leave you with gorgeous looking and ultra-clean skin. This gentle face wash comes with potent additives like wheat protein, tourmaline, and broadleaf extract that are capable of working on all skin types. The product balances skin oil levels to make your skin oil-free while refreshing and mildly moisturizing it from within. The mint essential oil in the face wash peps up your senses.
Pros
Oil-free
Helps remove makeup
Mild fragrance
Cons
Not suitable for sensitive skin
May cause skin dryness
These are the top 14 Origins products available. The following buying guide can help you make a better purchase decision. Take a look.
The Buying Guide
Although Origins uses only natural plant- and herb-based ingredients, some of those may cause allergic reactions in certain individuals. Go through the ingredients list thoroughly. If you could be allergic to any, avoid the product. 
All Origins products are reasonably priced. They are not heavy on the pocket. You may still want to check the pricing to see if the products fit into your budget.
A majority of Origins products are suitable for all skin types. However, you must still consider your skin type before picking a product. This is especially important if you have sensitive skin.
What Are The Common Ingredients In Origins Products?
Almost all ingredients used in Origins skin care and makeup products are either plant- or herb-based. None of them are derived from animals. Some such ingredients include reishi mushroom, Persian silk tree, willowherb, castor seeds, avocado oil, bitter orange leaf, etc.
Why Trust StyleCraze?
Shiboli Chakraborti, the author, is a certified skin care coach and our resident skin care expert who believes that choosing an excellent skin care brand is the first step to improve your skin health. She conducted extensive research and has spent hours browsing through numerous product reviews and brands, and finally settled on Origins. She recommends using these Origins products based on the formula, ingredients, and skin care benefits.
Frequently Asked Questions
Is Origins a good skin care brand?
Origins is a good skin care brand, as almost all of its products are organic and cruelty-free. They make products suitable for all skin types. Most of their products are also suitable for sensitive skin.
Which Origins moisturizer is the best?
The Origins Ginzing Energy-Boosting Gel Moisturizer is the best. It is suitable for all skin types. It has fantastic skin moisturizing, revitalizing, and brightening capabilities.
Are Origins products 100% cruelty-free?
While most Origins products are cruelty-free, a fraction of them, especially those sold in mainland China, are tested on animals.
Recommended Articles