12 Best Serums For Acne-Prone Skin Available In India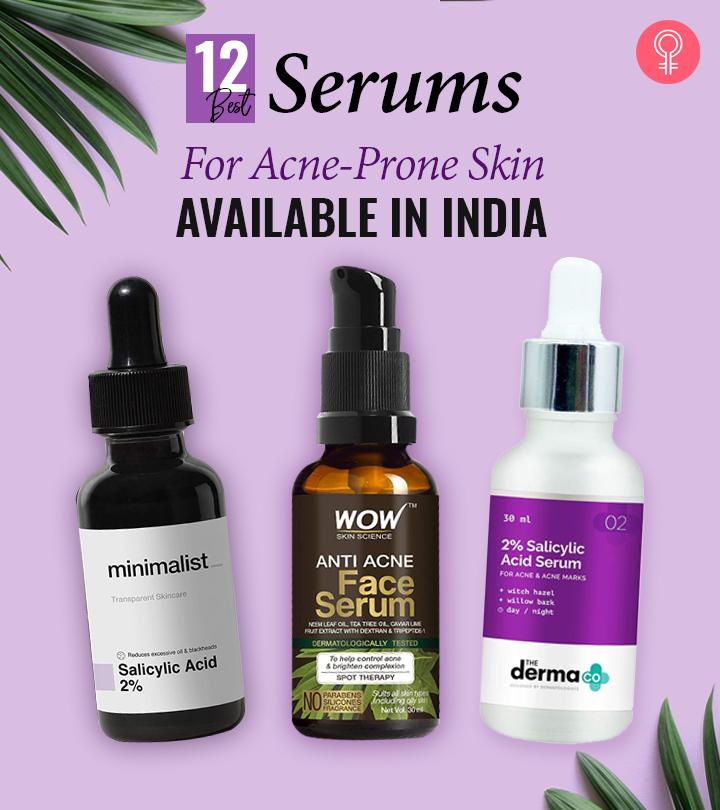 Who does not want flawless, clear, and glowing skin? But the climatic changes, pollution, and hormones may have other plans and cause acne and breakouts. The clogged pores, itchiness, painful redness, and swelling cause discomfort. While many products may help you manage acne, serums can be the ideal choice. They have a concentrated formula with ingredients like salicylic acid and benzoyl peroxide, are lightweight, and do not clog your pores. They can speed up the healing process.
If you are searching for one, scroll down to check our list of facial serums for acne-prone skin that are worth a try.
12 Best Serums for Acne-Prone Skin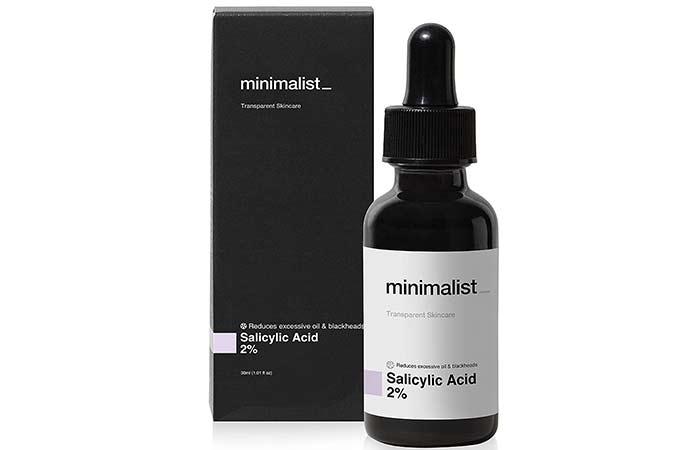 This serum by Minimalist contains 2% salicylic acid and helps balance excess sebum production and keeps your skin shine-free. It penetrates deep into the pores to accelerate the self-exfoliation process of the skin, thus, flushing out debris, dirt, and excess sebum with ease.
The serum eliminates whiteheads and blackheads and minimizes enlarged pores. The aloe vera extracts in the serum help soothe redness and irritation. The formula also helps fade acne scars and other signs of aging like wrinkles, dark spots, fine lines, and hyperpigmentation. Regular use of this serum will make your skin clean, silky, and smooth.
Key Ingredients: Salicylic acid
Pros
Hypoallergenic
pH balanced
Gets absorbed quickly
Non-comedogenic
Silicone-free
Artificial dye-free
Paraben-free
Oil-free
Sulfate-free
Cruelty-free
Cons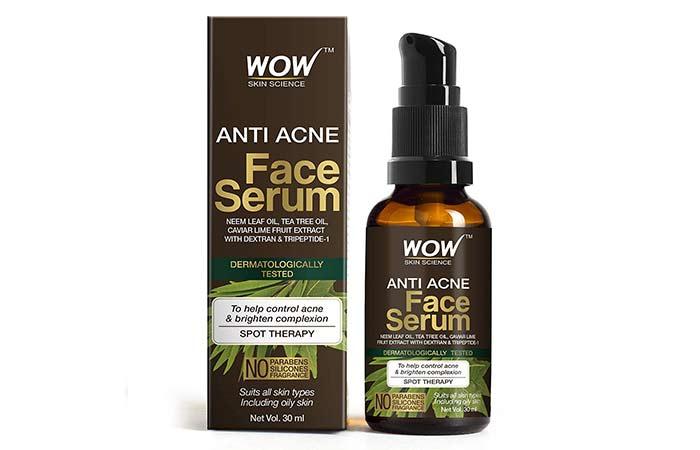 This potentAnti Acne FaceSerum by Wow Skin Science helps to smoothen the pits and acne spots. The serum is super concentrated and contains natural active ingredients to repair and replenish your skin. It enhances your skin's appearance by fading dark spots. Neem leaf oil and tea tree oil are powerful anti-inflammatory ingredients infused in this serum to balance excess sebum and prevent acne-causing bacteria. The formula also contains refreshing caviar lime extract that gently exfoliates dead skin and impurities while enhancing collagen production and firming your skin.
Key Ingredients: Neem Leaf Oil, Tea Tree Extract, Caviar Lime Fruit Extract, Dextran, and Tripeptide-1
Pros
100% Vegan
Gluten-free
Paraben-free
Silicone-free
Mineral oil-free
Artificial fragrance-free
Cons
May irritate sensitive skin
This face serum from The Derma Co contains 2% salicylic acid that deeply penetrates the pores to unclog them and clear dirt, debris, and dead skin cells. It also controls excess sebum in the pores, which reduces acne and prevents further breakouts. The serum is infused with witch hazel that minimizes enlarged pores, deeply cleanses the skin, and prevents acne. The willow bark in the formula exfoliates the skin and reduces excess oil, making it clear and radiant. This serum not only helps reduce acne but also prevents blackheads and whiteheads.
Key Ingredients: Salicylic acid, Witch hazel, and Willow bark
Pros
Lightweight
Mild fragrance
Mineral oil-free
Dye-free
Paraben-free
Sulfate-free
Cons
May cause slight irritation.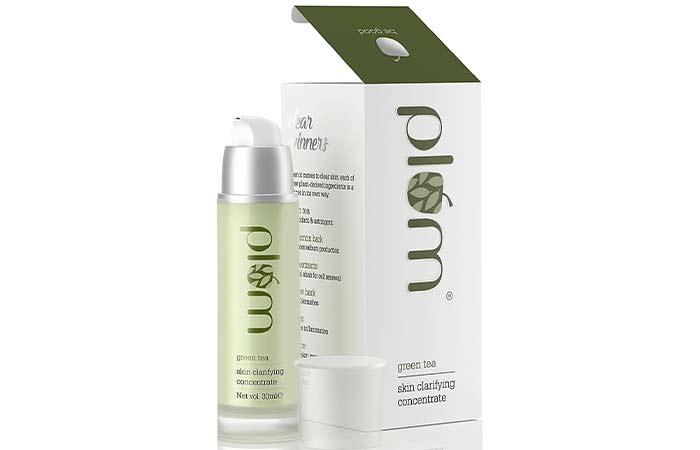 The Plum Green Tea range is one of the best skincare lines for acne-prone skin. This Skin Clarifying Concentrate by Plum is enriched with natural alpha-hydroxy acids and plant extracts that help tackle acne-prone and oily skin. The green tea extract in the serum is a natural antioxidant and helps fade acne marks and target the root cause to prevent further breakouts. The cinnamon bark extract controls excess oil, while the licorice extract targets pigmentation, dark spots, and scars, thus leaving behind clear skin.
Key Ingredients: Green tea, Cinnamon bark, and Licorice extracts
Pros
100% Vegan
Non-toxic
Non-sticky
Non-greasy
Lightweight
Gets absorbed quickly
Silicone-free
SLS-free
Paraben-free
Phthalate-free
Cruelty-free
Cons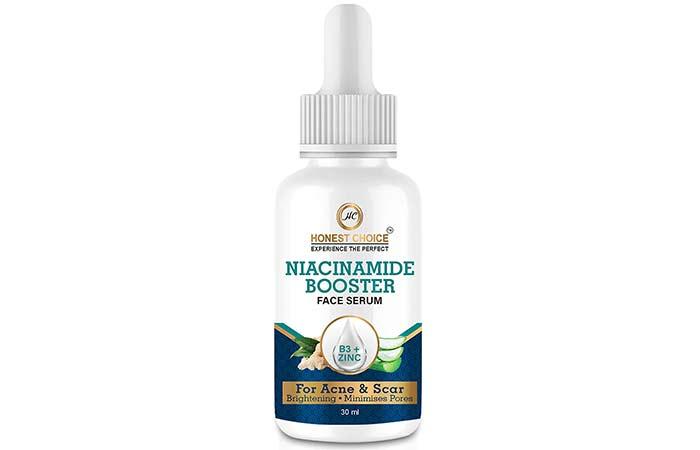 If you have mature and oily skin, this rejuvenating facial serum by Honest Choice is ideal for you. The potent formula of the Niacinamide Booster Face Serum contains AHAsand plant extracts, which help even your skin tone, minimize the appearance of pores, reduce oiliness, and fight acne. The serum is super lightweight and non-greasy and gets absorbed seamlessly into your skin. It contains 1% zinc and 10% niacinamide, which is the perfect combination for aging and breakout-prone skin. The serum helps minimize wrinkles, fade fine lines and blemishes, leaving your skin glowing and renewed. The soothing aloe vera extracts in the formula relieve redness and add a boost of hydration.
Key Ingredients: Niacinamide and Zinc
Pros
Suitable for all skin types
100% Vegan
Artificial fragrance-free
Harmful chemical-free
Paraben-free
SLS-free
Cruelty-free
Cons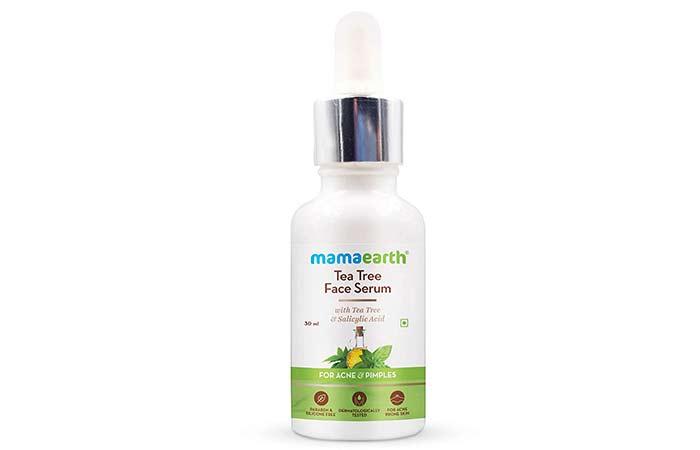 This gentle yet potent facial serum by MamaEarth keeps blemishes and acne at bay. The salicylic acid and tea tree oil in the formula exfoliate your skin and unclog pores to prevent whiteheads, blackheads, and clear debris. The serum also contains antiseptic properties, which target the acne-causing bacteria and help reduce inflammation and breakouts. The licorice extract in the serum fades pigmentation, dark spots and scars, and leaves your skin super clear.
Key Ingredients: Salicylic acid and Tea tree oil
Pros
Lightweight
Gentle
Dermatologically tested
Silicone-free
Paraben-free
Sulfate-free
Petroleum-free
Artificial color-free
Artificial preservatives-free
Cons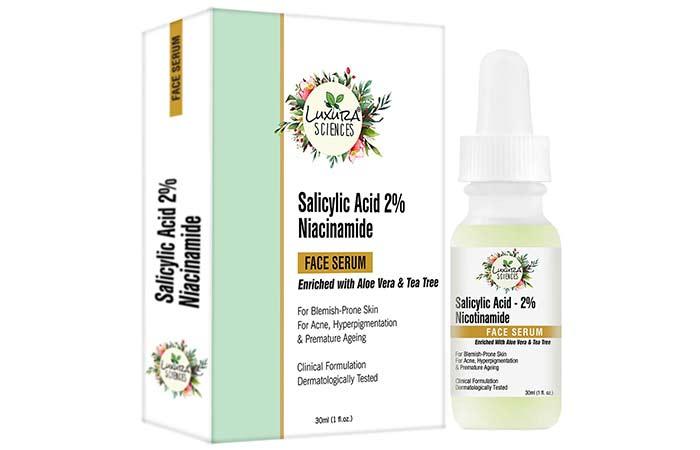 This all-natural treatment by Luxura Sciences is powered by botanical extracts and is the holy grail for acne-prone skin. This mild chemical peel reduces the appearance of breakouts, spots, and oily skin while tightening open pores. The 2% salicylic acid formula helps exfoliate the skin, unclog pores, clear debris, and refine the texture and prevent the formation of new acne.
The formula contains aloe vera, niacinamide. and tea tree extracts that work in tandem to nourish and protect your skin against bacteria and breakouts. They are also rich in antioxidants that keep your skin healthy and younger-looking. Additionally, the serum features chamomile and cucumber extracts that soothe irritation, scars, and redness while replenishing lost moisture.
Key Ingredients: Niacinamide and Salicylic acid
Pros
Botanical ingredients
Dissolves warts
Evens out the skin
Reduces acne inflammation
Lightweight
Alcohol-free
Artificial color-free
Mineral oil-free
Flavor-free
Cons
None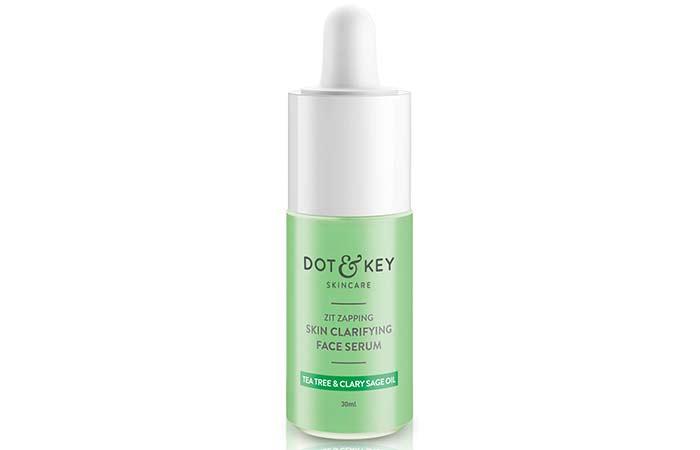 Indulge in this clarifying acne treatment by Dot & Key that works wonders on your skin. This bottle of Zit Zapping Skin Clarifying Face Serum contains clary sage and tea tree oils, which diminish pimples, zits, and acne formation. This formula gently exfoliates the dead skin from the surface and unclog pores. It also removes the excess sebum to reveal a non-oily and clear-looking skin. The neem extract in this serum has antibacterial and anti-inflammatory properties and helps soothe swelling, irritations, and redness.
Key Ingredients: Clary sage and Tea tree oils
Pros
Non-comedogenic
Dermatologically tested
Absorbed quickly
Cruelty-free
Paraben-free
Alcohol-free
Sulfate-free
Cons
May cause breakouts on sensitive skin.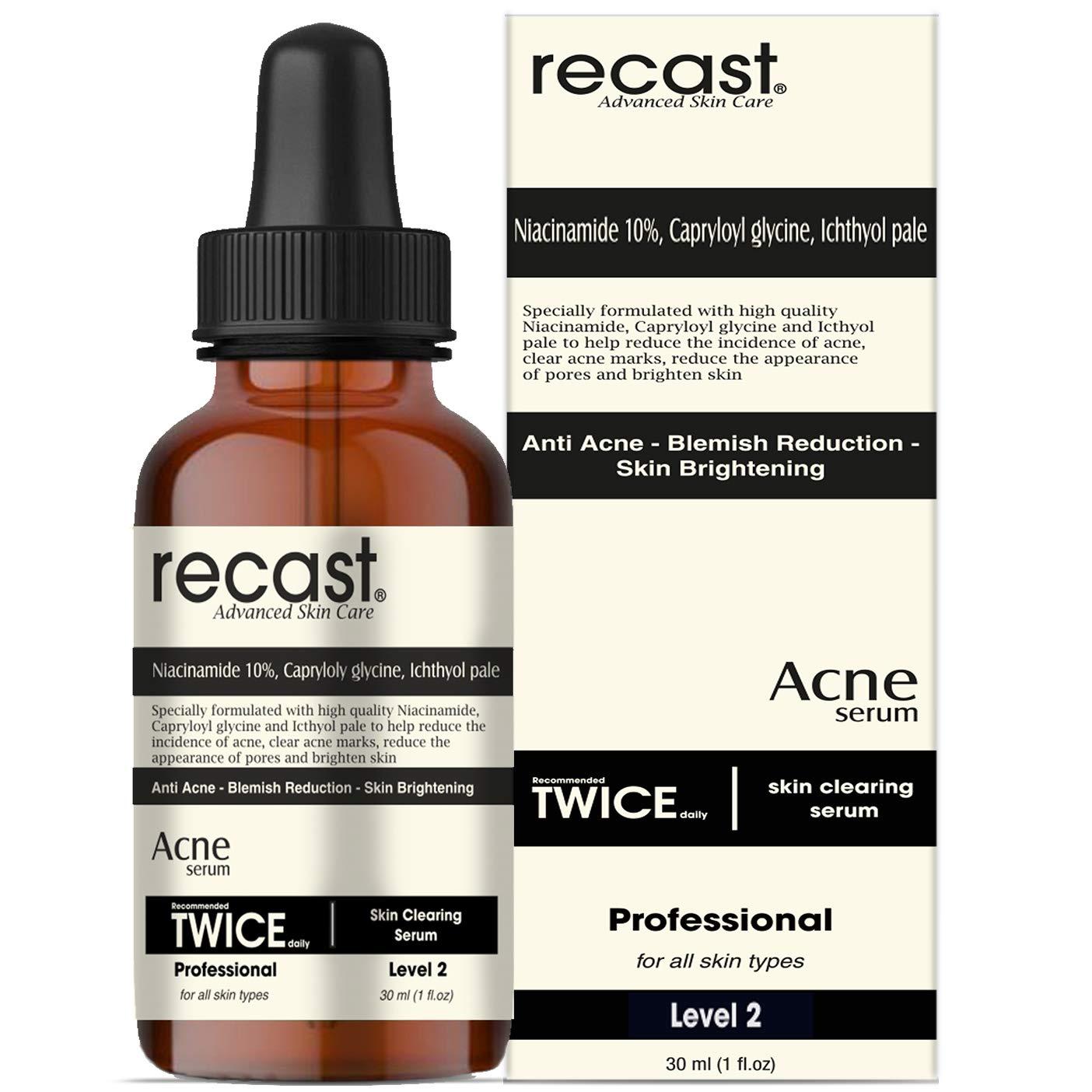 If you are looking for a super-concentrated acne spot treatment, this serum by Recast is the ideal choice! The Advanced Skin Care Acne Serum is super lightweight and absorbs effectively into your skin without leaving any sticky residue. This professional-grade formula contains niacinamide, which can calm even the most severe acne flare-ups like pustules and papules. It also helps gradually lighten acne marks, hyperpigmentation, uneven skin tone, and other signs of aging. The serum contains sandalwood oil, a potent anti-inflammatory, and antiseptic agent that soothe skin irritation, tighten the pores and brighten your skin.
Key Ingredients: Niacinamide and Sandalwood oil
Pros
Pleasant scent
Paraben-free
Sulfate-free
Artificial fragrance-free
Artificial color-free
Mineral oil-free
Cons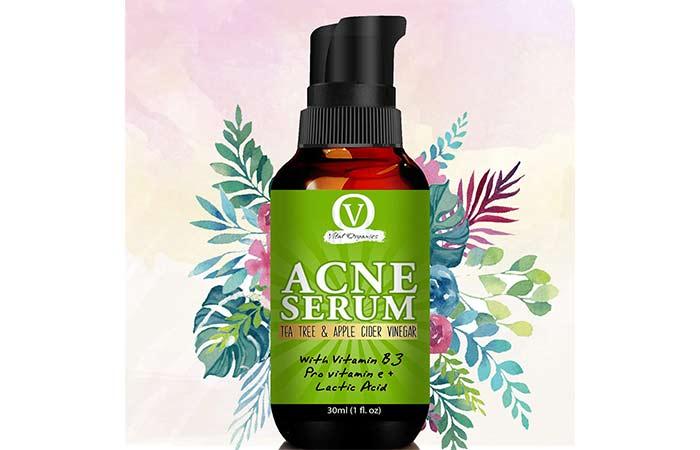 Target the root cause of your acne with this powerful serum by Vital Organics. The revolutionary gel-based formula works immediately to fight acne-causing bacteria and prevent any further breakouts. It is made of natural ingredients and gets absorbed instantly. The apple cider vinegar infused in the serum exfoliates your skin, leaving it clarified and smooth. The formula also contains tea tree oil that has anti-inflammatory properties and helps prevent acne-causing bacterial. Vitamins B3 and E in the serum protect your skin against environmental damages and reverses signs of aging like dark spots, fine lines, wrinkles, blemishes, and hyperpigmentation.
Key Ingredients: Vitamin B3, Pro-Vitamin E, and Lactic acid
Pros
Non-comedogenic
Dermatologist recommended
Non-greasy
Lightweight
Vegan
Ayurvedic formula
Harmful chemical-free
Cons
Overpowering fragrance
May cause breakouts on sensitive skin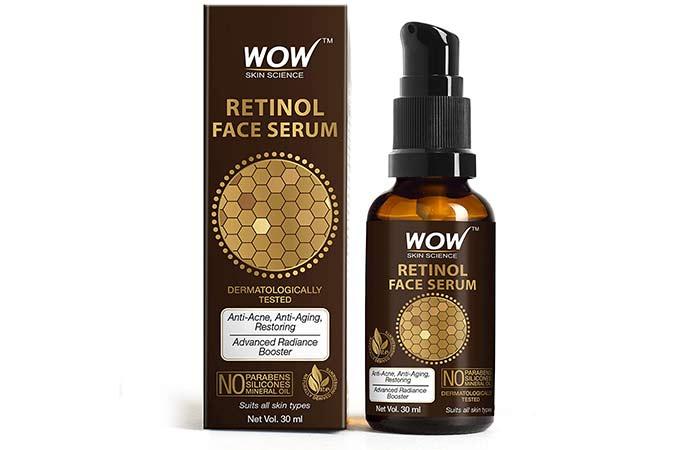 This rejuvenating Retinol FaceSerum by Wow Skin Science is a must-have for your vanity. Retinol promotes cell regeneration, fades pigmentation, dark spots, fine lines, acne spots, and smooths your skin. The formula also contains aloe vera that has anti-inflammatory properties and helps soothe your skin while preventing acne. Vitamin B3 in the formula restores the skin's lipid barrier, while witch hazel detoxifies your skin, minimizes the appearance of enlarged pores, reduces redness, and soothes irritation. These ingredients also improve your skin's elasticity and give a boost of radiance with regular use.
Key Ingredients: Retinol
Pros
Vegan
Mineral oil-free
Paraben-free
Silicone-free
Gluten-free
Cruelty-free
Cons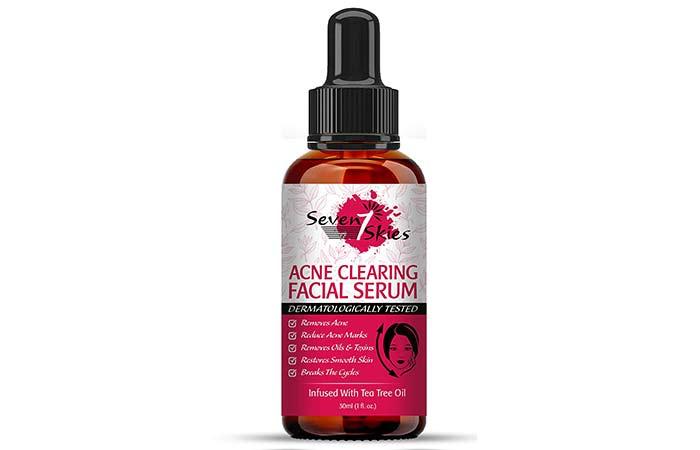 Just as the name states, this facial serum by Seven Skies effectively clears acne and breakouts. The spot action formula claims to reduce pimples, whiteheads, and blackheads within 24 hours. It contains tea tree oil that reduces sebum without stripping away the natural moisture of your skin and prevents acne-causing bacteria. This formula also soothes inflammation, redness, and irritation caused during flare-ups. Regular use of this serum leaves your skin looking clearer, fresher, and glowing.
Key Ingredients: Tea tree oil
Pros
Organic ingredients
Paraben-free
Sulfate-free
Cruelty-free
Cons
Overpowering scent
Contains alcohol
Serums offer various nourishing benefits for acne-prone skin. Some of them are listed below.
 Benefits Of Using Serum For Acne
Serums are much lighter than moisturizers and have a thinner viscosity. Thus, they can be absorbed much easily into your skin. They do not feel heavy on the skin and are suitable for oily and acne-prone skin.
They are rich in active ingredients like hyaluronic acid, salicylic acid, and botanical extracts, which give you targeted and fast results.
They contain antioxidants that help maintain overall skin health and reduce damages caused by environmental aggressors.
Layering your serum in perfect order ensures better results. Here is a step-by-step procedure for incorporating serums for acne-prone skin.
 How To Use Serums For Acne
Step 1: Cleanse
The best way to start your skincare routine is by cleansing with a gentle face wash. This helps clear excess sebum, dirt, and oil from your face.
Step 2: Apply Toner or Face Mist
Spritz an acne-friendly face mist or alcohol-free toner to balance your skin's pH and prep your skin for the next steps. A cleanser cannot clean all residue from the skin. Toners clear the residue and give you a clean canvas to start with.
Step 3: Apply Serum
Massage a pea-sized amount or 3 to 4 drops of serum on your face. Avoid rubbing the product. Instead, gently pat it over your face and neck. Allow your skin to absorb the serum for a few minutes before layering it with other skincare products.
Step 5: Moisturize
The final step is to apply a light, oil-free moisturizer to seal all the goodness of your serum.
Now that you know about the best serums for acne-prone skin and their benefits, here are a few points to consider before buying one.
 How To Choose The Best Serum For Acne
1. Choose Acne Combating Ingredients
Pick serums that contain acne-fighting ingredients like salicylic acid, benzoyl peroxide, alpha hydroxy acids (AHAs), and sulfur. These ingredients eliminate dead skin cells, unclog the pores, fight acne-causing bacteria, and reduce excess sebum.
Also, avoid ingredients like alcohol, mineral oil, silicone, and SLS. These ingredients may irritate the skin and aggravate the condition.
2. Check The Packaging
Choose a serum that comes in a dark bottle. This helps to preserve the potency of the formula. Antioxidants are vulnerable to light and oxygen and may break down when exposed.
Acne-prone skin can be tough to manage, but choosing a suitable serum can help calm inflammation, improve the complexion and reduce breakouts. Review each product listed in our article and pick one that suits your skin and calms your skin condition.

Recommended Articles
The following two tabs change content below.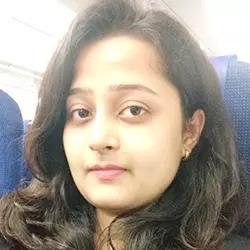 Anjali has a master's degree in Economics and a bachelor's degree in Nutrition and Dietetics. She has over four years...
more