7 Best MAC Nude Lipsticks For Every Skin Tone
Draw everyone's attention and impress your friends with some subtle lip shades.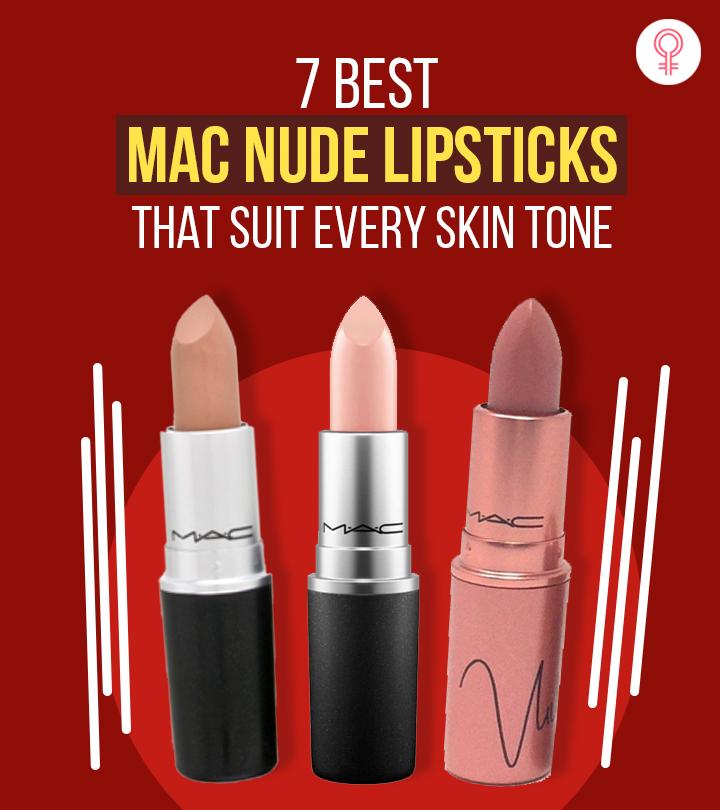 Lipsticks are a game-changer, but what about those who want to keep it subtle and minimal? Luckily, you are not out of options. The best M.A.C. nude lipsticks have become a major hit among users and deserve all the attention, too. The nude lipsticks by M.A.C. are one of the best on the market. They are available in various shades that suit a wide range of skin tones quite impressively. Here, we have listed the best M.A.C. nude lipsticks that are guaranteed to become your favorites. So, go ahead and take a look at our top picks. Keep scrolling!
7 Best MAC Nude LipsticksFor All Skin Tones
Pros
Goes on smooth
Long-lasting
Tastes good
No feathering
Cons
None
Price at the time of publication: $26.08
Pros
Goes on smooth
Buildable
Long-lasting
No harmful chemicals
Cons
None

Pros
Easy application
Long-lasting
Smudge-free
Has SPF 15
Cons
Price at the time of publication: $28.99
Nicki's Nude is a soft pink coral nude lipstick with a satin finish and warm undertones. This special edition lipstick has a moisturizing formula that provides an extended stay. The lightweight, creamy formula glides smoothly on the lips to provide intense color payoff in just one swipe.
Pros
Long-lasting
Moisturizing formula
Easy application
No feathering
Cons
None
Price at the time of publication: $29.99
Long Live The Night is a light peachy, warm-toned lip color that offers high coverage and a glossy finish. This liquid lipstick has a lightweight formula that glides smoothly on the lips to provide full coverage. It is highly pigmented and lasts for 12 hours without budging.
Pros
Smooth application
Long-lasting
No cracking or flaking
Cons
None
Price at the time of publication: $24
Pros
Smooth application
Does not feather
Does not bleed
Long-lasting
Highly pigmented
Cons
None

Price at the time of publication: $33.49
The MAC Powder Kiss Lipstickcontains moisture-coated powder pigments that hydrate and condition your lips. This lightweight lipstick delivers soft-focus color and provides a gorgeous creamy finish. My Tweedy is a warm-toned dark peach shade that glides smoothly over the lips and makes them look supple and irresistible.
Pros
Lightweight
Non-drying
Goes on smooth
Long-lasting
Cons
None
Price at the time of publication: $21.3
If you are a makeup enthusiast, you should definitely add a few nude lippies to your collection of cosmetics because they will never go out of style. However, lipsticks come in different kinds – and you need to consider a few factors before purchasing one. Following this checklist will help you select the most fabulous MAC nude lipstick ever.
Points To Remember While Choosing the Best MAC Nude Lipstick
Since lipstick stays on your lips all day and often gets swallowed, it is crucial to find one that does not contain any dangerous ingredients or chemicals. Parabens, sulfates, and other potentially dangerous substances are found in some of them, so avoid those lippies at all costs. Dermatologist-tested products are safer for those with sensitive skin.
Lipsticks with a mattifying finish should be avoided if you have excessively dry lips. Choose creamy formulas that promise deep moisturization, since they are less prone to dry out, peel or form lines.
Lipsticks that dry to a matte finish are the best option if you perspire heavily. Waterproof lipsticks, in fact, may become your new go-to lip product.
Choose a long-wearing lipstick if you want to wear it to the office; this will cut down on the number of times you have to touch up your lips during the day. Some lipsticks do rub off after eating and drinking anything, so it is not a bad idea to put it in your purse as 'a backup'. Smudge-proof lipsticks are a good choice if you plan on going on a date or if you have a tendency of touching your face frequently.
Waterproof lipsticks are a good choice for people living in humid areas, and during the rainy season. They are a blessing and you should own at least one just in case. However, If you have to wear one while being outdoors all day, choose one with SPF as this sun-filtering ingredient will protect your lips from the harmful UV rays.
Why Trust StyleCraze?
The author of this article, Baishali Bhattacharya, is certified in makeup artistry. Her keen interest in makeup products and continuous check on various makeup trends helped her to curate this list of the bet MAC nude lipsticks. She conducted thorough research and checked online customer feedback on trusted platforms. These lipsticks are subtle, minimal, and long-lasting.
Frequently Asked Questions
What is the best way to apply MAC lipstick?
• Apply a lip primer to your lips.
• Line the outer corners of your upper and lower lips with a lip liner.
• Start by filling your upper lips with the MAC lipstick.
• Press your lips together to transfer the product to your lower lips.
• Then fill the lower lip entirely.
What is the best way to remove MAC lipstick without staining your face?
• Pour a few drops of an oil-based cleanser onto a cotton pad.
• Press the pad on your lips for 10 to 20 seconds.
• Gently wipe the pad on your upper lips to remove the lipstick.
• Repeat the process on your lower lip.
What is the shade of lipstick that suits everyone?
A classic red shade from MAC known as Ruby Woo suits every skin tone. It complements both the palest and the darkest skin tones.
How do you tell if lipstick looks good on you?
If the lipstick enhances your lip structure and adds glow to your skin, know that it is looking good on you. An ideal lipstick shade improves the appearance of your lips without drawing much attention away from your other facial features.
How many hours does MAC lipstick last?
MAC lipsticks last about 8-12 hours.
Recommended Articles: