How To Get Dewy Skin: Best Products To Achieve A Perfect Glow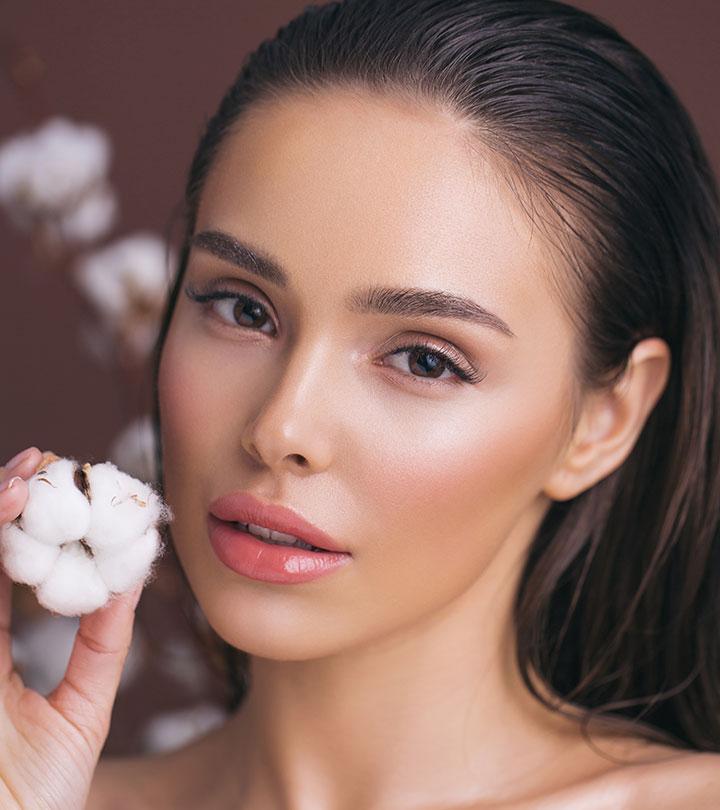 Constantly wondering how to get dewy skin? Well, the answer resides right in the post! These days dewy skin is the most significant beauty trend. From runways to red carpets to street style, dewy skin is wanted everywhere. Glowing and dewy skin shows how healthy and beautiful the skin is. Now that we have dodged the contouring phase, why not embrace the dewy skin look in full blow style, right? All you need are a few products that will add an unmissable glow to your face. If you want to get that glowing, dewy skin, keep scrolling!
How To Get Dewy Skin – Minimal Makeup Tutorial
Nothing looks quite as gorgeous as a fresh, radiant face. With a bunch of makeup hacks, it's easy to achieve dewy, hydrated skin even on the coldest winter days. We'll teach you all the tricks and techniques you need to conquer this art.
What You Need
A BB cream or a lightweight foundation works best for this look. Try the Purlisse BB Cream or the Laura Mercier Candleglow Soft Luminous Foundation in your shade. If you want a detailed review of the product, make sure to take a look at this video.
Try the Fenty Beauty Foundation Brush for a smooth and even application of your base. You can also check this YouTuber's detailed review to know more about the results after using this product.
Use a smoothing primer that will give your complexion the right kind of boost and glow. The Pur Correcting Primer Illuminate and Glow is a must-try for this sort of look. For a thorough review of the product, have a look at this YouTuber's video.
The most important part of this makeup look is your highlighter. You need to try the L'Oreal True Match Lumi Glow Amour.
You can try the Balm Cosmetics Bahama Mama Bronzer for a subtle yet luminizing bronzy glow.
Finally, to set your makeup, use a loose translucent powder that you love. We recommend the NYX Studio Finishing Powder to help your makeup stay put and not get greasy.
Tutorial – Step By Step Tutorial With Pictures
Step 1: Prep Your Skin
Prepping your skin is key to healthy, glowing skin. If your face isn't fresh, there's no way your makeup is going to end up looking pretty. Make sure you cleanse your face thoroughly, exfoliate using a scrub, and apply a pore tightening toner before you go in with any makeup.
Step 2: Moisturize – Really Moisturize
Use a hydrating moisturizer that absorbs into your skin – and make this a habit! You need to moisturize your skin even in the summer because this will reduce the appearance of blemishes and hydrate any parched, dry areas on your skin. Once your moisturizer soaks in, prime your face for an even, flawless-looking complexion. This tiny step will also help your makeup last longer.
Step 3: Apply Your Foundation
Apply a lightweight foundation using a foundation brush. A little goes a long way, so make sure you get just a little product on and then blend it out really well. If you wish, you can also add a bit of concealer to cover dark circles and blemishes. The most important thing to remember is that you need to let a bit of your skin show for excellent results. After all, we are not going for a cakey look.
Step 4: Highlight Your Face
Use a luminizing, liquid highlighter to add that glow to your skin. Dab a little bit of your highlighter on your cheekbones, nose, and chin, and blend it out with a brush.
Step 5: Sculpt Your Cheekbones
Just a little bit of bronzer is enough to define your cheekbones. Make sure you don't go crazy with it as it won't look natural. This bronzy look is perfect for flaunting in the summers.
Step 6: Set Your Makeup
Set your face with a translucent powder because this will help you stay glowy and not turn into an oily wreck by midday.
Once you finish your base, you can define your brows with a translucent or tinted brow gel. Do your eyes and add a bit of color to your lips to pull the look together.
Here's what it finally looks like!
How To Get Dewy Skin Without Makeup
Achieving a dewy glow sans any makeup involves time and commitment to skin care. Ladies, you need to treat skin care as an indulgent, wholesome experience rather than a duty. If you focus on this and the products you incorporate into your beauty regimen, you can work your way to glassy skin from the inside-out. Sounds like a dream, right? Here's what you can do to achieve your #skingoals.
1. Get Sufficient Sleep
As much as it is important to follow that CTM (cleansing, toning and moisturizing) routine every day for healthy skin, it is also just as crucial to hit the bed and get enough sleep every night. So, put down your cellphone, stop scrolling through your Instagram feed, and make sure you get at least eight hours of sleep every night. A good night's sleep will help raise your growth hormones and repair damaged skin cells while slowing down the aging process. You'll be surprised by how much better you look and feel each morning with proper rest.
2. Make SPF A Daily Ritual
We can't stress enough on the importance of SPF on a daily basis. You need to protect your beautiful skin from the harmful UVA and UVB rays of the sun all year round. You will thank your future self as the benefits of using sunscreen every day are felt in the long run. With this mindful step, you can reduce the risk of skin cancer, premature aging, hyperpigmentation, and sunburns. Use a sunscreen with SPF 30 or higher every day, for the rest of your life.
3. Exfoliate On The Reg
Exfoliating your skin not only helps remove that icky barrier of dead skin cells that are clogging your pores, revealing fresh new cells below, but it also helps all your skin care products penetrate deeper into the skin, thus making them way more effective. Exfoliating twice a week will make your skin look smoother, reduce breakouts, and combat signs of aging. If you have sensitive skin, make your own coffee scrub with ground coffee and honey. It works beautifully.
4. Befriend Extra Virgin Coconut Oil
Coconut oil is great for everyone (dry skin, oily skin, sensitive skin – all of you). With its many antibacterial properties, it not only makes for a great moisturizer but also for the best makeup remover and deep cleanser. It's so gentle yet so thorough! You can also use it to reduce the appearance of wrinkles and prevent premature aging. So, if you want that glass-like complexion, make this a part of your beauty regimen and see the difference.
5. Indulge In A Hydrating Mask
Pamper your skin once or twice a week with a clay mask and a hydrating mask to keep your skin fresh and radiant through any season. You can also incorporate a Korean sheet mask into your skin care routine as it does wonders for your skin. It's also utterly relaxing to give yourself a break with a face mask and a nice movie!
6. Incorporate Retinol Into Your Skin Care Routine
You've probably heard of retinol from your friends or dermatologist. But have you tried it? Retinoid refers to a family of vitamin A derivatives. It is one of the best ingredients to do everything for your skin – from fading dark spots and blemishes to preventing breakouts, reducing the appearance of fine lines and wrinkles, and resurfacing your skin's texture. If you are really serious about giving it a shot, consult your dermatologist and get a prescription for Retin-A. You're welcome!
7. Drink Plenty Of Water
We've heard it so much but don't follow it enough. Drink up, ladies! Water is your best friend. Fill that bottle up, carry it around wherever you go, and keep yourselves hydrated. Drinking at least eight glasses of water a day will help eliminate harmful toxins from your skin and body. You'll see that your skin looks more radiant and glowy when you're adequately hydrated with this source of life.
8. Follow A Healthy, Balanced Diet
Get a grip and cut back on all that sugar, dairy, and fried stuff. It's okay to indulge in your favorite junk every now and then, but don't make it a habit. Eat mindfully and treat your body kindly by following a nutritious diet that's rich in vitamins, minerals, proteins, and antioxidants. You can also take supplements for zinc, vitamin E, and vitamin C if you want to boost your skin's radiance. Green tea is also a great way to help both your skin and your body. Engage in some sort of exercise on a regular basis, even if that means going for a quick run every morning.
Skin glowing from both within and outside makes you look healthy. Self-care is crucial when you desire to get glowy skin. Even after following a certain skin care routine, your skin might look dull sometimes. The dull look is because of the lack of sleep, stress, improper diet, and hectic schedules. Best, communicate with experts or dermatologists when things are not going a healthy way. But if you are looking for a temporary fix, makeup can help you to achieve dewy skin by mimicking the natural look. This article helps you out with a bunch of makeup products that add glow to your skin. These products are loved by celebrities and the mass alike.
Why Trust StyleCraze?
The author, Esha Saxena, loves all things makeup and beauty. She is passionate about trying new makeup products and techniques. She is specially obsessed wth the dewy makeup look. That is why she has curated this list of the products that can help you get a luminous glow and hydrated look. She went through multiple online reviews to pick the best products for creating this look. Furthermore, the simple, easy-to-follow tutorial mentioned here can help you get the skin of your dreams in no time.
Recommended Articles:
The following two tabs change content below.