The 11 Best Women's Indoor Cycling Shoes To Try In 2023
Improve your riding experience and avoid muscle cramps with effective footwear.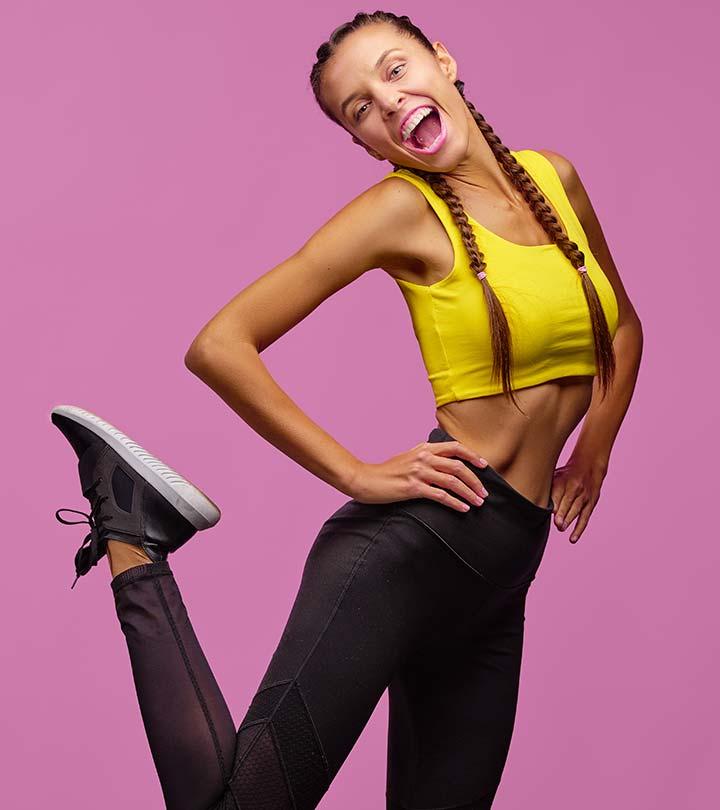 Your regular sneakers or sports shoes may not be cut out for sports like indoor cycling. While cycling, the wrong shoes can lead to long-term pains and other complications and this is why you need to invest in the best women's indoor cycling shoes. These are made from breathable fabrics keeping your feet dry and cool preventing sweat odor or any irritations. Coming to their design, these are ergonomically designed to provide your feet with maximum support while cycling without leading to strain on your leg muscles. Also, another aspect of these shoes that makes them different from regular shoes is their outsoles which are molded for a better grip on the bicycle pedals for both indoor and outdoors. So if cycling is one of your major workouts, investing in the right cycling shoes is a wise idea. However, before you start researching, we have included a list of the most popular indoor cycling footwear for women here to make your work easy.
Fitness expert Jermey King says "Even though you will not likely be walking or running in these shoes it is important they fit well with your feet and fit well with your bike pedals. This will ensure proper form can be executed, and will reduce risk of blisters and injuries."
Explore the reviews of the best-selling and time-tested options that have performed well in our fashion analysis. They can help make your workout cycling sessions comfortable and easy!
The 11 Best Women's Indoor Cycling Shoes For Efficient Rides
These trusted indoor cycling shoes offer all the support you need to have a pleasant cycling experience. They are crafted from synthetic leather that lasts long, so you won't have to find a replacement for them anytime soon. To make your pedals more impactful without putting too much undue strain on your calves, the shoes employ a stiff polyamide sole reinforced with fiber-glass. There's a generous amount of cushioning at the bottom that makes them really comfortable to wear for long durations and allows you to clock some extra miles. The 3 velcro straps out front provide a secure fit, so your feet don't move around inside. If all of that wasn't enough, these affordable cycling shoes come with dual cleat compatibility, which means they will work perfectly well regardless of the type of pedal system.
Pros
Ventilating mesh portion
Reinforced toe box
Velcro closure
Moisture-wicking liner
Breathable inserts
Available in 3 colors
Cons
Setting the clips might be slightly difficult at the beginning.
As a slip-on shoe, the TIEM slipstream is easy to wear and take off. Designed with a special mesh upper to ventilate your feet, the shoes are ideal for those who run too hot or deal with excess sweat accumulation. The upper fabric is an athletic textile that keeps things breezy and comfortable throughout your session. Being SPD compatible, the shoes can suit most bicycle paddles, with the catch being that you will have to separately purchase the SPD cleats. Some other highlights of this pair include a nylon cycling shank for increased durability and a solid rubber outsole for a vice-like grip. These also ensure sole durability. If you're looking for a straightforward, feature-rich shoe that offers enormous comfort and SPD compatibility, this one should be on the top of your wishlist.
Pros
Clip-in style
Convenient and high-performing
Available in 6 colors
Comes with a secure strap
Cons
These statement footwear by Tommaso Pista have a synthetic sole and are crafted with XD-Knit fabric, which is made from strong nylon yarn. The shoes are durable enough to last for years without compromising on performance. The fabric has ultra-breathability and feels soft against the skin. Designed to give you the highest level of comfort, they are meant for both indoor and outdoor cycling as well as walking and even commuting every day. The cleat positioning of these performance shoes is compatible with 2 and 3-bolt cleat sets. Thanks to the seamless construction, your feet will feel relaxed and comfortable as you exercise, ensuring that your energy doesn't go to waste and you can have a comfortable ride at full efficiency.
Pros
Keeps feet dry
Snug, lace-up fit
Insanely durable
Versatile and breathable
Comes with 2-year warranty
Available in 2 colors
Cons
Requires delta set of clips if using the peloton
If you're looking for a stunning pair of shoes to rock on the stationary bike, these are going to be your eternal go-to. The shoes are designed on the basis of Body Geometry features that strengthen your feet and keep your legs properly aligned. Induced with an adjustable hook and loop strap, the shoes finetune every ride by enhancing body power and reducing compressive impact on the body, which makes them a great choice for people who are into hiking and trekking. Many reviewers agree that the micro adjust dial helps you control the fit, while the reinforced outsole adds durability and pedal comfort, preventing your muscles from getting damaged.
Pros
Faux leather sole
Well-ventilated
Ergonomic comfort
Light synthetic upper
U-heel cup design
Compatible with 2 bolts and 3 bolts SPD cleats
Cons
Might sometimes rattle while riding
Now this is what you call a versatile indoor cycling shoe. Although designed for indoor spaces, it works just as effectively when worn outside for walks. Compatible with SPD or 2-hole cleats, the wide-width cycling shoe is an excellent option that will complement most cycling studio bikes. While it offers a wide enough room to comfortably rest your feet during long workout sessions, the fit is still snug and keeps your feet from rubbing or chafing against the insides. Designed with breathable mesh, these performance-enhancing shoes are perfectly capable of handling all the heat you work up on the machine.
Pros
Easy to slip on
Comfortable and wide fit
Supremely comfortable
Shock absorbing EVA midsole
Precise dial adjustment for better fit
Available in 3 colors
Cons
Sizing might be a little difficult to determine
Designed to fulfill the needs of indoor cyclists, the Dynalast range makes pedaling smoother and provides the utmost comfort. The shoe is compatible with 2-hole cleats, which are found in many indoor cycling brands these days. It has a stiff sole to reduce impact and enhance performance. When it comes to fitting, this professional-grade shoe hugs your feet and molds itself to their shape quite effortlessly. To make it more comfortable and high-performance, the designers have used a full-length reinforced plate on the sole, along with the security of a BOA dial fit system that makes sure nothing gets in the way of you and your session. The outsoles are made of rubber and have superior traction, so you don't have to worry about your feet slipping away from the pedals.
Pros
Easy to walk around in
Superior comfort technology
High-ventilation with mesh fabric
Quick and precise adjustment
Optimum pedaling performance
BOA closure
Available in 3 colors
Cons
When looking for a unisex pair of cycling shoes that fits just right and feels great, this has to be your top choice. The upper foot of these shoes is created with a synthetic mesh fabric that allows the shoe to dry quickly. Its outsole is made from wear-resistant nylon that has cleats and can be used for different types of pedal systems. You can adjust the size and fit of the shoe as per your need by just turning the buckle clockwise, which in turn tightens the shoelaces. Being compatible with both 2 and 3-bolt SPD styles, the shoe is Look Delta, SPD, SPD-R, and SPD-SL compatible.
Pros
Lightweight
Non-slip sole
Breathable shoes
Suitable for all day wear
Available in multiple range of colors
Cons
Installing the cleats can be slightly challenging.
A shoe that feels firm and relaxing at the same time, works smoothly on roads and even better on indoor cycles, while being lightweight and breathable is rare to find. Luckily, the Pearl Izumi shoes are a breathable option that come with all that and more, including a 3-strap closure that makes for a snug fit with no pressure on the feet. The outsoles have received positive reviews on Amazon as they are designed from rubber to maintain traction and reduce the chances of skidding. They are also compatible with SPDs, while the select insoles provide great arch support. Overall, the shoes are ideal not only for hardcore gym sessions, but also for all the adventure trips you've got planned.
Pros
Durable quality
Multifunctional design
Nylon composite power plate
Insole provides longitudinal support
Cons
The soles might feel slightly thin over time.
This pair from Tiebao is the ideal choice for those who don't want to invest in 2 separate shoes for outdoor and indoor workouts. Created from synthetic microfiber leather along with a breathable mesh, the shoes keep you comfy and make room for swollen feet, which is natural when you're pedaling for a while. The outsole is constructed with a fiberglass-reinforced nylon that empowers you to utilize your energy in an efficient manner. The detachable, quick-drying insoles are especially great for anyone whose feet tend to get warm and sweaty during workouts because you can get rid of the excess moisture and clean the shoes inside out very often. A unique feature that distinguishes this pair from the rest is the pull tab on its heel, which can be used to bind the shoe to the bike and keep it in place.
Pros
Anti-slip lining
Airflow vents
Adjustable closure
Perforated insole
Available in 2 colors
Compatible with 3-bolts and 2-bolts cleat systems
Cons
Might run smaller for some
This pair of cycling shoes is crafted to keep your feet wrapped in luxurious comfort while you're busy training. The upper features a synthetic mesh fabric that is rather airy and keeps your feet sweat-free. When it comes to the outsole, the shoe is slightly unique because the wear-resistant nylon embraces the shape of your feet almost immediately. Many reviewers have testified that the surface is anti-slip, the rotating buckle is adjustable, and most importantly, the pair is highly compatible with peloton SPD bikes. A cloud-like padding ensures that you're able to slip in and out of the shoes without a hassle.
Pros
Lightweight
Slip-resistant
Versatile
High-quality padding
Available in 7 colors
Cons
The clip mounts are slightly difficult at the start.
With the growing popularity of indoor cycling, these ergonomic design shoes from MEBIKE have gained massive recognition. Designed to be versatile, the pair can also be used for mountain, road, or gravel cycling. Its nylon sole is highly compatible with Look Delta cleats on the road and SPD cleats on mountain trails. Super-lightweight and convenient, the pair's rotary buckle lets you adjust your feet, while the velcro strap keeps your laces intact. If you are looking for ventilating shoes that promote airflow and maintain a cool, dry environment inside, these would be ideal for you.
Pros
Durable nylon outsole
Ergonomic design
Easy put on/off
Synthetic mesh fabric
Adjustable velcro strap
Cons
*The prices provided in this article are based on the latest available information. However, they may vary due to changes in pricing by the seller and/or promotional offers.
Cycling shoes can be of different types, like mountain biking shoes, indoor cycling shoes, and road cycling shoes. Since each of them has different features and purposes, we've come up with a guide to help you navigate all your options and figure out the best fit.
What Are The Different Types Of Cycling Shoes?
Road bike shoes come with stiff soles and wider cleats than others, which makes them difficult to use for walking or running. They are typically used in triathlons and are compatible with 3-bolt cleats.
Mountain shoes are generally quite bulky and feel heavier than indoor cycling shoes. They are designed to keep your feet firm on the pedals in rocky, uneven places where you need some extra grip. What distinguishes them from road bike shoes is that they have a 2-bolt cleat design and are equally useful for walking and hiking up a steep hill.
Such shoes are designed to suit the pedal systems of popular bikes. The outsoles come with cleats or clips that get fastened to pedals. They are lightweight and have breathable fabrics that keep your feet supported and comfortable during strenuous workouts, but aren't suitable for rugged activities outdoors.
How To Choose The Best Women's Indoor Cycling Shoes?
Look out for an ergonomic design before investing in any indoor cycling shoes. There should be enough room in the shoes for your toes as long spin classes can lead to pain in the extremities and joints. Consult the brand's size chart for an accurate fit assessment and go through the user reviews that address the aspect of sizing to be double sure. Also, make sure the shoe is crafted for women's feet because their shape, width, and structure is different from that of a man. The pair should also provide arch support and a snug fit for long-lasting comfort.
Shoes for indoor cycling must have uppers made of highly breathable mesh so that they dry easily, stave off the sweat, and facilitate ventilation. Also, the insoles must be padded and comfortable enough to diminish the impact of shock. Nylon and rubber are the best materials for outsoles, as they are stimulants of traction and help create extra grip on slippery floors. Consider materials that can withstand the test of time and rough use. Also, opt for shoes from trusted brands that are renowned for their diligence in testing their footwear for durability and quality.
Your indoor cycling shoes need to be compatible with your specific bike as well as the most popular pedal systems. In order to enjoy your cycling time, check the shoes for 2-bolts or 3-bolts compatible with SPD cleats as they can fit the majority of commonly used pedal setups.
How To Use Indoor Cycling Shoes?
Indoor cycling shoes are worn just like regular shoes or sneakers. Some of these come with laces while others come as slip ons, easy to put on and take off. The only thing that's different in these cycling shoes are the cleats that need to be adjusted as per the pedal system of the bikes being used.
Why Trust StyleCraze?
The author Priyam Gupta loves to review different products. After thorough research, she provided a detailed list of the best indoor cycling shoes for women. She went through numerous reviews and feedback on multiple forums and brand websites to help you pick the perfect cycling shoes. These products are ergonomically designed to provide your feet with maximum support while cycling without leading to strain on your leg muscles.
Frequently Asked Questions
Is there a difference between men's and women's cycling shoes?
Yes, there's a slight difference between men's and women's cycling shoes in terms of the width, heel size, and midsole design. However, there are several unisex options on the market that eliminate those distinctions and enjoy a broader appeal among cyclists.
Are running shoes good for cycling?
Running shoes can be used for casual and light cycling sessions, but they are not expert-approved for serious anatomical cycling.
How long do indoor cycling shoes last?
While it depends on how often you use them and in what conditions, high-quality indoor cycling shoes are highly durable and might last for years.
Can you use road cycling shoes for indoor cycling?
Yes. Your road cycling shoes will work perfectly for indoor cycling. However, indoor cycling shoes are specially designed for hot, sweaty workouts without a natural breeze to cool you down.
How often should you replace indoor cycling shoes?
Replace your indoor cycling shoes every few years or when you find them torn or worn out.
Do you need cycling shoes for a stationary bike?
Yes. Whether you are indoor cycling or riding a stationary bike, cycling shoes are essential for a great workout experience.
Should you buy indoor cycling shoes a size bigger?
No. Go with your regular shoe size while buying indoor cycling shoes. Cycling shoes run true to size and wrap snugly around the female foot. However, do size up if you are between sizes.
Recommended Articles: