11 Best Salsa Dance Shoes In 2023
Dance your way without worrying about slipping or losing your grip on the floor.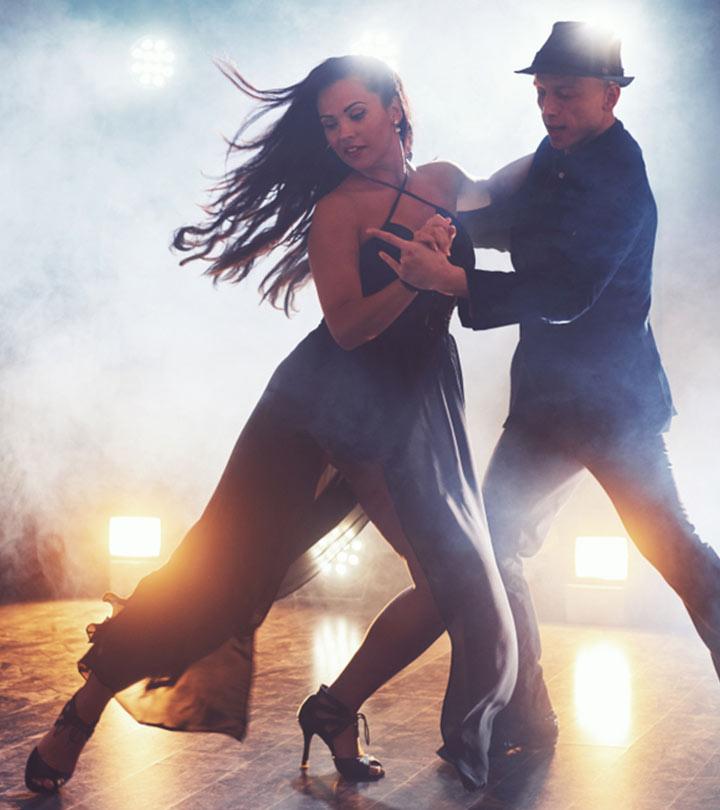 Did you know that the best salsa shoes can go a long way to make your dance performance perfect? These not only help provide a perfect grip and balance but also keep your feet comfortable as you keep moving across the floor. Also, these time-tested shoes are compulsory for many dance institutes teaching salsa as the slippery floors can lead to falls and subsequent injuries with the wrong shoes. So regardless of whether you are a first-timer or a professional, good quality salsa shoes can help you pick the proper techniques and ace in your role as a salsa dancer. Wondering where to get your hands on the best pair of salsa shoes? To make your work easy, we have compiled a list of the most trending and popular salsa shoes for you to have a look at to pick up the pair that meets your requirement the most.
Types Of Salsa Dance Shoes
There are different types of dance shoes that are made to cater different types of requirements. There are many styles of dance shoes that are specifically made for women dancers in order to help with the toe lead and hip movements required for salsa dancing. Here are few different styles of salsa dancing shoes for women :
1. Jazz shoes/ dance sneakers
Flat salsa dance shoes with thin and flexible soles – perfect for practicing salsa dancing as a beginner or a social dancer.
2. Ballroom practise shoes
Similar to men's dress shoes but with higher heels. These types of shoes are most comfortable for when you want to dance for hours.
3. High-heeled dance shoes
These shoes come in a variety of styles, heels, material and colors. They have flexible soles to help with steps and smooth transitions. They secure your feet perfectly and provide a great platform to spin around.
11 Best Salsa Dance Shoes To Step Up Your Rhythm And Style!
Dance in style with these beautiful 2-inch high-heeled dance shoes. Made of faux leather, they have high-quality shiny sequins. The sequins are elegant in color and are bonded to give a 3 dimensional effect. Reviewers like the water-resistant and fold-resistant properties of these shoes which makes them outstanding on the stage. Add some extra shine to your performance with the refractive effect of the sequins that gives a beautiful shining visual while you sway to the sound of music. The shoe features a titanium alloy buckle, which is transparent in texture with a strong anti-oxidation property that is not easy to fade and long lasting gloss. With a thick inner cushion, breathable materials, and a non-slip grip, you will love the soft and comfortable fit of these shoes for long dancing sessions.
Pros
High-quality imitation sheepskin heel
Stretch-resistant
Breathable
Non-slip rubber sole
Cons
Available only in gold, silver, and black
Sizes may run small
If you are looking for comfortable high-heeled ballroom dance shoes, these might just be perfect for you! With 2.5 inches tall and the broad mid-section of the heel, it gives your foot a balanced platform and you are less likely to fall or slip. The ballroom shoes feature a thickened cushion with fine-quality latex, making the shoes extremely comfortable while dancing. According to reviewers, the high-quality satin upper design gives these shoes a very elegant and classy look. The shoe also has an elastic band design for easy wear and removal.
Pros
Lightweight
Sweat absorption suede insole
Flexible shoes
Durable
Easy slip-on closure
Cons
Sizes may run small
Elastic strap closure may get loose
If you're a fan of classic designs that are oh-so-timeless, you're in for a treat! Meticulously crafted with supple leather, these elegant salsa shoes feature suede soles. A T-strap adjustable design rests atop the shoes, giving you the freedom to twist, turn, and tango the way you want while the shoes stay intact and offers a comfortable fit. With a 2.5-inch non-slip heel, you can rest assured that your feet are in good hands. Lined with moisture-wicking brushed material and comfy insoles, these shoes are all you need to dance the night away.
Pros
Sleek and elegant
Provides arch support
Available in all sizes
Affordable range
Cons
Available only in black
Rubber heel sole may wear off
Made with high-quality satin upper, these classic shoes are silky soft to the touch. The shoe is generously and elegantly designed with adjustable criss-cross ankle straps. It also has a matching shining rhinestone detail on the buckle with a quick release feature that makes these shoes beautiful and practical at the same time. Available in 2 colors, tan and black, these will become your favorite shoes as they also come in 2 different heel heights to choose from – 2.2 and 2.8 inches. Many reviews on trusted online forums state the high elastic latex midsole and cushioned insole wraps your feet in comfort throughout your dance sessions.
Pros
Breathable lining
Anti-slip suede sole
Light materials
High wear resistance
Made with soft materials
Cons
SSome may find the shoe a slightly narrow fit.
With a stylish and sophisticated design, this shoe boasts durability and comfort. Made with a soft suede sole, the simple yet generous design features high-quality satin and mesh upper. With thickened straps and quick release buckle, the comfortable dance shoe firmly supports your feet for smooth and graceful dancing. A high elastic latex midsole keeps you flexible with just enough grip to easily glide across the floor while the soft breathable inner lining keeps your feet sweat-free.
Pros
Sweat absorption suede insole
Available in 3-inch and 2.5- inch heel height
Lightweight
Soft to touch
True to size
Suitable for wide feet
Cons
Long strap may need to be cut to fit
With a wide range of colors and heel heights along with an option to customize the heel height, this brand of shoes will not disappoint you. The salsa dance footwear combines secure ankle straps, a lightweight design, and a stylish appearance, making it the perfect choice for dancers seeking professional quality with heel options, pivot points, durable construction, and toe protection. They are closed-toe salsa dance shoes that are made with love and care for your feet. The shoe features a T-strap style upper design that sparkles with generous synthetic glitter to add shine to your dance routines. Catering to your requirement for either indoor or outdoor usage, you are also given a choice to select the sole of the shoes. The indoor ballroom sole is made with high quality cow suede leather for smooth and graceful salsa dance moves. Ideal for more rugged use, the outdoor shoe sole is made with Some may find the shoe a slightly narrow fit.
Pros
Customizable heel height and shoe sole
Lightweight
Durable
Affordable range
Cons
No cushioned insole may be uncomfortable
Fleece lining might get dirty easily
Made by professional dance shoe manufacturers, these shoes are fashionable and perfectly balanced. For superior flexibility, the shoes feature elastic latex material insoles, keeping your feet comfortable and prevents strain caused by long dance routines. Made with premium quality suede, the shoe perfectly grabs your feet while the multiple interwoven forefoot straps provide your feet with ample support. Laced with adjustable criss-cross ankle straps, the shoe features a speed adjustable buckle for easy wear. The open toe and sides shoe has 2.3-inch flared heel classy enough for gracefully gliding across the dance floor.
Pros
Cushioned insole
Satin upper
True to size
Speed buckle
Cons
Limited colors
Might not be suitable for wide feet
Made with high-quality genuine leather, these shoes are from a trusted brand of ballroom dance shoes. They feature a premium leather upper, which is lined with moisture-absorbing brushed material. Multiple reviews state that the shoe design shows exquisite workmanship that matches your style and taste. The cushioned insole of the shoes makes it comfortable and the soft suede sole makes them ideal for smooth turns. The strengthened counter is made of steel, which not only provides extra protection to your ankle but also makes it highly durable.
Pros
Lightweight
Durable
2-inch heel
Suitable for wide feet
Genuine leather shoe
Cons
New shoes may have an unpleasant smell
If you like your dance shoes to have a bit of sparkle, these will be an ideal choice. Made with beautiful soft satin these shoes have sparkly glitter adding to its beauty in just the right amount. The soft suede insole and modern design makes these shoes perfect for any Latin dance form whether you are an amateur or a professional dancer. Extremely lightweight, these are the perfect dance shoes that can be customized with 2.5-inch or 3-inch heels.
Pros
Flexible
Comfortable
Available in all 3 popular colors– Red, Black and Tan
Quick release buckle
Cons
Brand size runs large
No cushioned insole may be uncomfortable for some
If dancing boots are your choice of shoes, this pair will not disappoint you. These ankle length dancing boots are the perfect choice for both comfort and style. Handcrafted for perfection, these shoes feature suede sole and leatherette lining making them extremely flexible yet slip-proof. These soft and durable shoes have cushion insoles for added comfort. The shoe also features a zipper closure which is cleverly incorporated into the back of the boots and is available in a wide range of attractive colors to match the modern trends.
Pros
Customized rubber sole for outdoors available
Handcrafted
Adjustable upper straps
Cons
May not be suitable for summer
This beautiful pair of closed toe salsa dance shoes are made with high-quality materials. The upper of these shoes is made with premium PU material and sparkly sequins that add shine to your style. Comfortable insoles are resistant to compression or any deformation, making them withstand long dancing sessions. The thickened latex sole makes the shoes soft and comfortable and protects your feet from any strain. The company offers you to choose between the type of sole. If you are looking exclusively for indoor dance shoes, you could select a suede sole which is anti-slip and anti-static making you look graceful during your dance. If you want to use these statement footwear outdoors, a waterproof rubber sole would be ideal for daily wear as well as the dance sessions.
Pros
Wide range of colors
Quick buckle
Anti-skid
Option to customize heel
Adjustable cross ankle strap
Cons
*The prices provided in this article are based on the latest available information. However, they may vary due to changes in pricing by the seller and/or promotional offers.
Having looked at the 11 best pairs of salsa dancing shoes, let us walk you through a few important points to consider before investing in dancing shoes. These points will help you choose the one that will be perfect for your feet –
How To Choose Your Perfect Pair Of Salsa Dance Shoes?
Choosing the right shoe for your dance sessions is important, whether you are a beginner or a professional social dancer. The right pair of dance shoes are important for correct posture and balance. They give you the right amount of grip and support for graceful dancing. Here are few things you should remember before buying shoes for salsa dancing:
1. The right fit
The shoe should fit your feet like a glove, especially around your ankle. The shoe will definitely stretch with prolonged usage, so make sure they are not too tight or too loose. The fit of the shoe is important as the right fit will allow your feet to connect to the floor properly and help you focus on your movements. Consult a shoe specialist for your fit assessment before picking the right Salsa shoes.
2. The right sole
Dancing shoes are lightweight and allow freedom of movement. The shoe sole should allow for better movements by keeping you on your foot and your heel in place. Soles made of suede or leather are ideal as they are skid-resistant and lightweight. They are ideal for the wooden dance floors.
3. The right heel
Women generally wear heeled shoes for better balance and posture. Salsa dancing heels can be as low as 0.5 inch or as high as 4-inch. High-heeled shoes give shape to the legs and make the hip movements look more defined and elegant. If you are a beginner, you should wear a 2.5-inch heel or lower to make your feet feel comfortable while dancing. With higher heels, your weight will be pushed forward to the ball of your foot which may be uncomfortable and painful.
4. The right support
The footbed of the shoe should have generous padding and cushion to alleviate any pressure and absorb shocks while you are making sudden turns, twists and stops in your dance event. The heels and arch of the shoe should also be cushioned to provide stability and keep the foot in position.
Why Trust StyleCraze?
Priyam Gupta, the author, is a fashion enthusiast. After thorough research, she provided a detailed list of the best salsa dance shoes. She went through numerous product reviews and user feedback on multiple forums and brand websites to help you pick the perfect shoes. The products listed in this post can help you pick the proper techniques easily and ace your role as a salsa dancer.
Frequently Asked Questions
What type of salsa shoes should a beginner wear?
If you are a beginner in Salsa dancing, you must wear shoes with a smooth bottom with anti-slip soles. Stay away from rubber or plastic soles and look for high quality cow suede leather sole shoes for better grip and flexibility. These are also lightweight that help you move smoothly without any friction. Also, as a beginner, look for expert-approved shoes that are not backless and support your heels with proper heel locking to avoid slipping and sliding out.
How long do salsa dance shoes last?
If you invest in good quality dance shoes that are made of sustainable materials, they can last between 5 months to 1 year with proper care. The lifespan of dance shoes depends entirely on how often they are used and if they are being taken care of after every use.
Recommended Articles