11 Best Shoes For Female Teachers That Are Comfortable & Stylish
Teach and guide your students all day long comfortably wearing these cushioned shoes.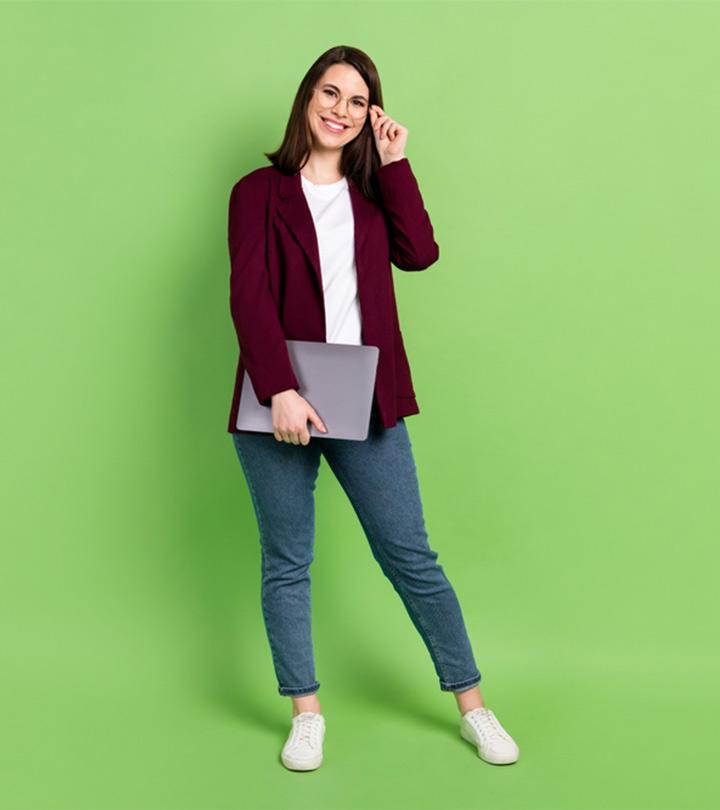 If you are a teacher or an educator, you probably find yourself on your feet for long hours. To avoid pain and a slew of feet-related conditions, you can consider investing in the best shoes for teachers, designed to offer long-lasting comfort and support to the feet.
As teachers, you probably have to stand on rough surfaces and move around a lot during school hours, and these shoes can help reduce the pressure and strain from your joints and feet. Opt for sturdy, comfy, and stylish shoes at the same time. And if you can, you should stay away from heels and choose more practical options like sneakers and slip-ons. These shoes are designed with durable and breathable materials that enable flexibility and easy movement. They even provide heavy-duty cushioning and proper grip so that you don't trip and fall while chasing a toddler. These comfortable shoes can save you from injuries, joint and knee pain, and arthritis. Check out our list below to explore footwear that is ideal for teachers. Don't worry; these shoes are equally fashionable and cute and would only elevate your overall look.
The 11 Best Shoes For Teachers Who Work Really Long Hours
One of the most popular walking shoes in the market right now, not only are these lightweight and super-comfortable, but they're also versatile and go with almost every outfit. The fabric is breathable and molds to your feet very quickly, making them ideal for summers when your feet are prone to extra sweating. The sneakers come with a soft, responsive 5Gen cushioning that feels like memory foam and provides stability to those experiencing foot issues like plantar fasciitis, along with a toe box that gives you sufficient space and support without restricting your toe movement. Also, the shoes have a thick bumper at the front that protects your toes from accidental hits and injuries.
Pros
Soft footbed
Supportive
Breathable
Versatile
Easy to wear
Available in 25 colors
Cons
Might not prevent foot odor
If you are a fan of Dr. Scholl's, you will be obsessed with the Madison Sneaker. The shoes are suitable for preventing knee and heel pain, thanks to the synthetic sole and soft micro-suede lining that offer enhanced support and comfort. Since you probably don't have the time to lace up every morning, these slip-ons will be super-convenient to wear and remove whenever required. The advanced insole technology keeps every stride light and airy, while the anatomical cushioning embraces the shape of your feet and makes you feel less fatigue in the muscles. The capper is that they're sustainably made from recycled bottles, so it's a win for you and the environment.
Pros
Crafted from recycled materials
Ergonomic design
Micro-suede lining
Easy to wipe clean
Lightweight and flexible
Available in 20 colors
Cons
The shoes may not provide optimal toe protection.
As comfy and hassle-free as they may be, shoes aren't the only viable option for sensible footwear. You can also choose stylish flats like these Crocs as they are the epitome of breathability while being subtle and elegant in their own way. They come with an incredibly effective outsole grip that is slip-resistant and functional, so they'll keep you safe and steady against the smoothest of floors. Since the shoes are synthetic, they are a breeze to clean. All you need is some warm water and soap to refurbish them after a long, hard day. Enhanced arch support that reduces muscle tension and keeps you going for hours on end is what pushes them into the same league as full-coverage shoes.
Pros
Easy to clean
Lightweight
Secure straps
Slip-resistant outsoles
Available in 16 colors
Cons
You may have to buy a size small.
The Clarks CloudSteppers are super popular for a lot of reasons, not least of which is how sturdy and borderline rugged they look without feeling clunky. The pair is crafted from 100% textile with an EVA sole, so you are guaranteed support and comfort every time you slip them on. The heel measures approximately 1.5 inches, making you look a smidge taller but not at the expense of your feet. These are ideal for anyone who has an active lifestyle as well as those suffering from major or minor foot problems because of the OrthoLite footbed that's designed to prevent soreness and pain.
Pros
Durable nubuck upper
Super-soft cushioning
Ultra-lightweight shoes
Available in 8 colors
Cons
May not provide sufficient arch support
The Abigail Ballet Flat is for women who are particular about investing in shoes that are comfortable and timeless in design. Crafted from all-synthetic materials, they demand no effort in upkeep and have what it takes to last you a long time. The elegant ballet aesthetic of the dress shoe features strappy overlays at the front, a flexible sole that grips the base of the shoe tightly and keeps your feet from moving around inside, and a soft mary jane style that's perfect for breathing life into any formal outfit. With the slightest heel and the versatility of casual boots, these shoes will make you feel like the belle of every classroom.
Pros
Flexible sole
100% synthetic
Elegant straps
Easy to clean
Removable insole
Available in 5 colors
Cons
Might not be water-resistant
These shoes are great because they come with functional features like podiatrist-certified arch support and a mild rocker outsole that reduces metatarsal pressure, which isn't very common in flats. They sit comfortably around the feet and are made from 100% hand-stitched leather, located at the upper, insole, and lining. Specially designed for people who experience pain due to plantar fasciitis, the slip-ons have a removable footbed that lets you adjust the interiors and make extra room for your feet should you need it. They are available in plenty of fun colors and prints, so you can choose the pair that goes with the color palette of your wardrobe.
Pros
Slip-resistant
Leather upper
Removable footbed
Certified arch support
Hand-stitched leather
Available in 36 patterns
Cons
The prints might slightly fade after consistent use.
These ballet flats are made from 100% leather. They have a synthetic sole, which means your feet will be comfortable and receive optimal support throughout the day. You can actually turn these into everyday shoes because they have a stylish look that features a soft elastic topline and a fancy crossover detail just above the toe cap. Wear them for classes during the day and for going out at night as they are pretty versatile and go with most outfits, especially skirts and dresses. As a bonus, the footbed is designed and certified by podiatrists to provide stability from the second your feet hit the floor.
Pros
Synthetic sole
100% breathable leather
Provides stability
Versatile and lightweight
Available in 12 color options
Cons
May not have much padding at the heel area
When all-day comfort is an indispensable priority, you can turn to the cult-favorite clog from Dansko that will get you through the hours with little to no discomfort. The lightweight construction and the EVA sole provide stability to your feet without weighing them down, while the cushioned insole keeps you safe from blisters and painful calluses. Also, the shoes are made from leather, which makes them stain-resistant and easy to clean. Practical and elegant, they're not just a classroom-worthy shoe but ideal for professionals in any field.
Pros
Lightweight
Provides stability
Easy to clean
Intricate design
Cushioned footbed
Available in 14 colors
Cons
If you're looking for narrow shoes that fit well, you might want to give these Feather Ballet Flats a chance. The flexible and comfy fit results from the leather make and suede sole, which keep your feet steady and breathable throughout the day. Ideal for those with wide feet, the shoes are pretty stretchy and will fit you like a glove while looking immensely cute. They are also rather versatile, and you can dress them up or down depending on whether you're headed to work or to have a colorful night out.
Pros
Super-cute
Soft and flexible
Versatile
Available in 20 colors
Cons
May not provide the best heel support
Anyone who's used to living in sneakers needs this pair in their collection. Made from 100% suede with a rubber sole, it's built to provide you with the highest degree of comfort and stability. The shoes come with a waterproof feature that takes away the most annoying part of having to wear shoes when it's raining. They also have dual-density foam cushioning and an M Select Dry membrane, which means your feet will feel dry and cozy all day. There's a useful heel tab that helps you put them on with minimal struggle.
Pros
100% suede
Rubber sole
Waterproof
Heel pull tab
Good grip
Available in 2 colors
Cons
These leather shoes are meant for teachers. They provide a professional and scholarly aesthetic that can elevate any outfit while keeping you comfortable all day. The synthetic sole keeps your feet stable and provides sufficient arch support. They are durable and will fit you like a dream from the very first use, so you don't have to suffer from the ordeal of breaking into them. The extra-cushioned PU footbed is suitable for those who are on their feet for most hours of the day and dealing with back problems.
Pros
Synthetic soles
Sufficient arch support
Durable
Stylish
Available in 4 colors
Cons
They may not be scratch resistant
Now that you're familiar with all 13 options of the best shoes for teachers, we've gone into detail about the top 3 factors you need to consider before making your choice.
How To Choose The Right Shoes For Teachers
Good traction is perhaps one of the most underrated but essential characteristics of shoes. When you spend much of your time on smooth surfaces, high-grip shoes reduce the chances of you slipping and hurting yourself when you're in a hurry to get to the next class. Look for rubber outsoles that offer plenty of road and floor grip. In the same vein, invest in shoes that offer motion control, so you can maintain your pace and posture. This is especially beneficial for people with flat feet.
Look for shoes that offer support at the balls of the feet. Different people have different arches, so the first order of business is to figure out whether yours is high, low, or flat. With proper arch support, your joints and back will feel less pressured and stay pain-free. For the same reason that you shouldn't run barefoot or in flip-flops, you should avoid buying shoes that don't promise your arches some much-needed rest.
If you have high arches, go with shoes that provide ample cushioning. They are useful for feet that tend to roll outward, also known as underpronation. Look for cushioned shoes that are lightweight and flexible, and try to avoid rigid shoes because they will only result in pain and soreness.
Why Trust StyleCraze?
Priyam Gupta has a deep interest in fashion and carefully selected these shoes for teachers based on user reviews and feedback on multiple forums and brand websites. The shoes listed in this post are designed with durable and breathable materials that enable flexibility and easy movement.
Frequently Asked Questions
What type of shoes is appropriate for teachers?
Sturdy and comfortable shoes with slip-on designs are appropriate for teachers. Opt for breathable shoe materials that feature slight cushioning to support the constant foot movements.
Are Keds good teaching shoes?
Yes. Keds shoes like the Women's Jersey sneaker are good for teachers. They are lightweight and flexible. In addition, they come with a sturdy cushioned sole for optimum comfort.
Are Hey Dudes shoes good for teachers?
Yes. The brand Hey Dudes enjoys great popularity among teachers. This is because their shoes are comfortable, sturdy, and durable.
Can I wear converse as a teacher?
Converse are chic and comfy sneakers that offer adequate balance to your feet. Check the dress code before wearing them to school.
Can teachers wear crocs?
No. Crocs are too informal. In addition, they are not suitable to wear for long school hours.
Are sandals okay for teachers?
Yes. Teachers can wear good quality, structured, and professional-looking sandals to school.
Recommended Articles