13 Best Steam Hair Straighteners (2021) – Reviews And Buying Guide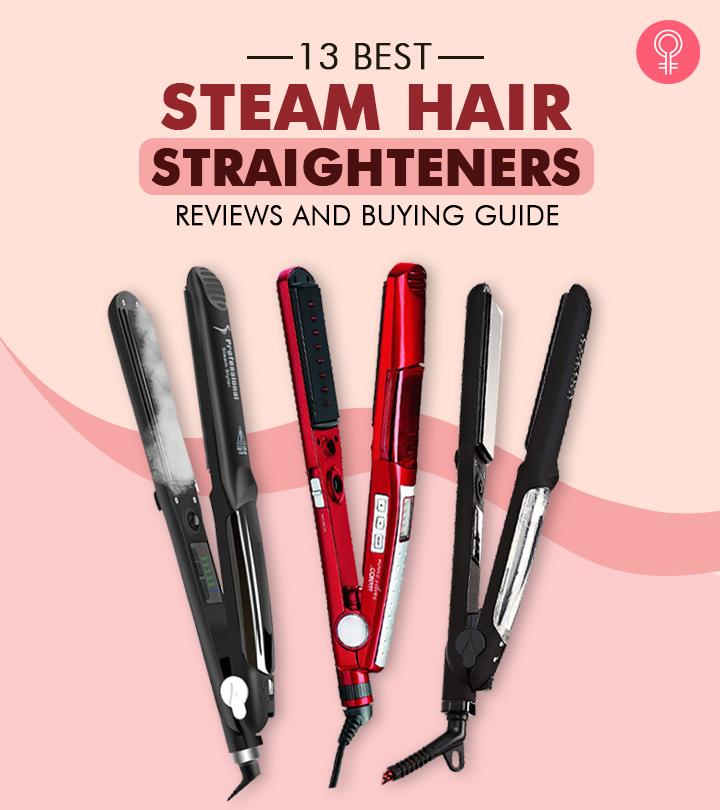 We all know how flat irons and straighteners work flawlessly and do wonders for our hair, but they also damage our hair in more than one way. From leaving them frizzy and dry to causing split ends, iron straighteners might not be the best choice for your hair's health. In recent times, steam hair straighteners have been trending for their amazing hair benefits. Steam hair straighteners add moisture to your hair and prevent it from drying out. So, if you are someone who straightens their hair often and struggles with dry and frizzy hair, a steam hair straightener is your solution! It infuses the strands of your hair with moisture while straightening it. They are perfect for maintaining your hair's health without exposing it to damage. We have shortlisted the 13 best steam hair straighteners available right now that you might find appealing. Check them out below!
13 Best Steam Hair Straighteners Available Right Now
Magicfy's steam hair straightener creates a vapor that helps in smoothening and styling your hair. It gives a glossy finish and ensures healthy styling without any frizz. It has a ceramic heating plate that heats up evenly for seamless styling. It enables you to adjust the modes to style dry as well as wet hair. This steam hair straightener heats up in one minute to save time. You can see the vapor begin to emanate within a minute.
Pros
5 adjustable temperature modes
60-minute auto shut-off feature
Lockable plates
360° swivel cord
Retains the hair's natural moisture
Cons
Inconsistent steam flow
Not suitable for thick and extremely curly hair
FURIDEN Steam Hair Straightener heats up quickly and glides smoothly to give your hair a glossy and shiny look in one simple motion. It gives you straight and frizz-free hair within minutes. It has a digital display and adjustable temperature settings that can be changed with a control roller. This steam hair straightener locks your hair's natural moisture even at a high temperature to impart a glossy finish to your hair. It has dual voltage (110-240V AC) that adjusts automatically.
Pros
38 adjustable temperature settings
LED digital display
Travel-friendly
6-month worry-free guarantee
Cons
Not suitable for thick and curly hair
Slightly heavy
The Infiniti Pro Ionic Steam Hair Straighter has ionic plates with a hydro silk finish that retains your hair's moisture to give you healthy-looking and shiny hair. It has a 2-stage styling system where it first infuses hair with steam to condition it and then locks in all the healthy moisture with heated plates. It can be used on dry or wet hair as well as with dry shampoo or hairspray. The finished effect on your hair is locked in for 60 hours, even in humid weather. If your hair is frizzy or damaged, the tourmaline ceramic coating on the blades controls it and makes your hair more manageable.
Pros
Retractable detangling combs
Comes with a storage pouch
5 LED temperature settings
Reduces frizz
Long-lasting effect
Heats up in 30 seconds
Cons
Takes 2-3 strokes to straighten completely
No return policy
Cortex Professional Vapor Steam Hair Straightener has 1.25" Vapor Mist Ceramic Plates that leave your hair looking glossy and shiny. It has 6 temperature settings that provide consistent heat throughout each use. The temperature can be adjusted from 300ºF to 450ºF. The tourmaline-ceramic plates infuse your hair with therapeutic Moroccan argan oil, which hydrates and restores the moisture level of your hair to improve its overall health.
Pros
Nourishes and hydrates the hair
2 steam settings
6 temperature settings
Rubber handle for a secure grip
11' long cord
Cons
Not durable
Poor-quality steam tank
Only 90-day warranty
The plates of Solofish Ceramic Steam Hair Straightener emit negative ions that penetrate your hair to remove any static while protecting it from high-temperature damage. The ceramic plates heat up within 15 seconds. The adjustable temperature settings and rounded edges make sure that this heat-styling tool is gentle on your hair. It works well on thick and curly hair and is more suitable for type 4 hair.
Pros
2 steam settings
Reduces static and frizz
6 heat settings
60-minute auto shut-off feature
Comes with a pair of heat-resistant gloves, travel pouch, and water bottle
Cons
Water tank is fragile and sometimes leaks.
Needs regular water refills
MKBOO Steam Hair Straightener has 7 steam holes that ensure uninterrupted steam-flow. Its steam is powerful enough to allow water ions to penetrate the hair and lock in moisture to create a smooth and glossy texture. Its hair hydration technology retains the moisture for long hours and gives a natural fall to your hair. This steam hair straightener has a removable 3D Nano brush on the edges that combs your hair while straightening it. The titanium plates seal the hair cuticles to reduce knotting or breakage while straightening.
Pros
Adjustable temperature
60-minute auto shut-off feature
LCD screen
40 ml removable water tank
Suitable for all hair types
Cons
Removable comb keeps slipping
Heavy
DORISILK Professional's steam hair straightener has the latest steam technology. It has 5 conditioning steam vents that add moisture and gloss to your hair, making it healthy and manageable. The conditioning steam settings (off, medium, and high) can be adjusted as per your need. The uniform ceramic tourmaline plates heat up in a minute and straighten your hair with a swift motion.
Pros
Can be used for straightening and curling
Reduces static and frizz
Locking switch for traveling and storage
60-minute auto shut-off feature
Digital LED display with adjustable modes
6 temperature settings
Cons
Makes noise while making steam
Not suitable for thick and curly hair
Xtava's steam straightener promises to create 1" steam. Its nanoceramic and tourmaline plates can straighten even the thickest of hair without drying it out. It has a removable water reservoir that activates steam and can be removed while traveling or storing. It comes with a temperature controller that can be adjusted from 350℉ to 450℉, as per your hair texture.
Pros
Removable water tank – easy for refills
60-minute auto shut-off feature
Long swivel cord
Heat-resistant rubber handle for a comfortable grip
Heat-resistant pouch for storage and travel
2-year warranty
Money-back guarantee
Cons
Not powerful steam
Not long-lasting effect on thick hair
Huachi's steam hair straightener is lightweight, sleek, and stylish. It can be packed easily for traveling and storage. Its 1-inch ceramic plates impart a smooth and glossy finish to your hair. It also has a plate-locking switch that ensures easy and convenient storage. The plates heat up within 30 seconds and distribute heat evenly to your hair. Its steam ensures that the moisture in your hair is locked in and that your hair remains straight and healthy.
Pros
60-minute auto shut-off feature
Travel-friendly
Sleek design
Lightweight
Heats up quickly
Cons
Not suitable for thick hair
Steams stops working sometimes
YOSICL Professional Argan Oil Steam Hair Straightener emits conditioning steam that locks in your hair's natural oils and infuses moisture in it. It has a steam controller to adjust the outlet of vapor as per the thickness of your hair. The dual-plated ceramic tourmaline plates emit negative ions to retain the hair's moisture and leave it looking shiny and glossy.
Pros
LCD display
Heats up in a minute
6 adjustable temperature settings
Lockable plates
Removable water tank
Comes with a velvet storage pouch
Cons
No auto shut-off feature
Water tank leaks sometimes
Cherry Professional's steam straightener has tourmaline-ceramic plates that are infused with argan oil to lock the healthy moisture in your hair. This flat iron straightens your hair in a single pass and provides a glossy, frizz-free finish quickly. The tourmaline-ceramic plates not only prevent breakage but also seal in moisture and reduce heat damage.
Pros
Stylish design
Suitable for all hair types
Hydrates the hair
Heats up quickly
Adjustable temperature settings
Can be used for straightening and curling
Cons
Heavy and bulky
Inconsistent steam flow
TRENDY PRO Steam Ceramic Hair Straightener straightens, curls, and flips your hair. It infuses argan oil and water in your hair. Its effect lasts longer than other straighteners. The steam compartment can be used for water as well as an argan oil serum. It heats up within a minute, and the conditioning steam infuses moisture and locks in the natural oils to add shine to your hair. The tourmaline-ceramic plates eliminate frizz and impart a smooth and glossy finish without weighing your hair down.
Pros
60-minute auto shut-off feature
6 temperature settings
Heats up quickly
Can be used on wet and dry hair
Cons
Not suitable for type 4 hair
Not powerful steam
Kealive Professional Vapor Flat Iron has an advanced ceramic heater that heats up the 1" plates within 15 seconds. It has an LCD digital display screen, and you can adjust the temperature from 170°C to 195°C as per your requirement. It has a built-in steam tank that continuously releases hot water vapor to smoothen your hair with even heat distribution. Its dual voltage ranges from 100V to 240V, so it is convenient to use in different countries.
Pros
Long power cord
Heats up quickly
Auto shut-off after 60 minutes
3D floating plates for hair straightening and curling
Gives a silky and smooth finish
2-year warranty
Cons
No detachable water reservoir
Does not generate enough steam
Check out the next section to find out what you need to consider before buying a steam hair straightener.
Things To Consider While A Steam Hair Straightener
Plate Size: The size of the plates is important as it determines the size of sections of hair you can take at a time. The wider the plates, the lesser time it takes to straighten your hair.
Plate Shape: The shape of the plates ensures the straightener's versatility. If the plate's edges are rounded, it will be easier to use your straightener as a curling iron. Meanwhile, sharp edges are less adaptable but may give you comparatively straighter hair.
Fast Heating: Fast heating is one of the most basic requirements. It determines how quickly the straightener can start emitting steam. The quicker it heats up, the lesser time you need to put into straightening your hair.
Liquid Reservoir: The water tank should be big enough to last a full session without a refill. Also, ensure the water tank is removable to refill it without any hassle.
Steam Vents: If your hair is thick and curly, ensure you pick a steam hair straightener with more steam vents. A higher number of steam vents create a powerful steam flow, which ensures a better and quicker straightening effect.
Price: The price of a steam hair straightener varies from brand to brand. Just ensure that it checks all your requirements. Don't overpay for something that does not have the necessary features that you need.
Adjustable Temperature Control: Adjustable temperature control allows you to customize the steam and heat flow as per your hair thickness and texture. More temperature settings mean the steam hair straightener is efficient.
What Are The Types Of Steam Flat Irons?
There are 2 types of steam flat irons:
Ceramic Steam Flat Irons: Ceramic straighteners are the perfect choice for hair textures that can be straightened easily. They are great for thin, wavy, and less curly hair as they can be straightened with low heat.
Titanium Steam Flat Irons: Titanium flat irons heat up faster and up to a higher temperature. Thus, they are perfect for thick and coarse curly hair.
Now that you know everything about buying a steam hair straightener, let's check out how to use one.
How To Use A Steam Hair Straightener
Follow these easy steps to use your steam hair straightener efficiently:
Shampoo and condition your hair thoroughly.
Towel dry your hair or let it semi-dry naturally.
Split your hair into multiple sections, depending on its length and thickness.
Fill the hair straightener with the required amount of water, switch it on, and adjust the temperature.
Once you see the vents releasing steam, straighten your hair section-wise from roots to ends.
Turn the straightener inward or outward at the ends of your hair based on how you want your hair to fall.
Follow the same process with the remaining hair sections.
Turn off the steam straightener and let it cool down before you pack it and store it safely.
Steam hair straighteners are a blessing in disguise for anyone who straightens their hair often and worries about hair damage. They do the exact same job as regular straightening irons but without damaging the texture and health of your hair. Instead, they infuse moisture and lock in the healthy texture of your hair to give you a smooth and glossy finish. If you wish to invest in something that you can use often and without any side effects on your hair, opt for a steam hair straightener! Take your pick from the ones listed above without hesitation. Keep your hair healthy, glossy, and shiny!
Expert's Answers For Readers' Questions
How is a steam flat iron different from a regular flat iron?
Regular flat irons and steam flat irons are quite similar. However, a regular straightener has flat plates, while a steam straightener has brush-like bristles on the sides. Steam straighteners use steam to infuse moisture into your hair and lock the cuticles to sustain the straightening effect even through the humid weather. They can be used on wet or dry hair. They give your hair a glossy finish that lasts for days. A regular hair straightener uses a heated iron plate to straighten your hair. It actually dries out the moisture in your hair. It is more suitable for use on dried hair.
Recommended Articles