6 Best Red Hair Glosses – 2021 Update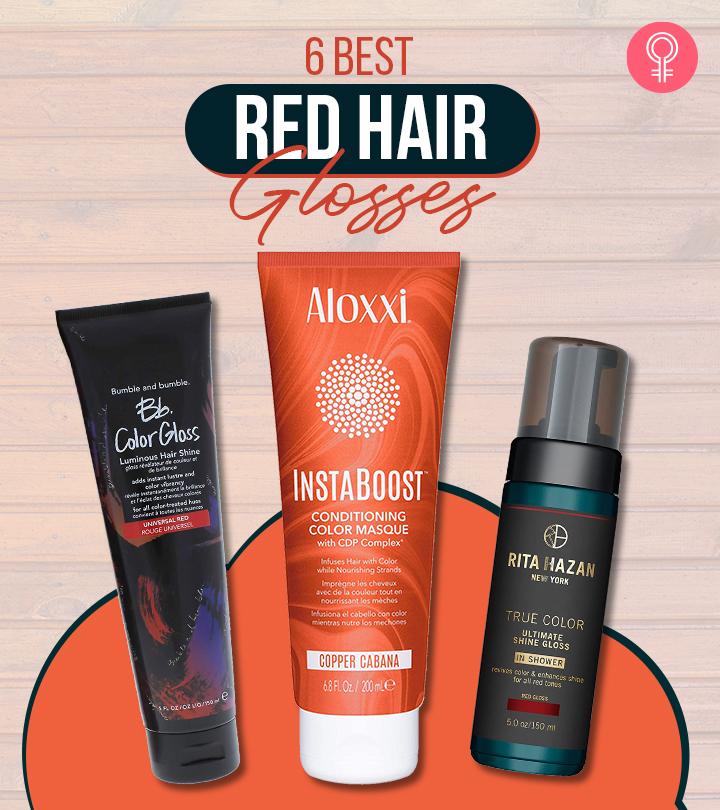 Red-colored hair, if exposed to the sun or pollutants, quickly turns to an unpleasant yellowish hue and starts to fade within a few days. On the other hand, your highlights lose their charm within a few weeks. The solution? A red hair gloss! It will refresh and brighten your hair color at a much lower cost – and that too from the comfort of your home. The red hair gloss forms a protective layer around your hair to keep the color from fading. It also makes your hair look healthy, lustrous, and shiny.
Keep reading and choose your pick from our recommended list of the 6 best red hair glosses available online – and see your glamorous red hair shine again!
6 Best Red Hair Glosses – 2021 Update
The True Color Ultimate Shine Gloss by Rita Hazan boosts the red and auburn shades of colored hair and gives it an intense shine. It gives the hair a shiny vibrancy and makes the hair color last longer. This shower gloss is mess-free and easy to apply. It is specially designed for color-damaged and color-treated hair. It adds a hint of a color coating that keeps the original color from fading or becoming dull. The color pigments are custom blended, and the conditioners are infused with panthenol and pro-vitamin B5 that condition and moisturize the hair. Additionally, this gloss's silk proteins bring out the hair's natural shine.
Pros
Sulfate-free
Sodium chloride-free
Paraben-free
Safe for all hair types
Cons
The Universal Red Hair Gloss by Bumble and Bumble is a color-enhancing gloss that brightens and boosts color-treated hair. It also works on non-color-treated hair, offering it a hint of shade with extra shine. It provides dimension, increases the color tone, and softens the hair texture with the S-Complex and Slip Mix infusions. It works for all hair types, whether fine or thick, straight or curly. The Color Gloss formula revives red highlights and lowlights and offers the hair a luminous luster.
Pros
Paraben-free
Phthalate-free
Mineral oil-free
Formaldehyde-free
Cruelty-free
Cons
Color may turn pink on some colored hair
The experts at John Frieda have used patented technology to formulate an at-home color refreshing gloss. The John Frieda Cool Red Refreshing Gloss rejuvenates the tones of red in color-treated hair while adding a vibrant luster to it. This formula prevents the color from fading without damaging the hair. It is free of ammonia and peroxide and is not a permanent color. Use this in-shower treatment weekly after washing and conditioning your hair to keep your hair looking color-fresh and salon-treated.
Pros
Ammonia-free
Peroxide-free
Safe for all hair types
Cons
Makes the hair dry
Stains hands
The Loquay Pure Red Color Gloss Shampoo by Matizador repairs damaged and faded hair color and provides a refreshed shine to the hue. It is specially formulated to highlight the glow of red-colored hair. Loquay incorporates a collaboration technology that deposits color molecules into the hair cuticles and boosts shine. This formula protects the hair from color leakage or fading and moisturizes the hair to give it a soft and vibrant texture. Pure Red is a coloring shampoo and deposits color with every wash. The effects depend on the frequency of use.
Pros
Moisturizes scalp
Fast-acting
Cons
None
The Aloxxi InstaBoost Conditioner is an extra pigmented formula that adds intense shine to pre-colored or natural-toned hair. It intensifies medium blonde or pre-lighted platinum-colored hair while adding a hint of red to light brown or dark blonde hair. The conditioner is infused with sugar beet extract that nourishes hair and enhances shine. It repairs and hydrates the hair follicles with shea butter and coconut oil restores its smooth and soft texture. The sunflower seed oil in this formula protects the hair from UV rays and keeps the color from fading. This hair color masque is an instant temporary hair color dye that makes your hair color look straight out of the salon.
Pros
Sulfate-free
Paraben-free
Gluten-free
Sodium chloride-free
Ethanolamine-free
Phthalate-free
Talc-free
Microbead-free
Formaldehyde-free
Cons
The dpHue Gloss+Semi Permanent Hair Color by Auburn is a deep conditioning hair color. The gloss coats the hair surface with color pigments that give color-treated hair a boost. It adds shine and offers a darker shade to your red hair. The formula contains hydrating ingredients that provide the hair a bright, healthy glow and make it silky soft. It gives the hair shade a boost of vitality and gloss when it starts to fade. It tones fading highlights and works on natural or color-treated red hair.
Pros
Vegan
Peroxide-free
Ammonia-free
Paraben-free
Sulfate-free
Phthalate-free
Gluten-free
Cruelty-free
Cons
May stain hands and nails
Red tinted hair takes your appearance several notches high, but maintaining it can be tricky. With the red hair gloss, you can extend the stay of the hue and make your hair look soft and shiny. Browse our list of the 6 best red hair gloss products and pick one today to give your hair a beautiful fresh shine between salon visits.
Recommended Articles