7 Best Shampoos For Red Color-Treated Hair
Protect your fiery, clean, and vibrant mane from damage with chemical-free shampoos.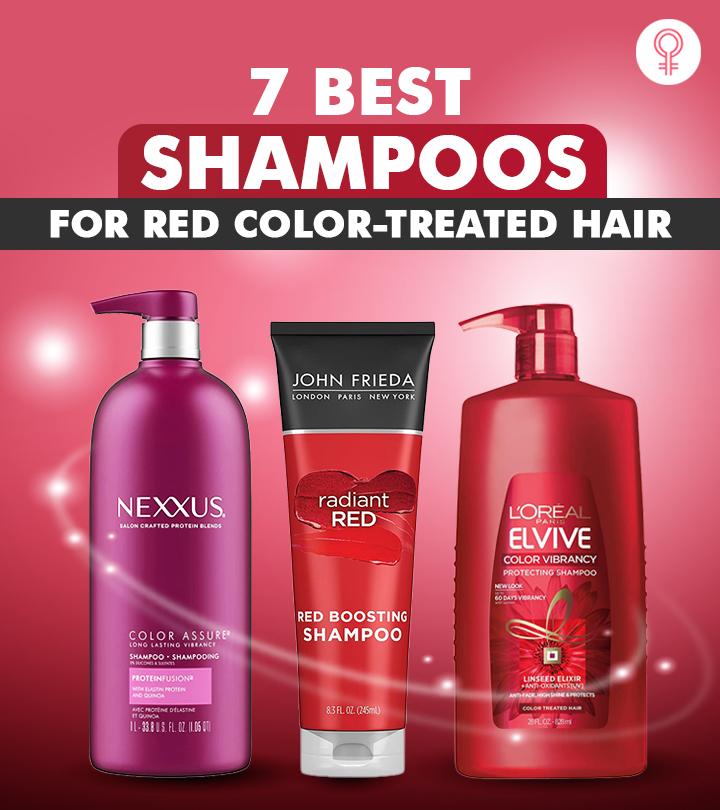 After spending time and money to get the perfect red hair color of your dreams, you wouldn't want it to fade away in no time. That is where the best shampoos for red color-treated hair come to your rescue and keep your hair color vibrant and fresh. Besides cleaning all the oil, dirt, and build-up from your scalp, these shampoos protect your hair color from getting dull and fading away.
Professional hair expert Kerry Yates says, "Artificially colored red hair will constantly be challenged with maintaining that newly colored look. Unfortunately, this tone will fade faster than brunette or blonde shades due to the red pigment's molecule size. As a result, special care must be given to keep your red hair looking its best." So, to extend the longevity of your hair color, let's have a look at the best shampoos for red color-treated hair. Read on.
The 7 Best Shampoos For Color-Treated Hair
The Joico K-PAK Color Therapy Color-Protecting Shampoo gently cleanses the hair and restores shine. It improves hair elasticity and prevents hair damage and breakage. The nourishing formula is enriched with African manketti oil, a rich source of vitamin E, that prevents color fading. It also contains keratin to repair hair damage and argan oil, a powerhouse of vitamin E, antioxidants, and essential fatty acids, to hydrate and nourish your tresses. This shampoo maintains color vibrancy after every wash.
Pros
Sulfate-free
Paraben-free
Soy-free
Gluten-free
Cruelty-free
Vegan
Cons
None
Price at the time of publication: $23
The John Frieda Radiant Red Red Boosting Shampoo is formulated with anti-fade technology and contains antioxidants like vitamin E and pomegranate extract that protect the hair from UV damage and keep it moisturized, soft, and shiny. It enhances your red hair color with every wash and acts as a clarifying shampoo to maintain scalp health and minimize frizz. This color-boosting shampoo volumizes limp hair and is safe for regular use and all types of hair. This video will provide you with added insights about the product.
Pros
Fresh fragrance
Suitable for damaged hair
Cons
Price at the time of publication: $9.99
The Redken Color Extend Magnetics Shampoo has a color-extending formula and offers a multi-target delivery system that prevents color bleeding and promotes healthy hair. The shampoo has an acidic pH that helps restore the hair's natural pH levels and protects its color tone. Its RCT protein complex nourishes the hair strands from root to tip. This sulfate-free shampoo gently cleanses your hair, enhancing its color, shine, and vibrancy. Take a look at this video to know more about the product.
Pros
Sulfate-free
pH-balanced
Non-drying
Cons
Price at the time of publication: $48
As the name suggests, the L'Oreal Paris Color Vibrancy Protecting Shampoo adds brilliant shine to your hair. This shampoo is packed with antioxidants and a UV system that protects your hair color and prevents fading. For optimal results and amazing shine, use it with the L'Oreal Color Vibrancy conditioner. The product can protect any hair color, and the results last for up to eight weeks.
Pros
Mild fragrance
Has UV filters
Gentle on the hair and scalp
Cons
None
Price at the time of publication: $6.79
The Four Reasons Color Mask Toning Shampoo contains colored pigments that tint your hair red. It helps in enhancing the vibrancy of the red tones and gives visible results from the first wash. This gentle color-depositing shampoo is perfect for red-colored hair as it cleanses it without stripping away its moisture or shine. It is also eco-friendly and does not contain harmful sulfates. This toning shampoo prevents static and is suitable for all hair textures and types.
Pros
Anti-static
UV protection
SLS-free
Cruelty-free
Cons
Not moisturizing
May stain
Price at the time of publication: $28
The Aveeno Blackberry Quinoa Protein Blend Shampoo is infused with oat that offers scalp-soothing benefits. It is also formulated with blackberry and quinoa protein that preserves the vibrancy of your hair color and protects your hair against heat styling. The sulfate-free formula has a lightweight gel-like consistency that strengthens your hair and boosts its volume. This paraben-free shampoo is suitable for all hair types.
Pros
Suitable for all hair types
Pleasant fragrance
Lightweight
Paraben-free
No synthetic dyes
Cons
Price at the time of publication: $6.99
Price at the time of publication: $22.95
Protect your color-treated hair with the Nexxus Color Assure Shampoo. It helps replenish nutrients to restore the shine and vibrancy of your hair. The formula is infused with an exclusive protein fusion blend (with elastin protein and quinoa), and it guarantees long-lasting color vibrancy for up to 40 washes. This shampoo keeps the vividness of your hair color intact.
Pros
Sulfate-free
Silicone-free
Cons
Price at the time of publication: $25.49
To maintain the vividness of your red color-treated hair, it is important to pick the right kind of shampoo. Here are some factors that you may consider while buying your next hair product.
Things To Consider While Buying The Best Shampoos For Red Color-Treated Hair
Just like skin care, picking the right hair care product for your hair will work wonders! Choose a shampoo that suits your scalp and your hair type to avoid any irritation, inflammation or hair damage. Color-treated hair, for instance, requires specially formulated shampoos that can help keep your hair soft, moisturized, and vibrant.
It is important to read the labels! Always ensure you pick a shampoo that does not contain any harmful chemicals like sulfates, parabens, alcohol, phthalates, mineral oils, artificial dyes or fragrances. Look for mild ingredients that cleanse your scalp and help retain natural hair moisture without damaging the follicles. Color treated hair craves moisturization, so look for ingredients like argan oil, aloe vera, sunflower seed extracts, or coconut oil. These keep the hair healthy and minimize the chances of the hair becoming dry and brittle.
Find a shampoo that not only cleans your hair and scalp but also repairs, protects, and enhances your hair color. Look for nourishing and strengthening shampoos according to your hair's needs. Avoid shampoos that weigh your hair down and make it look dull, instead opt for pH balancing formulas which enhance your hair and scalp health. Check if the shampoo contains antioxidants that protect the hair from UV damage, as UV rays tend to strip color and cause fading. Also, stay away from general clarifying shampoos as they strip off the hair color.
It is a common misunderstanding that the higher the price the better the product. Focus on the right ingredients that will work for your hair than investing on high end shampoos that might not.
All these color-protecting shampoos will help you extend the vibrancy of your red-dyed locks. They are milder than regular shampoos and have color-enhancing and conditioning properties. However, ensure that you are using these shampoos properly. Here are a few tips.
How To Use Shampoo To Refresh Your Red Color Treated Hair
Choose a color protectant shampoo and conditioner as these are gentle and free of harsh surfactants (SLS) that fade the color.
Wash your hair only when it is dirty. For the in-between days, use dry shampoos or opt for co-washing.
Massage your scalp with your finger pads (not nails) as this helps break away oil and remove product build-up—an underestimated culprit for causing color fade.
Don't go for "rinse and repeat" and instead follow the "rinse and condition" method.
After shampooing, rinse with lukewarm-to-cool water and jump straight to your conditioner.
Never apply conditioner to the roots as it may cause build-up. Instead, focus on applying it to the hair ends.
Note: Kerry suggests, "Focus shampooing your scalp/ roots only; leave the mid-lengths and ends alone. The mid-lengths and ends that have been on your head longer will most likely have areas of damaged cuticle layers that are more susceptible to color fade. Do not help the process by massaging out your color with constant agitation plus water."
Why Trust StyleCraze?
StyleCraze articles are backed by expert opinions and suggestions from certified professionals. Oyendrila Kanjilal, the author, is a hair care enthusiast. She loves experimenting with hair colors and is always on the lookout for the best products on the market. She has curated this list after consulting experts and professionals to suggest only the best ones to the readers.
Frequently Asked Questions
How do you keep red hair from fading?
The best way to keep your red hair from fading is to use a color-protect shampoo and conditioner.
What does red shampoo do to red color-treated hair?
The red shampoo deposits red pigments to the hair to restore color vibrancy, boost shine, and prevent static.
Can we use purple shampoo for red color-treated hair?
Yes. Purple shampoos are very effective in neutralizing the yellow or brassy tones of your hair without fading the red tones of your tresses. So, it is completely safe to use purple shampoo for red color treated hair.
What's the best way to take care of red-dyed hair?
There is a list of things you can do in order to retain the red color for a long time-
• Color your hair one shade darker than your desired tone. This way, you will be able to retain the color for a long time.
• Do not wash your hair for at least 2 days after coloring it red.
• Wash your hair with cold water. Hot water makes the color slip off faster.
• Wash your hair with a color-depositing shampoo. This way you can revive the color.
• Use a hair mask to keep your red hair hydrated and vibrant.
• Protect your hair with a bucket hat to prevent the UV rays from discoloring the tresses.
• Try to avoid heat styling your hair. If it's necessary, use a heat protectant to prevent damage.
How do you neutralize red-colored hair?
Green or blue-green pigments are opposites of red and can neutralize reddish strands. Try these steps to get rid of the red strands-
• Dampen the shampoo and apply the green shampoo all over the hair.
• Keep it on for 5-10 minutes on the hair.
• Wash it off with cold water.
• Repeat this way of shampooing frequently until all the warmth is gone.
Recommended Articles