Unfurl Gorgeous Curls With 8 Best Hair Rollers To Sleep In! (2023)
Get soft and bouncy curls overnight with these effortless sleep-in hair rollers.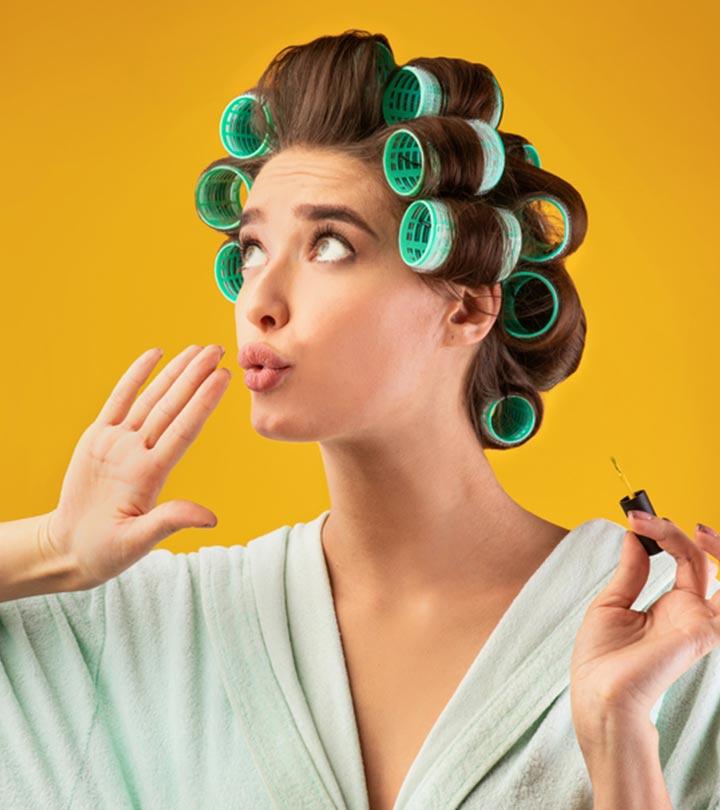 The best hair rollers to sleep in make it possible for you to get the curls of your dreams without leaving the comfort of your bed! Yes, you no longer have to worry about the heat tools that you would otherwise have to use to curl your hair and risk damage to your delicate strands or about the expenses of a salon visit. You can even say goodbye to excessive styling and harmful products to hold your locks in place as these sleep-in rollers give you natural curls without any of that hassle. All you need to do to get heavenly curls is pick out your favorite from our list of the top 8, put them on, and enjoy a great night's sleep. Isn't this just what you busy bees need? So, jump right in and check out the details in this article.
Top Picks
Top 8 Hair Rollers To Sleep In For Gorgeous Curls!
Price at the time of publication: $14.99
So soft that you'll barely feel them in your hair! Get ready to hit the bed with these foam rollers that'll work on defining your curls while you sleep. Ideal to use on both damp and dry hair, Conair ensures long-lasting and bouncy curls effortlessly. Also, they are designed with built-in clips for quick and easy rolling too. Besides this, they come in different shapes and colors, which means you can create curls of the same or random sizes and explore endlessly!
Price at the time of publication: $9.29
How about adding a retro vibe to your curling session with these polka dot rollers? Like soft and mini pillows for your tresses, you can sleep in with these hair rollers without feeling uncomfy or worrying about hair breakage. Also, despite the retro-like theme, it has a modern construction. It's made of double fiber and a soft line with high tenacity, so even after multiple uses, it will not lose its elasticity. Give it a try to wake up to beautiful and damage-free curls this season!
Price at the time of publication: $12.88
Curl in the comforts of your home with these mini hair rollers. Creating flaunt-worthy spirals effortlessly and without using a heat styling tool, you no longer have to break the bank in a salon to get those bouncy curls! Also, did we mention how easy-to-use they are? All you have to do is open the built-in clip, roll a bunch of strands gently, and get ready to wake up to enviable curls the next morning. Besides this, they make a great option to gift teens and curl lovers too. Give them a try!
Price at the time of publication: $11.99
Is the fear of ruining hair texture making you give up on curls? If yes, then you must try these corkscrew curlers by Curlformers. Creating beautiful, healthy, and natural spirals without using heat, there's no better way to go heat-free for curls than this! Want more? These curlers are available in clockwise and anti-clockwise directions as well, to create both random and uniform curls effortlessly. Give it a go!
Price at the time of publication: $12.99
Transform your straight hair into gorgeous curls with the Elcoho Foam Hair Rollers. They are made of high-quality sponge and plastic material, free of latex for safe usage on your hair. The rollers come with good elasticity and are reusable. The pack includes 36 rollers and a non-woven storage bag. You can use this roller for medium or short hair.
Price at the time of publication: $10.49
Be the curls goddess you dream to be with these hair rollers in tow! A great pick if you are into large curls or loose waves, prep up to be amazed at how beautifully it defines the spirals overnight. Also, these hook & loop curlers are super soft, so you can sleep in with them without feeling uncomfortable. Curls overload, anyone?
Price at the time of publication: $9.99
Price at the time of publication: $5.0
Let the curls unfurl this season! There you go, those were the 8 best hair rollers to sleep in to get gorgeous and long-lasting curls. If you are wondering how to put them on, read our buying guide below.
Buying Guide:
It's simple but may vary according to the type of curlers you are using. Here are some steps you can follow:
Whether using on dry or damp hair, divide your hair into sections first, depending on the size of the roller.
Next, apply a curling product if need be, or else you can directly move on to overnight hair curlers.
Now, you can either start from the top or bottom, whichever direction best suits your hair type.
Also, you must make sure your hair is tightly clasped in the grip to avoid slipping.
Lastly, before hitting the bed, you can either wear a hair cap or tie a scarf over your head to keep all the curlers in place.
Alexandro Vasquez, an expert hairdresser says, "All these hair tools are amazing to DIY on your hair and create desired looks for that event you're planning to go to. Just remember to have the set of correct hair products for the correct tools you will be using."  Now, let's go flaunt some curls like there's no tomorrow! This is not a drill— getting those stunning and natural-looking curls is now just an overnight thing, thanks to these easy-to-use and heat-free hair rollers. Creating curls and waves of all shapes and sizes, if this is not the safest and natural way to get those enviable spirals, then we wonder what will be! Now, what are you waiting for? Get set curling with the best hair rollers ASAP!
Why Trust StyleCraze?
Vaishnavi Kothuri, the author of this article, is a hair and skin care enthusiast who loves to review products and recommend them to others. Her recommendations are mostly based on studying the products in detail and reviewing the user feedback. The best hair rollers she mentioned in this article are perfect for your curly locks. She has also provided a buying guide to make your job easier.
Frequently Asked Questions
Can You Leave Hair Rollers In Overnight?
Yes, you can leave hair rollers overnight, but you must use it without a heat tool or a curling product. Hair rollers are safe to use and are probably the most natural way to get curls without damaging the hair texture.
Can Rollers Cause Hair Loss?
Using rollers daily can be damaging for hair, so yes, it can cause hair loss. Since rollers have a tight grip, they might create tension or lead to breakage too. Hence, avoid using them frequently or probably use it only once a week.
How Long Should I Leave Rollers In My Hair?
If you are using rollers on damp hair, you can leave them in until your hair dries, or you can leave the hair rollers overnight if not using a heat tool or any curling products.
Should you sleep in Velcro rollers?
Yes. Ideally, velcro rollers can be worn for 10 to 30 minutes. But it is also safe to sleep with velcro rollers unless the velcro sticks to the pillow and the hair gets tangled.