10 Best Toothpastes For Gums With Antibacterial Properties (2023)
Stop infections and inflammation from ruining a perfectly dazzling smile.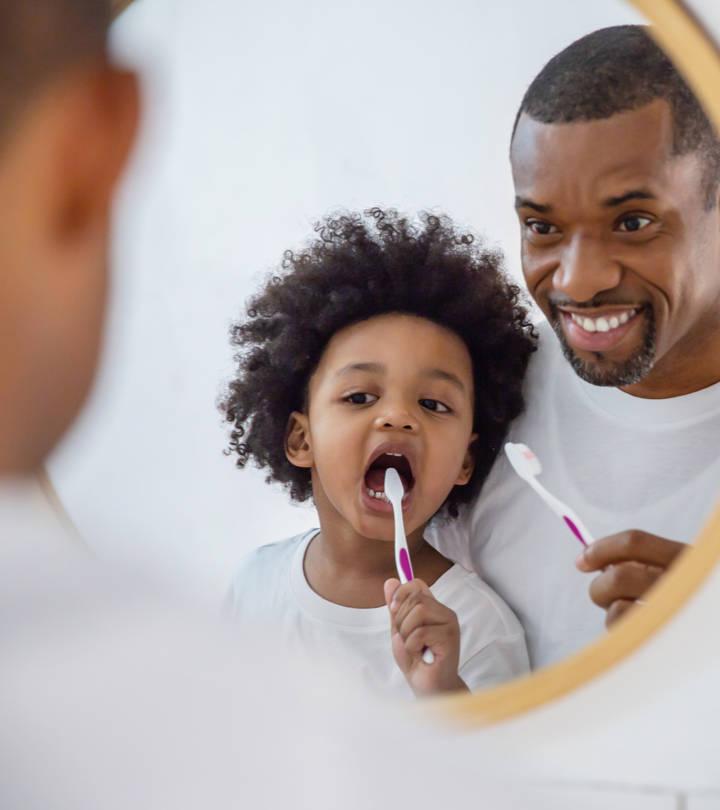 When you brush your teeth, you use the best toothpaste and the best toothbrush. But then what about your gums. Do you also use the best toothpaste for gums to keep your gums pink and healthy?
Healthy gums look firm, pink, while unhealthy gums look swollen, reddish, tender, and sometimes they even bleed, initially painlessly. The ideal toothpaste for gums prevents the onset of infection and keeps your gums clean. They also eliminate odor.
A regular visit to the dentist, brushing twice a day, using a mouth rinse, and flossing can keep our gums healthy. And, it is also important to use toothpaste that is specifically formulated for your gum concerns. If you are considering giving your gums the extra care they deserve, you are at the right place. Our team of teeth care experts have reviewed various toothpastes for gums available in the market and has curated a list of the 10 best toothpaste for gums. Scroll down and pick a gum-savior to get healthy gums!
10 Best Toothpastes You Need To Protect Your Gums In 2023
Pros
 Gingivitis treatment
 Freshens breath
 Strengthens enamel
 Reduces bleeding and inflamed gums
 Whitens teeth
 Removes plaque
 Protects against cavities
 Helps fight gum disease
Cons
Price at the time of publication: $6.47
Pros
 Whitens teeth
 Removes plaque and bacteria
 Builds a protective layer over sensitive areas
 Relieves sensitivity
 Improves gum health
 Low abrasion formula
 Freshens breath
Cons
Price at the time of publication: $14.5
Pros
Reverses early signs of gum disease damage
Improves gum health
Freshens breath
Prevents bleeding gums
Sugar-free and gluten-free
SLS-free
Vegan
Cons
None
Price at the time of publication: $13.99
Do you have some stains on your teeth due to being a heavy consumer of either caffeine or cigarettes? Get ready to banish those and have sparkly white teeth with Arm & Hammer's deep cleaning peroxide toothpaste which gently targets tough set-in stains and helps remove them. It contains baking soda for this purpose which also helps neutralize acids that weaken your teeth.The fluoride toothpaste also provides cavity protection and helps strengthen enamel while also working to control tartar and remove plaque along the gum line to give you healthy gums, strong teeth, and help restore minerals in your teeth.
Pros
 Whitens teeth
 Removes plaque and tartar
 Deep cleans
 Protects against cavities
 Freshens breath
 Contains peroxide to help kill germs
 Neutralizes acids that weaken teeth
 Restores minerals of your teeth
 Low abrasion formula
Cons
 Ingredients in formula may be strong for some
 May not suit gum sensitive teeth
Pros
 Helps treat gingivitis in 7 days
 Contains an amino acid glycine formula
 Protects against cavities
 Freshens breath
 Deep cleans
 Neutralizes plaque causing bacteria
 Comes in a pack of 3
Cons
 May have a numbing effect on mouth immediately after brushing
Price at the time of publication: $15.96
Pros
 Gentle formula
 Infused with tea tree oil and grapefruit seed extract
 Clove and cinnamon oils for clean and fresh breath
 Tartar-control
 Anti-cavity
 Prevents plaque
 No SLS presence
 No saccharin, parabens, phthalates, and harsh sulfates
Cons
 May have a slightly medicinal taste
Price at the time of publication: $6.29
Pros
 Fluoride-free
 Coconut-oil based
 Improves gum health
 Freshens breath
 Peroxide-free
 Coconut-mint flavor
 Gluten-free
 No SLS
 Protects teeth from bacteria and toxins
Cons
Price at the time of publication: $17.78
Pros
 Tartar-control
 Anti-cavity
 Prevents plaque
 Fights against enamel erosion
 Sugar shield
 Whitens teeth
 Improves gum health
 Freshens breath
 Combats sensitivity
Cons
Price at the time of publication: $11.75
Pros
Mint flavor
Prevents cavities
Sugar-acid protection
Prevents bad breath
Cons
None
Price at the time of publication: $3.19
Pros
 Natural ingredients
 Bleeding gum treatment and prevention
 SLS-free
 Removes plaque
 Fights gingivitis
 Improves gum health
 Freshens breath
 Fluoride free
 Infused with aloe vera
Cons
Price at the time of publication: $6.49
What Do You Need To Consider Before Buying A Toothpaste For Your Gum Health?
always important to check what is going into your mouth when purchasing a new toothpaste. Sodium Laureth Sulfate or SLS is a common cleaning ingredient used in many toothpastes because it is a good cleaning agent and helps remove food debris from your mouth. However, it may irritate sensitive teeth and gums, so keep in mind its presence when picking out toothpaste. Similarly, if you want fluoride-free toothpaste due to allergies or any other preference, consider the ingredients while buying a gum strengthening toothpaste.
If you have already existing gum issues then it is best to buy a toothpaste that targets and treats that particular problem, which could range from sensitivity to bleeding gums to periodontal disease.The list has a selection of toothpastes which cater to different issues and if you simply want to buy a good toothpaste to improve gum health even without blatant problems, then you can take a look at the toothpastes that offer protection and prevention from gum diseases.
Many of us can't do without coffee in the morning or even the occasional cigarette; however, these habits lead to stains on our teeth that don't look great. You can look to see if the toothpaste you want has any whitening properties and purchase it accordingly.
So these are the 10 best kinds of toothpaste for gum health you can find. Bid farewell to all your gum issues like bleeding gums, cavities, plaque, tartar buildup, bad breath, and sensitivity, and hello to pink, healthy gums with this collection of toothpastes. It is crucial to keep our teeth and mouth healthy to avoid gum diseases like gingivitis and periodontitis, leading to harm over the long term if not taken care of effectively. Luckily we have these toothpastes, which we can use daily at home to help minimize any damage and prevent future gum problems. They all range from targeting different gum health issues to even being made up of other ingredients so you can choose the best one suitable for you. Take a look at our well-curated list of the top 10 best toothpastes for gum health that you can buy to keep your gums clean and healthy this year.
Why Trust StyleCraze?
The author of this article, Shreya Vishvanathan, has a keen interest in health and wellness. She has conducted in-depth research and browsed various forums to check user feedback. She went through hundreds of reviews to provide the best toothpaste for gums. The toothpaste listed above freshens breath, strengthens enamel, minimizes inflamed gums, relives plaque, and prevents odor. Apart from maintaining oral hygiene, these toothpastes can address other gum concerns.
Frequently Asked Questions
Does toothpaste fix receding gums?
There is no reversal of receding gums with toothpaste, but there are toothpastes available which help stop and prevent receding gums, which are caused by severe gum diseases. You can avoid this by brushing your teeth with a suitable toothpaste that helps improve gum health daily before any problems occur.
Does toothpaste work for bleeding gums?
Yes, there are toothpastes available which help reduce and prevent bleeding gums.
What toothpaste helps restore gums?
The Crest Pro-Health Advanced Gum Restore Toothpaste is infused with stannous fluoride that prevents the plague-causing bacteria and strengthens your gums.
Can your gums grow back?
No. Gums can not grow back naturally. However, further damage to your gums is preventable.
Can a dentist do anything for receding gums?
Yes. Dentists use gum graft technology to transfer healthy gum tissue from one part of the mouth and attach it to the damaged gum area. This way, dentists can restore receding gums.
Does Sensodyne stop bleeding gums?
Yes. Sensodyne toothpaste eliminates the plague bacteria and relieves swollen gums. Also, it develops a protective layer over your sensitive gums and stops them from bleeding.
Can bleeding gums be cured?
Yes. Good oral hygiene practices like brushing the teeth twice daily and home remedies like cold compress help treat bleeding gums.