10 Best Epilators For Armpits That Offer Long-Lasting Results – 2023
Upgrade your hair removal experience with portable, safe, and lightweight epilators.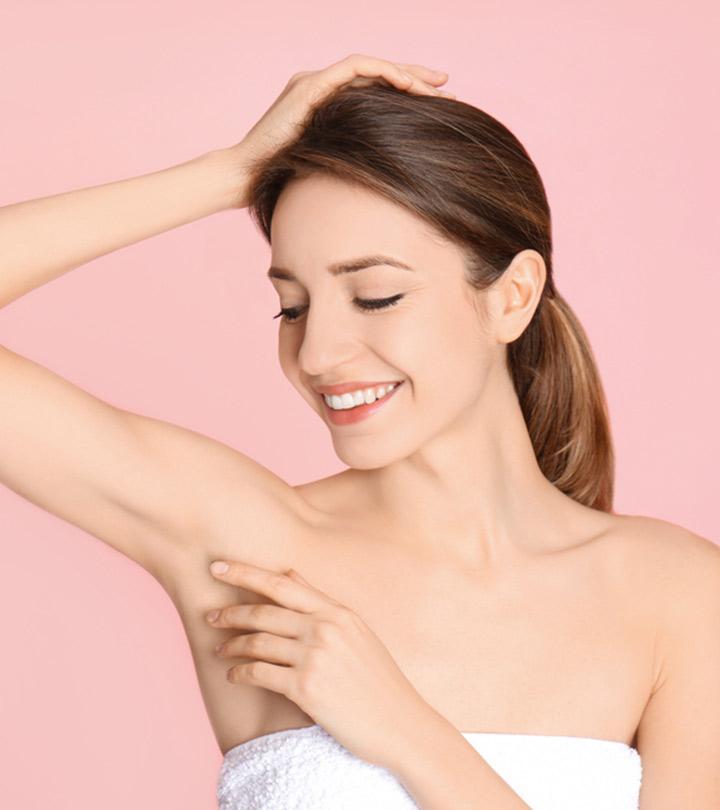 When it comes to underarm hair removal, everyone has their own way of doing it. While some prefer waxing or shaving, some swear by laser hair removal, and some like using an epilator. Epilators are perfect for those who can't keep up with frequent salon appointments. If armpit hair is the biggest of your worries, you need to invest in the best epilators for armpits. The best part is that you can use these epilators inside your bathroom. You might be used to manual shaving, but the experience of using a high-tech device will completely change your hair removal experience.
You can use this tool quickly, effortlessly and with precision, and it will leave your skin feeling smooth and silky for weeks. If you have never tried using an epilator for your armpits, then this post is for you. Keep reading to explore our top picks and make an informed choice. We have rounded up the products after an in-depth analysis of their reviews.
10 Best Epilators For Armpits To Keep Your Skin Hair-Free And Smooth
The best Braun epilator for long-lasting results, the Silk-epil 3-270 is super gentle on dry skin and clears away armpit hair in a single swipe. Its Smartlight technology plucks out even the finest of hairs to leave you with silky smooth skin. To remove unwanted hairs from the root, this Braun epilator makes use of 20 tweezers and you can choose between 2 speed settings. Equipped with massage rollers, it helps reduce pain and the skin is stimulated for better blood flow. As the epilator head adapts to the contours of your body, hard-to-access areas can be taken care of easily.
Pros
Plucks fine hair from the root
2 speed settings
Stimulates skin
Adapts to body contours
Gentle on skin
2-in-1 trimmer and epilator
Cons
Some may find the cord to be short
Price at the time of publication: $39.94
Philips' top-rated epilator removes hair as short as 0.5 mm right from the root. It works gently and the process is aided by the Satinelle's ergonomic rounded handle that allows for easy access. As the epilator can be used wet or dry in the direction of hair growth, you can easily wash the detachable head to keep your device hygienic between uses. With two-speed settings for thinner and thicker hair, you can customize the experience according to your body. If you happen to have sensitive skin or want to use the epilator on your bikini line or armpits, simply use the sensitive trimmer cap as it moves gently. Multiple reviewers have highly praised this product for keeping their skin smooth and stubble-free for weeks!
Pros
2 speed settings for thin and thick hair
Ergonomic handle
Can be used wet or dry
Detachable head
Sensitive cap
Long cord
Cons
Might not be entirely pain-free
Price at the time of publication: $39.96
E-CONORO's electric hair removal epilator uses 30 tweezers to render your body hair-free. It is a 2-in-1 shaver and epilator with the first one for fine facial hair and the latter for use on legs or arms. Adapting to your body's contours, the device's head moves smoothly to remove hair as short as 0.5 mm along with clearing dead skin cells. For better flexibility, the neck of this epilator has a floating part and features a LED light for visibility. With 2 speed settings available in these epilators for underarms, you can move at your own pace for effective hair removal. This epilator is clinically proven to be safe for use both on the body and face. Sensitive skin types can be taken care of with a slower speed that is gentler on the hair follicles and almost painless.
Pros
2 speed settings
LED light
Flexible neck
Can be used on full body
Pulls even short hair
Adapts to body's contours
Cons
Might not remove thick hair from the root
Price at the time of publication: $26.99
The best epilator for underarms comes from Keda as it gives you ease with no corded feature. It contains 18 tweezers that move swiftly to remove even thin hairs from the root for faster and more efficient hair removal With the built-in LED light, you can ensure that your skin is completely hairless. Choose between 2 speeds depending on the one that is comfortable for you. Lightweight and portable, Keda's advanced cordless epilator can be packed in your toiletry bag and charged easily with a power bank. This device has got amazing reviews on Amazon, all speaking highly of its built-in light that does not even miss removing a handful of hair.
Pros
2 speed settings
LED light
Portable
Lightweight
Removes hair from the root
Detachable and washable head
Cons
Might not pluck hair in one go
Price at the time of publication: $19.55
Epilady's underarm hair remover works smoothly to remove stubborn hair in a single swipe for long-lasting smooth skin. 2 operating speeds pluck hair out from the root for results that last from 4 to 6 weeks. The wide epilator head moves quickly while the handle features rubber for a non-slip grip. The Anti-Pinch technology ensures that your skin is not harmed and tiny hair is gone for good. At a single charge, the device can run for up to 60 minutes corded or cordless. The compact design allows you to have a salon-like experience from the comfort of your own bedroom!
Pros
Can be used corded or cordless
Results last from 4 to 6 weeks
Ergonomic non-slip handle
Portable
Lightweight
32,000 tweezes per minute
Cons
Takes a long time to charge
Price at the time of publication: $64.9
For the best armpit hair removal results, try Emjoi's Emagine Epilator with 72 tweezers. It decreases the incidence of ingrown hairs with the help of middle lifting fingers that lift up short and flat hairs. Removing hair from the roots, the Emjoi device allows effective hair regrowth prevention for up to 6 weeks. Its built-in Silver Ion Technology makes way for a gentle epilator head for reduced skin irritation and razor bumps for smoother skin.
Pros
Contains 72 tweezers
Reduces ingrown hairs
Works for up to 6 weeks
Minimizes skin irritation
Plucks short and flat hair
Dual speed control
Cons
Price at the time of publication: $79.95
The Conair Total Body Epilator features 40 ultra-precise tweezers for fast hair removal. It grabs hair closer to the roots and plucks each strand gently. It is rechargeable and offers smooth and clear skin for up to 6 weeks. This innovative epilator can be used to shave hair from arms, underarms, legs, or the delicate areas of your body. It offers a satiny-smooth finish and remains ideal for sensitive skin.
Pros
Lightweight
Ergonomic design
Satiny-smooth finish
Long-lasting coverage
Ultra-precise results
Travel-friendly
Cons
None
Hangsun gives you the best hair removal for underarms with its rotating tweezers that work on short hair without pinching the skin. The epilator head is extra wide to cover more surface area in a single go and gives you 4 weeks worth of smooth skin. You can use the shaver attachment with a floating head and double-sided shaving heads to fit your body's curves. This is ideal for removing thick armpit hair without causing any snags. 2 speeds and a smartlight allow for a convenience and the blades are hypoallergenic and dustproof to keep the skin safe.
Pros
2 speed settings
Hypoallergenic blades
Detachable and washable heads
Portable
Snap-on caps for traveling
Works for 30 to 40 minutes when charged
Cons
Might make a loud vibrating sound
Price at the time of publication: $34.99
You can use this waterproof epilator on your underarms, bikini line, or arms and legs with ease. To adapt to the contours of your body, the shaving foil has a curved and flat trimmer that gets all the hard-to-reach areas as well. As the trimmer can be used both wet and dry, you can save time by using it in the shower with no damage, making it a win-win situation for all. A single charge allows you to use KemeI's Electric Shaver for up to a whopping 6 weeks. This is why it's a star tool to carry with you on your next vacation!
Pros
Gentle
Waterproof
Wet and dry use
Lasts up to 6 weeks on charge
Portable
Adapts to body's contours
Cons
Some may find the positioning of the power button uncomfortable
Price at the time of publication: $10.99
The best epilator for underarms and legs, ElectriBrite's device has 3 removable heads that can be used on the whole body. With massage rollers, the blades gently go over the skin while shaving to minimize pain and irritation. Charge the epilator for 6 hours with the rechargeable battery and enjoy up to 50 minutes of use time corded or cordless according to your preference. To remove longer hair, the side blades are beneficial and the floating foil head cleans up the residual hair. A callus remover head is also included to remove thick skin and keep your feet looking top-notch!
Pros
2 speed settings
Built-in LED light
Can be used to remove calluses
Cleaning brush included
Rechargeable battery-powered
Portable
Lightweight
Cons
Price at the time of publication: $29.99
Now that we have seen the best epilators for armpit hair removal, let's learn how you can purchase the right one for yourself!
How To Choose The Best Epilator For Your Armpits
Look for an epilator that has a thin handle with rubber coating on the sides as this can help with a non-slip grip. A wide head can help grab all the hairs in your underarms in one go without needing do-overs. For emergencies or rushed situations, a LED light built into the epilator's body can help with visibility so you don't miss the finer and flatter hairs.
Blades and speed settings
Stainless steel blades with rotating heads not only efficiently pluck hair out, they also minimize skin snagging and pulling. Flatter blades can help brush off remaining hair to give you smoother skin. Some epilators can have multiple attachments, which are meant for thick and thin hair. If your underarm hair is relatively coarse, you can use bigger blades with a high speed setting and low speed setting for finer hair up to 0.5 mm or for sensitive skin.
Corded epilators need to be plugged into a power source while they are being used. If this is your pick, look for a longer cord as it gives you a wider range of movement. Cordless epilators come with built-in batteries and need to be charged for a set amount of time and this is a good option if you happen to be traveling.
After you've settled on the epilator you'd like to bag, let's dive into how you can use one for hairless skin that is soft to the touch!
How To Use Epilators To Remove Underarm Hair
Step 1: If this is your first time epilating, mentally prepare yourself for a bit of pain. However, you must also remind yourself that it gets easier with practice. Before using an epilator on a larger area of your body, test it on a small patch of skin, such as your forearms to check for any excessive pain and allergic reactions.
Step 2: Exfoliate the area you would like to shave. You can use a store-bought formula or DIY your own scrub with some sugar and olive oil.
Step 3: Rinse off the scrub and ensure that your underarms are completely dry before beginning the epilating process.
Step 4: Stretch one arm up high and keep the skin taut so that it doesn't get pinched between the tweezers. You can stand before a mirror for a better view.
Step 5: Start by slowly moving your epilator upwards and then move it downwards. Next, move it side to side as hairs can grow in different directions on your underarm skin.
Step 6: If you have residual hair left, you can go over them with smaller blades. However, be gentle so as to not aggravate the skin with too much force.
Step 7: After you're done, use a calming lotion or an aloe vera gel to soothe skin down and prevent ingrown hairs.
Step 8: Don't forget to clean your blades (not the whole epilator body unless it's waterproof) with some water and a cleaning brush.
Why Trust StyleCraze?
Krati Darak, the author of this article, is a skin and hair care enthusiast who loves to try different skin and hair products. So, she browsed thousands of reviews and checked the user feedback on forums to know about the best epilator for armpits. Also, she ensured that the epilators come with an ergonomic design to remove the hair in one go without overdoing it. The products listed above also feature multiple speed settings and blade attachments.
Frequently Asked Questions
Does an epilator cause ingrown hair?
Almost any method of hair removal can cause ingrown hairs and this can be a little more pronounced with epilating.
How often should I epilate my armpits?
Initially, you can epilate your armpits once every 2 weeks. As your pain tolerance increases and hair growth slows down, you can move it to once a month.
Is it okay to use deodorant after epilating?
It is recommended to avoid using deodorant on your armpits for the first 24 hours post-epilation. This is because the skin is still irritated and might lead to itchiness or cause rashes. It can also be more prone to sun damage.
Is it safe to epilate underarms?
Yes, epilating your underarms is a safe and quick way to get rid of unwanted body hair.
What do I do after epilating armpits?
After epilating, apply lotions containing cortisone or aloe vera. Avoid using deodorant for the next 12 hours at least.
How long do epilator results last?
If you remove hair with an epilator, you will remain hair-free for 4 weeks. However, it largely depends on each person's hair growth rate as well.
Recommended Articles