7 Best Underarm Whitening Creams To Look Out For In 2023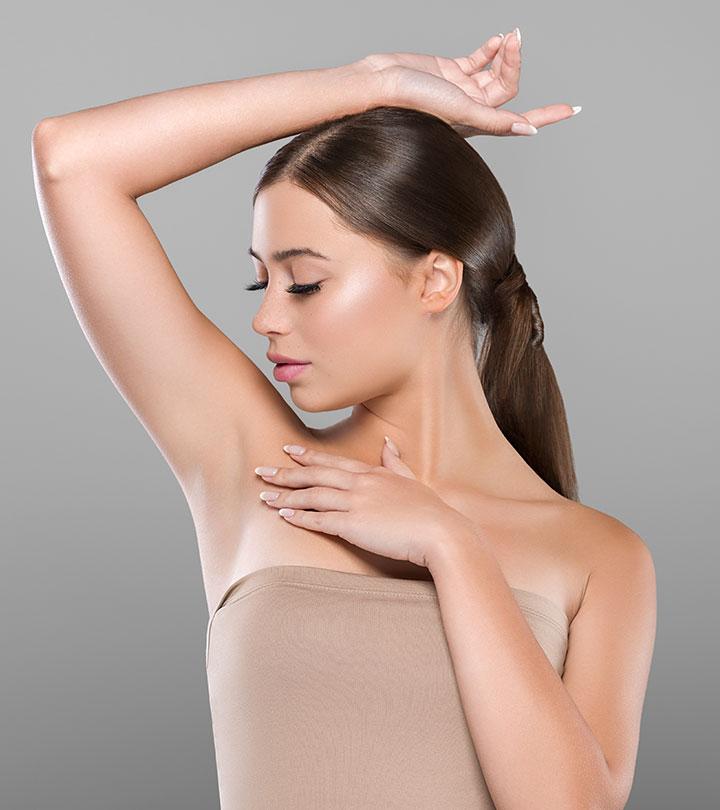 The best underarm whitening creams let you enjoy your sleeveless tops and dresses with confidence. These creams hydrate your skin and target hyperpigmentation to brighten your skin. These are free of chemicals and enriched with skin-nourishing ingredients that ensure you step out in confidence and don't shy away from raising your hands in sleeveless clothes! So, go ahead and check out our list of the most effective underarm whitening creams now!
Note: Results may vary from person to person, depending on the skin type.
Best Underarm Whitening Creams For You
Product Claims
Qraa underarm whitening cream claims to lighten dark underarms by reducing melanin from the skin in the area. It contains kojic acid, witch hazel, and licorice extracts that reduce melanin production and exfoliate the skin without irritating it. This cream claims to lighten your underarms in just 10 days.
Pros
Fast results
Natural extracts
Paraben-free
Suitable for all skin types
Pleasant fragrance
Non-greasy
Cons
May take time to show results
Product Claims
Dot & Key Underarm color correction serum penetrates deeply to restore the even tone of the underarm skin and minimize pigmentation. This serum is formulated with the goddess of bearberry and peony that help target pigmentation by reducing melanin production and brightening the area. It comes with a soothing floral scent and has a gel-emulsion texture.
Pros
 Dermatologist-tested
 Suitable for all skin types
 Paraben-free
 Cruelty-free
Cons
 Takes time to show results
Product Claims
Deaux Intense Glowing Underarm is formulated with plant-based ingredients that help to brighten the skin. This underarm cream modifies the skin tone for an even look. In addition, the cream effectively softens, nourishes, and hydrates the skin. You can also use this cream on your elbows, armpits, knees, nipples, areola, neck, and other private areas of the body.
Pros
 Non-greasy
 Cooling sensation
 Pleasant fragrance
 Travel-friendly
Cons
 Takes time to show visible results
[ Read: How To Remove Underarm Hair (Armpit Hair) At Home ]
Product Claims
Say goodbye to dark underarms and odor with Sanctus underarm cream. It removes dead skin cells and evens out the skin tone. It also has antiperspirant effects that reduce your chances of developing a sweat-induced bad odor. It can be used on the knees, thighs, underarms, elbows, and all your intimate areas. It is the best under arm darkness removal cream.
Pros
Paraben-free
SLS-free
Mineral oil-free
Oil-free formula
Fast absorption
Cons
It contains aluminum chloride that might irritate sensitive skin.
Product Claims
This deodorant cream doubles as a whitening and bleaching cream. It is mainly meant to keep your underarms fresh and odor-free throughout the day. However, it also has a very mild whitening effect. It can also be used on the neck, toes, and private parts. It can also treat mild rashes. It is the best armpit whitening cream in India.
Pros
Doesn't contain aluminum compounds
6 hours deodorizing effect
Contains natural extracts
Cons
May irritate your skin if you are allergic to citrus
Leaves a white film on the skin
[ Read: 12 Effective Home Remedies To Get Rid Of A Dark Neck ]
Product Claims
This whitening cream moisturizes, lightens, and even-tones the complexion of the dark and dry skin of your body. It is enriched with Vitamin C and Alpha Arbutin, which smoothen and brighten the skin. It can be used on nipples, groin, knee, neck, underarms, legs, etc. It is also effective in removing body odor and diluting melanin, giving you a firm, even-toned skin complexion.
Pros
Paraben-free
Contains natural active whiteners
Ideal for all body areas
Cons
Might cause rashes or allergies in some people
Product Claims
This is a gel-based underarm brightening cream. You can use it not only on the underarms but also on other intimate parts of the body. It contains licorice extracts and salicylic acid that exfoliate the skin and brighten it gradually. It also prevents irritation and redness. It is the best product to lighten underarms.
Pros
Cons
Expensive
Not easily available
There are various brands on the market offering underarm whitening solutions. Read the following pointers to understand what you need to know while buying an underarm whitening cream.
What To Consider Before Buying An Underarm Whitening Cream
Skin Type: Knowing your skin type is essential before buying any cream for your skin. Most whitening creams are designed to suit different skin types. A cream that does not match your skin type can cause skin rashes and irritation. Going for an underarm whitening cream that suits your skin type will give you the best results.
Smell: People could be allergic to different types of smell. Such allergies may cause headaches and discomfort. Trying a sample beforehand helps. You can also read reviews of verified customers before purchasing.
Ingredients: Being aware of what the cream contains will tell you how best it can suit your skin. Go for natural ingredients. Also, if you are prone to allergies, reading the ingredients list can tell you how safe the product can be for you.
Budget: Every product belongs to a different price range. While certain expensive brands may not show any results, others that are reasonably priced may cause issues. Hence, go for a whitening cream from a brand you already trust. Most effective underarm whitening creams cost between $30-50$.
Other Factors To Check: Find out more about the brand. You may also check to ensure the product is not animal-tested. Also, read customer reviews to understand if the product causes any side effects.
Both men and women can get dark underarms. There are several factors responsible for it.
Factors Responsible For Dark Underarms
Hyperpigmentation: When your skin produces excess melanin, it causes hyperpigmentation. Your underarm skin can develop hyperpigmentation for many reasons, including razor burns, inflammation, and exposure to UV rays.
Friction: Excessive rubbing and friction can make the skin dark or thick.
Hormonal Changes: Your body undergoes hormonal changes when you are pregnant or use hormone supplements. It might cause excess melanin production, leading to skin darkening in the underarms and on the neck and upper lip.
Improper Hygiene: If you do not clean the armpits properly, bacteria and microorganisms may build-up, causing odor and skin darkening.
Effects of Chemicals: Often, using deodorants and antiperspirants also causes skin darkening as they contain alcohol and certain other chemicals that might irritate the skin. Hence, it is better to switch to natural deodorants.
The dark underarms under your sleeveless top can make you feel embarrassed. But worry not! You can eradicate this by using the right underarm whitening cream. These creams brighten your skin, hydrate it, and keep it well-nourished. Unlike regular creams, the creams listed in our article have no harmful chemicals and are infused with skin-friendly ingredients. However, consider creams that are suitable for your skin and are non-greasy. And avoid creams that trigger allergic reactions on the skin.
Recommended Articles
The following two tabs change content below.