15 Best L'oreal Hair Color Products Available In India – 2019
Bored with your hair? Want to try out an exciting new hair color? Then what better box of hair color to reach for than L'Oreal Paris?! L'Oreal Paris was founded over a 100 years ago in 1909, so it comes as no surprise that it is a juggernaut when it comes to hair color products. However, this also means that there are literally hundreds of hair colors that you can choose from! If the thought of perusing them all and making a choice seems overwhelming to you, worry not. We've compiled the top 15 L'Oreal hair color products that you can get your hands on right away! So, let's check them out…
Top 15 L'oreal Hair Color Products
L'Oreal Paris Casting Creme Gloss
L'Oreal Paris Excellence Creme
L'Oreal Paris Excellence Fashion Highlights
L'Oreal Paris Magic Retouch Instant Root Concealer Spray
 L'Oreal Paris Casting Creme Gloss
Looking for a short term solution for covering your grey hair? Then L'Oreal Paris Casting Creme Gloss is the perfect choice of hair color for you! This semi-permanent hair color offering by L'Oreal contains no ammonia and lasts for 28 washes. Not only does it cover greys and adds shimmer and shine to your hair, it also nourishes your hair to make it satin-soft and voluminous! Its non-drip formula and 20 minute processing time makes for easy and quick application that can be mastered by even a beginner.
Pros
Ammonia-free
Easy to apply
Adds shimmering tones to your hair
Covers greys
Makes your hair soft and shiny
Color fades evenly with each wash
Reasonably priced
Cons
The end result of some colors may not turn out as advertised
Rating
4.5/5
These are the top colors that you need to check out from the L'oreal Paris Casting Creme Gloss range of hair colors:
1. Mahogany 550
Add a rich red tinge to your brunette locks with this gorgeous Mahogany shade! Mahogany allows you to add a bit of flair to your tresses without going over the top.

2. Burgundy 316
Channel your inner luxurious diva with this Burgundy shade that will add a vibrant reddish-purple tone to your hair.

3. Praline Brown 530
Praline Brown is a deep brown shade with golden undertones. Opt for this hair color if you want to revive your dull and lifeless hair.

4. Darkest Brown 300
Infuse your naturally brown hair with new life by injecting it with this gorgeous Darkest Brown shade that is understated yet classy. This hair color will also add tons of depth to your hair to make it looks voluminous.

5. Black Cherry 360
Want to change up your hair look and add a funky twist to it? Then Black Cherry is right up your alley. This deep red shade will add oodles of dimension and charm to your tresses.

6. Iced Chocolate 415
It's a crying shame that not a lot of people don't try out cool-toned hair colors fearing that it will make them look grey and washed out. But that could not be further from the truth! Try out Iced Chocolate – which is a cool toned brown shade – to see for yourself.

L'Oreal Paris Excellence Creme
The domain of permanent hair color is ruled by one range of hair colors all around the world – L'Oreal Paris Excellence Creme. This range of L'Oreal permanent hair colors is dubbed as Triple Care Color as it contains pro-keratin, ceramide, and collagen that protect, strengthen, and replenish your hair respectively. It is also infused with 5x more conditioner and offers 100% grey coverage from root to tip to give you rich, even, and long lasting color. Moreover, it gives you stronger hair that is 85% more resistant to brushing.
Pros
Effective grey coverage
Makes hair soft and shiny
Reduced hair fall
Easy to apply no-drip formula
Pleasant fragrance
Cons
Not as long-lasting as it claims to be
Rating
4/5
Here are a few hair colors from the L'Oreal Paris Excellence Creme line that you need  to check out:
7. Black 01
What better way to cover your greys than with a dramatic black shade? You can also try out this hair color if you want to create an air of mystery around you.

8. Deep Plum 416
Look sexy, look cool with this Deep Plum shade that is bound to make some serious head turns. This reddish-brown shade with a hint of purple adds a pop of color to your hair without looking outrageous.

9. Natural Light Brown 06
If a classy and sophisticated look is what you're going for, then that is exactly what you'll get with Natural Light Brown. This L'Oreal light brown hair color effectively colors your hair without looking too ostentatious.

10. Natural Brown 5
You may think this looks a bit boring, but your brunette locks will gain a new lease of life when you color them with this Natural Brown shade.

11. Aishwarya's Brown 425
Who in their right mind would not want the same hair color as the most beautiful woman in the world, right? So check out this rich chocolate brown hair shade that is Aishwarya Rai's signature hair color.

L'Oreal Paris Excellence Fashion Highlights
If you're looking to give yourself "ultra glamorous highlights" and get a "fashionable hair look" right from the comfort of your home, then L'Oreal Paris Excellence Fashion Highlights are the way to go. This highlight hair color is super easy to apply, thanks to the Expert Brush included in the kit. So, give your hair salon-like highlights and rich dimension without further ado!
Pros
Easy application with the help of the Expert Brush
Short processing time
Reasonably priced
Cons
May not be very effective on dark hair
Rating
4/5
These are the two shades offered in the Fashion Highlights range:
12. Caramel Brown Highlights No. 6
Looking trendy and chic has never been easier than with some Caramel Brown highlights. Color your hair with this vibrant caramel brown hue to add some serious dimension to your hair.

13. Honey Blonde Highlights No. 5
Add a blonde flair to your brunette locks with Honey Blonde highlights. This warm light blonde shade is just the right hue to make you look classy and sassy.

L'Oreal Paris Magic Retouch Instant Root Concealer Spray
Have you ever wondered if such a  thing as makeup for hair exists? Well, turns out, it does! L'Oreal Paris Magic Retouch Instant Root Concealer Spray does all the myriad things that it claims to with its name. Just a few spritzes of this spray effectively conceals your grown out roots in a matter of minutes. Moreover, it seamlessly blends in with the rest of your hair and dries quickly.
Pros
Precise application thanks to the pinpoint nozzle
Covers greys
Blends into your natural hair color
Natural looking texture
Dries quickly
Easy to rinse out
Cons
Transfers onto skin and clothes easily
Can make your hair feel sticky and weighed down
A bit difficult to apply around hairline
Rating
4/5
Dark Brown and Black are the top-selling shades from the L'Oreal Paris Magic Retouch Instant Root Concealer Spray range:
14. Dark Brown
Grey roots peeking out of your luscious brown tresses is a big no-no. So, check out the Dark Brown shade in this range to get some instantaneous results.

15. Black
Nothing ruins the beauty of dark-as-night black hair than grown out grey roots. So, pick up the Black shade, spray it on, and banish those pesky roots from your sight!

And there you have it, ladies! The best L'Oreal hair color products you can try out right now! Pick up the one that tickled your fancies the most and comment below to let us know how it worked out for you!

The following two tabs change content below.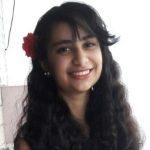 Latest posts by Arshiya Syeda (see all)