10 Best Hypoallergenic Shampoos For Sensitive Skin
Use these hypoallergenic shampoos for sensitive skin that are FDA-tested and safe.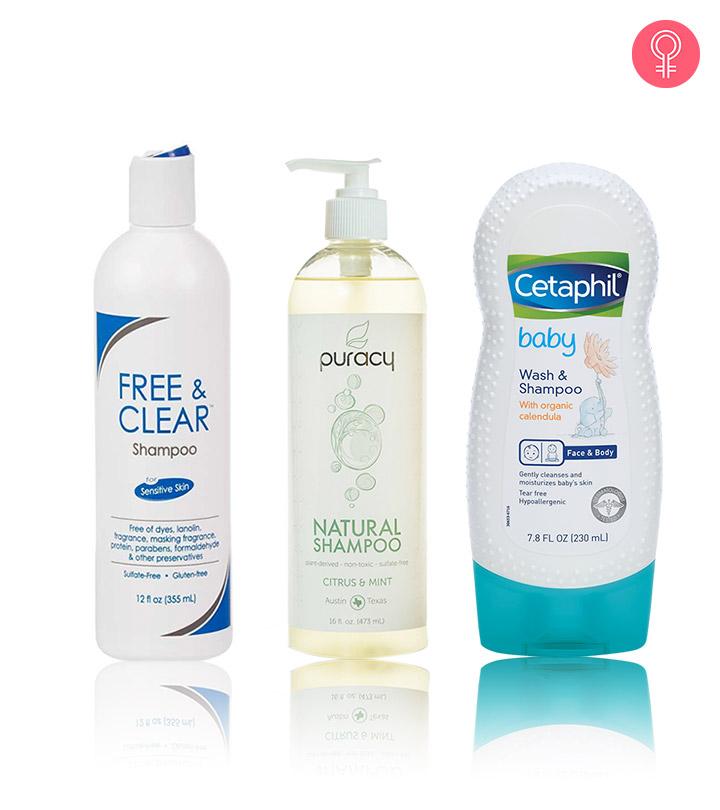 Sensitive skin is more often a bane than a boon, but that doesn't mean you can't find beauty products that work without breaking you out. For instance, the market is saturated with some of the best hypoallergenic shampoos our beauty editors have ever experienced. These hair care products are rigorously tested by the FDA and dermatologists and deemed safe to use on hypersensitive skin. These shampoos are ideal even for those with combination and normal skin, formulated without parabens, alcohol, phthalates, sulfates, and fragrance.
Whether you are dealing with eczema and need something gentle or cleaning your beauty aisle of possible allergens, the 10 hypoallergenic shampoos we have picked out here will finally make your hair feel at home. Take a look!
Top 10 Hypoallergenic Shampoos To Buy In 2023 For Sensitive Scalp
This non-medicated, gentle shampoo is ideal for sensitive scalp and skin. It cleanses your hair well and makes it more manageable. It prevents flaking and scaling. This gluten-free shampoo helps control excess sebum secretion and keeps build-up and residue at bay. For those with an infected scalp, this mild formula can help eliminate the irritants without drying it out. To get a better understanding of Free & Clear Shampoo, go ahead and check out this YouTube video.

Pros
pH-balanced formula
Free of harsh chemicals
Dermatologist-tested
Suitable for people with eczema and scalp psoriasis
Cons
None
Price at the time of publication: $10.99
This shampoo contains a balanced blend of cleansers, essential oils, and other emollients that cleanse your hair and scalp without drying it out. It produces a soft lather that provides weightless moisture. The product claims to contain 99.95% natural ingredients. Peppermint and eucalyptus essence add a hint of freshness to your scalp. The blend of rich ingredients infused in this shampoo help strengthen weak roots.

Pros
Eliminates frizz and breakage
Hydrates dry scalp
Strengthens hair follicles
Keeps your scalp fresh and odorless
Cons
None
Price at the time of publication: $29.95
3. Best Dermatologist-Recommended: DHS Clear Shampoo
This daily cleansing shampoo can improve your scalp health in just a few weeks. The formula is prepared without any harsh detergents that may increase your scalp issues. This shampoo maintains your scalp's pH levels and conditions the scalp and hair. The best part is that this hypoallergenic shampoo is ideal for people with issues like dandruff, psoriasis, eczema, and seborrheic dermatitis.

Pros
Soothes itchy scalp
Clears excess oils
Tames flyaways
Dermatologist-tested
Cons
Leaves a tingling feeling on the scalp
Price at the time of publication: $17.0
Though it was created for babies, this gentle formula works well for adults too! Cetaphil Baby Wash And Shampoo is infused with organic calendula extract, which is derived from the marigold flower. It lathers into a rich and gentle foam, hydrating your scalp and hair within a matter of few seconds. It leaves a fresh and calming feeling on your hair.

Pros
Free of harsh chemicals
Safe for daily use
No parabens, colorants, or mineral oils
Doesn't dry out your hair
Cons
Price at the time of publication: $19.98
This argan oil-infused shampoo helps restore and enhance hair growth. It moisturizes dry and brittle hair by hydrating the damaged cuticles. The moisturizing minerals and oils in this shampoo help soothe the scalp. It also treats inflammation and soreness. This nutrient-rich shampoo contains ingredients like avocado, jojoba, and almond oils that help strengthen weak strands. In this YouTube video, you will learn more about Art Naturals Argan Oil Shampoo.

Pros
Tames frizzy hair
Treats scalp redness
Deeply moisturizes each strand
Paraben- and cruelty-free
Cons
Can make your hair greasy
Price at the time of publication: $12.85
This organic shampoo is infused with saponin-rich soapberries that help balance scalp pH, clear dandruff, treat psoriasis, and condition your hair all at once. The formula is infused with organic argan oil, aloe vera, chamomile, and olive. These ingredients smoothen your hair while soothing a dry and sensitive scalp. The best part about this shampoo is that all the ingredients are organically harvested and handpicked.

Pros
Free of harsh detergents
Clears dandruff and flakes
Improves overall scalp health
Cons
Can dry out your hair initially
Price at the time of publication: $35.98
Put an end to scalp irritation with Maples Holistics Tea Tree Oil Shampoo. It relieves itching, flaking, and dandruff. The formula is packed with antibacterial and antifungal properties that help eliminate infections from your scalp. It boosts blood circulation and promotes healthy hair growth. This sulfate-free hydrating shampoo moisturizes the scalp, cleanses the follicles, and clears dirt in just one use. It strengthens roots and improves your hair's elasticity. Check out the review of Naturelle Biotera Hypoallergenic Ultra Gentle Shampoo for more information.

Pros
Nourishes the scalp
Prevents flakes and lice
Controls hair fall
Cons
Price at the time of publication: $11.95
Cleure Volumizing Hypoallergenic Shampoo is free of parabens, sulfates, and other harmful chemicals. It cleanses your scalp thoroughly and gives you silky, shiny hair. It adds volume to limp hair, giving it a fuller look. This gentle cleanser imparts lustrous shine to dull and lifeless hair, which lasts for days.

Pros
Vegan and cruelty-free
Hydrating formula
Thickens your hair
Cons
Can make your hair greasy
Price at the time of publication: $12.0
This gentle and mild 2-in-1 formula is perfect for the entire family. It contains organic ingredients like coconut oil, jojoba protein, and quinoa that help moisturize your hair and skin. These ingredients soothe your scalp and nourish your hair. The formula cleanses your hair without overdrying it. It leaves your hair looking soft and fresh instantly.
Pros
Treats scalp inflammation
pH-balanced formula
Pediatrically tested
Cons
Can dry out your hair initially
Price at the time of publication: $10.99
With No Nothing Very Sensitive Shampoo, you can have both clean hair and vibrant color that lasts. With cottonseed oil and no hazardous additives, it protects, conditions, and moisturizes color-treated hair. This hydrating shampoo, rich in avocado oil and free of harsh chemicals, gently washes your scalp and moisturizes dry, chemically damaged, or regular hair. This moisturizing shampoo protects your hair from sun damage and heat styling equipment. This moisture shampoo is ideal for a soft hair care regimen and is suitable for daily use.
Pros
Fragrance-free
Paraben-free
Cruelty-free
Vegan
Contains natural ingredients
Gluten-free
Protects from sun damage
Cons
Price at the time of publication: $24
It can be hard to find a hypoallergenic shampoo that doesn't cause problems for those with sensitive skin. That's why we have curated a listing of how to buy the best hypoallergenic shampoos which will make your scalp happy and healthy.
What To Consider When Buying Hypoallergenic Shampoos for Sensitive Skin
Skin-friendly formula: Look for a gentle formula that does not aggravate the scalp and eliminates the irritants without drying out the scalp.
Chemical Free: Give careful attention to the ingredients listed on the bottle and you will easily be able to identify any chemical that may be included in your bottle. Best to avoid ingredients like sulfate, SLS, paraben, and certain preservatives.
Fragrance-free: Scented shampoo might aggravate the sensitivity. Don't be fooled by the label saying "fragrance-free" since they might be false claims. The shampoo might consist of plant extracts or essential oil scents which can be irritating to sensitive skin. So check the scent by sniff test.
Organic: Don't be fooled by shampoos that contain a plethora of ingredients, but don't do anything for your hair. Look for an organic formula that consists of aloe vera, oat milk, green tea extract, and apple cider vinegar which treats inflammation and dryness of the scalp.
Hydrating: Look for shampoos with moisturizers that are specifically designed to help dry and damaged hair. These can also help to reduce flaking of the scalp while promoting healthier hair growth.
Check The Expiry Date: Do check the expiry date of the shampoo. It should be one-two years from opening.
Price: Price is another crucial factor. Do not opt for an expensive shampoo by blindly trusting the brand. Many quality hypoallergenic shampoos are available in the market or online, which give good results without being heavy on the pocket.
These are the best hypoallergenic shampoos for sensitive scalp. Have you tried any of these shampoos before? If not, quickly fill your cart with your favorite product, try it out and let us know how it worked for you in the comments section below.
Why Trust StyleCraze?
The author, Pooja Karkala, is a hair care enthusiast with a passion for unearthing the most excellent and effective products for her readers. For this article, she conducted an extensive research to narrow down a list of the best hypoallergenic shampoos available on the market. She read product specifications and online reviews to ensure that the shampoos improve your hair without causing any irritation to the scalp. All of the products mentioned here are dermatologist- and FDA-approved.
Frequently Asked Questions
Can we use adult hypoallergenic shampoos for babies?
No. Adult hypoallergenic shampoo, though skin-friendly are not gentle enough for the baby's scalp. So, invest in only a good baby shampoo that is free from any irritants for washing your baby's scalp.
How do we know if a shampoo is hypoallergenic or not?
Check the label of your shampoo to know if it is hypoallergenic or not. If the label does not include ingredients like fragrances, color, and preservatives like parabens, the shampoo is likely hypoallergenic.
Does regular use of hypoallergenic shampoo improve scalp condition?
Hypoallergenic shampoos are extremely gentle and relieve itchiness and flakiness of your scalp. But, using it daily can dry out the strands. So, if you require to wash your hair every day, look for hypoallergenic shampoos that have nourishing ingredients that can retain the moisture of the scalp. These shampoos can improve your scalp condition when used daily.