9 Of The Best Rainbow Highlighters Out There
Flaunt the chicest makeup looks and make heads turn with these trendy shades in your vanity. A rainbow highlighter brings a fun and playful element to your makeup routine, offering an iridescent glow that enhances the beauty of your high points.The best rainbow highlighter comes with high pigmentation, rich texture, and bendability. It offers a multicolored look to your cheeks, cupid brow, and other high points. If you want to dazzle your audience with your dashing makeup looks, check out our list of the 9 best rainbow highlighters below!
9 Rainbow Highlighters For A Stunning Holographic Glow
Review
This prismatic highlighter from Too Faced is infused with real crushed diamond powder and light-reflecting pearls for an extra-luxe sparkle. Its formula is hand-poured, ensuring that no two highlighters ever look the same – much like real diamonds. For a pure, radiant glow, simply swirl the blue, pink, and gold shades to create a custom highlight shade that can be used anywhere on your face, body, and eyes. Check out the review video of this product on YouTube featuring a tester's experience of using the highlighter and know why it is one of the best out there. Discover the illuminating effect of this product and embrace the prism-like glow.
Pros
Buildable
Long-wearing
Pigmented colors
Suitable for all skin tones
Versatile
Cons
Review
This gem from Wet N Wild features vibrant shades of pink, orange, yellow, pale green, pale blue, and lavender. When swirled together, they create a green-tinged gold with a heavy metallic finish. This metallic sheen adds an extra level of allure to your makeup, creating an eye-catching and enchanting effect. If you want to play around with fun makeup looks without spending a lot of money, this cult-favorite rainbow highlighter is the best you can get for a truly unique unicorn glow. The product also boasts countless positive reviews on Amazon for its highly pigmented formula, so you can confidently give this product a try!
Pros
Easy to use
Blends well
Extremely saturated
Affordable
Cruelty-free
Cons
Review
Makeup Revolution's Rainbow Highlighter makeup is as big as a whole palette. We are talking about a giant pan, bright colors, and multiple ways to use the powders. The size of the pan makes it easy to use individual shades or mix them all together for a multi-colored glow. Its colors are perfect for a spring or summer day and stand out beautifully on all skin tones. Elevate your makeup game with this multi-color statement-making shimmer that brings high-impact shine, and versatile application options.
Pros
Versatile
Soft texture
Long-wearing
Blends well
Value for money
Cons
4. Chaos Makeup Kaleidoscope Rainbow Highlighter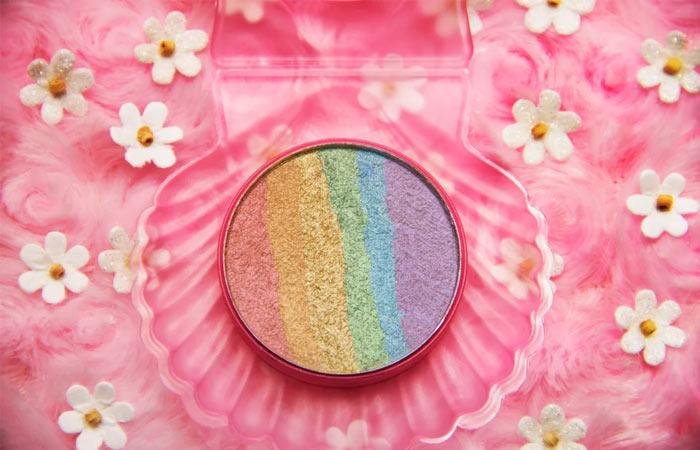 Review
Chaos Makeup's Kaleidoscope Rainbow Highlighter is magic in a pan. This handcrafted formula is infused with coconut and leaves you with the dreamiest texture ever. Its pigment is remarkable and not at all chalky. Its coverage is buildable, making it easy to customize your makeup looks.
Pros
100% natural
Great packaging
Iridescent to full coverage
Suitable for all skin types
Value for money
Cons
Purchase Link
5. Bitter Lace Beauty Prism The Original Rainbow Highlighter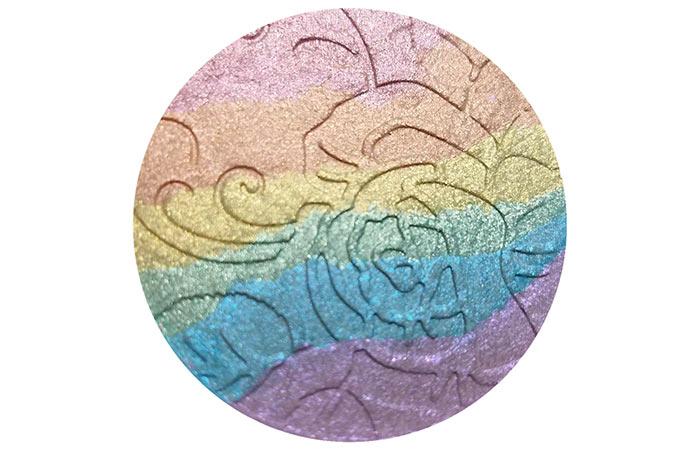 Review
The Prism Highlighter from indie beauty brand Bitter Lace Beauty went viral on social media because of its unique design and impeccable quality. It is made of a spectrum of six colors, and the shades are lined up perfectly to create an aurora of colors across your cheeks. Whether you want a subtle rainbow highlight or a full glam unicorn glow, this highlighter does it all flawlessly.
Pros
Buildable color
Handmade
Suitable for all skin types
Long-wearing
Cruelty-free
Cons
Purchase Link
6. Ciate London Mermaid Glow Highlighter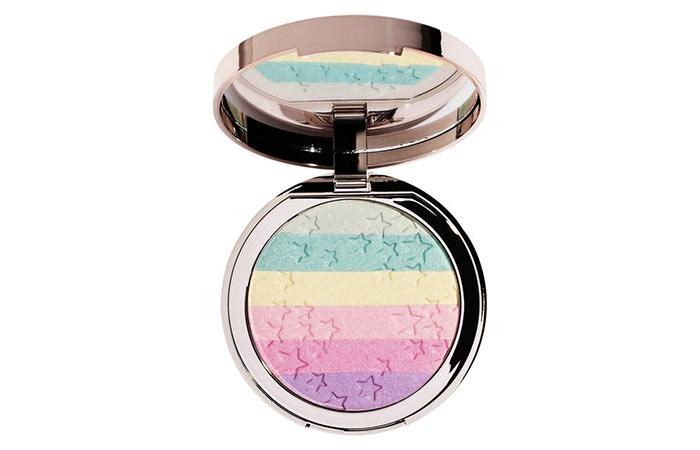 Review
The Mermaid Glow Highlighter from Ciate is designed to provide a photogenic finish with its pale silver formula and luminous sheen.It has a smooth consistency and is really easy to blend out on the skin. However, the strips of color are rather thin, so it is not quite possible to use them individually. If you have pale or fair skin, this highlighter will look beautiful on you. If you have a deeper skin tone, be wary as its silveriness may look ashy on you.
Pros
Easy to blend
Travel-friendly
Buildable luminosity
Long-wearing
Cons
Only suitable for fair complexions
Purchase Link
Review
This rainbow highlighter is composed of six colors and suits well for smokey eye makeup.  It provides a long-lasting effect and is water-resistant. In addition, it has a glossy finish that highlights your eyes and makes them appear prettier and attractive. The high-quality ingredients used in this rainbow makeup do not look chalky on application. The product is ideal for creating timeless beauty looks and is guaranteed to have you covered for all occasions!
Pros
Sleek carrying case
Suitable for all skin types
Skin-friendly
Light
Soft
Cons
None
Review
This incredible prismatic baked highlighter flaunts a range of five pastel rainbow colors that are so lustrous, you will want to put it all over your body. Swipe across all five colors for a bold magical glow or gently swirl your brush around the pan for a more natural effect. Its high-shimmer formula and buildable color will keep you glowing all year round. Additionally, as a body highlighter, it is the perfect choice for adding a touch of luminosity to your collarbones or other desired areas to create magical and bold looks. Multiple reviewers have also vouched for its quality and long-lasting results, so try it out now!
Pros
Affordable
Easy to blend
Buildable color
Cons
Review
This limited edition rainbow highlighter from Tarte comes in a diverse color palette, with 4 soft pastel shades in a warm tone; it blends smoothly with your skin tone. You can use any single shade of this highlighter or combine it to create a customized shade offering a brilliant sheen and a striking strobing effect. It offers moderate buildable coverage and emphasizes the skin's natural texture. Moreover, the Amazonian clay and mineral pigments in the formula ensure a smooth and non-chalky application. The shimmering radiance makes this rainbow highlighter a perfect choice for those who love to create statement makeup looks that turn heads. But if you still are not entirely convinced, check out its numerous positive reviews on Amazon to help you with your buying decision.
Pros
 Long-lasting
 Blends well
 Pigmented
 Flake-free finish
 Pleasant vanilla scent
Cons
None
*The prices provided in this article are based on the latest available information. However, they may vary due to changes in pricing by the seller and/or promotional offers.
Now that you know all about the best rainbow highlighters available on the market, check out how to apply it properly to create the perfect rainbow effect.
How To Apply Rainbow Highlighter
Applying a rainbow highlighter is surprisingly easy. Here's a handy tip: if you want to achieve a full rainbow effect, use a dense contour brush or a beauty sponge to pick up the product from the pan and sweep it across your cheekbones while following the lines of the colors. Don't swirl the brush around in the pan as it will mix all the colors and not create the rainbow effect that you are looking for. You can also use your fingers to apply and blend the product for a more natural effect.
Why Trust StyleCraze?
Esha Saxena, the author, loves all things makeup and has the lowdown on the best rainbow highlighters that ought to be a part of your cosmetics collection. She carefully reviewed the product details and customer feedback of the most popular options on the market to create this list. Rainbow highlighters give you an iridescent glow that accentuates your high points with a pop. In addition, they add a touch of fun to your look, helping to make you stand out.
Frequently Asked Questions
Does rainbow highlighter suit dark skin?
Yes, a rainbow highlighter looks stunning on dark skin. For a lit-from-within glow, use the Tarte Spellbound Glow Rainbow Highlighter with warm or copper tones.
What areas of your face do you use highlighter rainbow?
Rainbow highlighter is used on the high points of your face to enhance your natural features. Apply it on the cheekbones, nose bridge, cupid's bow, and under the eyebrows.
Which color of highlighter is best?
• For the best results, match the color of the highlighter to your skin tone.
• If you have a fair skin tone, opt for a highlighter with pink or pearlescent undertones.
• For medium or wheatish skin tone, choose hues of peach or gold.
• Copper or bronze highlighters would look best on a deep and dusky complexion.
Do you apply highlighter before or after the blush?
Always apply a powder highlighter after the blush to make it look seamless.
Can I use rainbow highlighter as eyeshadow?
Yes. A highlighter is used to draw attention to the high points of your face. So, you can use it as a shimmering eyeshadow.
Is it easy to remove rainbow highlighters?
Yes, you can remove rainbow highlighters as easily as regular highlighters. Gently sweep a cotton pad with micellar water or a makeup wipe across the face to remove it.
Recommended Articles