10 Best Relaxers (Perms) For Black Hair (2023)
Transform your look while keeping your tresses healthy and damage-free!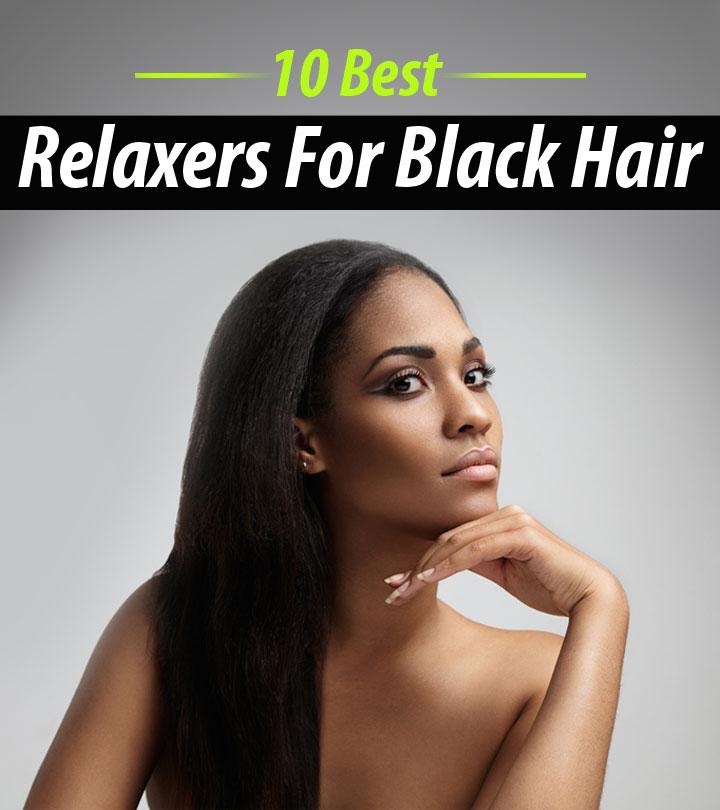 Hair straighteners and keratin treatments pale in glory when compared to the best relaxer for black hair. Natural black hair tends to be more wavy, curly, or kinky than other kinds of hair and a relaxer is the best alternative to expensive in-salon treatments or risky straighteners. To make exploring the relaxer options an easy task for you, we have collated the best relaxers for black hair and compiled a list. Read to know more.
The 10 Best Relaxers For Black Hair 2023
SoftSheen-Carson has been transforming all the consumers of African descent with a plethora of beauty products by customizing them as per their needs. This No-Lye relaxer is infused with shea butter, jojoba, and avocado oil to give moisture, shine, strength, softness, and volume to hair. This home relaxer kit comes in three new components: the healthy-gloss 5 moisture conditioner, healthy-gloss 5 moisture hair creme, and silk keratin serum for soft, non-frizzy hair.
Pros
Easy to apply at home
Gives straight, sleek, and shiny hair
Preserves 5 signs of healthy hair
Infused with natural ingredients to lock moisture
Lasts for 6 weeks
Cost-effective
Cons
Makes hair dry
Not good for thick hair.
Not suitable for all colored hair.
Price at the time of publication: $5.58
Similar products
The Avlon Affirm Hair Relaxer provides maximum scalp comfort and nourishment while relaxing hair. The smooth relaxer's revolutionary formula helps retain 76% of fiber elasticity while straightening your hair completely. This sensitive scalp relaxer conditions the hair and reduces irritation and dryness in the scalp. The liquid crystalline technology and the blend of exotic conditioning ingredients result in smooth and straight hair.
Pros
Best for sensitive scalp
A great relaxer for soft, smooth hair
Rinses out easily without leaving any oily residue
No breakage formula
Cons
Price at the time of publication: $36.8
Similar products
The SoftSheen Carson Optimum No-Lye Relaxer helps one achieve a salon-like and professional straightened hair at home. This supreme conditioning cream is infused with strengthening ceramide and coconut oil to maintain hair moisture. This results in a smooth and silky appearance. The ceramides keep the hair cuticle flat, enhance shine, and prevent hair from breakage. They also help increase elasticity of each hair strand and retain moisture.
This home hair relaxer kit comes with six easy and effective products, including the protective pre-treatment, conditioning relaxer cream, activator, neutralizing shampoo, reconstructor, and leave-in strengthener. It also has a whipped oil moisturizer for one application or two retouches. The whipped oil moisturizer will get you a salon-like straight hair in six easy steps with 90% less breakage. It is suitable for normal hair. This video will help you understand the product better.
Pros
Contains ceramide to prevent hair breakage
Easy 6-step application
Contains whipped oil moisturizer
Reduces 90% breakage
Infused with coconut oil for extra hydration
Long-lasting no-lye relaxer
Leaves hair soft and smooth
Cons
Does not uncurl Caucasian hair.
May cause a burning sensation in the scalp.
Price at the time of publication: $6.97
Similar products
The Avlon Fiber Guard Sensitive Scalp Relaxer Kit is a four-step no-lye relaxer kit that preserves up to 40% of the hair strength. It is formulated with Avlon's exclusive Fiber Strengthening Complex (FSC) that reinforces and restructures the hair fibers and strengthens them from the roots. The strengthening polymer in the straightening cream penetrates deep into the roots, and offers tensile strength and elasticity to the hair fibers after the relaxing process.
It retards osmotic pressure build-up, provides optimum care, and protects your hair from environmental pollutants and mechanical stresses while styling. This popular relaxer restores moisture and shine while giving body to hair. It is an ideal scalp comfort solution for a sensitive scalp.
Pros
Available in 3 formulas – mild, normal, and resistant strength
Penetrates deep to give tensile strength
Fixes hair fibers
Restores moisture and shine
Infused with an advanced formula
Suitable for color-treated or dry or damaged hair
Gentle on hair
Retains natural hair texture
Contains fiber guard
Does not cause a burning sensation
Cons
None
Price at the time of publication: $41.23
Similar products
The ORS Olive Oil Professional Creme Relaxer provides extraordinary conditioning. It utilizes olive oil and lanolin to protect hair from the damaging effects of a relaxer. Olive oil is a natural elixir that moisturizes hair and leaves it soft, silky, and manageable. Lanolin is a greasy material that provides moisture to each hair strand and acts as a protective barrier to lock in the hydration.
Pros
Retains hair moisture
Sleeks down hair in just a few minutes
Pre-mixed cream
Cost-effective
Cons
Neutralizing shampoo needs to be purchased separately.
No refund policy
May cause a burning sensation in the scalp.
Price at the time of publication: $13.42
The TCB No-Base Hair Relaxer is specially formulated for the African American hair type. This relaxer contains natural oils, protein, and DNA to strengthen and protect hair while relaxing it. The mineral oil and petroleum jelly in the relaxer act as an excellent protective barrier that reduce scalp irritation during the process. The infused protein protects each strand of hair and reduces damage by providing structural support. This unique conditioner relaxer leaves hair soft, smooth, silky, and manageable and gives it a perfect volume. This works as a great relaxer for texturized, colored, and permed hair. Check out the detailed review of the product in this video.
Pros
Hair relaxer with protein and DNA
Maintains structural integrity of hair strands
Does not irritate the scalp
Affordable
Gives a silky smooth hair texture
Good for both men and women
Cons
Does not come with a neutralizing shampoo and gloves.
Leaves hair dry and frizzy.
Price at the time of publication: $8.77
The Luster's ShortLooks Color Relaxer for black hair is a 3-in-1 solution for your entire hair care routine. You don't have to look for a separate hair straightener, hair color, hair conditioner, and spend a bomb on each product. This relaxer is blended with natural ingredients to relax, color, and conditioned hair for easy styling and a professional look. The Lustre's ShortLooks Color Relaxer contains shea butter that naturally moisturizes dry or damaged hair. It is easily absorbed deep into the scalp and nourishes hair from the roots. You can just color, relax, and condition your hair in just 30 minutes without any hassle. The unique combination straightens new hair growth for about 4 inches or shorter. The conditioner locks in the moisture.
Pros
3-in-1 solution for the entire hair care routine
Locks moisture in the roots
Easy to apply
Available in passion red, diamond black, and sable brown shades
Gives your hair volume
Reduces hair graying
Cons
Expensive
Only good for short hair.
Color fades quickly after few washes.
Price at the time of publication: $10
The Hawaiian Silky No-Lye Relaxer is formulated with essential oils and lithium hydroxide that strengthen hair and prevent any messy build-up. It provides a natural shine to curls and waves. Lithium hydroxide is a "no-mix" type alkali hair relaxer that straightens hair. Jojoba oil is rich in vitamins and minerals and is a natural straightening agent. It also prevents hair loss. The blend of mink oil improves hair appearance and texture. It is available in mild, regular, and super varieties to change hair texture as per your wish and style.
Pros
Blend of jojoba oil and mink oil
Nurtures each hair strand
No-mix type hair relaxer
Moisturizes hair for a natural bouncy look
Cruelty-free
No damage on the scalp
Cons
Not suitable for colored hair.
Price at the time of publication: $10
Dr. Miracle's New Growth No-Lye relaxer also detangles curls and conditions your hair to make it more smooth and shiny. The kit comes with a relaxer, activator, neutralizing shampoo, and a leave-in conditioner, along with a spatula and blending oil for a root touch-up. It is made with a natural blend of vitamins, minerals, sweet almond oil, jojoba oil, and aloe that hydrate hair deep from the scalp and nourish hair down to the core. Sweet almond oil also prevents breakage, split ends, and itchy scalp. Its emollient properties leave hair soft and smooth. Watch this video of the product for more information.
Pros
Cost-effective
Do not cause irritation
Relaxes the scalp
Moisturizes from root to tip
Prevents hair breakage
Overall solution for straightening hair and post-care
Cons
Price at the time of publication: $7.5
The ORS Olive Oil Organic Root Stimulator contains moisturizing olive oil and natural herbs to stimulate roots and nourish and protect the hair during the relaxing process. The hydrolyzed collagen, castor oil, and coconut oil in the relaxer nourish the scalp deeply. Go through this video review for a detailed understanding of the product.
Pros
Blend of natural ingredients
Leaves hair lustrous
Strengthens hair strands from the roots
Works perfect for a year
Cons
Not suitable for curly hair.
May cause a burning sensation on the scalp.
Price at the time of publication: $13.57
Hair relaxers are super effective when you pick the right product and use it correctly. But, if you invest in the wrong product, you will not only disrupt the relaxation but also ruin your hair in the process. Here are some factors to consider when purchasing a relaxer for black hair.
How To Choose The Best Relaxers For Black Hair
1. Ingredients
Relaxers which contain lye in them can be very harmful to your scalp. This ingredient is corrosive, and damages and makes your hair dull and brittle. Choose a relaxer that maintains the pH balance of your scalp and hair for the best results. This is crucial especially if you have a sensitive scalp.
2. Strength Of The Formula
If you have scalp conditions like dryness, eczema, or extreme sensitivity, choose a scalp relaxer that is gentle, with lesser strength. Some relaxers in the market are specifically formulated and marketed for sensitive scalps. Also, ensure that the formula strength is according to your hair type for maximum results.
For very fine hair choose a mild strength relaxer.
For coarse hair opt for a super strong relaxer.
For normal hair, you may choose a regular strength relaxer.
3. Moisturizing Ingredients
It is vital that you choose a relaxer that has intense moisturizing ingredients if your hair is prone to breakage or is brittle. Relaxing your hair is altering the structure of your hair chemically, and any chemical treatment can be drying. Look for relaxers with hydrating and moisturizing ingredients like olive oil, honey, coconut oil, shea butter, or organ oil, which adds bounce, body, and shine to your hair while stimulating hair growth.
4. Content in the kit
When choosing a relaxer, also take note of the products available with the treatment. Go for kits with a protector bass, relax cream, and activator, a PH neutralizing shampoo and a deep hydrating conditioner. It is ideal that you choose a kit with additional products, so you do not have to invest in other products separately.
These are the top 10 relaxers for black hair. They are easy to use and help you achieve those straight tresses you always dreamed off. But before you go ahead and pick your favorite, you need to be aware of certain factors. Not all relaxers are made equal, and picking the wrong product can do more harm than good. In the following section, we have listed out what you need to check in a hair relaxer (for black hair) before you make the purchase.
How To Buy The Best Relaxer For Black Hair
Ensure you make your best purchase by following this checklist:
Choose a no-lye relaxer (mild and good for sensitive scalps) with a low pH. The relaxer should be able to balance the pH between your hair and scalp.
Choose a relaxer kit. It contains a suitable neutralizer shampoo, an activator, along with a conditioner.
A relaxer should have a blend of natural oils – like olive oil, jojoba oil, mink oil – along with the right relaxer. Aloe vera is another important ingredient. Natural ingredients nourish the scalp, provide hydration, and strengthen the hair roots. The botanicals are also less likely to cause allergic reactions or damage to the hair.
Choose a cost-effective and budget-friendly option for a long-lasting solution.
Know your hair type, the color of your hair, your curls, and also if your hair is easily prone to breakage.
Why Trust StyleCraze?
Oyendrila Kanjilal, the author of this article, lives and breathes hair care. Understanding and empathizing how regular visits to the salon aren't practical, she extensively poured through product reviews online and has compiled this list of best relaxers for black hair. These products are easy to use and contain natural ingredients that keep your hair healthy without burning your pockets.
Frequently Asked Questions
Is it safe to use a relaxer at home?
Yes, it is safe to use a relaxer at home, but you must know the right way to use it. Rushing through an at-home relaxing process may cause side effects. For better results, try it in front of someone who has an idea of how to use relaxers.
How can I keep my relaxed hair healthy?
You can keep your newly relaxed hair healthy by washing it well, trimming off split ends, and moisturizing your strands. Moreover, you should also drink plenty of water and eat healthy to keep your relaxed hair well-nourished. Keep a check on your scalp's moisture levels, and do not let your skin feel dry.
Do hair relaxers make the hair dry?
Some hair relaxers can make your tresses feel drier than usual. However, a nourishing relaxer enriched with natural ingredients, a suitable shampoo, and a conditioner can help keep hair damage at bay.
Can I make a natural relaxer for black hair?
Yes, you can make a natural relaxer for your black tresses. Try a mixture of honey, olive oil, and lemon juice as a relaxer. However, make sure you do not use chemical ingredients.
How is a relaxer different from keratin treatment?
A relaxer is more permanent than keratin treatment. The latter can make your tresses return to their original state after six to eight months. On the other hand, relaxers keep your hair properly styled for a long time.
What type of shampoo should I use after using a relaxer?
You can use sulfate-free shampoos on your relaxed tresses. These shampoos prevent dryness and clean your hair while moisturizing your tresses. They do not let your hair turn brittle or get damaged due to the after-effects of using a relaxer.
How often should you touch up relaxed hair?
You can touch up relaxed hair anywhere between six to eight weeks depending on the length of your tresses.
Recommended Articles