The 8 Best Cavitation Machines For Fat Burning And Body Sculpting
Time to get rid of stubborn fat at home with these easy machines and stay fit!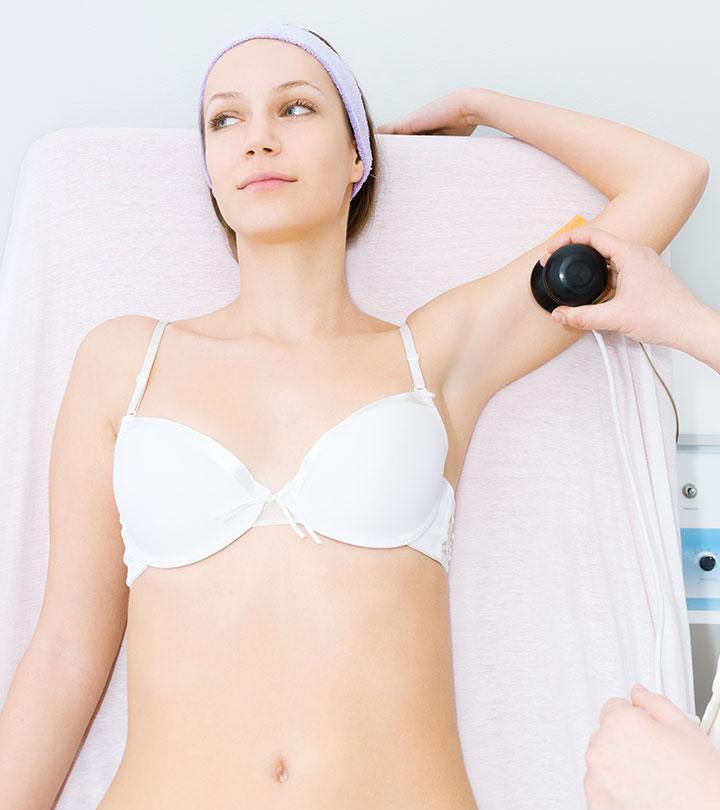 To get rid of stubborn fat from areas like the belly, waist, back, and thighs, you need to exercise. Despite exercising, if you don't see the results, you could consider using the best cavitation machine to help get rid of that last bit of fat that you've been so badly wanting to get rid of. Cavitation machines are non-invasive and use heat and sound waves to help reduce cellulite.
NYC-based dermatologist Dr. Hadley King says, "The idea is that these devices use an electrode to deliver targeted thermal energy to the skin. This can increase circulation, decrease inflammation, heat the sebaceous unit, and help to kill bacteria that contribute to acne."
Studies suggest that cavitation machines are effective in reading fat and may also help reduce the circumference of your wait by 2 to 4 centimeters and benefit your skin too (1), (2), (3). Cavitation machines offer you incredible convenience as you can use them from the comfort of your home. To buy the best cavitation machines, check out the list of the best models now! We have provided a detailed buying guide at the end of this article. But first, let's check out the 8 best cavitation machines available right now!
8 Best Cavitation Machines For Body Sculpting
The Enshey 8-in-1 Anti-Aging Beauty Machine helps dissolve fat and promotes lymphatic drainage and elasticity while making your skin firm. The RF probe in the machine helps firm the loose skin on the arms, legs, thighs, buttocks, waist, and back and tones the abdominal muscles for a sculpted look. In addition, it effectively helps relieve stress and fatigue and firm and lifts your face. The device also has a cold hammer probe to soothe sensitive skin, while a red light probe offers anti-aging therapy, stimulates circulation, and repairs the elastic fibers within tissue to help keep the skin firm.
Specifications
Voltage: 110V- 240V
Target Areas: Arms, Legs, Thighs, Buttocks, Waist, Back, and Abdominal muscles
Number Of Probes: 8
Pros
Easy to use
Good for sensitive skin
Multiple probes
Value for money
Cons
This cavitation machine by BeautyHuolian helps in rejuvenating your skin and body. It boosts skin flexibility, improves elasticity, and tones the skin.  The device has three probes and massage heads to relax and massage the muscles and relieve fatigue.  In addition, the heads may also smoothen wrinkles, fine lines, and minimize the appearance of pores. This portable and easy-to-use device can be used anywhere.
Specifications
Voltage: 110V-240V
Target Areas: Face and Body
Number Of Probes: 3
Pros
Three replaceable heads
Easy to use
Portable
Cons
None

The Fencia 7-in-1 Body Shaper Machine mainly targets the fat deposits on body parts like limbs and buttocks and helps you achieve a toned and sculpted body. The seven probes in the device may minimize wrinkles, tighten the skin and lift it to give you a youthful appearance. The device's interface is exclusively optimized for easy operation. For a detailed understanding of the Fencia 7-in-1 Body Shaper Machine, you can click on this video.
Specifications
Target Areas: Body and Face
Number Of Probes: 7
Pros
Seven probes
Easy to operate
Includes instructions
Cons
None
The IXAER 7-in-1 Body Shaper Machine helps break your fat cells down without affecting the surrounding tissues. It helps sculpt and tone almost all parts of the body. It has seven probes and paddles and claims to show results after half a month. To know more about the benefits of the IXAER 7-in-1 Body Shaper Machine, have a look at this video.
Specifications
Voltage: 110 V-220 V
Target Areas: Any parts of the body
Number Of Probes: 7
Pros
Multiple settings
Seven probes
Includes instructions
Cons
None

Price at the time of publication: $529.99
The Airblasters Cavitation Machine is a non-invasive ultrasonic cellulite removal machine that gives you a toned look. This device needs just 50 minutes to start working on the target area. You have to rub the probe around the affected area to activate the excess fat that eventually subsides. The probe emits ultrasonic rays that penetrate deep into the subcutaneous tissue, accelerating the fat cells and releasing them through the lymphatic system. This helps to tone and sculpt that body part.  This machine works only with ultrasonic gel. Using this portable machine at least 2 times a week may reduce 4 lbs and shrink 4 inches from the stubborn areas.
Specifications
Target Areas: Abdomen, Hips, Flanks, Arms, Inner thighs, and Calves
Number Of Probes: 1
Pros
Easy to use
LED screen
Multipurpose probe
Cons
Price at the time of publication: $150
This cavitation machine by KYAALN has six functional probes for the entire body. It has a facial probe that soothes eye fatigue, tightens the eye skin, reduces wrinkles, facial puffiness, and dark circles, and eliminates eye bags. The body probe emits strong sound waves that heat the fat cells and eventually eliminate them. This helps sculpt, shape, and tone your body, giving a slim appearance. The probes can be used on your arms, waist, abdomen, and legs.
Specifications
Voltage: 110V
Target Areas: Arms, Waist, Abdomen, and Legs
Number Of Probes: 6
Pros
Six probes
Easy to use
Value for money
Cons
None
The Mhogz Body Machine can be used on most body parts like the hands, waist, legs, and back. This machine has three replaceable massage heads with adjustable intensities. The advanced RF technology penetrates the skin to reach the deep fat tissues and heats them to tone and sculpt the area. The machine also helps eliminate toxins from the body through sweat glands. It also boosts skin elasticity, helps in maximum product absorption, lifts your skin, and minimizes wrinkles to give you an even-toned complexion. Use this machine for 45 minutes every day to achieve desired results.
Specifications
Target Areas: Hands, Waist, Legs, and Back
Number Of Probes: 3
Pros
Three replaceable massage heads
Adjustable intensity
Easy to use
Cons
None
This cavitation machine uses advanced RF technology to minimize wrinkles, lift and tighten your skin, increase elasticity, and remove excess, stubborn fat. It has three probes – the 3-polar RF head regenerates loose skin cells, the 4-polar RF head reduces fat to tone the body, and the 40k blasting fat head utilizes a strong sound wave to remove fat from the body. The device specifically targets the waist, abdomen, buttocks, legs, arms, and back.
Specifications
Voltage: 110 V
Target Areas: Waist, Abdomen, Buttocks, Legs, Arms, and Back
Number Of Probes: 3
Pros
Three probes
Includes instructions
Easy to use
Cons
None
It is best to follow the manufacturer's instructions before using cavitation machines. You have to get ultrasound gels to use the probes on your body. To help you get started, here is a step-by-step guide.
What Is An Ultrasonic Cavitation Machine?
The ultrasonic cavitation machine is a non-invasive, localized fat-burning device that helps reduce fat from problem areas like the belly, waist, thighs, glutes, upper arm, and face. It can be a pain-free alternative to liposuction.
This device uses high-frequency heat and sound waves that penetrate your skin to break down the fat cells. The liquefied fat cells are excreted naturally by the liver through the lymphatic system. Small and portable ultrasonic cavitation machines can be used at home to tone and sculpt the body. Here's an easy way to understand how this machine works.
How Does It Work?
When you rub the machine on the target area:
The ultrasonic waves at 40 kHz or 5 MHz frequency heat the fat cells.
The heat produces tiny air bubbles or cavities between the cells, creating pressure, eventually breaking the fat cells down.
The liquified fat cells release their contents into the body.
The lymphatic system and liver eliminate the unwanted fat contents from the body.
It takes 30-45 minutes of treatment to melt fat cells from the waist or thighs.
Ideally, most patients require 10-12 treatments, and many see up to 2 inches of surface reduction after five treatments. But you need to understand that each body is different, and the results vary accordingly.
The ultrasonic cavitation machine is an impressive breakthrough in non-surgical fat loss technology. Here is a list of the benefits of cavitation machines and why many people find them helpful.
Benefits Of Cavitation Machines
Good For Spot And Full Body Reduction
Cavitation machines can be used on any area of your body with extra fat – the thighs, belly, back, legs, arms, shoulders, neck, or buttocks. They can also be used on smaller areas like the chin and around the eyes.
Unlike surgical procedures like liposuction, cavitation machines do not involve invasive techniques. There are absolutely no surgical cuts, scars, bandages, anesthesia, or blood involved. As a result, it is one of the safest fat or inch loss treatments out there.
A cavitation machine uses ultrasonic waves that break down the fat cells into liquid. Once the fat cells are liquefied, they are eliminated from your system through lymphatic drainage.
Painless Cosmetic Procedure
You will not experience any pain or discomfort during and after the procedure. Instead, you may feel a warm sensation on your skin.
Quick And Short Procedure
Body sculpting through cavitation machines is a quick procedure. Each therapy session may take 30-60 minutes or less, depending on the manufacturer's instructions.
Effective And Fast Results
Some people may notice changes right after the first treatment. But generally, you may notice results after 2-3 sessions. You may need at least 6-12 sessions to get your desired results, depending on your body type.
Cavitation therapy is a simple procedure. You have to massage the problem area with the device for 10-20 minutes for 10-12 sessions. It works on most body types and involves minimal effort. Of course, you need to follow a healthy diet, increase your water intake, and maintain a moderate exercise regimen to maintain the effects.
Before you purchase a cavitation machine, there are some basic features that you need to consider:
Type – EMS, infrared, ultrasonic, RF (radiofrequency)
Intensity levels
Heat regulation
Detailed user manual
How To Use A Cavitation Machine
Apply The Ultrasound Gel: Apply a thick layer (3-5 mm) of the ultrasound gel. It helps create a protective barrier between the skin and the device and allows smooth operation.
Switch The Power Button On: Every ultrasonic cavitation machine comes with a power button, either on the node or on the machine. Switch it on to start the ultrasonic cavitation machine.
Set The Desired Feature: The cavitation machines have various settings and features on the control panel. It may have settings like EMS, infrared, and sonic. You may also set the timer and the intensity of the vibration. Check the manual for more clarity.
Massage The Problem Area: Start massaging the target area in a circular or sliding motion. Make sure to cover the whole target area.
Adjust The Intensity: Change the intensity level according to the instructions and comfort.
Figure Out How Frequently To Use It: You can use the machine approximately every 3-4 days for 10-20 minutes each time. After the first two weeks, you can use the machine just once a week.
Caution: The node can be applied to any area of your body except around the eyes and heart.
Before And After Results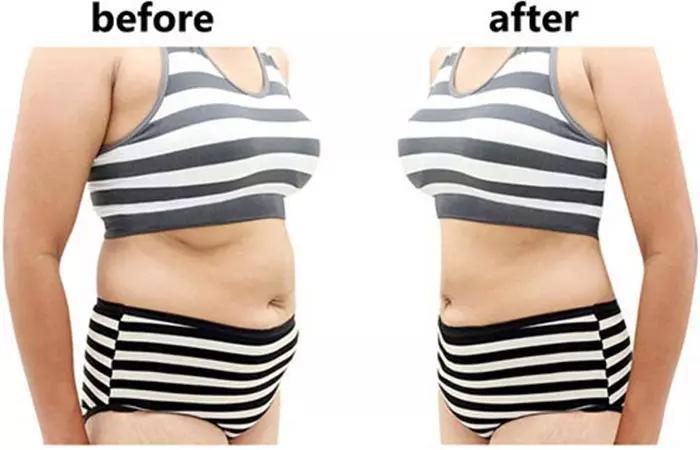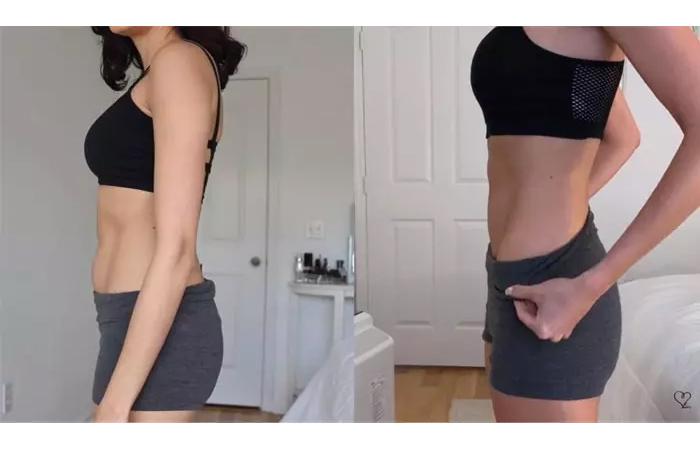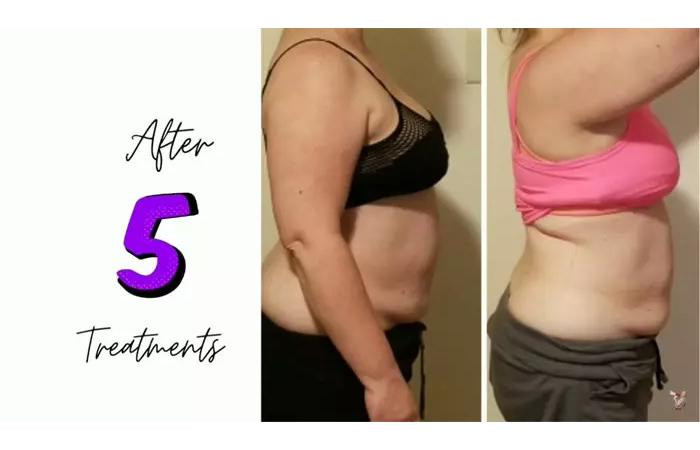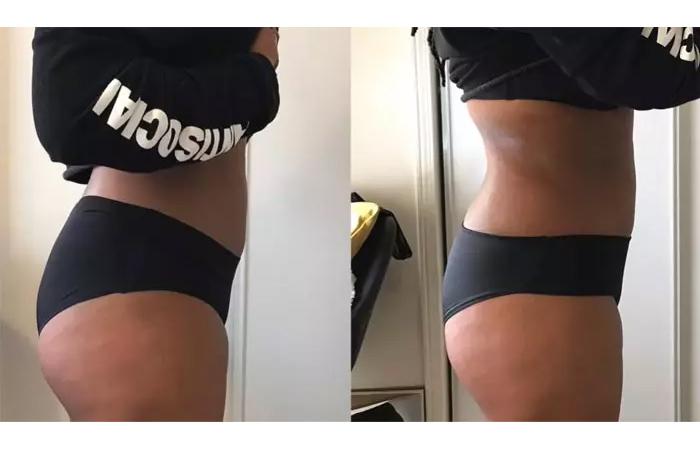 After a few uses, you can start seeing visible results. But, it will differ from person to person and depend on how you maintain your body. Here are a few tips on maintaining the toned look after using the cavitation machine.
How To Maintain Weight Loss After Cavitation Treatment
Drink at least 8 glasses or 3-4 liters of water every day.
Avoid alcohol, coffee, and tea with sugar and milk, aerated beverages, packaged food, and processed food.
Stick to a healthy low-carb diet.
Consult a doctor and practice intermittent fasting to keep your body healthy.
Exercise 5 hours a week – 3 days cardio and 2 days strength training
Do not compromise on sleep. Get at least 6-7 hours of sleep.
"Maximize your results by regularly dry brushing the entire body to activate lymphatic drainage. This helps to naturally flush the fluids created by the cavitation machines from the body giving you a smoother appearance. Also, use a fascia massaging device manually a few times a week on stubborn areas. This will give you a trifecta effect: Cavitation works deeply on fat, fascia massage relaxes and softens the fibers that can trap and bind it, dry brushing helps to flush it from the system," explains Hillary Clark, a Medical Esthetician.
Cavitation machines may include multiple features and multipurpose probes. Get one that matches your preferences. Here are a few things that you need to consider.
Things To Consider Before Buying A Cavitation Machine
Some expensive machines come with Quadrupolar 3D RF, color LEDs, TENS/EMS massager, gloves, facial and eye probes, and other special attachments. Though not all machines come with these tools, ensure you buy one with the features you need.
While some ultrasonic cavitation devices take 30 minutes per session, some may only take 15 minutes. Also, you need to know the usage limit per week and day. Most cavitation machines are designed to be used once or twice per week, but some can be used every day.
Cavitation machines come in different sizes. There are tiny and portable devices, medium-sized 4-in-1 cavitation machines, and big or complex models. The bigger the device, the higher the price. Choose a device that aligns with your ultimate goals.
This is the most important feature to look for in a cavitation machine. The greater the RF, the higher the intensity of the treatment. Usually, 7-in-1 complex cavitation machines have higher RF than portable ones. Those seeking quick results can use devices with high RF. It helps tone your body, slim down fat areas, and sculpt extra inches in just a few sittings. Those seeking slight changes in their body can opt for low RF machines.
Most cavitation machines come with multiple settings for different areas of the body. For example, some machines include five massage nodes for tapping, kneading, massaging, and slimming. In addition, the EMS function allows you to choose from five levels of intensity and two levels of ultrasonic intensity.
Although cavitation machines are safe, it is important to double-check the machine's safety features before buying it. Heat regulation and an auto shut-off timer are two important things to check for in a cavitation machine. The good news is that, unlike other fat removal methods, this procedure does not involve pain, scarring, or bleeding. It is a 100% non-invasive procedure with no downtime. However, it is always safe to purchase a machine from a reliable brand that offers decent and premium-quality features.
An efficient heat regulation system that disperses excess heat is mandatory to prevent skin burns and inflammation.
Most cavitation machines are used with an ultrasound gel. This is to operate the device smoothly over the skin. Ensure to check if the machine you are looking for requires an ultrasound gel.
Most cavitation machines have complex buttons and settings that require precise knowledge to operate. If you do not have a detailed instruction manual, using the probes correctly can be challenging. Therefore, it is important to be aware of all the functions to maximize efficiency.
When a brand offers a warranty, buying the product will give you peace of mind and assurance that the machine will last longer. During this period, you can replace defective parts or service the machine to increase efficiency. Most branded cavitation machines offer a good warranty.
Most cavitation machines with special features, extra tools, and high-quality material cost a bomb. Therefore, consider your budget and evaluate your needs before buying the device.
While scrolling through different cavitation machines, you must have come across 'RF,' '3-in-1,' or '7-in-1' units. These are nothing but different types of cavitation machines that serve different purposes. Let's look at them.
Types Of Cavitation Machines
Ultrasonic Cavitation Machine
The ultrasonic cavitation machines are the most popular among other types. These high-intensity focused ultrasound (HIFU) machines use a 2-7.5 MHz pulse of vibrations for a designated time through a stainless steel probe head. Then, it heats the focused area to spot-reduce fat. These machines usually have low frequencies for sensitive skin and high intensities for areas with thicker skin (4), (5).
Radio Frequency Device (RF)
Radio Frequency (RF) cavitation devices emit radio frequencies of 3-24 GHz (6). The RF radiation heats the collagen-rich layers of your skin, called the 'dermis.' This helps tighten the skin, regenerate collagen, and reduce cellulite and wrinkles. Radiofrequency cavitation machines help improve the texture and appearance of your skin. There are various types of RF cavitation devices:
Bipolar RF devices are used for face-lifting, reducing saggy skin and wrinkles.
Tripolar RF devices are for treating the delicate skin around the eyes.
Hexapolar RF devices are meant for treating thicker skin and removing cellulite.
Some cavitation machines use infrared light that penetrates the skin and generates heat. This preps the skin for better and deeper penetration of the radiofrequency energy in the targeted tissue (6). It increases blood circulation and helps your body recover and heal quickly after an injury.
EMS is an Electronic Muscle Stimulator that produces low-frequency electrical impulses through electrode pads, which cause the muscles to contract. This way, your muscles exert more than 4000 joules per second. The muscle contraction can be frequent or for several seconds. This intense muscle contraction helps work out the muscles, helping to make the body look more toned and sculpted.
Now, let's answer the question that is on everyone's mind.
How Safe Are Ultrasonic Cavitation Machines?
Although ultrasonic cavitation is a pain-free, non-invasive, and non-surgical procedure, there is a slight chance of skin burns if the treatment is done for more than 10-20 minutes per session. You will feel some warmth during the treatment due to the high-frequency heat waves. This may last until a day. To prevent redness and burns, you must check the user manual and stick to the time mentioned in the manual.
This process may not be 100% successful for people with liver issues as this organ purifies and eliminates toxins from the body. Therefore, the liver needs to function well to lose the decomposed fat.
Check out the next section to find who should and should not use an ultrasonic cavitation machine.
Who May Use A Cavitation Machine
Cavitation machines are ideal for healthy individuals who want to lose anywhere between 5-100 pounds. They are not effective for reducing obesity. These devices are mainly used to eliminate the last-standing stubborn fat and shape the thighs, legs, waist, upper arms, and belly. Cavitation machines are a good choice for people who want to tone certain areas of fatty deposits but do not want to undergo any surgical treatment like liposuction.
Who Should Not Use A Cavitation Machine
The following people should not use a cavitation machine:
Minors
Pregnant and breastfeeding women
Menstruating people
Those with issues like cardiac diseases, hypertension, diabetes, skin cancer, fatty liver, epilepsy, and malignant tumors
Those with photosensitive skin
Those with skin infection, burnt skin, skin allergies, and anticoagulant disorder
Those with surgical scars
Those with cancer and weak immunity
Those with metallic implants
Cavitation therapy is not a weight-loss treatment. It is not designed to fight weight gain or obesity. In addition, these machines are expensive, and some patients may not see noticeable results. Here are some tips that you can follow for maximum results.
Tips To Follow While Using A Cavitation Machine
Go through the manual and read the instructions thoroughly before you begin.
Consult a doctor if you have any chronic or skin disease.
This process is a complete no-no for pregnant women.
Always use a cavitation gel when using this device to avoid burns.
Take inches as a unit of mass.
Why Trust StyleCraze?
Aditi Naskar, the author of the article, has a diploma in health and wellness and is passionate about fitness and health care products. Her expertise and extensive research on the cavitation machines helped her find the best options for her readers. She consulted experts, reviewed hundreds of online feedback, and kept the safety and efficacy of the devices in mind while curating the list.
Frequently Asked Questions
How long does it take to see results from ultrasonic cavitation?
Generally, most clients start to see a difference after three sessions. You may see optimum results after 8-12 sessions.
Is cavitation an FDA-approved treatment?
Yes, ultrasound cavitation + RF for body sculpting is an FDA-approved treatment.
What are the other names of ultrasonic cavitation?
Ultrasonic cavitation is also known as ultrasound cavitation, ultra cavitation, body contouring, body sculpting, and UltraShape.
Can I lose weight with ultrasonic cavitation?
No. Ultrasonic cavitation does not help with weight loss and obesity. This procedure can eliminate localized fat and may assist in inch loss.
Will I put the weight back on?
Yes. If you do not maintain a healthy lifestyle, eat healthy food, and exercise regularly, you will put the weight back on.
Are there any side effects?
Cavitation machines are mostly safe and have minimum side effects. However, if you have photosensitive skin, it is best to get the treatment for a short duration. Never exceed the massage time directed on the manual to prevent redness and burning.
How often can I use my cavitation machine?
Most people require 5-6 sessions to get the desired results. Remember that there should be a gap of three days between each session.
Will the cavitation machine treat cellulite?
The infrared light mode in a cavitation machine is built to help reduce cellulite. However, it may not eliminate cellulite.
How long do ultrasonic cavitation results last?
Ultrasonic cavitation does not destroy fat cells. It just empties the content inside these cells. Hence, there are high chances of regaining the fat again. Therefore, you need to follow a balanced diet to maintain the results.
What is the difference between a cavitation machine and laser liposuction?
A cavitation machine uses ultrasound waves to break down the fat cells, and laser liposuction is a procedure that uses lasers to melt the fat.
Do infrared slimming massagers work?
Yes, infrared slimming massagers work. These devices use infrared light to heat the target tissue and prepare the skin for better and deeper penetration of the Radio Frequency energy in the targeted tissue. This, in turn, helps sculpt the body and get rid of the stubborn fat.
Does body sculpting work?
Yes, body sculpting works. Several user testimonials and reviews show that people with a BMI lower than 30 and a healthy lifestyle get results in as few as 2 sessions. However, it can take up to 12 sessions over 2-3 weeks for others.
Do ultrasonic cellulite removers work?
Yes, ultrasonic cellulite removers work. However, it also depends on how you take care of your body. You must consume a balanced diet, avoid junk food, work out regularly, and get good rest to get fast and long-lasting results.
How often can you use an RF machine?
You can use an RF machine 2-3 times a week for 10-15 minutes. Take a look at the user manual to see the recommended use time and frequency of use. It may differ depending on the type of machine and company.
How to use an ultrasonic cavitation machine for face tightening?
To use an ultrasonic cavitation machine for face tightening, you need a slimmer node attachment. First, apply the gel to the area you want to remove the excess fat. Then, switch on the power button, set it to the desired setting (use lower frequency), and start massaging the problem area with the node. Do it for 10 minutes twice a week (read the user manual) to tighten the facial skin.
Sources