15 Best MMA Gym Bags – 2022 Update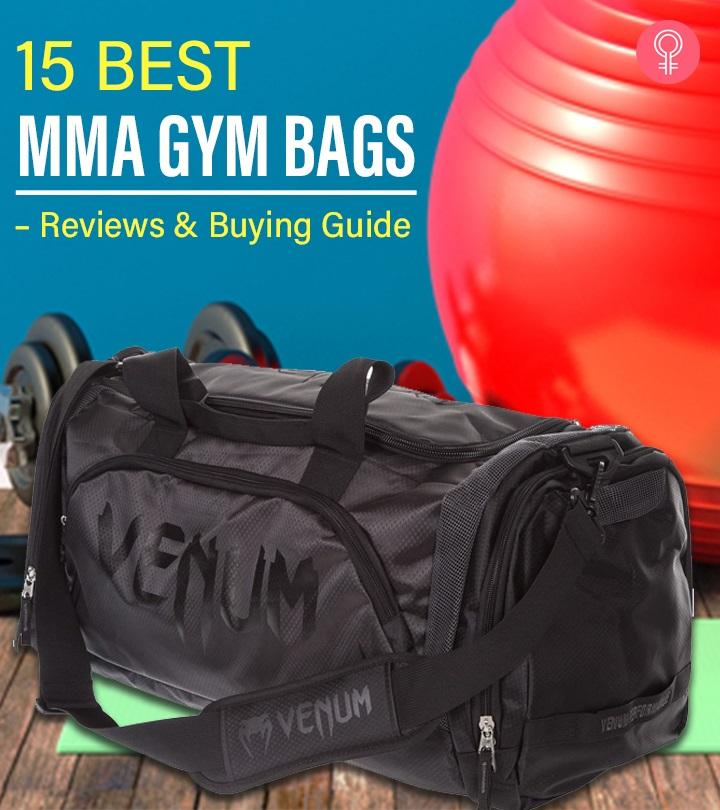 For all you mixed martial arts (MMA) lovers out there, this article is for you. MMA training comes with its own set of gear like gloves, shin guards, water bottles, hand wraps, towels, and the list keeps ongoing. To fit all these things, the best MMA gym bag is the answer to your prayer. Specially designed with multiple pockets and spaces, you can fit every gear without worrying about leaving anything out. We have handpicked the top MMA bags out there for you to check out. Scroll down to know more!
15 Best MMA Gym Bags
No products found.
The FocusGear Ultimate Gym Bag is designed around the users' ideas and feedback. The bag has reinforced stitching at key stress points that ensures durability. Its optimal compartments accommodate a 32 oz. water bottle, a protein shaker, and an over sized phone. The gym bag is made with 600 D polyester fabric and is drop- and stress-tested. It contains two wet pockets – one water-resistant pocket for wet items and another for full-length shoes/sweaty clothes that can fit the largest shoe sizes. The main pocket has a wide mouth for easy access. It comes with a newly added water-resistant bottom panel. Additionally, the bag is available in two different sizes – small and medium. Watch a detailed review of this prduct in this video.
Specifications
Material: 600D polyester fabric
Dimensions: 20" x 11" x 10.5"
Pros
Durable
Easy to store
Water-resistant
Large bottle compartments
Easy access pockets
Stress-tested
Drop-tested
Cons
The Under Armour Adult Undeniable Duffel 4.0 Gym Bag is made with 84 percent polyester, 16 percent elastane materials, and UA storm technology that makes it durable. It has an element-battling, highly water-resistant finish that keeps it dry no matter what the weather is. The two large vented and zippered pockets can accommodate laundry or shoes, and the internal slip pockets help you keep your gears organized. This gym bag also has one side mesh pocket. It even comes with an 8" removable, padded, and Heat Gear shoulder strap for easy portability. Moreover, it features a D-ring for added attachment points, tough, abrasion-resistant bottom and side panels, and padded top grab handles. Here's a review video of this product.
Specifications
Material: 84 percent polyester and 16 percent elastane
Dimensions: 6" x 14" x 29.5"
Pros
Long-lasting
Spacious
Easy to carry
Abrasion-resistant
Sturdy design
Easy access pockets
Padded shoulder strap
Cons
Zippers don't last long
Does not feature bottom stabilizer.
The Venum Trainer Lite Sport Bag is the most versatile product with large compartments to store your boxing gloves, shin guards, and cardio gear. Its built-in mesh panels deliver enhanced breath ability. The bag keeps your gym gear clean, fresh, and away from bad-smelling microbes. A special zip pocket on its side allows you to easily separate your clean and used clothes worn during your workout. This gym bag comes with an adjustable, padded shoulder strap and separate side pocket for easy storage.
Product Specifications
Material: Polyester Fabric
Dimensions: 7" x 12.99" x 10.23"
Pros
Convenient design
Adjustable
Durable
Spacious
Odorless
Breathable design
Padded shoulder strap
Cons
The Canway Sports Gym Bag is a lightweight and travel-friendly duffel bag. This 45L gym bag has multiple pockets that include a spacious main pocket and eight separate pockets. It also features one shoe compartment, two front pockets, one inner wet pocket for wet accessories, a side mesh pocket for protein shaker, and another pocket for a water bottle. The inner pockets are ideal for storing your facial cleansers or shampoos. This large duffel bag is made with built-to-last 600D polyester fabric that is water- and tear-resistant. The metal SBS zippers, rounded stitched grip handles, and padded, adjustable, removable shoulder strap buckle make this bag durable and easy to travel with. The bottom part is made with waterproof and wear-resistant leather. You can use this as basketball bag, dance bag, camp/airplane duffel, and carry-on luggage bag. It is available in five different colors including red, blue, black, orange, and gray.
Specifications
Material: 600 D polyester fabric
Dimensions: 20" x 10" x 10"
Pros
Lightweight
Built-in key ring
Side hook for hanging the bag
Sturdy clasps and fixtures
Waterproof and wear-resistant bottom
Easy to hold
2-years guarantee
Cons
The Velcro stitches do not last long
The Meister Gym Bag is designed for real athletes. It is designed with breathable chain mesh material that ensures proper airflow and keeps your equipment odor-free. This lightweight bag weighs just over a pound and allows you to carry all your gear with you, including boxing gloves, Thai pads, yoga mat, and a foam roller. The bag has zipper pockets on both sides to store small valuables. It also has strong handles that are stitched around the whole bag to provide support and shape to your bag when it is full.
Specifications
Material: Double-layered chain mesh
Dimensions: 22" x 13" x 13"
Pros
Lightweight
Ideal for everyday use
Durable material
Strong handles
Cons
The Elite Sports Duffle Bag is ideal for carrying boxing, MMA, and BJJ gear. It has a separate compartment for shoes. This bag's external zipper-secure pocket is spacious enough to store and keep your keys, wallet, and water bottle. The bag features a dedicated mesh ventilation pocket that holds wet gear, preventing other items from absorbing the sweat odor. This MMA bag is washable and has shoulder straps that transform a BJJ gear bag into a backpack, making it suitable for every occasion. This duffel is made of heavy-duty Cordura fabric known for its strength, durability, and resistance. Learn all about this bag in this video by a youtuber.
Specifications
Material: Heavy-duty Cordura fabric
Dimensions: 22" x 12" x 10.5"
Pros
Durable
Suitable for all occasions
Stowable double carry straps
Water bottle pocket
Dedicated shoe compartment
Cons
Are you looking for the best duffel bag that is visible in low light? Then the OGIO Endurance Duffle Bag is the best option. It features a crush-resistant lockable armored pocket that keeps your gear in great condition. The bag comes with a ventilated mesh shoe compartment and aventilated compartment for storing dirty clothes. It also has a hide-away stretch mesh external helmet storage. The bag is made from highly reflective 3M tech fabric that makes it visible in low light. It has adjustable backpack-style shoulder padded straps.
 Specifications
Material: Reflective 3M Tech Fabric
Dimensions: 65" x 15.75" x 6.69"
Capacity: 36.8 L
Pros
Visible in low light
Adjustable padded shoulder straps
Ventilated compartments
Convenient design
Crush-resistant armored pocket
Cons
None
The Gold BJJ Jiu Jitsu Backpack is a heavy-duty gym bag with a waterproof GI pocket. It is a heavy duty bag designed especially for athletes and professional trainers. This water-resistant bag has one big compartment that can store your gear and shoes. It features reinforced stitching that ensures durability. Moreover, the belt pouch and zipper pockets add to the convenience of the users.
Specifications
Material: Water-resistant PVC
Dimensions: 77" x 13.5" x 3.6"
Pros
Durable
High quality material
Waterproof pocket
Cons
The MMA Taekwondo Bags are made with high-quality material that ensures durability. The main compartment has a double-layered zipper enclosure. The bag comes with a ventilated mesh to allow your stuff to breathe and remain odor-free. It has enough space for supplements and martial arts gear. Moreover, the bag has a removable bottom made of thin plastic, and its mesh side pockets can accommodate the largest shoe sizes. It also has an adjustable shoulder strap that makes it convenient to be carried around.
Specifications
Material: Nylon
Dimensions: 10" x 18" x 10"
Pros
Sturdy
Durable
Spacious
Strong zippers
Ventilated mesh pocket
Cons
None
The MarsBro Duffel Bag is made from durable, anti-tearing 600 D polyester for surface fabric. It is lined with water-resistant artificial leather. This duffel bag has a built-in extra shoe bag with exterior zippers and air holes. It can keep your shoes and clean gear separate. The main compartment has a large capacity for clothes, iPad, towels, shoes, and other gym gear. The front zipped pocket is designed for keys, cards, phones, and other accessories. It also has an internal security pocket to hold valuables and another side pocket for water bottles, shampoo, and body wash. The specially designed fluorescent light zippers, simple-looking tails, and fashion logo pattern give this bag a trendy look. It has an adjustable shoulder strap equipped with a comfort cushion and dual handles that make it convenient to use. Its solid hard bottom prevents the bag from falling, and the specially designed pedestal helps it stand straight.
Specifications
Material: 600 D durable water-resistant polyester fabric
Dimensions: 7" x 9.8" x 9.3"
Pros 
Sturdy construction
Spacious
Water-resistant
Versatile
Travel-friendly
Cons
Faulty zippers
Does not last long
The Mouteenoo Gym Bag has a sturdy design and is made with high-quality water-resistant material and strong nylon thread. This durable gym bag has a separate side-zipped compartment designed to keep your shoes and sweaty gear. It also has an inner mesh pocket to store the wallet and phone and a micro fleece internal pocket for valuable items. The adjustable shoulder strap makes this bag comfortable to wear.
Specifications
Material: Water-resistant nylon material
Dimensions: 5" x 11" x 11"
Pros
Sturdy
Comfortable design
Durable
Lightweight
Lifetime warranty
Cons
The Cobra Grips Duffle  Bag comes with a 2-in-1 design as you can convert it into a backpack by adjusting the shoulder strap or strong top handles. It is spacious and can accommodate all your MMA gear. The bag has a large main compartment and front, right, and left zip compartments. Its ventilated wet/dry compartment is meant for airing out dirty shoes, wet towels, and sweaty clothes. The bottom part of the bag is reinforced with a board and protected by plastic strips for added durability. It comes along with padded handles and straps that make this gym bag comfortable to carry. You can use this bag for scuba-diving, snorkeling, and as travel bags for road trips and camping.
Specifications
Material: PVC-coated 600-denier polyester
Dimensions: 12" x 26" x 12"
Pros
Durable
Comfortable design
Adjustable shoulder straps
Spacious
Sturdy
Heavy-duty hand-grip handles
Easy to carry
Cons
The UNK Martial Arts Bag is made with high-quality material and comes with a double zippered cover. The additional mesh fabric on the top can help ventilate the interior portion. It is durable and has a roomy interior, and is perfect for carrying your martial arts gear. Additionally, the large zippered area in the front is specially designed to hold a chest guard. It comes with two mesh fabric pockets for wet items and shoes. Moreover, it has a padded shoulder strap for added convenience.
Specifications  
Material: Nylon and Mesh
Dimensions: 13" x 27" x 14"
Pros
Durable
Spacious
Padded shoulder strap
Versatile
Sturdy
Travel-friendly
Cons
The Longevity Gear Mesh Bag is designed with breathable material, making it perfect for carrying sweaty gear and clothes.  Its durable 600 D polyester with vinyl backing and heavy-duty mesh helps reduce odors while the clothes dry. It also has an end privacy pocket for valuables and a large central pocket for additional storage space. Additionally, it comes with 2 top handles and a shoulder strap that makes it easy to use.
 Specifications
Material: 600 D Polyester
Dimensions: 20" x 10.5" x 10.5"
Pros
Moisture-resistant
Spacious
Lightweight
Dual handles
Easy to use
Lockable SBS zippers
Optional shoulder strap
Cons
None
The Elite Sports Gym Bag is an easy-to-carry backpack. It is made with durable polyester coated with heavy-duty PVC. You can convert this large backpack into a duffel bag. It is big enough to hold gym gear, equipment, and other accessories. This bag has an expandable bottom zipper. The shoulder straps and a hand carry strap on the top combine to give you a BJJ bag suitable for all your workout needs.
Specifications
Material: Polyester Fabric
Dimensions: 16" x 9" x 19"
Pros
Expandable
Easy to carry
Durable
Easy storage
Suitable for all occasions
Cons
None
Why Do You Need A Gym Bag For MMA?
Having a gym bag specifically made for martial arts is great because the design is specific and is much more breathable than other bags. MMA Gym bags have special pockets or compartments meant for shoes, clothes, and dirty gear. They are different from most normal gym bags, which don't provide any of these compartments.
Choosing the right MMA bag can be quite a task. Consider the below pointers before you invest in one.
What To Look For In A Gym Bag? – A Buying Guide
A gym bag is meant to carry some heavy training equipment. Hence, it is necessary to invest in a bag made of good material. The bag should be tear-resistant so that it won't easily rip apart after a few uses. A good gym bag should be made from durable, lightweight, and water-resistant material that will make it last longer. Some MMA gym bags may have mesh in their designs. This mesh allows air flow and prevents the buildup of moisture and damp smell.
Go for a bag that will easily carry your gear, shoes, water bottles, and clothes. In general, the amount of storage space a gym bag can hold is typically measured in liters. Also, always look for the number of compartments the bag has.
Choose bags with sweat-free pockets for your Gi, shoes, and dirty gears. These pockets allow you to safely carry your protein shakers, water bottles, and clothes.
These are the critical parameters to consider when buying an MMA gym bag. But, what is the ideal size for gym bags?
Why Trust Stylecraze
Aditi Naskar has a diploma in health and wellness and enjoys recommending fitness products that can make a difference in her readers' day-to-day lives. Here, she highlights the best MMA gym bags designed with multiple pockets and storage spaces so that you can carry your gear with ease. She reviewed each product based on its features, benefits, and user feedback.
Frequently Asked Questions
What Is The Ideal Size For An MMA Gym Bag?
The ideal size depends on your usage and the kind of sports or training session you want to use it for. The recommended size/capacity for an MMA gym bag is 60 liters.  Wondering whether you need a duffel bag or a backpack for MMA? We have got you covered.
Do You Need A Duffel Bag Or A Backpack For MMA?
We recommend a duffel bag or a 2-in-1 MMA bag with both duffel and backpack options. Many brands have this option where you can convert a duffel bag into a backpack by adjusting the straps. If you like spending your time exercising in an MMA gym, you will need an MMA gym bag. All the bags mentioned above are of premium quality and serve their purpose. Pick your favorite from the list and have a hassle-free gym experience!
Recommended Articles