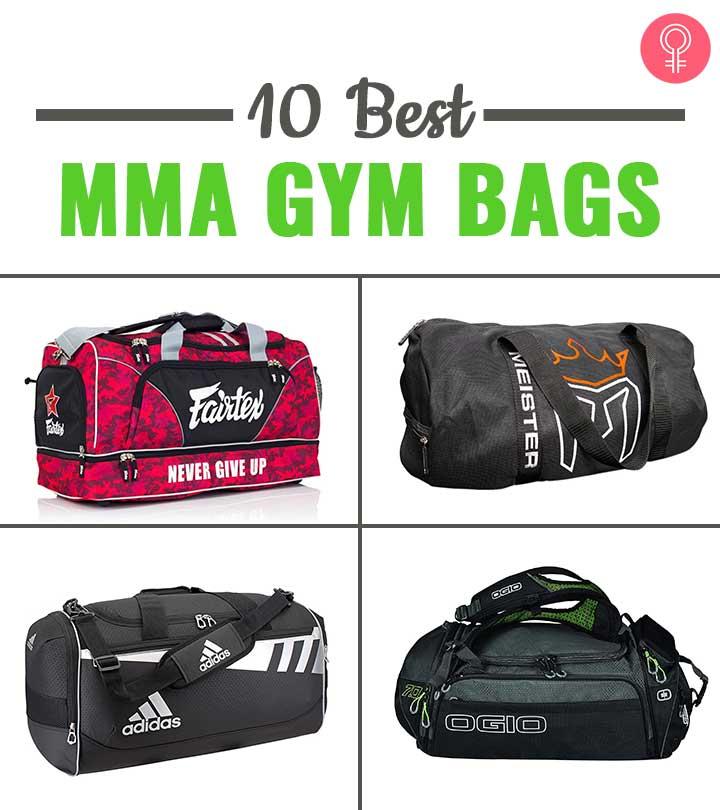 If you are into martial arts and go to a MMA gym, you will surely need a MMA gym bag. As MMA training requires a lot of gear, you would require a durable bag to carry them around. This is where MMA gym bags come into play. These are specialized gym bags that are far more durable and spacious. In this post, we have compiled a list of the 10 best MMA gym bags online. Check them out!
The 10 Best MMA Gym Bags
The FocusGear Ultimate Gym Bag is designed around the users' ideas and feedback. The bag has reinforced stitching at key stress points that ensures durability. The gym bag has a water-resistant panel. It is drop- and stress-tested. The bag fits one 32 oz water bottle and one protein shaker. It also comes with an inside pocket that fits oversized phones. The bag contains total 10 compartments that are useful to keep your equipment organized. This gym bag has two hidden water-resistant pockets for wet items. They can also be used to store full length shoes and sweaty clothes. The bag's main pocket can open completely for easy access. The bag comes in two sizes – small and medium.
Material: 600D polyester fabric 
Pros
Durable
Water-resistant
Sturdy
Hidden pockets to store shoes and sweaty clothes
Easy to store
Comes in 2 different sizes
Drop-tested
Stress-tested
Cons
The Gold BJJ Jiu Jitsu Duffle Bag is a waterproof bag. It has an enlarged opening and a big pocket that can store shoes or dirty gear. The bag is made from water-resistant PVC and ultra durable two tone polyester. This makes the duffle bag durable. The duffle bag is specially made for Jiu Jitsu athletes, and is designed by Jiu Jitsu athletes. It also can be gifted as it comes in a high-end glossy box.  The bag has an inner pocket to store items like mobile and music devices. The handle of the bag is sturdy and does not break easily. The bag comes in two colors – black and gray.
Material: Water-resistant PVC 
Pros
Water-resistant
Sturdy handle
Durable
Big pocket to store shoes and gears 
Cons
None
The Elite Sports Boxing Gym Duffle Bag is a great bag for boxing, MMA, and Jiu Jitsu gear. The bag is big enough to keep gym gear, equipment, and other accessories very conveniently. It has a shoe compartment that is dedicated to store shoes. The gym bag comes with a mesh pocket that allows ventilation for drying damp gear. This also prevents the bag and other items from absorbing the smell. The bag is made from heavy duty cordura fabric. This fabric is known for its strength, durability, and resistance. This ensures the bag will last long and can be washed without any hassle. The bag comes with stowable double carry straps. These allow the bag to be carried easily. The bag also contains a vast array of pockets that make it perfect to keep all your valuables safe. It comes in two varying sizes – small and medium.
Material – Cordura fabric 
Pros
Shoe compartment to store shoes
Mesh pocket allows ventilation
Stowable double straps to carry the bag easily
Durable
Comes in 2 sizes
Cons
The Meister MMA Breathable Chain Mesh Duffel Gym Bag is designed for real athletes. The bag is function-driven and has a unique style. The duffle bag is extra large and allows you to carry all your gear with you. It can carry boxing gloves, thai pads, and a yoga mat or foam roller. The bag also comes in a classic size that can fit in a locker. The bag is constructed from double layered chain mesh and allows ventilation. Even though the bag is made from mesh, it's not see-through like other mesh bags. The bag has two zipper pockets on the side to store smaller personal items. The handles of the bag are strong. They are stitched around the whole bag to give it the support and shape.
Material – Double-layered chain mesh 
Pros
Mesh layer allows ventilation
2 zipper pockets to store personal items
Strong handles
Cons
None
The Venum Trainer Lite Sport bag is a versatile gym bag. It comes with large compartments that can store things like boxing gloves and lifting and cardio gear. It has a special zip pocket on the side. This allows you to easily separate your clean clothes from the used ones worn during a workout. It has built-in bands of mesh fabric. This fabric delivers better breathability and keeps your gear fresh, clean, and away from bad smelling microbes. The shoulder strap of the bag is padded, giving you comfort while carrying it. You can adjust the straps according to your height as well. The bag comes in two different colors – black and red.
Material – Water and hard resistant polyester fabric 
Pros
Durable and sturdy
Water-resistant
Mesh fabric for better ventilation
Padded shoulder strap for comfort
Cons
The Hayabusa Ryoko Mesh Gear Bag is a combination of style and function. It is spacious, light, and designed for maximum ventilation. It works great in storing your boxing equipment, MMA gear, and cardio gear. The bag is constructed with a tear-resistant mesh. It also contains high grade metal zippers that extend its life. The mesh design delivers optimal ventilation. This keeps your gear in the bag dry. The bag also contains water-resistant pockets. These will help you keep your wet and dry gear separated. The duffle bag also has dual water bottle pockets for storing water bottles.
Pros
Lightweight and spacious
Tear-resistant
Comes with high grade metal zippers
Mesh allows ventilation
Water-resistant pockets
Travel-friendly
Cons
The Adidas Team Issue bag is a great bag to organize your workout gear. It has a water-resistant base that helps keep everything dry. The shoulder straps are padded and offer comfort during travel. These straps can be removed and attached as per your convenience. The bag contains four outside zip pockets to help you store your small essential items. The bag also contains two side zippered pockets that can be used to store your shoes separately. One of these side pockets is made from a mesh fabric and provides ventilation. The side pockets are also well ventilated. The zips on the bag are made from large heavy duty nickel pullers. The bag can be easily washed. However, avoid using bleach to wash it. It comes in two colors – black and gray.
Material – 100% polyester 
Pros
Mesh pocket provides ventilation
Multiple zip pockets
Zips made from heavy duty nickel pullers
Water-resistant base
Lightweight
Padded shoulder straps for comfort
Cons
None
The Ogio Endurance Duffle Bag has a crush-resistant lockable armored pocket that keeps your gear in great condition. The bag comes with a ventilated mesh shoe compartment and another ventilated compartment for storing dirty clothes. It also has a hide-away stretch mesh external helmet storage. The bag is made from highly reflective 3M tech fabric that makes it visible in low light. It has an adjustable backpack style shoulder straps with an adjustable sternum strap. The straps are also padded, making the bag comfortable to be carried. The bag has a massive main compartment for you to use.
Material – Reflective 3M tech fabric
Pros
Reflective tech fabric is visible in low light
Ventilated compartments
Adjustable and padded shoulder straps
Crush-resistant lockable armored pocket 
Cons
None
The Fairtex Gym Bag works great to store boxing, muay thai, and MMA gear. It is a high-quality sports bag that is made from waterproof nylon satin. The bag is tough, durable, and colorful. It comes with several pockets and compartments of various sizes. This allows you to store equipment of different sizes really easily. It also has a wet cloth compartment underneath to store your sweaty clothes. The bag has a heavy duty lockable zipper and is made in Thailand. The bags comes in three different color options – black, red, and purple.
Material – Waterproof nylon satin 
Pros
Waterproof
Heavy duty lockable zipper
Durable 
Cons
None
The Grip Power Pads Sport Gym Duffle is a 2-in-1 bag. You can use it as a classic duffle bag by adjusting the shoulder straps. You can use the double straps to convert it to a backpack. The bag comes with a large compartment and also has front, right, and left zip compartments. This gives you plenty of space to fit all of your necessary items. You will get a ventilated wet/dry compartments that can be used to store dirty shoes, wet towels, and sweaty clothes. The duffle bag is made from PVC coated 600 denier polyester. This makes it tear-resistant. The bottom is reinforced with a board and protected by plastic strips that make the bag durable. The bag has padded straps that ensure comfort.
Material – PVC coated 600 denier polyester 
Pros
Ventilated compartments
Sturdy and durable
Padded shoulder straps for comfort
Can be used as a duffel bag and backpack
Cons
These are the top 10 MMA gym bags available online. You can also check the following buying guide before making a purchase.
How To Choose A MMA Gym Bag – A Buying Guide
Material – A gym bag is meant to carry some heavy training equipment. Hence, it is necessary to invest in a bag made from good material. The bag should be tear-resistant so that it won't easily rip apart just after a few uses. A good gym bag should be made from durable material that will make it last long.
Capacity – One of the most important things to look for in a MMA gym bag is how much it can carry. It should not be too small that you can not store anything. Go for a bag that will easily carry your gear, shoes, and clothes. A big training bag is ideal.
Design – You will need a gym bag that is designed to carry a lot of gear and other essential items. The bag should have many compartments to carry your shoes, equipment, and personal belongings.
If you like spending your time exercising in a MMA gym, you will need a MMA gym bag. However, you can't buy just any gym bag. You need one that has been proven to work. All the bags mentioned here are of great quality and serve their purpose. We are sure you will not be disappointed after using them. Pick your favorite today! 
Expert's Answers for Readers Questions
What should I keep in my MMA bag??
A MMA bag will be great to carry items that you will require for your work out. These can be:
Spare clothes
Training gear
Towel
Wallet
Electronic devices
Recommended Articles
The following two tabs change content below.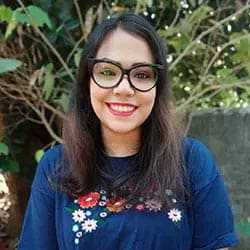 Sucharita Mishra has a Master's degree in Biotechnology and specializes in writing on Health and Wellness. She has worked on determining various heavy metals present in green tea for her Master's dissertation at CSIR- CFTRI, Mysuru. After completing her degree, Sucharita decided to pursue her passion for writing. She is addicted to all things black and aspires to become a bat one day.