10 Best Korean Mineral Sunscreens In 2023 For Every Skin Care Addict
No white sheen and extra sun protection are what these mineral sunscreens offer.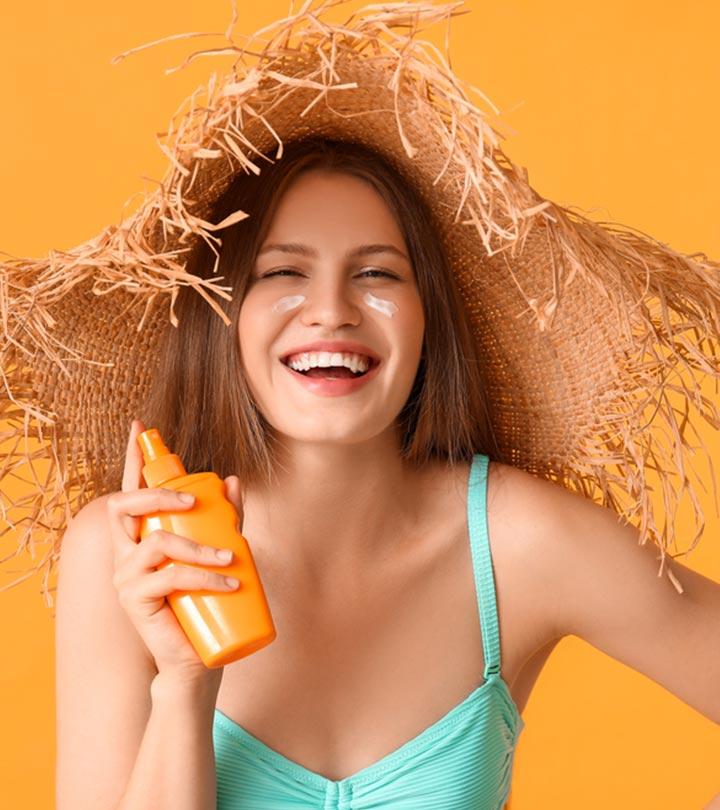 No matter your skin care routine, you won't derive the maximum benefits until you use a good sunscreen. Be it the sultry summers, chilly winters, or even indoors, your skin is always exposed to harmful UV rays. Unfortunately, regular sunscreens might not offer the best protection, and that is why you need the best Korean mineral sunscreens. Besides protecting your skin from radiation and tanning, these sunscreens also prevent fine lines, wrinkles, pigmentation, and skin cancer, while concentrating on improving your skin health. The best part about these sunscreens is that they don't leave a white cast on application and offer superior sun protection. In South Korea, sunscreen formulas are rapidly advancing due to quicker approval times. In addition, Korean mineral sunscreens — no matter how much zinc oxide they contain — are transparent on all skin tones, and they do not have an annoying thickness.
If you are a skin care enthusiast, you must know about the Korean skin care hype — their revolutionary serums, masks, foundations, and more. Their mineral sunscreens offer broad-spectrum protection in the form of titanium oxide, zinc oxide, or at times, both. Besides protecting your skin from irreversible damage, its unique and expert-recommended ingredients also improve skin texture. Dr. Enrizza Factor, a Diplomate of the Philippine Dermatological Society and Fellow of the Philippine Academy of Dermatologic Surgery Foundation Inc., says, "If you are looking for a lighter-weight texture that does not feel like it has any kind of film on top, mineral sunscreen is for you. Mineral sunscreens are mostly fragrance-free and do not contain essential oils and the consistency is very very milky and fluid. Skin feels oil- free with these sunscreens. Mineral-based ingredients like zinc oxide and titanium dioxide offer SPF 50 plus. Mineral-based sunscreen has great texture, and it's lightweight and comfortable on the skin."
We have got your back if you are thinking about opting for these new Korean mineral sunscreen to get the best sun protection and healthy skin. In this article, we have curated a list of the best Korean mineral sunscreens worth trying. Keep scrolling to check out our top picks!
10 Best Korean Mineral Sunscreens To Try In 2023 With Buying Guide
Surprisingly silky for the broad-spectrum protection it provides, this facial sunscreen glides on your skin without feeling sticky or leaving behind that dreaded white cast – even when the sun's peaking. Blended with gentle ingredients like sunflower seeds, acai berries, aloe vera, and dwarf sage root extracts, this plant-based gel formula strengthens your skin's vitality and offers healthy skin while providing thorough UV protection. This K beauty sunscreen is also infused with common purslane extract, known for its antioxidant properties, and hyaluronic acid present in the formula serves as an excellent hydrator at the deepest level. Skin care enthusiast, Himeko, on Instagram states, "This sunscreen gets absorbed really quickly. Most importantly, it doesn't leave my skin in a greasy state after the application! It leaves my skin matte." It is an ideal choice even for sensitive skin types. This video review will help you understand more about the product.
Pros
Budget-friendly
Fluid texture
Sebum-free and non-sticky
Does not leave a white cast
Contains both zinc and titanium oxide for the ultimate UVA/UVB protection
Allergy-tested
Cons
The lemony fragrance might be a little overwhelming.
Another botanical wonder from the pioneers of K-Beauty, this mineral sunscreen is the epitome of gel-based sunscreens. It takes no time to spread and settles a clear, transparent finish that disappears in the skin so fast that you forget how well-protected you are. The clinically-tested mineral formula is easy to apply and blend into any makeup routine and pairs like a charm with your holy-grail moisturizer. While its eucalyptus leaf extract keeps your skin supple, the real superstar is green tea, which serves as an anti-aging ingredient with anti-inflammatory properties that protect you from skin issues like rosacea and acne. Finally, the sunscreen's natural barrier complex seals the deal by retaining water, making it more resilient against environmental damage. Jenna Rubis, a beauty and wellness creator, mentions, "It is lightweight with a mild scent. The product causes no irritation and remains non-sticky. You can also rub it over the delicate skin around your eyes." Check out this review to know more about the reviewer's experience and for a closer look about the product.
Pros
Water-resistant
Transparent semi-matte finish
Calms inflamed skin
Does not clog pores
Cons
The consistency may feel a bit runny.
Living up to its name, this sunscreen cools your skin upon contact. A selected blend of Indian pennywort extract and tea tree leaf powder soothes the surface and actively works to prevent pimples. Ideal for acne-prone skin types, the concoction has grown in popularity due to mask acne (or maskne) becoming such a common skin problem. The oldie-but-goodie glycerin content keeps the sunscreen from drying your skin out, while niacinamide smoothes wrinkles and provides several anti-aging benefits. All of these calming ingredients combined make this K beauty sunscreen a suitable option for those who have inflammation-prone skin. To find out more about this moisturizing sunscreen, check out this video.
Pros
Effortlessly glides on the skin
Highest shielding effect (PA++++)
Infused with 85% moisturizing essence
Non-Nano Mineral Cream that's safe for sensitive skin
Triples as UV Protection, skin brightener, and an anti-aging agent
Dermatologist- tested
Cons
It has a strong tea tree oil fragrance that everyone may not enjoy.
Unlike average sunscreens, this one won't reveal a white cast or sweat off no matter how much time you spend outdoors. It's got kukui seed oil that is traditionally used to strengthen the skin barrier and heal sunburns, along with coconut oil, well-known for binding formulas to your skin for longer durations. The natural coconut vanilla scent keeps you feeling cool and refreshed, even through unbearably hot days. Another feature that makes this mineral sunscreen an athlete's favorite is that it offers up to 80 minutes of water resistance and is sweat-resistant too. Oh, and the cherry on the cream? The lotion is 100% vegan and free of parabens and synthetic fragrances that are harmful to marine life. So, all of the protection and none of the guilt!
Pros
Doesn't feel greasy or sticky
Water-resistant for up to 80 minutes
100% vegan and environment-friendly
No parabens, synthetic fragrance, or chemicals
Perfect for prolonged sun exposure
Affordable
Dermatologist-tested
Cons
The sunscreen might not wash off easily.
This Etude House favorite is especially designed for those with sensitive skin and provides inorganic protection against sun damage as well as dust pollution. Skin care enthusiast, Becca M, says, "The sunscreen feels moisturizing. It is great for me, since my skin gets tanned very easily. It evens out my skin tone and does not make me look gray." The creamy, non-sticky texture feels like it's barely there, making the sunscreen a breeze to reapply throughout the day. Not to mention its hypoallergenic formula, composed of rockstars like panthenol and madecassoside that bring instant relief to your pores without clogging or causing allergic reactions. While the former serves as a humectant that retains hydration, the latter modulates any inflammatory offenders and prevents roughness. Boasting a low pH factor, this K beauty sunscreen formula is a genuine godsend for delicate skin types and is loved by reviewers online.
Pros
Low pH makes it suitable for sensitive skin
Hypoallergenic and non-comedogenic
Hydrating and brightening properties
Cruelty-free
No mineral oils
No tar, talc, perfume, or parabens
Cons
People with oily skin type might find it less mattifying.
When it comes to sunscreen ingredients, zinc oxide belongs to a league of its own. Not only does it provide the broadest and most uniform range of protection available today, it's also stable and doesn't result in irritated skin. Another thing to love about this bottle is the probiotics complex, which prevents UV-related skin damage and keeps acne-inducing bacteria in check. To make your skin rejoice even more, the sunscreen is made of calming botanicals like chameleon plant extract, famous for its antioxidant potential, and sunflower seed oil that moisturizes and evens out the skin. Upon application, you'll see a velvety and non-greasy matte finish that serves as the perfect canvas for your everyday makeup, as claimed in many reviews online.
Pros
Suitable for all skin types
Does not feel sticky or heavy
Contains hydrating hyaluronic acid
Layers effortlessly on top of makeup
Zinc oxide gives all-round protection from UVA and UVB rays
Cons
Those with dry skin might have to apply moisturizer first.
Want to save your skin from damage without getting your hands sticky? Your prayers have been answered! This brush-on mineral powder is the ultimate no-lotion solution for broad-spectrum SPF that doesn't feel heavy, cakey, or excessive in any way. Its lightweight texture is enriched with natural ingredients like manuka honey, pure avocado oil, and kiwifruit extract, which revive dehydrated skin, supply it with essential vitamins, and brighten you up from the inside. Suitable for all skin types, including dry, oily, and combination skin, the sunscreen is especially ideal for acne-prone skin, as it contains zero irritants along with the bacteria-fighting powers of kanuka honey.
Pros
Apply anywhere on-the-go
Best-suited for humid days
All-natural ingredients
Environment-friendly
Paraben- free
Cons
The SPF might be low for prolonged sun exposure.
You will fall in love with this award-winning SPF-CC combo as it protects you against major damage from radiation, pollution, and harmful UVA/UVB rays while hydrating, soothing, and color-correcting your skin. It's the ideal makeup companion for every skin type and is free from parabens, sulfates, phthalates, and animal-derived ingredients. With added niacinamide that enhances your natural glow, hypoallergenic eco-herb water complex that moisturizes, and micro pixel powder that refines pores, this one's an all-time favorite for those who can't get enough of that fresh, dewy finish.
Pros
No white cast
Color corrects and evens out skin tone
Gives your face a porcelain glow
Leaves you feeling dewy and fresh
Protects skin as well as enhances complexion
Sulfate-free
Long lasting
Cons
Might be a bit drying in cold weather conditions
Sourced from the pristine island of Jeju, this sunscreen is made with ingredients full of unparalleled power to nurture your skin. Skin care and lifestyle vlogger, Benenon Pererva, says, "If you are looking for a sunscreen with natural finish, this is it. The sunscreen leaves you with a dewy look by your second or third application. It also goes well with makeup." The water-based formula of this K beauty sunscreen containing invigorators like green tea extract, witch hazel, and sunflower seed oil saves you from sunburn and reduces premature signs of aging at the same time, giving you healthy skin. Cica, a well-known soothing ingredient, ensures that the lotion is gentle and causes no harm. The paraben and talc-free sunscreen has a lightweight texture to the point of invisibility and should be a top choice for daily use. It's essentially a Korean moisturizer with SPF!
Pros
The watery solution blends in seamlessly
Lightweight sunscreen with no white cast
The perfect makeup companion
Moisturizes the skin inside out
Works well for sensitive, acne-prone skin
Cons
It might look a bit shiny on an oily skin type.
If you've been on the lookout for a sunscreen that seamlessly doubles as a day cream, the search is officially over! This alcohol-free mineral sunscreen is ideal for colder days as the fruit oils and aloe vera extract keep your skin from drying out, while centella asiatica acts as a humectant. It's non-comedogenic, free of chemicals, and rubs in clear and smooth without leaving a trace, keeping even the most sensitive of skin comfortable and protected from any sun damage.
Pros
Milk-like texture
Zero chemicals or preservatives
Goes well under foundation
Doesn't feel greasy or heavy
Suited for extremely sensitive skin
Cons
*The prices provided in this article are based on the latest available information. However, they may vary due to changes in pricing by the seller and/or promotional offers.
Things to Remember When Buying A Korean Mineral Sunscreen
Opt for broad spectrum
Always opt for broad spectrum Korean sunscreens, which provide filters for UVB as well as UVA. Why this matters is because you want to be protected from both types of radiation. While UVA rays penetrate into the skin and can cause premature aging and cancer, UVB rays are responsible for sunburns if you're long exposed. Anything above SPF 30 is adequate, although the higher the SPF, the safer your skin.
Understand PA Ratings
Those PA ratings you see on every bottle with a certain number of plus signs? They tell you exactly what level of protection you will receive from UVA rays. PA+ implies that it offers mild protection. PA++ stands for moderate protection, while PA+++ gives you an impressively high degree of protection. Few products have a PA++++ rating on the market, which is why Korean physical sunscreen technology is considered a league ahead of the rest. If you find a sunscreen with a PA++++ rating, you'll have the most superior level of sun protection that a product can possibly offer.
Consider your skin type
No consideration is more crucial than determining whether a sunscreen is suitable for your skin type and tone. As the final step in your morning routine, you want to make sure it has the right consistency (not too greasy or runny), doesn't leave a white cast, and most importantly, doesn't contain allergens that might irritate your skin. Always peek at the key ingredients in the back. There are certain blends that are only suitable for specific skin types.
For instance, if you have rosacea, you should steer clear of alcohol-based sunscreens. On the other hand, if acne-prone skin is your biggest dilemma, you might want to choose a gel-based sunscreen over a cream-based one. Those with dry skin should look for clinically-verified, moisturizing ingredients like glycerin, ceramides, hyaluronic acid, and honey, whereas oily skin type would benefit from water-based or gel-based formulas containing ingredients like tea tree oil, niacinamide, or green tea that control sebum production. If your skin type is normal, lucky you! It's safe to use pretty much any kind of sunscreen that grabs your fancy.
Mineral V/S Chemical Sunscreens: What's The Big Difference?
If K-Beauty is an indication of one thing, it's that sunscreen technology has come a long way. There are a myriad options for every skin type, including dry, oily, or combination skin. You can also choose these sunscreens as per your complexion, which is truly a blessing. However, it's when you need to decide between mineral and chemical sunscreens that things start getting complex.
Primary filters
The primary UV filters in mineral sunscreens are zinc oxide and titanium oxide. These mineral filters are also known as inorganic ingredients. The use of the term 'inorganic' here has chemical connotations, and it does not imply 'non-natural'. On the other hand, the ingredients that act as chemical filters and are used by sunscreens to filter harmful rays are called organic ingredients. They include carbon-based compounds.
Protection methods
Physical or mineral sunscreens function by deflecting and scattering UV rays away from the skin. They offer a broader range of protection against both UVA and UVB damage. Instead of defecting, chemical sunscreens transform UV rays into heat and absorb it into the skin before releasing it. They basically function like a sponge.
Application frequency
Sunscreens with mineral formula are photostable, which means they need to be reapplied less frequently than their chemical counterparts. It doesn't take too long for them to come into effect, so the 15-minute rule can be shortened to 5 or 10 minutes. However, the consistency of chemical sunscreens tends to be slightly thinner, making them easier to apply than mineral sunscreens.
Ultimately, the perfect sunscreen is whichever feels good and offers a broad spectrum SPF to unprotected skin. Don't be discouraged if you're unable to find The One straight away, as it can take some trial and error to get there. However, the market is saturated with more options than ever, which means it's impossible NOT to find one that wins you over in every respect. The Korean mineral sunscreens we've vetted for you are an excellent place to get started, so go ahead and give them a whirl before it's time to officially head out into the sunshine again.
Why Trust StyleCraze?
The author, Kirtana Divakar, is a skin care aficionado and helps people choose the right products for their skin through her well-researched articles. She advocates using the best Korean mineral sunscreens, as against conventional products, for achieving better UV protection. These sunscreens, shortlisted after considering hundreds of user reviews, protect the skin from tanning while preventing fine lines, wrinkles, and pigmentation.
Frequently Asked Questions
Are mineral sunscreens better?
Yes, mineral sunscreens are better for your skin. They are less likely to cause any skin issues and provide superior sun protection. However, some such formulas can leave a white cast and can clog pores if you don't cleanse it out thoroughly at the end of the day.
Do all mineral sunscreens leave a white cast?
No. Not all mineral sunscreens leave a white cast. You can explore white cast-free options like the Banila Co Water Radiance It Radiant CC Cream, Innisfree Daily UV Defense Sunscreen, etc.
Does mineral sunscreen clog pores?
No. Mineral sunscreens don't get absorbed the way a chemical sunscreen would. However, make sure to wash off any residue at the end of the day.
Do you have to wait 15 minutes after applying mineral sunscreen before you can go outdoors?
Yes, it's best to wait for 15 minutes after applying mineral sunscreen and before heading outdoors. This will give the ingredients in the formula to sink in and create a solid barrier on your skin. If you go outdoors too soon or apply sunscreen after your skin starts pinkening, then sunscreen cannot help you much.
How long does mineral sunscreen last on the skin?
Mineral sunscreens stay effective on the skin for 2 hours approximately. You must reapply every two hours if you stay outdoors for a longer period of time.
Recommended Articles