10 Best Eye Creams For Droopy Eyelids – 2020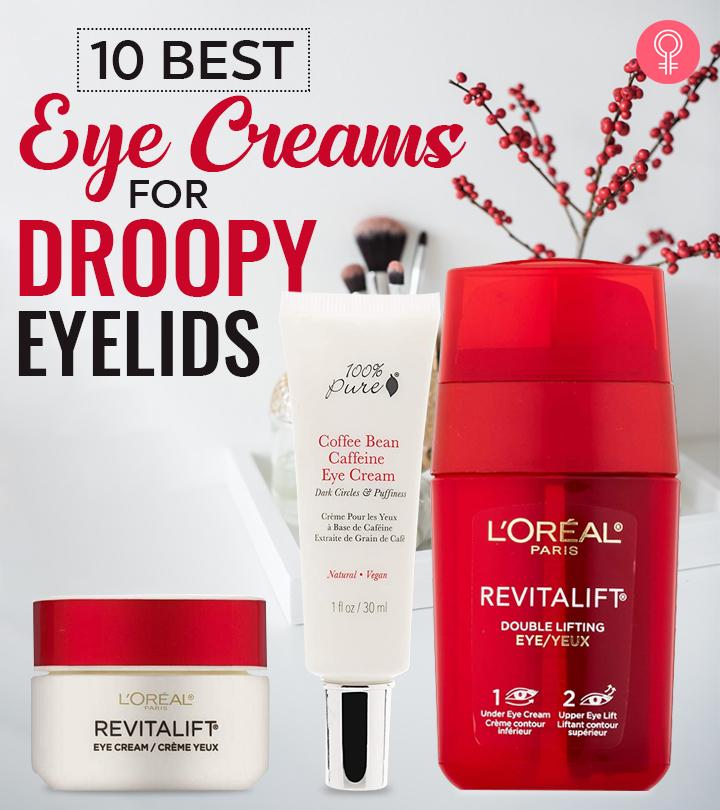 Droopy eyes are not just a cosmetic issue – they can even interfere with your vision. There are many medicines, botox injections, and invasive procedures (blepharoplasty) available to correct droopy eyelids, but using a good lifting eye cream works well as the first line of defense. These eye creams instantly lift the sagging skin of your eyelids by restoring its elasticity and firmness. They are enriched with anti-aging and antioxidant ingredients that counteract the effects of aging and damage on your eyelids. Incorporate these eye creams into your skin care routine as a proactive measure.
We have rounded up the 10 best eye creams for droopy eyelids here. Scroll down to learn more!
10 Best Eye Creams For Droopy Eyelids
The Neutrogena Hydro Boost Eye-Gel Cream moisturizes and softens the delicate area around your eyes. It is enriched with hyaluronic acid that locks the natural moisture of your skin for 24 hours. The gel-like formula gets quickly absorbed into the skin without clogging the pores. This product is free of fragrances, dyes, and oils.
Key Ingredients: Hyaluronic acid
Pros
Absorbed quickly
Non-comedogenic
Ophthalmologist-tested
Fragrance-free
Oil-free
Dye-free
Suitable for all skin types
Cons
If you are looking for a powerful and effective anti-wrinkle and firming eye cream, then L'Oreal Paris Skincare Revitalift Anti-Wrinkle + Firming Eye Cream is your best bet. Its Stimuplex Technology improves the skin elasticity and firmness. It contains eight natural proteins (elastin, perlecan, fibrillin, integrin, collagen (3,4,7), and chondroitin sulfate) that lift the skin and restore its structural integrity. The results can be observed within 4 weeks as this product also contains potent anti-aging ingredients like pro-retinol, sal seed butter, and Gotu Kola extracts that are known to improve skin cell turnover and stimulate skin renewal. Finally, the caffeine in this rejuvenating and hydrating eye cream reduces dark circles, de-puffs the eye bags, and brightens the skin around your eyes. This regenerating cream is hypoallergenic and gets absorbed easily by all skin types, leaving the fragile area around your eyes looking revitalized and youthful. 
Key Ingredients: Pro-retinol, vitamin E, caffeine, hydrolyzed soy protein, Centella asiatica (Gotu Kola), and sal seed butter. 
Pros
l Reduces fine lines and wrinkles
l Reduces dullness and puffy eyes
l Lightens dark circles
l Tightens the skin
l Fragrance-free
l Provides long-lasting hydration
l Non-greasy
l Dermatologist-tested
l Paraben-free
l Contact lens-safe 
Cons
May cause breakouts initially
This Coffee Eye Lift Cream by Estetist is infused with caffeine that boosts collagen production and elastin for firmer-looking eyes. It reduces under-eye puffiness, fatigue, and dark circles while brightening your skin. This eye cream with anti-aging properties contains glycerine that treats UV damage and smoothens fine lines, wrinkles, and crow's feet.
Key Ingredients: Caffeine and Glycerin.
Pros
Lightweight
Suitable for men and women
Cruelty-free
Vegan
Pleasant fragrance
Cons
Remescar offers a science-based solution to lift sagging or droopy eyelids. The innovative and potent formula of Remescar Sagging Eyelids Anti-Aging Eye Cream has been clinically proven to lift the eyelids up to 57 % immediately after application. This cream tightens and lifts the sagging eyelids for up to 8-10 hours. Its highly concentrated active ingredients open up hooded eyes effectively. It is recommended to use the product only once a day and pair it with a good oil-free moisturizer and alcohol-free sunscreen for long-lasting results.
Key ingredients: Sesame-derived liquid, a phytoactive molecular complex, and sea marine particles. 
Pros
l Tightens the skin
l Instant results
l Clinically proven
l Long-lasting results
l Natural ingredients 
Cons
The effectiveness reduces under oil-based makeup
Filorga Time-Filler Eyes Absolute Eye Correction Cream blurs fine lines and wrinkles as it is enriched with hyaluronic acid. This hydrating ingredient, along with a lifting complex, is great for lifting sagging eyelids. The silk extracts and tripeptides in it nourish and thicken eyelashes as well. This eye cream helps you tackle all of your under-eye concerts such as dark circles, hollows, eye bags, and uneven skin tone. 
Key ingredients: Hyaluronic Acid, tripeptides, Persian silk tree extract, a lifting complex, and pro-vitamin B5. 
Pros
l Reduces fine lines and wrinkles
l Makes the skin supple and plump
l Reduces dark circles
l Increases lash volume
l Velvety cream texture 
Cons
The Sudden Change Eyelid Lifter Crème is rich in antioxidants and natural firming extracts that combat the signs of aging on the eyelids. Its non-greasy formula gets absorbed easily by the skin to moisturize it. The anti-aging ingredients in it help in firming and lifting your droopy eyelids so your eyes look vibrant, wrinkle-free, and youthful. This eye cream is free from toxic chemicals, so it is safe for even the most sensitive skin. 
Key ingredients: Retinyl palmitate, fennel seed extract, and glycerin. 
Pros
l Smoothens the skin
l Reduces wrinkles and fine lines
l Moisturizes the skin
l Non-greasy
l Hypoallergenic
l No toxic chemicals
Cons
L'Oréal Paris Revita Lift Double Lifting Eye Cream works on two core issues associated with aging and eyes. This 2-in-1 cream has a lifting upper eye gel and an under-eye anti-wrinkle eye cream. The lifting eye gel is formulated with Pro-Tensium E that tightens the sagging skin on the upper eyelids caused by age and gravity. The anti-wrinkle cream contains Pro-Retinol A which helps in reducing wrinkles and diminishing dark circles under the eyes. The combined effect of this treatment helps in giving you firmer, smoother, and brighter skin around the eyes. 
Key ingredients: Pro-Retinol A and Pro-Tensium E. 
Pros
l Fights wrinkles
l Reduces dark circles
l Hydrates and soothes the skin
l Fragrance-free
l Dermatologist- and ophthalmologist-tested
l Safe for contact lens-wearers 
Cons
Garnier Skin Active Ultra-Lift Anti-Wrinkle Eye Cream is a fantastic anti-aging cream that is formulated with pro-retinol, caffeine, rice peptides, and an antioxidant complex made with vitamin A. Its formula helps in diminishing the fine lines, wrinkles, and crow's feet around the eyes as well as tightening the skin on the eyelids. The hydrating agents in it improve skin elasticity and firmness so your eyes look less droopy. This eye cream can be used by people of all ages, genders, and skin types to instantly hydrate, smoothen, brighten, and refresh tired eyes.
Key ingredients: Pro-retinol, rice peptides, caffeine, and a vitamin A antioxidant complex. 
Pros
l Tightens and lifts the eyelids
l Reduces crow's feet, fine lines, and wrinkles
l Hydrates the skin
l Dermatologist-tested
l Non-comedogenic
l Allergy-tested
l Non-greasy 
Cons
Avon Anew Clinical Eye Lift Pro Dual Eye System is a 2-in-1 treatment that includes an upper-eye gel and an under-eye cream. The upper-eye gel targets the sagging skin on the eyelids, while the under-eye cream reduces dark circles and wrinkles. Thus, it helps in treating the tell-tale signs of aging to achieve younger and firmer skin around the eyes. 
Key ingredients: Sweet almond, hibiscus, olive, grapefruit, carrot, fennel, purslane, passionflower, and black mulberry. 
Pros
l Reduces fine lines and wrinkles
l Tightens the eyelids
l Lightens dark circles
l Keeps eyes looking wide awake
Cons
Results may vary from person to person
This multi-action eye cream is formulated with Instalift – an antioxidant-rich blend of goji berries and glycopeptides that provides an instant lift to the skin so it appears firmer, tighter, and smoother. Hyaluronic acid helps in replenishing the moisture and hydrating the skin so it looks plump and soft. This clinically proven cream has a blend of ingredients that help in boosting collagen and elastin to fight the signs of aging such as fine lines, wrinkles, and crow's feet. The microcrystals in this cream slough away dead, dull, and lifeless skin to restore radiance and firmness to the delicate skin around your eyes. 
Key ingredients: Hyaluronic acid, goji berry, caffeine, jojoba oil, peptides, and vitamin B3.
Pros
l Hydrates the skin
l Smoothens the skin
l Removes dead skin cells
l Reduce fine lines, wrinkles, and crow's feet
l Cruelty-free
l GMO-free
l Gluten-free
l Vegan
l Paraben-free
l Fragrance-free
l Clinically tested 
Cons
Aging is inevitable, and it is most evident around the eyes. These eye creams can lift droopy eyelids as well as fight the signs of aging such as sagging skin, wrinkles, crow's feet, and dark circles. Pick one of the products from our list to restore firmness and elasticity to your eyelids instantly!
Recommended Articles
The following two tabs change content below.

Latest posts by Annie Jangam (see all)

Annie Jangam
Annie Jangam is a Molecular Biologist with 7 years of research experience in Rice Functional Genomics and Nutrient Signalling with International Publications in Abiotic stress, Nitrogen, and G-protein signaling. She specializes in writing on Health and Wellness. She has been an avid reader since childhood and is passionate about stories that help decipher life and its meaning. She believes in Human Rights for all and that one should "love others like we love ourselves."