10 Best Eye Creams For Droopy Eyelids – 2023
Reduce droopy eyelids with these creams that increase skin elasticity and firmness.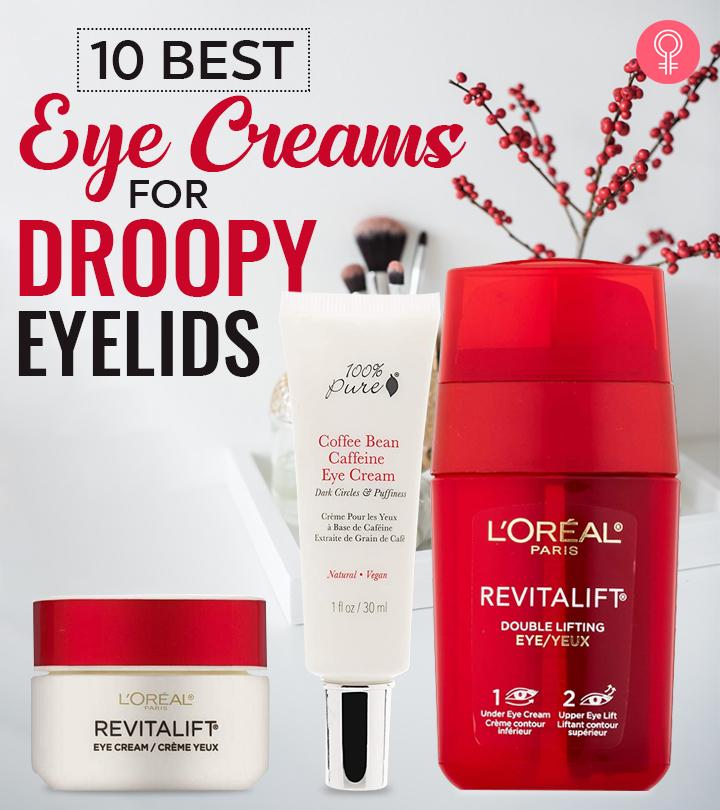 The best eye cream for droopy eyelids not only has a good lifting capacity but also restores the firmness and elasticity of the sagging skin. If used correctly, it can act as a primary line of defense. There are many ways to tackle droopy eyelids, like Botox injections and invasive treatments like blepharoplasty. But, you can try using an eye cream for effective management initially. Droopy eyelids are not only a cosmetic concern, but they can also interfere with your vision if left unmanaged. The best eye creams used for managing droopy eyelids have antioxidants and anti-aging properties, and they can effectively combat any damage.
Have a look at the 10 best eye creams for droopy eyelids listed in this article. Check them out!
10 Best Eye Creams For Droopy Eyelids – 2023
The Neutrogena Hydro Boost Eye-Gel Cream moisturizes and softens the delicate area around your eyes. It is enriched with hyaluronic acid that locks the natural moisture of your skin for 24 hours. The gel-like formula gets quickly absorbed into the skin without clogging the pores. This product is free of fragrances, dyes, and oils. This video will give you a better insight into the qualities of the product.
Key Ingredients: Hyaluronic acid
Pros
Absorbed quickly
Non-comedogenic
Ophthalmologist-tested
Fragrance-free
Oil-free
Dye-free
Suitable for all skin types
Cons
Price at the time of publication: $16.65
If you are looking for a powerful and effective anti-wrinkle and firming eye cream, then L'Oreal Paris Skincare Revitalift Anti-Wrinkle + Firming Eye Cream is your best bet. Its Stimuplex Technology improves the skin elasticity and firmness. It contains eight natural proteins (elastin, perlecan, fibrillin, integrin, collagen (3,4,7), and chondroitin sulfate) that lift the skin and restore its structural integrity. The results can be observed within 4 weeks as this product also contains potent anti-aging ingredients like pro-retinol, sal seed butter, and Gotu Kola extracts that are known to improve skin cell turnover and stimulate skin renewal. Finally, the caffeine in this rejuvenating and hydrating eye cream reduces dark circles, de-puffs the eye bags, and brightens the skin around your eyes. This regenerating cream is hypoallergenic and gets absorbed easily by all skin types, leaving the fragile area around your eyes looking revitalized and youthful. Click here to check out a detailed personal review of this product.
Key Ingredients: Pro-retinol, vitamin E, caffeine, hydrolyzed soy protein, Centella asiatica (Gotu Kola), and sal seed butter. 
Pros
Reduces fine lines and wrinkles
Reduces dullness and puffy eyes
Lightens dark circles
Tightens the skin
Fragrance-free
Provides long-lasting hydration
Non-greasy
Dermatologist-tested
Paraben-free
Contact lens-safe
Cons
May cause breakouts initially
Price at the time of publication: $10.39
This Coffee Eye Lift Cream by Estetist is infused with caffeine that boosts collagen production and elastin for firmer-looking eyes. It reduces under-eye puffiness, fatigue, and dark circles while brightening your skin. This eye cream with anti-aging properties contains glycerine that treats UV damage and smoothens fine lines, wrinkles, and crow's feet.
Key Ingredients: Caffeine and Glycerin.
Pros
Lightweight
Suitable for men and women
Cruelty-free
Vegan
Pleasant fragrance
Cons
Price at the time of publication: $14.99
The Lid Lifting Treatment by City Beauty is a nourishing solution for drooping eyelids. This silky-smooth eyelid treatment contains ingredients that promote skin elasticity and suppleness. Natural extracts and peptides aid in lessening the appearance of drooping eyes, while light-diffusing components help to create a visibly smoother finish. The diamond powder in the formula instantly blurs small lines and wrinkles for a smooth, ageless appearance, while strong active ingredients like hawthorn and Arabian jasmine extracts combine to produce lifted, firm-looking lids.
Key Ingredients: Hawthorn and Arabian jasmine extracts, Quinoa seed extract,
and Blurring microspheres
Pros
Smoothes and tightens the skin
Paraben-free
Mineral oil-free
Phthalate-free
Sulfate-free
Cruelty-free
Made with all-natural ingredients
Cons
Filorga Time-Filler Eyes Absolute Eye Correction Cream blurs fine lines and wrinkles as it is enriched with hyaluronic acid. This hydrating ingredient, along with a lifting complex, is great for lifting sagging eyelids. The silk extracts and tripeptides in it nourish and thicken eyelashes as well. This eye cream helps you tackle all of your under-eye concerts such as dark circles, hollows, eye bags, and uneven skin tone. Here's a personal review video to help you get a better understanding of the product.
Key ingredients: Hyaluronic Acid, tripeptides, Persian silk tree extract, a lifting complex, and pro-vitamin B5. 
Pros
Reduces fine lines and wrinkles
Makes the skin supple and plump
Reduces dark circles
lncreases lash volume
Velvety cream texture
Cons
Price at the time of publication: $59.0
The Sudden Change Eyelid Lifter Crème is rich in antioxidants and natural firming extracts that combat the signs of aging on the eyelids. Its non-greasy formula gets absorbed easily by the skin to moisturize it. The anti-aging ingredients in it help in firming and lifting your droopy eyelids so your eyes look vibrant, wrinkle-free, and youthful. This eye cream is free from toxic chemicals, so it is safe for even the most sensitive skin. 
Key ingredients: Retinyl palmitate, fennel seed extract, and glycerin. 
Pros
Smoothens the skin
Reduces wrinkles and fine lines
Moisturizes the skin
Non-greasy
Hypoallergenic
No toxic chemicals
Cons
Price at the time of publication: $15.99
The Andalou Naturals Coconut Water Eye Lift Cream is a hydrating eye cream that works instantly. The cream is infused with skin-friendly enzymes, vitamin C, and coconut water to brighten and smoothen your skin and reduce the appearance of wrinkles and fine lines. The aquaCacteen, derived from prickly pear cactus, nourishes and hydrates your dull and dry skin for a firmer appearance. The cream is a blend of nature's most bioactive stem cells from the heirloom apple, grape, Swiss alpine rose, argan tree, and hemp plant that enhance skin protection, restoration, and radiance.
Key Ingredients: Vitamin C, Coconut water, and aquaCacteen.
Pros
98% nature-derived
Vegan and cruelty-free
Gluten-free
Coconut-scented
Gentle
Remove impurities
Cons
Not suitable for oily skin
Price at the time of publication: $18.94
Garnier Skin Active Ultra-Lift Anti-Wrinkle Eye Cream is a fantastic anti-aging cream that is formulated with pro-retinol, caffeine, rice peptides, and an antioxidant complex made with vitamin A. Its formula helps in diminishing the fine lines, wrinkles, and crow's feet around the eyes as well as tightening the skin on the eyelids. The hydrating agents in it improve skin elasticity and firmness so your eyes look less droopy. This eye cream can be used by people of all ages, genders, and skin types to instantly hydrate, smoothen, brighten, and refresh tired eyes.
Key ingredients: Pro-retinol, rice peptides, caffeine, and a vitamin A antioxidant complex. 
Pros
Tightens and lifts the eyelids
Reduces crow's feet, fine lines, and wrinkles
Hydrates the skin
Dermatologist-tested
Non-comedogenic
Allergy-tested
Non-greasy
Cons
Tone drooping skin with the Dermactin-TS Upper Eyelid Cream. It is specially formulated for sensitive skin. It nourishes a firm, younger, and vibrant appearance. It helps eliminate fine lines and wrinkles on eyelids and makes them appear young. In addition, it keeps your eyes hydrated.
Key ingredients: Avocado, sweet almond oil, Rye seed extract
Pros
 Easy to use
 Long-lasting
 Smooth texture
Cons
None
Price at the time of publication: $9.69
This multi-action eye cream is formulated with Instalift – an antioxidant-rich blend of goji berries and glycopeptides that provides an instant lift to the skin so it appears firmer, tighter, and smoother. Hyaluronic acid helps in replenishing the moisture and hydrating the skin so it looks plump and soft. This clinically proven cream has a blend of ingredients that help in boosting collagen and elastin to fight the signs of aging such as fine lines, wrinkles, and crow's feet. The microcrystals in this cream slough away dead, dull, and lifeless skin to restore radiance and firmness to the delicate skin around your eyes. 
Key ingredients: Hyaluronic acid, goji berry, caffeine, jojoba oil, peptides, and vitamin B3.
Pros
Hydrates the skin
Smoothens the skin
Removes dead skin cells
Reduce fine lines, wrinkles, and crow's feet
Cruelty-free
GMO-free
Gluten-free
Vegan
Paraben-free
Fragrance-free
Clinically tested
Cons
Price at the time of publication: $15.89
Eye creams for droopy eyelids work wonders when you pick the right one to include in your skin care routine. So, here are some key factors to look for while buying the best ones.
Things To Consider When Buying Eye Creams For Droopy Eyelids
First and foremost, it is very important that you focus on picking a product that not only caters to your needs, but also suits your skin. When it comes to skin care, the logic of 'one product suits all' does not work! If your skin is dry to normal, ensure the product contains glycerine or oil extracts to boost moisture in your skin. While for those with oily skin, focus on ingredients like caffeine, retinol or hyaluronic acid which leaves your skin plump and supple. It is important to keep your exact skin type in mind while buying a product to avoid aggravating your existing skin problems or creating newer ones.
It is best to stay away from harmful ingredients like paraben, alcohol, dye, artificial fragrance, etc. Always choose eye creams with anti-inflammatory, anti-aging, and antioxidant-rich properties. Pick products with hydrating and nourishing ingredients in their formulation such as hyaluronic acid, jojoba oil, glycerine, castor oil, or niacinamide. Also, make sure the product is clinically approved, ophthalmologically and dermatologically tested.
Look for a cream that feels comfortable on your skin and is not too thick, greasy, or sticky. Ensure that the consistency is smooth and spreads seamlessly, absorbs quickly and is lightweight.
You should keep an eye on the shelf life of the product. Do not invest a lot on products that come with a limited shelf life. Pick eye creams that have at least 6 to 10 months of shelf life from the date of manufacturing so that you can make full use of the product and do not waste it away. Remember that natural, herbal, and/or ayurvedic eye creams may have a shorter shelf life.
Apart from tightening your droopy eyes, ensure the cream also caters to other skin concerns. Like reducing fine lines, wrinkles, dullness, puffy eyes and dark circles, while providing long-lasting hydration and soothing effect.
Why Trust StyleCraze?
Shiboli Chakraborti is a certified skin care coach and writes articles specifically for the skin and hair care cluster. After thorough research on their ingredients, efficiency, and probable side effects, she has prepared this list of the best eye creams for droopy eyelids. Only the ones with the highest customer satisfaction and best reviews have been carefully handpicked for this post.
Frequently Asked Questions
Does eye cream for droopy eyelids help to get rid of dark circles?
Yes, but it depends on the formula of the eye creams.The eye creams can effectively treat dark circles and droopy eyelids if the formula contains organic ingredients, including aloe vera, almond oil, rosewater, lemon juice, or tomatoes .
How can I tighten my droopy eyelids?
You can tighten your droopy eyelids by using organic eye creams that firm the delicate skin around your eyes. Another effective way to tighten droopy eyelids is making your eyelid muscles work out every hour by raising your eyebrows or holding your brows tightly while attempting to close your eyes. However, take necessary precautions before performing these exercises.
Does eye cream work on upper eyelids?
It is not recommended to use eye creams directly on the upper eyelids. Instead, you can use certified cosmetic products, including concealers to nourish and maintain your upper eyelids. However, if you are keen on applying organic eye creams on your upper eyelids, make sure to apply them in a circle around your eyes.
Which is the most useful eye cream in intensely moisturizing and firming the look of droopy, saggy eyelids after 40?
Use an eye cream that helps improve your skin's natural texture and elasticity, and helps it remain firmer to moisturize and strengthen droopy, saggy eyelids. People above 40 should use anti-aging eye creams that can boost collagen production. You can opt for the Derma-E Firming DMAE Eye lift cream to restore radiance and firmness to the delicate skin around your eyes.
Recommended Articles