10 Best Drugstore Burgundy Lipsticks Of 2023, Makeup Artist-Approved
Look your boldest best with a versatile lip shade that is sensual and attractive.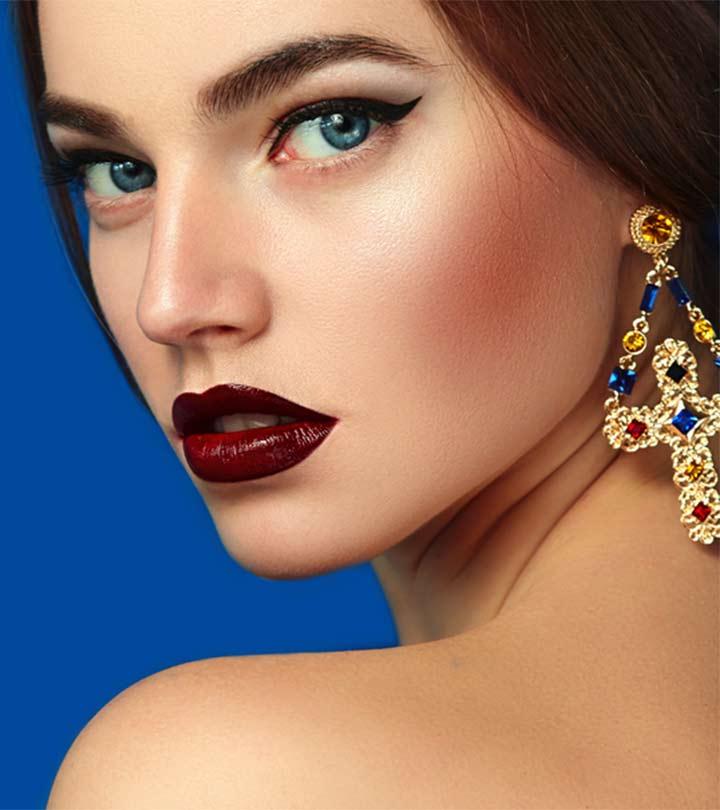 A classic combination of brown, purple, and deep red, burgundy is a lipstick shade that never goes wrong, especially during the fall because its warm berry colors are perfect for the season. It is a super versatile shade, and it flatters most skin tones. And the best part is today, with the best drugstore burgundy lipstick shades that are easily accessible, rocking this statement-making color has been easier because now you don't have to spend a lot to purchase them. One cannot deny that it is indeed a powerful color, and it makes you stand out in the crowd the moment you apply it. Available in glossy, metallic, and matte finish, this color gives you ample opportunity to experiment with your look. So, knowing its immense significance, we have created a list of the 10 most fantastic drugstore burgundy lipstick and reviewed them. Since the market is already brimming with umpteen options, this article will help you choose the best. So, without further ado, go ahead and give this piece a read!
10 Best Drugstore Burgundy Lipsticks Of 2023 – Make A Statement!
 If you are looking to make a statement, here's your chance! This drugstore dark lipstick is both velvety and hydrating, and goes on in one swipe, delivering bold, intense color that lasts. This matte lipstick is formulated with honey nectar, and this hyperpigmented lip color has a hydrating, nurturing, and conditioning formula. Infused with pure oils, this smooth, creamy, wearable, non-drying matte lipstick leaves your lips with a sensuous finish. It's available in a matte, satin, and gloss finish in 20 stunning shades ranging from nude to bold black. Take your pick! Check out this video on YouTube for a detailed understanding of the product and to learn about the tester's experience with it.
Pros
Hydrating
Conditioning
Bold color
Contains pure oils and honey nectar
Cons
 In case you would like to go for the ultra-chic look, this embossed lipstick bullet comes in a sleek black tube with gold accents. It's extremely comfortable as you can hardly feel it on your lips. It gives your lips full coverage by saturating your lips with color. Infused with a botanical complex that includes agave, moringa oil, and cupuacu butter, it helps your lips feel supple and look smooth. This matte lipstick is light and creamy and gives you a velvety feel in just one swipe. If you want to know more about this product and the reviewer's experience of using it, check out this video on YouTube.
Pros
Full coverage
Matte finish
Light and creamy
Botanical extracts
Cons

YYou can take the world by storm with one of the best drugstore burgundy lipsticks that is perfect for all moods and occasions. This long-lasting and smudge-proof formula delivers a luxurious matte finish that lasts all day. Enriched with vitamin E, this exotic blend of red and purple delivers a real punch without fading or feathering. Amp up your makeup artistry and get a full pop of opaque color that is wine, coffee, and food-proof, with just a single swipe. Apart from the burgundy shade, this product has a wide shade range and is available in 52 stunning colors for all moods and occasions Go ahead and check out this YouTuber's video for more details about the product.
Pros
Long lasting
Matte finish
Vivid color
Enriched with vitamin E
Cons
 Luscious lips are no longer a far-fetched dream with this satin finish, mango seed oil and shea butter-infused drugstore burgundy lipstick. It features an irresistible and cute heart-stamped bullet and this richly pigmented lipstick delivers intense, rich color and packs up to 4 hours of hydration with just one swipe. You can dress up your lips in plush, creamy perfection and choose from a variety of satin lipstick shades starting from bold berries, to radiant reds and subtle nudes. The reviews mention the product keeps the lips moisturized and lasts long.
Pros
Vegan formula
Cruelty-free
Creamy texture
Infused with mango and shea butter
Cons
Alysha Tucker, Permanent Makeup Artist, adds, "Most lipsticks in red or pink hues will have carmine. If it's something you're trying to avoid, it may be easier to sift through by searching up the best Vegan lip products."
Do you want your lips to have a silky touch? If yes, then try this Wet n Wild Silk Finish Lipstick, which is formulated with vitamins A and E and aloe vera to moisturize the lips and give them a silky touch. It is also enriched with macadamia nut oil that contains antioxidants that hydrates the lips for a smooth supple pout. It has a rich, creamy, matte, and buildable formula that feels very smooth and silky on the lips. It comes in a very purse-friendly packaging so you can easily carry it. It is available in eight different statement-making shades so you can easily pick the one which suits you best.
Pros
Vegan
Cruelty-free
Budget-friendly
Creamy texture
Cons
Do you hanker after a rich, vibrant lip color that can last up to 24 hours? If yes, this product is worth having a look at! The nourishing topcoat that comes with this lipstick locks in color and provides instant moisture for soft, supple, and shiny lips. And you really don't have to worry about what you eat and drink as it's transfer-resistant, smudge-proof, and food-proof. It contains natural ingredients like coconut oil, aloe vera leaf extract, cocoa seed butter, and shea butter which enhance the suppleness of your lips. This long-wearing drugstore lipstick is perfect for all-day wear, and to help you achieve a celebrity-inspired look, is easy to apply, and doesn't feel sticky or greasy. The best thing is that this lipstick is available in 34 other beautiful shades.
Pros
Cruelty-free
Contains natural ingredients
Vibrant color
Nourishing top coat
Smudge-proof
Transfer-proof
Cons
 This drugstore wine lipstick has a velvety matte finish and leaves your lips looking moisturized and smoldering hot all day long. Its creamy, highly pigmented formula gives you an instant, soft, and smooth finish. It doesn't dry out your lips and its easy glide on applicator provides full coverage. Only the high-quality ingredients go into this lipstick and its smooth consistency perfectly complements all skin types and skin tones.
Pros
Cruelty-free
Soft matte finish
Moisturizing
Long lasting
Easy application
Suitable for all skin types and tones
Cons
May crack on lips upon applying a thick layer
PRODUCT LINK:
If you want to take your lip game to the next level, try the Burgundy shade of the Lava Chrome Black Radiance Metalicious Metallic Lipstick! This lipstick has a unique formula with saturated pigment and metallic shine. It adds a smooth texture and a touch of glamor to the lips. It is enriched with vitamin E and botanical extract that moisturize and hydrates the lips. It has a creamy and lightweight formula that can easily glide on lips and lasts for a long time. It also comes in a cone-shaped stick that helps sculpt and define lips with precision. This metallic lipstick is perfect for making a statement bold look. Multiple reviewers love the intense pigmentation of the lipstick and also mention the lipstick glides effortlessly and applies evenly.
Pros
Lightweight
Creamy texture
Metallic shine
Long-lasting
Has lip sculptor
Cons
None
 Add a pop of color to your lips with this double sided drugstore burgundy lipstick that gives you 2 colorful pigmented looks in one— a shiny tinted gloss on one side, and a striking satin matte lipstick on the other. It has a deep, rich burgundy color that works with any skin tone, type and makeup style, be it a subtle look for the day or a bold look for a night out. This burgundy lipstick has a lightweight formula and is infused with nourishing ingredients like shea butter, mango seed butter, sunflower seed oil, grape seed oil, avocado oil, jojoba seed oil, manuka honey, and vitamin E to give your lips the hydration and moisturization you desire without any stickiness, dryness, or irritation.This easy to wear, versatile lip duo is creamy, gives full coverage, and both the lipstick and smooth lip gloss are highly pigmented.
Pros
Vegan
Cruelty-free
Hypoallergenic
Moisturizing
Silicon-free
Paraben-free
Formaldehyde-free
No synthetic fragrance
Phthalate-free
Paraffin-free
Petrolatum-free
Cons
This silky matte lipstick glides easily on the lips to lock in moisture and gives vibrant color. Infused with argan oil, rose, and vitamin E, it helps to replenish, condition, and soothe your lips with long lasting color. These ingredients also hydrate your lips without any stickiness, greasiness, or irritation. This drugstore burgundy lipstick offers a deep color that helps you to stand out as a diva with its dramatic and vibrant color. It doesn't feather or fade and stays put for the better part of the day. The cruelty-free lipstick is not tested on animals nor does it use any animal products.
Pros
Vegan
Cruelty-free
Moisturizing
Unflavored
Fade-resistant
Cons
It may not be as dark as some may expect.
*The prices provided in this article are based on the latest available information. However, they may vary due to changes in pricing by the seller and/or promotional offers.
Now that you have been through our review of the 10 best drugstore burgundy lipsticks, let us give you a few pointers on what to keep in mind while picking up one for yourself so that you look ravishing.
Tips For Choosing Best Burgundy Lipsticks
 Burgundy lipstick for fair skin
Rich berry colors look quite amazing on fair skin. Surprisingly, fair skinned people often avoid burgundy shades as they feel it might create too much of a contrast with their skin. So, if you have a cool undertone go for a blue base, like a dark berry hue, but if you have a warm undertone go for a yellow base. Basically, stick to colors of the berry family and avoid browns as that can make your complexion look muddy.
 Burgundy lipstick for medium skin
Those with this skin color usually have warm or neutral undertones and for them reddish browns and plums are the most flattering. So, depending on your mood you can go for a safe deep red or a daring violet.
 Burgundy lipstick for olive skin
Brown based lipsticks like a deep maroon, mulberry, or dark plum are most flattering for this skin color.
 Burgundy lipstick for darker skin
Deep purples, blue based reds, and dark chocolate brown go great with this skin color. Those with a warm undertone should go for deep shades of brown while those with cool undertones can easily go with a blue based red. Test the lipstick shade on your wrist to see if it goes with your skin tone before purchasing.
Shade and the texture of lipstick
A lipstick with a sheer burgundy tint is great for the workplace. A burgundy lipstick with a red or pink base usually looks good on everyone. One with blue or purple undertones are dark in color and intensely pigmented. A burgundy lipstick is ideal for both daytime or nighttime wear. Also remember, blondes and redheads should generally opt for brighter hues and black and plum-haired people should opt for lipsticks with a darker burgundy.
If you have small and thin lips, avoid dark, matte finishes as they might make your lips look even smaller. A similar color with a glossy finish would benefit your lip shape and give the appearance of fuller lips.
Why Trust Stylecraze?
Srijani Roy Chowdhury, who wrote this article, is passionate about makeup. She loves to stay on top of makeup trends like the recent burgundy lipstick craze. After spending hours scouring the internet, unearthing products, and investigating their benefits and reviews, she curated this handpicked list. Each of these lipsticks offer merits such as intense color payoff, smooth finish, good texture, and more.
Frequently Asked Questions
Is maroon lipstick the same as burgundy lipstick?
Maroon and burgundy are shades of red, which is universally flattering and looks gorgeous on all skin tones. While maroon is created by adding brown to red, burgundy is achieved by adding purple to red.
Do you look young wearing burgundy lipstick?
Yes. Bright red, burgundy, and maroon shades increase the contrast between facial features and the surrounding skin, making you look younger, more attractive, and more sculpted with a defined jawline.
Can a 50-year-old wear burgundy lipstick?
Yes. Anyone can wear a burgundy lipstick. Feel confident wearing bright or bold lip color or any shade that suits your undertone. Do not ever stop wearing your signature wine or burgundy shade owing to an advanced age.
What does burgundy lipstick symbolize?
Burgundy is an extremely intense and hot color that shows compassion, confidence, and obstinacy in a sophisticated way. It is an overpowering version of passion and heat.
What eye makeup goes with burgundy lipstick?
You can go for a black or brown smokey eye to pair with a burgundy lipstick. Do not forget to complete your eye look with some mascara and liner. You may also choose a nude matte eyeshadow to keep the attention on your lips.
Recommended Articles