13 Best Drugstore Setting Sprays For Oily Skin To Keep Your Makeup Fresh 
Maintain a beautiful finish by keeping that undesirable shine away from your face.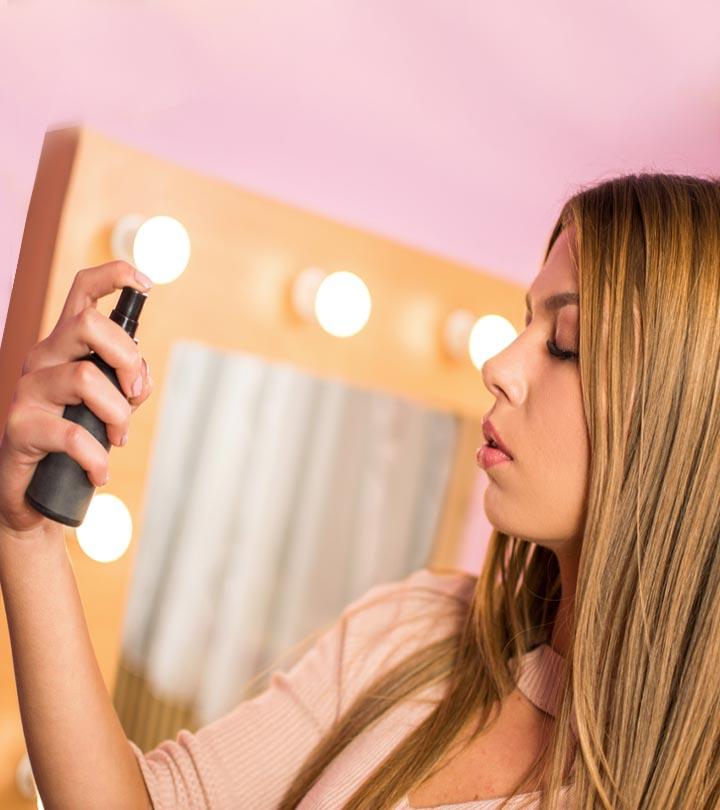 Only those with oily skin can tell you how annoying it can be! Yes, it gives off a glow and looks healthy, but it comes with its set of woes. Especially while applying makeup, it can cause a real problem as it does not apply evenly and fades away with time. All you need is the best drugstore setting spray for oily skin to combat this common problem. To make sure all your efforts in applying the concealer, foundation, and contouring do not melt away with the sebum production, a setting spray will help you keep the gorgeous look intact. It is specially crafted for oily skin, and as amazing as it sounds, you have to be very careful while picking one. Numerous brands are pouring in makeup products, but not all of them work for your skin type. Stay clear of words like moisturizing, hydrating, luminescent, and dewy. Look into formulas that prevent greasy texture while holding the makeup flawlessly for you. To save your skin and yourself from countless experiments, we've rounded up the 13 highest-rated setting sprays. Each of these is made specifically for us oily-skin folk and has ingredients that keep the makeup locked for a long time. So, what are you waiting for? Scroll down and find your makeup fix!
13 Best Drugstore Setting Sprays For Oily Skin To Hold Your Makeup Together
If you've just got done with your makeup routine for the day and you're already starting to sweat, don't worry about your makeup rubbing off. As long as you have the matte finish setting spray from NYX, you're good to go. Its lightweight formula leaves your skin with a soft-focus matte finish, making it one of the best setting sprays for oily skin. The product works best with oily skin and helps keep your skin shine-free. The cruelty-free and vegan formula is just what you need to hold your makeup look in place all day as it gives you a long-lasting effect even with oily skin. You may check more about this product in this video.
Pros
Lightweight
Sweat-proof
Mask-proof
Transfer-proof
Long-lasting effect
Color correction
Cruelty-free
Cons
Are you stressed the sun will wipe away all your makeup you tirelessly put on your oily skin? Wipe away your worries with this Thank Me Later Makeup Setting Spray by Elizabeth Mott and lock your look in place. Suited for all skin types, this weightless formula gives you protection against smudging or creasing your makeup so that you get long-lasting wear. This is a matte-finish weightless setting spray with added oil control that helps absorb the oil from your face and gives you a poreless look. The formula is also cruelty, paraben, and sulfate-free, making it a good setting spray for oily skin.
Pros
Lightweight
Easy to apply
Suitable for all-day wear
Long-lasting formula
Cons
None
If you're looking for a way to keep oiliness at bay while ensuring your makeup stays in place, try Milani's matte charcoal setting spray. This makeup setting spray for oily skin is infused with fine charcoal powder and silica to mattify your skin and absorbs excess oil to keep your makeup locked for up to a whopping 16 hours. The setting spray for oily skin also has a vegan formula and offers a poreless appearance for skin that looks radiant and fresh. Check out this video to learn more.
Pros
Reduces the appearance of blemishes
Long-lasting
Smudge-free
Crease-free
Natural-looking finish
Vegan
Cons
It may be difficult to brush it off
This natural setting spray for oily skin is made with organic, botanical ingredients and is a hydrating liquid spray that you can spritz onto your face to keep your makeup intact. All it takes is 20 seconds for a dewy yet oil-controlled makeup look. The vegan formula is ideal for oily skin as it is non-sticky, gentle, and non-irritating. It is also free from parabens and sulfates while infused with white and green tea extracts that provide anti-aging benefits like reducing fine lines and wrinkles. The product has no artificial fragrance and is fast drying, keeping your skin refreshed through the day.
Pros
Anti-aging benefits
Long-lasting
Soothes the skin
Value for money
Cons
None
One of the best setting sprays for oily skin, Maybelline's matte finish formula is transfer-proof and lasts for up to 16 hours, giving you a flawless makeup finish all day. If you have oily skin and want to reduce that excess shiny look, this mattifying setting spray controls shine and prevents your makeup from fading through the day. It has a lightweight, breathable formula and is suitable for sensitive skin as well.
Pros
Long-lasting
Lightweight
Breathable
Dermatologist-tested
Suitable for sensitive skin
Cons
None
Busy days are busy enough without you having to wonder if your oily skin is causing your makeup to melt off your face. Hopefully, now you have one less thing to think about with ArtNaturals' makeup protective spray for oily skin that comes with a perfect matte finish to help in oil control. The formula contains pomegranate, sage extracts, and aloe vera, which provide anti-aging benefits while revitalizing your skin. It is also infused with zinc, copper, and magnesium to help protect your skin's surface from dust and pollution for up to 16 hours. The non-toxic formula of this setting spray for sensitive, oily skin is devoid of parabens and is entirely vegan and cruelty-free.
Pros
Long-lasting
Hydrates the skin
Soothes the skin
Paraben-free
Cruelty-free
Cons
It has a watery consistency
If you're on the lookout for a hydrating setting spray for oily skin that locks your makeup in place and doubles as a sunscreen as well, look no further than Coola's makeup setting spray. This organic, weightless formula contains SPF 30 for sun protection and gives you a matte finish for that flawless makeup look. Infused with cucumber and aloe-vera, this spray is also water-resistant as well as reef-friendly, giving you hydration while keeping your makeup and the reefs intact! The vegan matte finish makeup setting spray has a natural green tea scent and is paraben-free. It is also infused with algae extract as well as hyaluronic acid for added hydration.
Pros
SPF 30
Lightweight
Hydrates the skin
Dermatologist-tested
Alcohol-free formula
Cons
Not suitable for sensitive skin
Keep yourself looking grease-free with Skindinavia's makeup setting spray for oily skin that uses temperature control technology to help prevent your face from looking excessively shiny. The oil-free setting spray has a lightweight, breathable formula that helps lock your makeup in place for up to 16 hours. The setting spray for oily skin also absorbs excess oil on your face and stops your makeup from creasing and sinking into your pores. The paraben-free formula is great for dehydrated and tight skin and is effective on all skin types!
Pros
Temperature control technology
Hydrates the skin
Long lasting radiance
Hypoallergenic
Safe for all skin types
Natural-looking finish
Paraben-free
Cons
May not be be too effective
Get ready to slay all day with GC's makeup setting spray with oil control so you can hold your makeup in place. Spritz the fine mist formula on your face after applying your makeup and refresh your skin while sealing your look for hours. The gluten-free formula is suitable for all skin types and its oil control feature helps mattify your face, and discard the need for all day touchups. You now no longer need to worry about makeup melting away with this oil-control makeup setting spray.
Pros
Easy to apply
Long-lasting
Refreshing
Suitable for all skin types
Cruelty-free
Cons
None
Hydrate and set your face makeup with Georgette Klinger's makeup setting spray. Infused with coconut, aloe vera, and green tea, this lightweight mist provides hydration and nourishment to your skin as well as added anti-aging benefits to revitalize your skin. The oil-free mist leaves you with a dewy glow and is cruelty, paraben, and sulfate-free! It can be used on all skin types and is a perfect dewy setting spray for oily skin that locks your look in place all day.
Pros
Hydrates the skin
Offers a natural look
Suitable for all skin types
Dye-free
Gluten-free
Cons
None
Help seal your look into place with this Urban Decay oil-control setting spray. It comes with temperature control technology that keeps your makeup look from fading fast for up to 16 hours. This transfer-resistant setting spray for oily skin is infused with kaolin clay, which helps absorb oil and prevent shine, leaving you with a just-applied makeup look all day. The cruelty-free formula is lightweight and non-drying, leaving you feeling fresh all day. If this wasn't all, beauty lovers all over the world contest that this is the longest-lasting oil-control product they've ever used!
Pros
Long-lasting formula
Lightweight
Breathable
Cruelty-free
Patented temperature control technology
Suitable for all skin types
Cons
Touching up your makeup all day can be a real pain, so you should get your hands on Beauty Creations' Peach Setting Spray for oily skin that leaves makeup looking fresh and just applied all day. This product is hydrating and refreshing with a fresh peach scent, leaving your skin looking and smelling great for long periods. The formula is suitable for all skin types, and the product is affordable, making it a must-have beauty essential.
Pros
Hydrates the skin
Suitable for all skin types
Budget-friendly
Cons
Block excessive oil and shine from settling into your face with this makeup setting spray that has a lightweight and waterproof formula to hold your makeup in place for up to 16 hours. The matte-finish formula is moisturizing yet still controls shine and oil while preventing your makeup from cracking or fading. The cruelty-free formula is suitable for all skin types and helps lock your look even while you're sweating, making it one of the best setting sprays for oily skin.
Pros
Long-lasting formula
Breathable formula
Smoothens the skin
Cons
None
It may seem difficult to choose the best setting spray for oily skin suited just for your skin, so here are a few things you can keep in mind when picking one out to buy.
How Do I Choose A Setting Spray For Oily Skin?
Finish

It's essential to keep in mind what kind of finish you want when you're done setting your makeup. A matte finish is usually the best one to go for oily skin since it locks in your makeup longer and prevents it from fading. Your natural skin will encourage oil buildup, and your face may become shiny fast, so a mattifying effect tends to cancel that out. However, if you prefer a glowy look, feel free to select a hydrating setting spray with a dewy finish to give you the desired look.
Formula

When you have oily skin, a setting spray with a lightweight and breathable formula would do you best. This will help you layer your makeup efficiently while keeping your makeup intact and oil-free.
Ingredients

Setting sprays may be loaded with chemicals to help keep oil and greasiness at bay while helping the makeup stay intact. But, these harsh chemicals may do more harm than good in the long run for your skin, and hence it is best to stay clear of them. Always remember to check the ingredient list and stay clear of harmful ingredients like parabens and sulfates.
How Do You Use Makeup Setting Spray On Oily Skin?
Start with fresh, clean skin. The best way to use makeup spray on oily skin is to shake the spray bottle, keep your arm a few inches away from your face and lightly spritz it as many times as the bottle directs it. Some setting sprays only require one puff, while others may require more. Don't keep it too close to your face or your makeup may get damaged.
Why Trust Stylecraze
Chaitra Krishnan, the author of this article, is a makeup fanatic. She thoroughly researches various makeup products and goes through the ingredients list to pick the best ones for the customers. The list of best drugstore setting sprays for oily skin is curated after extensive exploration and considering many user feedback on trusted platforms. These sprays are non-sticky, long-lasting, and have oil-absorbing properties.
Frequently Asked Questions
Does setting spray help with oily skin?
Yes, setting sprays which are formulated for oily complexions are useful to combat extra shine and will also absorb excess oil and set makeup.
Does setting spray clog pores?
No, most setting sprays work well to prevent the appearance of pores and work to prevent your makeup from settling into your pores.
Is finishing spray the same as setting spray?
No, a setting spray is used to keep your makeup locked in place, with lesser chances of it fading and melting, while a finishing spray serves to keep your skin moisturized and fresh.
Can I use setting spray everyday?
It is not recommended to use setting spray everyday as it can tend to get drying after excessive use as most setting sprays contain alcohol. It is always good to generally give your skin a break to recuperate.
Is dewy setting spray good for oily skin?
Dewy setting sprays are not the most compatible with oily skin as your natural oils tend to make your makeup melt or fade anda adding a dewy setting spray only compounds this. It is best to use a matte spray if you're looking for a long lasting effect, however you can use a dewy spray if you want a shiny, glowy look.
Do you use setting spray before or after the foundation?
Apply setting spray after applying the foundation. Setting spray aids in locking in your appearance, preventing the need for product reapplication throughout the day.
Is setting spray or powder better for oily skin?
Setting powder is considered the best choice for oily or combination skin because it can absorb extra oil. Setting spray, on the other hand, works best on dry skin because it can hydrate it.
Recommended Articles: