Top 7 Deodorants That Don't Stain Clothes
Don't worry about staining your clothes with good-quality deodorants.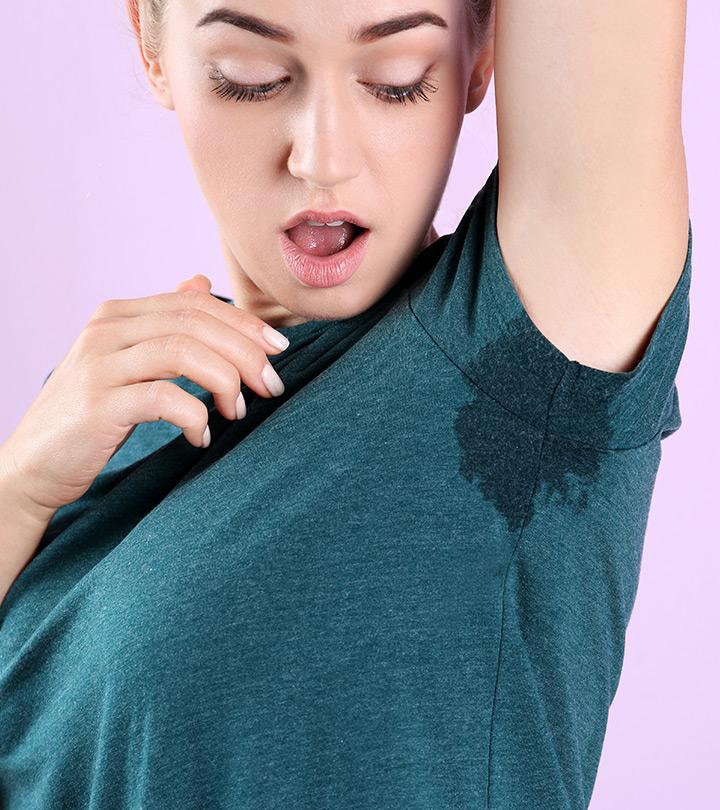 Your deodorant is ruining your clothes is not very pleasant. If you cannot give up fragrances, here are some of the best deodorant that does not stain clothes. While this might help, let's get to the root of the issue. We sweat for a reason, but that does not mean we enjoy it. Hot days, workouts, or stressful times can cause you to sweat profusely. Hormones and stress can cause your sweat to smell and feel different.
No matter the cause, your favorite shirt gets covered in sweat stains. Also, your clothes may fade or discolor.
If you sweat heavily, do not wash your sweaty clothes for a long time, or use deodorants frequently, you may get stains on your clothing. Read on to find out why deodorant causes clothes to stain.
Why Do Deodorants Stain Clothes?
The fats and protein in your sweat react with the aluminum in deodorants to produce fiber-altering compounds and cause yellow stains. Aluminum salts also leave white, chalky stains on dark clothing.
Even natural and aluminum-free deodorants can lead to staining with overuse and thick application.
It is necessary to understand that antiperspirants and deodorants are different products, though they may serve the same basic purpose of eliminating body odor. Antiperspirants use aluminum chloride to block sweat glands, while deodorants are alcohol-based and eliminate odor. Deodorants are less likely to leave stains if they do not contain aluminum compounds.
Here are the top 7 deodorant that doesn't stain clothes. Check them out!
Top 7 Deodorants That Doesn't Stain Clothes
No products found.
Suave Antiperspirant Deodorant does not leave behind any residue or yellow and white patches on your clothes. It provides 24-hour protection against body odor. These are the best deodorants that don't stain.
Its refreshing and pleasing fragrance keeps you in a great mood all day long. It also does not contain any harmful chemicals. This stick deo glides on your skin smoothly. It is a safe daily-use product that is specially formulated to keep away wetness, odor, and unsightly sweat stains from your clothes.
Pros
Long-lasting odor control
No wetness
No residue
Refreshing light fragrance
Mess-free application
Cons
None
[ Read: Antiperspirants Vs. Deodorants – What's The Difference? ]
Pros
Effective
Suitable for sensitive skin
Organic ingredients
Cons
May soften in warm temperatures due to its coconut oil content
Price at the time of publication: $14.97
Pros
Unique MotionSense Technology
48-hour protection from sweaty odor
Special stain-free formula
Controls excessive perspiration
Cons
None

Price at the time of publication: $19.92
When aluminum compounds react with sweat, they create yellow and white patches on your clothes. Native Natural Deodorant does not contain aluminum, making it a non-staining deodorant. It is a solid deodorant that is easy to apply. This no stain deodorant is the best natural deodorant. YouTuber EuniyceMari, a skin care and makeup-related video creator says in her review, "It smells great. It has a very light coconut vanilla smell. When you apply it, it's pretty clear. It doesn't leave much residue. It is very lightweight, it melts right into the skin. I have been using this every day and I have no irritation."
Native Deodorant uses safe ingredients like baking soda and tapioca starch to neutralize odor-causing bacteria and prevent wetness. Check out this YouTuber's video on the benefits of using this deodorant.
Pros
Aluminum-free
Paraben-free
Cruelty-free
Suitable for men and women
Long-lasting effect
Contains natural ingredients
Cons
Price at the time of publication: $11.99
Pros
Natural and organic
No baking soda
Aluminum-free
Suitable for sensitive skin
Creamy and moisturizing
Unscented
Handcrafted in small batches
Cons
Price at the time of publication: $14.99
Pros
No baking soda
Aluminum-free
Paraben-free
Phthalate-free
Certified cruelty-free and vegan
Long-lasting
Recyclable bottle
Cons
None

Price at the time of publication: $14.99
Pros
Aluminum-free
Paraben-free
Vegan
Non-toxic
No mineral salts and mineral oil
Gluten-free
Cons
None 
Price at the time of publication: $38.21
Deodorants are a must-have for almost all of us, but it is important to choose a product that works well for us without staining our clothes or harming our skin. To determine how to choose the right kind of deodorant that won't stain clothes, here are a few important points to keep in mind.
How To Choose A Deodorant To Avoid Staining Clothes
Not all deodorants are suitable for every skin type. In case a deodorant does not suit your skin, you might get an allergic reaction, itching, rashes, or redness. Look for moisturizing ingredients in your deodorant that prevent dryness and darkening of the armpits.
It is best to opt for deodorants that are chemical-free or have a natural formula. Pick one that has moisturizing and soothing properties, and is alcohol-free. Make sure you look for a product that is free from paraben, sulfate, phthalate, mineral salts or oil, aluminum, baking soda or starch, gluten, or any such toxins. Pick one that contains soothing agents like aloe vera, lavender, coconut, jasmine, etc.
Deodorants come in both unscented and scented formulas. It mostly then boils down to personal preference. Unscented deodorants are suitable for people who like a neutral scent that will keep them smelling fresh all through the day. However, if you want a fragrance-based deodorant, you can choose from various options available ranging from floral to musky notes. But it is best to stick to formulas that are free from artificial fragrances.
Regardless of your skin type, pick deodorants with hypoallergenic formulas which are relatively unlikely to cause allergic reactions. Especially ones that are mild and free from harmful ingredients so that they don't irritate your skin. Also, ensure the formula does not leave any white cast or residue and is quick absorbing too!
The application method makes a significant difference in applying a product. Most of the deodorants mentioned in the above list are roll-ons or deodorant sticks that are easy to use. Apart from these two types, you could go for sprays, wipes, or creams. A roll-on or stick is time-saving and easy to carry along in your bag.
Compared to perfumes, deodorants are highly affordable and pocket-friendly. Invest in a deodorant that has a good fragrance and longevity.
A stain-free deodorant is just the first line of defense against sweat stains on your clothes. Check out the next section to find out what more you can do to prevent sweat stains.
 How To Prevent Armpit Sweat Stains
First, let's talk about the three common types of sweat stains: 
Yellow stains visible on white shirts
White deodorant stains on dark-colored clothes
Wet ring stains that appear when you sweat profusely and appear like a watermark on light-colored garments
Armpit sweat stains are embarrassing. When it happens during an interview or a first date, it stresses you further, and you sweat more. The stains become more prominent and darker, and the vicious cycle continues. While deodorants and antiperspirants do help, it is better to take some additional precautions to prevent sweat stains.
Wear cotton clothes: Cotton is a natural fiber that allows your skin to breathe and the sweat to evaporate.
Wear loose-fitted clothes: Tight clothes cling to your skin and do not allow perspiration to evaporate. This causes the bacteria to decompose and cause body odor.
A thin layer of deodorant goes a long way: Follow this golden rule while applying deodorant. Too much and thick layering causes staining and stickiness.
Why Trust StyleCraze?
The author of this article, Shiboli Chakraborti, is a certified skin care coach. She has conducted hours of research to compile this list of the best deodorants that don't stain clothes. She checked user reviews and feedback on trusted online forums to handpick the right ones for her readers. These products offer protection against body odor and do not stain your clothes.
Frequently Asked Questions
Which non-staining deodorant is good for excessive sweating?
The Degree UltraClear Black+White Pure Clear Invisible Solid Antiperspirant Deodorant controls excessive sweating. It also clinically prevents any nasty body odor caused by perspiration for 48 hours. Needless to say, it's also non-staining.
Can kids use those deodorants that don't stain clothes?
Yes. All the deodorants mentioned above are free from harsh chemicals like paraben and aluminum and so are comparatively safer for younger people. However, adult deodorants are not for infants, and do exercise caution before using them on children below 14 years of age.
What should teenagers keep in mind when choosing a non-staining deodorant?
Teenagers can keep these things in mind when choosing a deodorant:
• Always choose a deodorant that kills the bacteria and removes the bad odor rather than covering it. Covering a bad odor can turn the scent of the deodorant into an unbearable stink.
• Look for good brands that manufacture long-lasting fragrances. A scent that dissipates easily will need repetitive sprays.
• Look for a deodorant that has talc in it. The talc absorbs the sweat and removes the bad odor. Antiperspirants also have many antibacterial properties.
• Opt for a brand that is devoid of any harmful chemicals. Look for skin-friendly fragrances that will not irritate your skin.
• Lastly, always read the reviews given by other customers before purchasing. This way you can know how certain fragrances react on certain skin types.