5 Best Leave-In Conditioners For Hair Extensions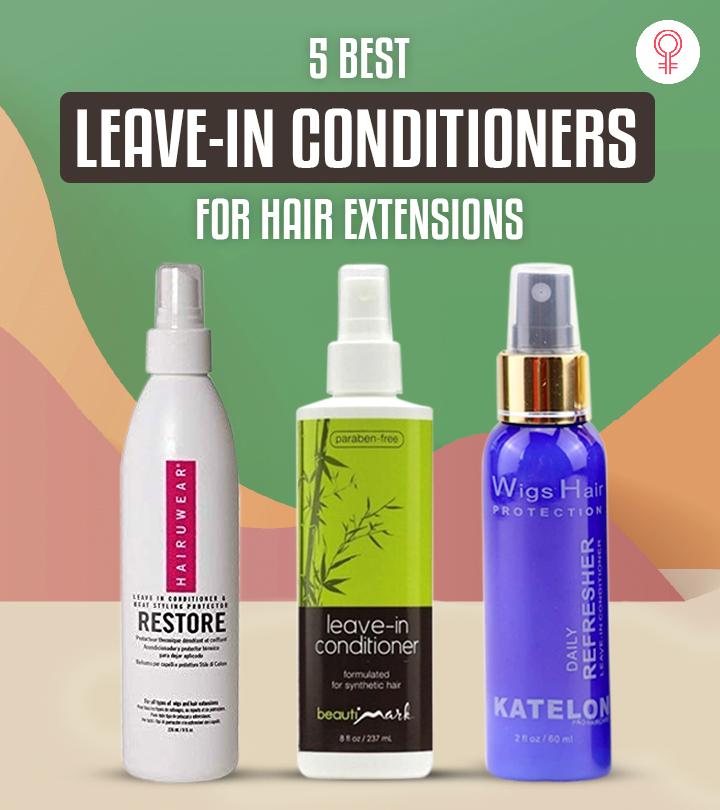 Getting hair extensions is a stylish way of having a good hair day every single day. From covering a bad hair cut to getting color streaks without damaging the original hair – extensions can fulfill all your hair goals. However, you need to take proper care to keep them healthy. This is where a leave-in conditioner can help.
Most hair extensions are made of original human hair, and without proper care, they will not stick around for long. A leave-in conditioner keeps the hair extension hydrated, soft, and shiny and prevents heat damage. Scroll down to check out the 5 best leave-in conditioners for hair extensions.
5 Best Leave-in Conditioners For Hair Extensions
The HAIRUWEAR Restore Leave-in Conditioner is meant for synthetic hair extensions. This conditioner detangles the synthetic hair strands and protects them from heat styling. It has a gentle formula that softens the synthetic fibers and keeps the extensions bouncy all day long.
Pros
Environment-friendly
Contains no harmful chemicals
Cruelty-free
Gentle
Cons
The REVIBE REVAMP Magic Spray is a detangling and conditioning spray that works on hair extensions (synthetic and human hair), clip-ins, tape-ins, wefts, and wigs. It contains aloe vera extract and silk amino acids that soften the hair, keep it shiny, and prevent breakage. This spray works on both wet and dry extensions. It not only detangles and conditions the hair but also reduces dandruff.
Pros
Paraben-free
Sulfate-free
Eliminates frizz
Cons
The beautimark Leave-In Conditioner is formulated for synthetic hair. The lightweight contains aloe vera, grapefruit, rosemary, and bamboo extracts that care for synthetic hair and extend its life. This spray conditioner keeps the strands strong, maintains their natural shine, and protects them from heat damage.
Pros
Cons
The X-Tender by Mitch Stone Essentials detangles and conditions dry, damaged, and frizzy hair extensions. It contains hydrolyzed soy proteins, papaya extract, and pro-vitamin B5 that restore shine and moisture to the damaged strands and keep them healthy. This spray detangles the hair and makes it manageable.
Pros
Pleasant fragrance
Softens the hair
Paraben-free
Suitable for all types of weaves
Affordable
Cons
None
The KATELON Wigs Hair Protector Daily Refresher Leave-In Conditioner Spray works on synthetic and natural hair extensions and helps prolong their lives. It contains argan oil and vitamins that detangle the hair, prevent dryness, and improve shine and manageability. This spray works as a thermal protectant to prevent heat damage without leaving any oily residue.
Pros
Affordable
Paraben-free
Color-safe
Phosphate-free
Sulfate-free
Cons
None
Heat styling and color treatments can damage hair extensions over time. To prevent that from happening, you need a good leave-in conditioner. It helps restore moisture to prevent dryness, frizz, and breakage. Whether you have recently got hair extensions or are already using them, the products mentioned in the above list can help. Try them today.
Frequently Asked Questions
Can you apply leave-in conditioners on hair extensions?
Yes, you can apply leave-in conditioners on hair extensions to keep them moisturized.
How do you keep hair extensions from drying out?
To prevent dryness, apply a leave-in conditioner on hair extensions after washing. You may also use conditioning sprays to prevent heat damage and dryness.
Is coconut oil good for hair extensions?
Yes, coconut oil moisturizes the hair extensions.
Why do hair extensions get frizzy?
Hair extensions get frizzy as they do not get natural oils and sebum from the scalp. That is why you need to apply a leave-in conditioner to keep them hydrated and frizz-free.
Do hair extensions help hair grow?
No. Hair extensions do not promote hair growth, but they can make your hair appear longer.
Recommended Articles