15 Best Face Exfoliators For Oily Skin To Brighten Your Complexion
Gentle exfoliators that eliminate dirt and grime while improving your skin tone.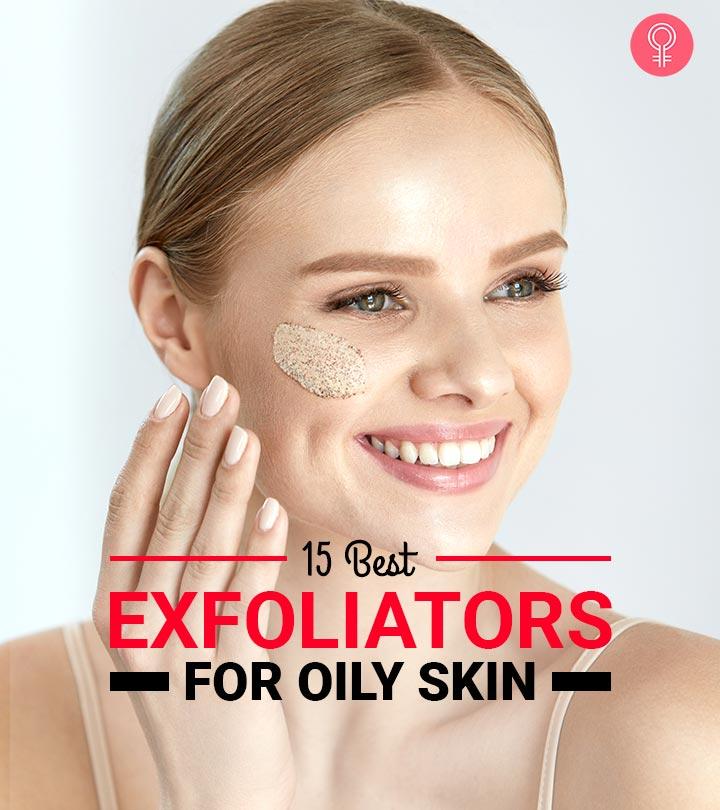 Excess of anything is bad! The same works with skin's natural oils, which may cause dirt buildup, acne, and breakouts if present excessively. In that case, you may need the best exfoliator for your oily skin to eliminate excess oils, dead skin cells, and grime by opening the clogged pores. Exfoliators specifically formulated for oily skin help reduce the frequency of breakouts to a great extent.
In this article, we have come up with our 15 best exfoliators for oily skin. Check them out!
15 Best Exfoliators For Oily Skin
The St. Ives Blackhead Clearing Face Scrub is made with 100% natural exfoliators. These offer a deep cleanse by unclogging the pores. This is a multi-award winning classic scrub infused with Chinese green tea leaves, walnut shell powder, and handpicked apricots from California and North Africa. The active ingredient in the scrub is 1% salicylic acid that helps heal acne, relieve redness and pain, and remove blackheads.
The epigallocatechin galette (EGCG) in the scrub is an antioxidant. It protects the skin from environmental aggressors. The anti-inflammatory properties of green tea reduce redness and irritation, and are effective in treating acne scars. The polyphenols in green tea reduce excess sebum formation and help prevent acne. The walnut shell powder with apricot fruit extract gently exfoliates the skin for a clean, glowy appearance.
Pros
Dermatologically approved
Paraben-free
Non-comedogenic
Made with 100% natural exfoliators
Oil-free formula
Absorbs oil and dirt
Clears blackheads
Relieves acne
Smells great
Provides instant nourishment
Cons
May roughen your skin
The smell could be too strong
Price at the time of publication: $3.99
The Aveeno Positively Radiant Daily Face Scrub is a gentle exfoliator, cleanser, and clarifier that rebalances skin tone, smoothens texture, and nourishes the skin. The invigorating formula is infused with moisture-rich soy extract and naturally derived granules that remove excess oil and impurities from the skin's surface. The scrub stimulates the production of natural hyaluronic acid in the skin that fights the signs of aging, seals in moisture, and improves skin elasticity. The fatty acids in hydrogenated castor oil and jojoba oil restore the skin's natural tone. Click on the video to get an overall idea about the Aveeno Positively Radiant Daily Facial Scrub.
Pros
Oil-free
Soap-free
Non-comedogenic
Hypoallergenic
Gentle skin exfoliator
Evens skin tone and texture
Brightens dull skin
Gentle enough for everyday use
Moisturizes skin
Improves natural radiance
Cons
Sensitive to eyes
May cause skin irritation
Price at the time of publication: $8.84
The AcneFree Blackhead Removing Exfoliating Scrub is a charcoal gel-based formula that contains maximum strength 2% salicylic acid. This acid helps minimize breakouts. The scrub also contains natural jojoba oil that further nourishes skin. Salicylic acid is an oil-soluble exfoliator that helps treat acne and blackheads, clears skin debris, and penetrates deep into the pores and tightens skin. The activated charcoal penetrates into the inner layers of the skin to absorb excess oil, dirt, and impurities. It also unclogs pores. The jojoba oil provides hydrating and soothing benefits. The fragrance-free scrubber reduces irritation and deep cleanses the pores.
Pros
Fragrance-free
Tightens pores
Absorbs excess sebum
Minimizes breakouts
Reduces blackheads
Heals acne symptoms
Reduces inflammation
Smoothens skin
Gentle for sensitive skin
Cons
Price at the time of publication: $7.99
The DRMTLGY Microabrasion Facial Scrub is a gentle exfoliating cleanser that buffs away dead cells from the outer surface of the skin. It also reduces fine lines, wrinkles, blemishes, acne scars, and hyperpigmentation. This micro-abrasive formula contains glycolic acid derived from sugar cane, apple fruit, lemon, and green tea extract. Sugarcane extract is a natural humectant, and the glycolic acid in it removes dead skin cells. It also extracts dirt and impurities by unclogging the pores.
Apple fruit extract is rich in antioxidants. It contains natural alpha-hydroxy acids (AHAs) that gently exfoliate the skin and enhance the regeneration of new skin cells. It is packed with vitamins B5 and B9 to combat acne and inflammation. The green tea leaves are naturally rich in antioxidants and protect the skin from oxidative damage. They also reduce puffy eyes, dark circles, and delay the signs of aging. The lemon fruit extract enhances skin clarity and imparts a natural glow. Watch this video for a detailed review of the DRMTLGY Microdermabrasion Facial Scrub.
Pros
Paraben-free
Sulfate-free
Cruelty-free
Oil-free
Hormone-free
Formaldehyde-free
Gluten-free
100% natural ingredients
Dermatologist-tested
Improves skin tone and complexion
Increases skin elasticity
Reduces acne scarring
Anti-aging properties
Tightens enlarged pores
Lightens melasma
Easy to apply
Gentle on oily skin
Suitable for sensitive skin
Non-comedogenic
Cons
Price at the time of publication: $14.95
The Paula's Choice Skin Perfecting Facial Exfoliant contains 2% BHA (beta hydroxy acid) that imparts a natural glow to the skin. The key ingredients infused in this liquid exfoliant are salicylic acid and green tea extract. Salicylic acid is a gentle exfoliant that removes dead skin cells by providing gentle exfoliation. It helps unclog pores, removes oil, grime, and impurities, and reduces enlarged pores to tighten the skin. This leave-on skin-perfecting exfoliant reduces acne scars and inflammation and removes blackheads. The green tea extract is a popular antioxidant that exhibits anti-aging properties. Use this scrub twice daily for brighter, softer, younger-looking skin. Watch out the unfiltered review in this video to get a good idea about the Unique Leave-On Exfoliant: Paula's Choice Skin Perfecting Facial Exfoliant.
Pros
Paraben-free
Contains 2% BHA
No artificial fragrance
Reduces fine lines and wrinkles
Unclogs pores
Reduces blackheads
Anti-inflammatory properties
Protects from sun damage
Cons
Expensive
Not suitable for sensitive skin
Price at the time of publication: $34.0
The Neutrogena Deep Clean Shine Control Daily Scrub absorbs excess oil, dirt, and impurities for a brighter, healthier skin. This dermatologist-recommended, award-winning, and oil-free formula deeply cleanses the skin and absorbs over 85% of the built-up oil. The key ingredients used in the scrub are rice protein and salicylic acid. The hydrolyzed rice protein retains skin moisture. It is an effective anti-irritant. The salicylic acid clears acne scars and reduces blemishes.
Pros
Dermatologically-tested
Non-comedogenic
Gentle on sensitive skin
Controls shine for full 8 hours
Deeply cleanses
Absorbs over 85% of surface oil
Makes skin breathable
Controls shine
Cons
May contain plastic microbeads
Price at the time of publication: $25.49
The L'Oreal Paris Pure-Sugar Scrub comes with a rich, buttery exfoliating formula. It contains a natural blend of three sugars mixed with finely crushed cocoa, emollient coconut oil, and moisture-rich cocoa butter. The blend of brown, blonde, and white sugar is rich in minerals. It easily absorbs into the skin for gentle exfoliation. This sugar scrub buffs away dead cells from the surface of the skin and extracts excess oil by unclogging the pores. The nourishing blend of coconut oil and cocoa butter moisturizes skin.
Pros
Paraben-free
No harsh microbeads
No harmful chemicals
Moisturizes skin
Perfect for dry or sensitive skin
Smells great
Cons
Consistency could be too thick
Greasy feel
Price at the time of publication: $5.0
Cleanse and brighten your complexion with the invigorating formula of the Body Merry Glycolic Acid Exfoliating Scrub. The combined exfoliating powers of 2.5% glycolic acid, willow bark, and jojoba wax beads help unclog pores, slough away dead skin cells, and extract the excess grime and oily build-up. The formula also includes kojic acid and a blend of elixir plant oils (olive oil, jojoba oil, tea tree oil, rosehip oil) that nourish, moisturize, rejuvenate, and revitalize skin. This gentle exfoliator reduces the signs of aging, dark spots, and acne. Its antioxidants protect the skin from oxidative damage.
Brianne Larrabee, a licensed esthetician, says, "This scrub has a great combination of ingredients. The glycolic acid provides a chemical exfoliation and the jojoba beads create a gentle mechanical exfoliation for a very effective cleanse. The addition of kojic acid also helps target dark spots like hyperpigmentation and acne scars as well."
Pros
Cleanses skin and brightens complexion
Helps fight acne and acne scars
Reduces blackheads
Removes dark spots
Helps remove makeup
Tightens enlarged pores
Cruelty-free
Safe for everyday use
Suitable for sensitive skin
Cons
Price at the time of publication: $19.75
The Garnier Clean Blackhead Eliminating Scrub unclogs pores, and removes dirt, oil, and impurities for a brighter complexion. It is formulated with 2% salicylic acid, which is a potent exfoliator that removes dead cells from the surface of the skin. It also decreases the appearance of large pores and surface wrinkles. It unclogs pores to prevent acne, helps enhance new skin cell turnover, evens out skin tone, and improves overall skin texture. The scrub also contains charcoal powder, hydrogenated castor oil, jojoba oil, and natural fruit extracts. The charcoal powder draws out impurities, and the castor and jojoba oils and the natural fruit extracts rejuvenate skin.
Pros
Deeply cleanses pores
Clears complexion
Treats acne
Tightens pores
Helps in new cell generation
Oil-free formula
Soothing fragrance
Cons
Not suitable for dry skin
Price at the time of publication: $14.98
The Clean & Clear Deep Action Exfoliating Scrub is designed to invigorate skin by cleansing the pores and gently exfoliating the skin surface. It provides a cooling sensation as you gently massage it on the skin. The classic microbead scrubs remove dead skin cells, pull out excess oil, and remove gunk by unclogging the pores. This oil-free deep pore-cleansing formula leaves your skin feeling soft, smooth, and refreshed all day long.
Pros
Unclogs pores
Gentle exfoliator
Contains cooling microbeads
Great for treating acne
Cons
Price at the time of publication: $6.47
The Neocutis Neo-Cleanse Exfoliating Skin Cleanser is formulated without the harsh sulfates and chemicals. Its key ingredient is 9.9% glycolic acid that offers gentle exfoliation and buffs away dead skin cells. It is infused glycerin that is a humectant and emollient; it pulls water from the inner surface of the skin and seals it on the outer surface. The exfoliator is dermatologically-tested. It gently re-texturizes and purifies the skin.
Pros
No harsh chemicals
Dermatologically-tested
Sulfate-free
No color additives
Fragrance-free
Hydrates skin
Cons
Price at the time of publication: $38.0
The Acure Incredibly Clear Facial Scrub is a deep cleansing formula that revives lifeless skin with charcoal, lemon peel, blueberry, and plant cellulose exfoliating crystals. The activated charcoal effectively removes dead cells by mildly exfoliating, unclogging pores, and removing impurities from the deeper pores. The pomegranate and blueberry extracts are antioxidants that protect skin from oxidative damage. They also delay signs of aging, and reduce pigmentation and blemishes. The emollient aloe vera leaf extract deeply moisturizes skin for a luminous, youthful glow.
Pros
100% vegan
Paraben-free
Sulfate-free
Mineral oil-free
Petrolatum-free
Formaldehyde-free
Reduces acne
Anti-wrinkle formula
Protects from sun damage
Detoxifies skin
Cons
Price at the time of publication: $8.39
The Method: Polish Facial Exfoliator can help to give your skin a glowing, radiant look. It removes dirt, dry cells, and other impurities from your skin, leaving you feeling bright and refreshed. This exfoliator should be used daily to support your skin's natural regenerative cycle. For best results, apply a small amount of the exfoliant to a damp face and neck, and then rinse. Depending on your skin type, the formula contains different ingredients, such as quartz crystals, pumpkin and pomegranate enzymes, chamomile oil and bisabolol, and salicylic acid. For maximum benefits, use the Polish exfoliator with all three Lancer Method procedures to improve cell turnover and natural collagen generation, resulting in a more youthful appearance.
Pros
Suitable for natural and combination skin
Dermatologist-tested
Cruelty-free
Anti-aging formula
Paraben-free
Sulfate-free
Silicone-free
Cons
Not suitable for sensitive skin
Price at the time of publication: $80
Say goodbye to dull, dry, and flaky skin with MOTHER MADE Exfoliating Aqua Peel Gel! This vegan face peeling gel contains natural skin conditioners such as Green Tea, Vitamin E, Hyaluronic Acid, and Baobab Seed Extract that work to remove dead skin cells, pollutants, and pore buildups. Its moisture-rich cellulose fiber softly balls up with dirt only, without the use of harsh chemicals or stress to the skin. With consistent and effective removal of rough surface skin, this facial exfoliator improves the absorption of subsequent skin care products and avoids flaky makeup. Not only can it be used on the face, but it can also be used on the hands, elbows, strawberry legs, armpits, or feet. Get youthful, beautiful skin that lasts all day with this exfoliating gel that leaves skin supple even after peeling!
Pros
Vega
Great for sensitive skin
Dermatologist-tested
Suitable for all skin types
Ideal for men & women
Hypoallergenic
Cruelty-free
Non-abrasive exfoliator
Lavender scent
Cons
None
Price at the time of publication: $49
The ClarityRx Down + Dirty Detoxification Charcoal MicroExfoliant is a detoxifying charcoal micro exfoliant that moisturizes and refines pores. This earthy, invigorating mask removes grime, dull skin, micropollutants, and impurities, leaving you with a bright, healthy complexion. The apricot seed powder kickstarts the process by gently exfoliating to remove impurities while fostering increased cell regeneration. Charcoal helps by drawing out and absorbing pollutants. The antioxidants, derived from a combination of green tea and seaweed extracts, protect against free radicals, which would otherwise promote premature aging. Seaweed extracts also provide nutrients and moisture protection, which nourish the skin. This combination of detoxifying, nourishing, and moisturizing ingredients allows the skin to return to its original, healthy condition.
Pros
Provides antioxidants
Absorbs toxins and impurities
Ideal for oily skin; gentle enough for sensitive skin
Vegan
Cruelty-free
Paraben-free
Sulfate-free
Cons
None
Price at the time of publication: $32
These are the 15 best exfoliators for oily skin. But before you make a purchase, it is important to know how to pick the right product. The following guide can help.
How To Choose The Right Exfoliator For Oily Skin
Choose an exfoliator with natural ingredients that provide gentle exfoliation. These can include olive oil, jojoba beeswax beads, soft sugar granules, grapefruit extract, and natural glycerin along with 2% BHA.
A clay exfoliator can be better. It can slough away dead skin cells, and absorb excess sebum, oil, and grime.
The exfoliator should be non-comedogenic and gentle enough to heal acne scars.
It must be free from harsh chemicals like parabens, sulfates, and fragrances.
Why Trust StyleCraze?
The author, Oyendrila Kanjilal, is a certified skin care coach who knows what's best for your skin and the products suitable for your skin type. She did several in-depth reviews and customer testimonials before curating this list of the best face exfoliators for oily skin. These products are specially formulated with skin-friendly, mild, and nourishing ingredients to help exfoliate and cleanse your skin without stripping its natural oil and moisture balance.
Frequently Asked Questions
How often should you exfoliate your face if you have oily skin?
If you have oily skin, exfoliate 2-3 times a week. This helps regularly expel the excess oil, grime, and dirt.
Can you exfoliate oily skin every day?
Oily skin with breakouts is not advisable to be exfoliated daily. Use a gentle exfoliator 2-3 times a week for best results.
How can you exfoliate your oily skin at home?
There are many natural exfoliators for oily skin. But, the most effective ingredients like lemon and honey are easily available in all kitchens.
• Mix a tablespoon of honey with one squeezed lemon in a bowl and gently massage for a few minutes.
• Rinse off with lukewarm water.
Apply the mixture to the face once a week to get clear, clean, oil-free skin.
What happens when you don't exfoliate oily skin?
Oily skin requires regular exfoliation to avoid clogging pores, and accumulation of sebum, resulting in stubborn acne and blackheads. People with oily skin must exfoliate at least twice a week to achieve healthy glowing skin.
Why does my face get oily after I exfoliate?
Over-exfoliation causes the sebaceous glands to produce excessive sebum leading to breakouts, acne, and skin flaking. People with oily skin must exfoliate two to three times a week at the most to achieve healthy glowing skin.
Recommended Articles