The 5 Best Korean Rice Cookers Of 2023 + The Ultimate Guide
Welcoming all things rice into your diet has never been easier or more delicious.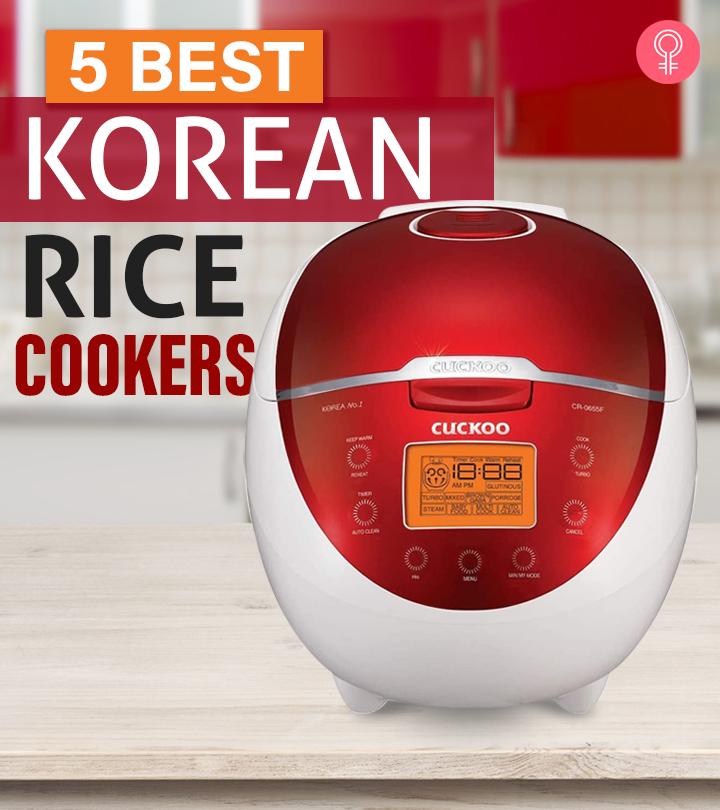 If you think cooking rice to perfection requires mastering the technique, we are sorry to burst your bubble. To ensure that each grain is cooked well, all you need to do is invest in the best Korean rice cooker, which is incredibly easy to use.
Korean rice cookers help you make a bowl of fluffed rice effortlessly. Be it white rice, brown rice, black rice, jasmine rice, or basmati rice, this cooker can make them all wonderfully. When you own this particular appliance in the kitchen, you don't have to worry about your rice staying undercooked, getting burnt, or mushy. Check out the 5 best Korean rice cookers that we have shortlisted for you. Read on!
Top Picks
5 Best Korean Rice Cookers
The Cuckoo CR-0631F is a multifunctional Korean rice cooker that can be used to make mixed rice, GABA, and porridge. It has an LCD display with 10 menu options, including Steam, Multigrain, and Multi Cook. It also comes with a customized My Mode function that helps you set the desired degree of softness, glutinosity, and taste. This appliance offers automatic pressure and steam emission and auto temperature control to ensure safety.
This cooker has adjustable temperature settings, a reheating option, and an auto-detect feature to check the grain type and determine what temperature it should be cooked at and the cooking time. It is energy-saving and comes with a durable inner bowl to ensure the optimal distribution of heat and temperature. This device has a one-touch button to release the cover lid. The drain dish makes it convenient to clean after cooking.
Key Features
10 menu options
Intelligent cooking algorithm
Auto temperature detect
Easy one-touch lid
Specifications
Dimensions: 10 x 13 x 9 inches
Weight: 6.8 pounds
Capacity: 6 cups
Warranty: 1 year
Pros
Multifunctional
Energy-efficient
Convenient to use
Easy to clean
Cons
Less cooking capacity
Not durable
Price at the time of publication: $94.99
"]
The Cuchen Micom Rice Cooker is a compact and stylish appliance that has multiple features. Whether it is white rice, mixed rice, porridge, brown rice, GABA brown rice, or sweet rice, this device can cook it all. It is designed for quick and slow cooking. This rice cooker has a computer chip that adjusts the cooking duration and temperature based on the thermal sensor's calculations. It has an LCD display that shows the time and menu options. The detachable inner lid makes it easy to clean.
Key Features
LCD display in English and Korean
1.7T Tephron coating
Detachable inner lid
Multiple menu settings
Slow and fast cooking adjustments
Light alarm for indication
Specifications
Dimensions: 10.2 x 10.2 x 14 inches
Weight: 8 pounds
Capacity: 6 cups
Warranty: 1 year
Pros
Easy to use
Convenient to clean
Durable and sturdy
Multifunctional
Light alerts
Stylish and compact design
Cons
The coating peels off after multiple uses.

Caution
Do not use the inner pot separately for cooking other foods on the gas stove. This can deform the pot, which in turn can lead to uneven heating when placed in an electric cooker.
The Lihom LJP-HK100GDE Rice Pressure Cooker has a voice navigation system to alert you with cooking updates. The golden dimple design of the inner pot helps enhance thermal efficiency, so you get tastier rice faster. The inside surface is coated with diamond micro-particles that make it scratch-resistant and long-lasting. The powerful induction heating ensures even distribution of heat and minimal nutrient loss. This rice cooker has an automated steam cleansing function to clean the nozzle parts and rice pot lid after cooking.
Key Features
Induction heating
Diamond coating
Automatic steam cleaning
Voice navigation and indication
Specifications
Dimensions: 18 x 15 x 14 inches
Weight: 15.2 pounds
Capacity: 10 cups
Warranty: 1 year
Pros
Self-cleaning
Durable
Scratch-resistant
Cons
Price at the time of publication: $390.03
"]
The Cuckoo CR-0655F Rice Cooker & Warmer is an electric cooker that has a multi-cook option. This makes it extremely versatile and enables you to experiment with dishes. This cooker has eight smart built-in programs – Glutinous (white rice), Brown GABA, Mixed Rice, Porridge, Baby Food, Steam, Multi Cook, and Warm/Reheat. You can adjust the cooking time and heating levels as per your preferences. This device has a 'My Mode' feature, which lets you select the degree of softness and glutinosity of the rice by adjusting the level of heat and soak.
This rice cooker features auto steam cleaning. All you need to do is press a button to release jet steam that cleans and sanitizes the interior of the device. The inner pot has a nonstick Teflon coating to ensure that the rice does not stick or burn. It has a detachable cover that is easy to clean. This appliance comes with a user manual, a rice scoop, and a rice measuring cup.
Key Features
8 smart built-in programs
Auto-scheduling up to 12 hours and 50 minutes
Detachable cover
Nonstick rice scoop
Auto steam cleaning
Specifications
Dimensions: 9.4 x 8.6 x 13 inches
Weight: 7 pounds
Capacity: 6 cups
Warranty: 1 year
Pros
Multifunctional
Stylish design
Easy to clean
Easy to use
Cons
Rice starts browning
Metal coating peels off
Takes a long time to cook
Price at the time of publication: $88.12
"]
The Cuckoo CRP-P0609S Electric Rice Cooker & Warmer is a heating plate programmable pressure cooker. It has a nonstick coating to ensure that the rice grains are cooked to perfection without sticking or burning. The detachable stainless steel inner lid is easy to clean and dishwasher-safe. This device is also equipped with an auto steam cleaning function.
This Korean rice cooker has an intelligent voice navigation system that makes it easy to use. The pre-programmed Multi Cook options offer versatility in cooking. The efficient water draining system maintains the flavor and texture of your rice and prevents bacteria and bad odors by collecting excess water vapor. This appliance has a two-layer soft steam cap to ensure a safe and quiet steam release while cooking. Other features include a thermal fuse, a reed switch, a lock checking device, a pressure control device, and secondary pressure release.
Key Features
X-wall diamond coating on the interior
Smart voice guide in Korean, English, Chinese
Intelligent cooking algorithm
Auto steam cleaning
Safety features
Specifications
Dimensions: 14.2 x 11.6 x 10.2 inches
Weight: 14.3 pounds
Capacity: 6 cups
Warranty: 1 year
Pros
Stylish and modern design
Easy to clean
Easy to use
Cons
Not durable
May undercook rice

Caution
Never leave warm, cooked rice in the rice cooker overnight, as it can dry out the rice and cause bacteria to grow. So, make sure to empty the rice cooker once the rice cools down and refrigerate for the next use.
Price at the time of publication: $217.61
Now that we have looked at the 5 best Korean rice cookers, here's a buying guide to help you choose the best one, depending on your needs.
Buying Guide – How To Choose The Best Korean Rice Cooker
Size And Weight: Decide if you are going to place the cooker on the kitchen countertop or store it in a cabinet. Determine the space required and then pick a model. If you are placing it on the counter, weight is not much of a concern. But if you are storing it in a cabinet or cupboard, it is better to choose a lightweight model.
Capacity: This is determined by the number of cups of rice it can hold. If you have a small family, a capacity of six cups is sufficient. Larger families can go for rice cookers with higher capacities.
Cooking Pot Material: Ensure that the inner pot is made of aluminum or stainless steel with a nonstick, BPA-free coating. This is to ensure durability, even distribution of heat, and easy cleaning.
Intelligent Cooking: Go for a rice cooker that is designed with an intelligent cooking algorithm that adjusts the temperature and texture of the rice automatically.
Timer: Opt for models that allow you to schedule the cooking time – this saves your time and effort.
Ease Of Cleaning: Most rice cookers feature an auto steam cleaning function that keeps the interiors clean. Choose a device with a detachable lid for ease of cleaning.
Other Features: Besides being able to cook different types of rice, some units can be used as slow cookers or steamers for vegetables, fish, or baby food. If you don't cook rice regularly, these extra features might make the device more useful.
Accessories: Some rice cookers come with accessories like measuring cups and rice scoops. Choose one based on your needs.
The next question on your mind would be, why go for a Korean rice cooker? How is it different from other rice cookers on the market? Find out in the next section.
Why Should You Use A Korean Rice Cooker? What Are The Advantages?
A Korean rice cooker is a boon to those who consume rice frequently and wish to save time and effort. It ensures you don't spill water when the rice boils and that each rice grain is finely and separately cooked, not over or undercooked. Here are some advantages of a Korean rice cooker:
Saves time and effort
Even distribution of heat from all angles
Mess-free and easy to clean
Does not require assembling
Auto-detection settings determine the time, temperature, and water level
It might seem like magic if all the rice grains are cooked evenly. But when you have the right tools, you can cook perfect rice effortlessly. The best Korean rice cookers can effectively cook rice grains evenly, whether brown or white. They are great for mess-free cooking. Some rice cookers come with auto-detection of the temperature and water level, enabling even heat distribution. Invest in rice cookers that are multifunctional and energy-efficient as they offer great functions using minimal energy. And refrain from using cookers that change the color of the rice.
Frequently Asked Questions
What else can be cooked in a Korean rice cooker?
Apart from rice, you can also cook pancakes, quinoa, oats, and soup, boil eggs, steam vegetables, and bake sponge cakes.
Does a rice cooker make better rice?
Yes, a rice cooker makes better rice as it distributes heat evenly and ensures no burning or sogging.
Can you cook raw meat in a rice cooker?
Yes, you can cook raw meat in a rice cooker.
Does a rice cooker steam or boil rice?
Yes, a rice cooker can steam as well as boil rice.
Do chefs use rice cookers?
Yes. Many chefs prefer using rice cookers as they take less time to cook and offer even heat distribution.
The following two tabs change content below.