11 Best Brown Lipsticks For Women ('90s Style) The comeback of the '90s fashion trend is grand and absolutely mind-blowing. It is not just infiltrating our playlist and wardrobe but has made a strong comeback in our makeup kit as well. If you are willing to join the bandwagon, believe us, the iconic Rachel haircut will not be enough! An ideal '90s look is never complete without a sensational shade of brown lipstick. So, don't just like and comment on your favorite fashion influencer's photos! Rock the look by choosing lipstick from our list of the 11 best brown lipsticks for women. Scroll down to check them out!
 11 Best Brown Lipsticks For Women ('90s Style)
This brown lipstick from Sugar Cosmetics is a must-have makeup essential that provides a picture-perfect look, just as in '90s. It is infused with is ododecane that offers a matte finish. The earthy brown shade of this lipstick suits all skin tones and gives a complete party look. The lipstick is highly pigmented and offers maximum coverage. The super-creamy texture glides over your lips effortlessly. The lipstick comes with a complimentary sharpener and is free of harmful chemicals.
 Pros
Long-lasting
Highly pigmented
Paraben-free
Cruelty-free
Dermatologically tested
 Cons
Not suitable for sensitive skin
Not smudge-proof
This highly pigmented brown lipstick from Wet n Wild is infused with marshmallow powder that retains moisture and makes your lips plump. It is also enriched with avocado, argan oil, and vitamin E to nourish your lips. The lipstick provides a nice matte finish and smoothens fine lines due to the intense moisturizing effect of sodium hyaluronate. The high color payoff and sweet marshmallow scent make this your perfect makeup companion for a stunning '90s look.
 Pros
Pleasant fragrance
Lightweight
Highly pigmented
Non-drying
Soft matte finish
Cruelty-free
 Cons
None
This hydrating brown lipstick from L'Oreal Paris is a gorgeous and nourishing makeup essential. It is enriched with pro-vitamin B5 and nourishing serum that keeps your lips hydrated for 9 hours. The creamy shade glides smoothly and does not feather into fine lines, making your lips look supple.
 Pros
Glides easily
Smells good
Long-lasting
No bleeding or peeling
 Cons
Superstar Brown from Revlon is a befitting makeup essential for a classic '90s look. Its super-moisturizing formula and high-impact color give you a vibrant, picture-perfect appearance. The lip color is enriched with avocado oil and vitamin E that nourish your lips and impart a super lustrous shine. The microfine pigments in the formula provide a long-lasting, luxurious matte finish throughout the day. The silky and creamy lipstick glides over the lips easily and makes them look supple without causing any lip cracks.
 Pros
Non-drying
Lightweight
Transfer-resistant
Comfortable on the lips
Long-lasting
 Cons
None
This liquid brown lipstick from NYX Professional is perfect to recreate the elegant '90s vibe. It is designed for long-lasting wear and offers an iconic matte finish. The lipstick is infused with avocado oil and vitamin E that nourish your lips and make them velvety soft. It imparts a buttery gloss and high-impact color. This PETA-certified lipstick leaves you with a strikingly polished look with just one swipe.
 Pros
Long-lasting
Smudge-proof
Highly pigmented
Long-lasting
Leaves no stain
Cruelty-free
 Cons
This vibrant brown lipstick from Milani is enriched with vitamins A and C, which nourish your lips, reduce cracks, and promote a smooth and soft pout. Its moisturizing effects offer long-lasting wear with a matte finish. Double Espresso's non-stain formula does not melt and protects your lips from the harmful sun rays.
 Pros
Long-lasting
Goes on smoothly
Does not smudge
Non-drying
Cruelty-free
 Cons
None
This classic brown lipstick from Maybelline New York is ideal for creating those bold and sensational '90s looks that were once championed by celebrities like Drew Barrymore and JLo. Its smooth and creamy texture glides over your lips effortlessly and gives you a cool and classy appearance. The honey extract in the formula nourishes your lips and keeps them hydrated for a long duration. The best part is, it does not weigh down your lips and is super easy to apply.
 Pros
Lightweight
Matte finish
Glides on smoothly
Cons
Temptress Brown from Golden Rose is an ideal makeup companion to achieve the classic '90s look. This lipstick comes in a pencil form with a creamy fill-in color that gives you a rich, velvety matte finish. The high-impact color provides lasting coverage without smudging. This dermatologically tested lipstick is infused with vitamin E that keeps your lips hydrated and plump. It is free from harmful chemical additives and safe for all skin types. It is not a lip color but a super lip conditioner that complements any outfit you wear.
 Pros
No flaking
Non-sticky
Cruelty-free
Paraben-free
 Cons
Hunter is an excellent choice from the MilletPepperCity Night series. This lipstick is formulated with micro-pigments that make it comfortable on your lips and give a velvety finish. It is infused with sodium hyaluronate that makes your lips soft and supple. It also contains squalane, a highly effective emollient that protects your lips from damage. The essential oils in this lipstick nourish your lips with vital nutrients and prevent them from getting dry. This weightless and waterproof lipstick suits all skin types.
 Pros
Lightweight
Comfortable
Highly pigmented
Waterproof
Value for money
 Cons
None
the spicy Brown shade of the matte lipstick from Kiss is a brilliant lip color with long-lasting wear. It glides over your lips smoothly and provides wide coverage with just one swipe. The lipstick is enriched with mineral oils that nourish your lips and make them supple.
 Pros
Long-lasting
Smooth application
Non-drying
 Cons
This premium natural brown lipstick with a satin finish from By The Clique gives your lips an elegant and velvety glow by highlighting your natural beauty. The special lightweight and non-sticky formula provide a smooth finish. The soft and creamy texture glides smoothly and does not weigh down your lips.
Pros
Vegan
Lightweight
Long-lasting
Non-drying
Cruelty-free
Gluten-free
 Cons
None
Brown lipstick is winning the hearts of 21st century fashion enthusiasts who are redefining fashion goals. This elegant shade is perfect for every occasion and skin tone. So, what are you waiting for? Take your pick from the above list and ace that '90s look like a pro!
Recommended Articles
The following two tabs change content below.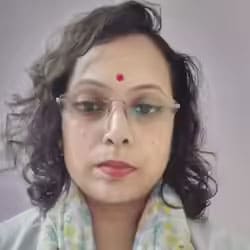 Baishali has a master's degree in English and is an associate editor. She specializes in makeup and fashion and reviews products that fall under these categories. Prior to this, she worked with a digital marketing company in Kolkata where she wrote stories on travel, beauty, and home décor. When she is not working, Baishali loves reading and having intense discussions over a cup of tea.