The Most Essential Manicure And Pedicure Tools For You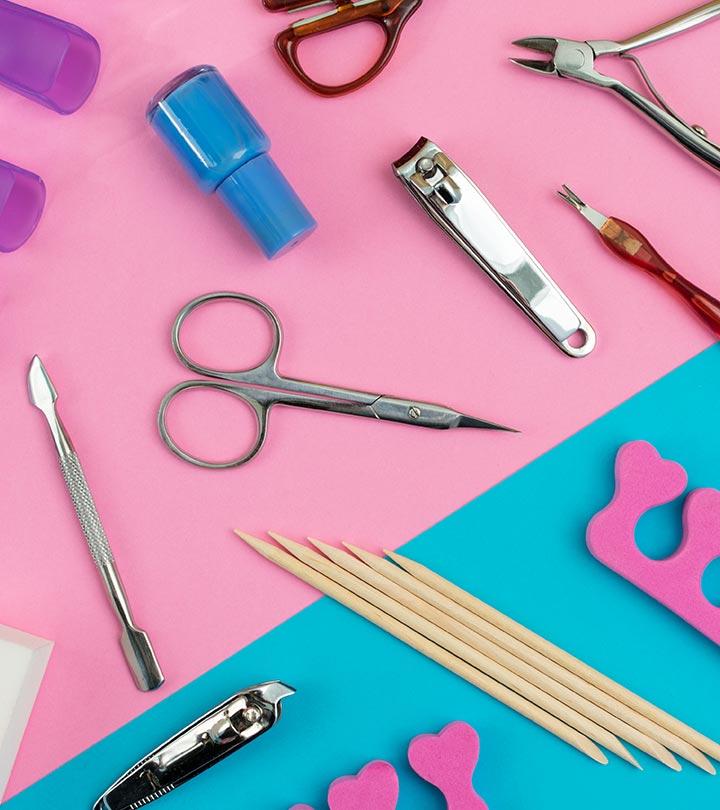 While your nails reflect your general state of health, the way you take care of your fingernails and toenails is a tell-tale sign of your personal hygiene levels. Nobody likes filthy hands or feet, so it is important to give your nails proper care and attention just like you would to your face or teeth.
Did you know that your hands can accurately reveal your age? If you want to keep your hands and feet looking young, clean, and healthy, you need to indulge in a regular mani-pedi ritual to maintain nail hygiene and prevent infection.
In this article, we cover everything from must-have nail tools to the importance of manicures and pedicures. Read on to find out more.
Why Are Manicures And Pedicures Important?
Your hands and feet are exposed to dirt and harsh weather conditions on a daily basis, perhaps more than other parts of your body (except your face), which makes them more vulnerable to damage. This means they accumulate a ton of grime and dirt, and just washing is never enough. Here's where manicures and pedicures come in.
Manicures and pedicures help exfoliate your skin and remove any calluses on your feet.
They help keep your nails clean and tidy, which prevents fungal infections.
Grooming your nails prevents them from breaking or painful chipping. It also prevents dry cuticles, hang nails, and broken skin.
The massage done during manicures and pedicures helps boost blood circulation, which prevents the development of wrinkles on your hands through the years besides eliminating any kind of swelling, numbness, or pain.
They are great stress-busters.
Aren't those some solid benefits? Well, the good news is you don't always need to rush to the salon to reap the benefits of a mani-pedi (unless you want to). If you want to save some bucks or time and find a way to get the job done at home, we are going to make your life a little easier with our detailed piece about the tools you need, how to use them, and all the jazz in-between.
Let's begin with the supplies and how-to's.
The 12 Most Essential Mani-Pedi Tools For You
To give your hands and feet salon-like treatment right at home, you need these basic supplies that you can easily find online or at your local drugstore.
Other Basic Requirements:
Let's talk about the tools first – you can buy these individually or just buy a manicure/pedicure kit that includes all the supplies and is easily available.
We bring to you the tools, tips, and techniques.
Price at the time of publication: ₹30
A nail cutter or a nail clipper is the most basic tool that you require for a manicure or a pedicure. Your nails are a breeding ground for bacteria and are one of the dirtiest parts of your body. Trimming them from time to time is important if you want to maintain your overall health. It's best to keep them short at all times as this helps to prevent the spread of diseases.
How To Use Nail Cutter At Home?
You can either use a nail cutter/clipper or nail scissors to trim your nails. Make sure your tool is clean before you begin. Place your nail between your nail cutter, making sure you aren't touching the skin. Do not cut too much as this can expose the sensitive part of your nail-bed and lead to infections.
Pro Tip: Nails are softer after a shower so that's a good time to trim them.
The following two tabs change content below.