12 Best Oils For Coarse Hair
The most stubborn and bristly hair do not stand a chance against these treatments.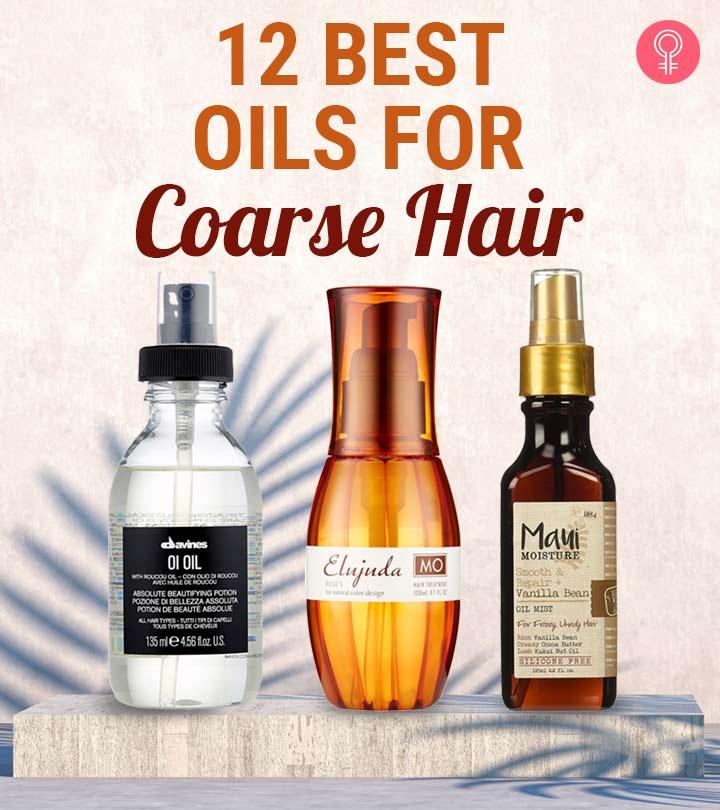 Coarse hair, when appropriately managed, can look simply amazing! One of the ways of managing coarse hair is by oiling it regularly. However, any run-of-the-mill oil won't do; only the best oil for coarse hair can help you manage it. If you aren't sure which is the best oil for your coarse hair, do not worry; we have covered you. We've put together 12 best oils for coarse hair that will help you moisturize, nourish and revitalize it to its glorious best. Read this article and check out our detailed review now!
What Is Coarse Hair?
Most people assume coarse hair means hair that is brittle and rough. Even though dryness can be a qualifier, it is not the absolute definition of coarse hair. Coarse hair is also confused for curly or thick hair, but that is far from the truth. In reality, coarse hair is identified by its thick hair strands that have an extremely wide and large circumference. Unlike medium or thin hair, coarse hair has all three layers of the hair shaft, namely cortex, cuticle, and medulla. However, without proper and regular care, coarse hair does tend to be more dry, frizzy, and stubborn than other hair types.
Is Coarse Hair The Same As Coily Hair?
No, it isn't. While 'coarse' refers to the texture, 'coily' refers to the curl pattern. Coily hair, also categorized as Type 4 or Afro-textured hair, has a coarse texture. Strands that have a tight curl pattern often have a wider circumference, and hence the coarseness. However, straight hair can also be coarse.
Let's now look at the 12 best oils for coarse hair.
12 Best Oils For Coarse Hair
Elujuda is an excellent oil for coarse hair. It restores the shine and luminosity of your hair and makes it sleek and manageable. This oil is extremely lightweight and quick-absorbing and acts as a styling aid to restore the hair to its ideal condition for blow-outs. This product is a boon for dry hair – it makes the hair soft, supple, and smooth. It also increases the elasticity of hair. Elujuda oil is extracted from the oils of the baobab tree and works on the hair shaft from within to transform its texture.
Pros
Lightweight
Non-greasy
Great fragrance
Makes the hair smooth
Cons
Not great for humid weathers
Expensive
Price at the time of publication: $49.77
This oil mist by Maui Moisture is created using handpicked ingredients found in tropical islands, such as Maui. It is formulated with kukui nut oil, vanilla bean, and creamy cocoa butter that deeply nourish and soften dry, damaged strands. The oil mist also contains aloe juice, shea butter, coconut milk, and macadamia oil, all of which make your coarse hair sleek, shiny, and smooth.
Regular use of this product will make your hair manageable and damage-free. It is easy to use and non-greasy and retexturizes your hair strands immediately. This product is safe for color-treated hair and does not contain silicones, parabens, synthetic dyes, or mineral oil. You can check out this YouTuber's review of the product if you require more convincing.
Pros
Silicone-free
Sulfate-free
Paraben-free
Mineral oil-free
No synthetic dyes
Vegan
Color-safe
Pleasant fragrance
Cons
Price at the time of publication: $54.99
davines OI Oil is a finishing product that is an oil but doesn't quite act like one. It is formulated with the vitamin-rich roucou oil, which moisturizes your hair without weighing it down. It also protects your hair from heat and environmental damage, is grease-free, and can be used as a pre- and post-styling product. This oil adds softness and shine to the hair while detangling and taming frizz. If you want to find out more about this product and its usage, make sure to check out this review on YouTube.
Pros
Pleasant fragrance
Easy to use
Lightweight
Non-greasy
Offers heat protection
Cons
Price at the time of publication: $24.0
The Grandeur Argan Oil is extracted using the cold-pressed method to ensure all the nutrients in the oil remain intact. It is rich in vitamin E, squalene, fatty acids, and antioxidants, which can do wonders for your coarse hair. As argan oil is intensely moisturizing, it acts as a great conditioner for your hair strands. Its molecules are smaller than those of other oils, so they penetrate the hair cuticles more easily. This makes your hair softer and super manageable and eliminates dryness and tangles. Bonus – argan oil contains phenols that stimulate the scalp and promote new hair growth.
Pros
100% natural
Paraben-free
Sulfate-free
Silicone-free
Cons
Price at the time of publication: $299
The DAX Pressing Oil contains coconut oil and natural castor oil, both of which are excellent for coarse hair. They prevent dryness and breakage and protect the hair against damage from heat styling.
Coconut oil is an excellent conditioner that imparts shine and facilitates hair growth. Castor oil is a natural humectant – it draws moisture into the hair shafts and conditions and tames them. It also contains omega-9 fatty acids that nourish your hair and prevent your scalp from drying out. This product increases hair strength, reduces breakage, and provides hold to limit flyaways. It can be used after hot tools as a finishing cream.
Pros
Paraben-free
Sulfate-free
Silicone-free
Smells good
Protects the hair from thermal damage
Cons
Weighs the hair down
Sticky residue
Price at the time of publication: $9.99
This moisturizing hair oil by Northwest Scents contains a unique blend of natural oils that binds moisture to the hair strands. It contains coconut oil, which reduces the protein loss for both damaged and undamaged hair, whether used before or after washing.
This product has multiple uses – it can be used as a regular oil to keep coarse hair sleek, as a hot oil treatment, or as a thermal protectant. This oil also contains peppermint essential oil that cools and invigorates the scalp and relieves itching and other scalp issues. This hair oil is excellent for moisturizing dry and coarse hair and is also suitable for chemically and color-treated hair.
Pros
Sulfate-free
Paraben-free
Mineral oil-free
No artificial scents
Great fragrance
Cons
None
Price at the time of publication: $19.95
This hair oil by SACHAJUAN is a leave-in treatment that restores shine and luster to coarse and stressed hair. It contains a blend of argan oil, sea buckthorn oil, sunflower seed oil, and rosemary leaf extract that seals in moisture and repairs dull, dry, and damaged hair.
This oil increases the elasticity of the hair and makes it more manageable. It is easily absorbed and does not weigh your hair down or leave any residue. The product has a delicate, long-lasting fragrance and does not contain parabens, sulfates, or phthalates.
Pros
No greasy residue
Paraben-free
Sulfate-free
Phthalate-free
Delicate fragrance
Long-lasting
Cons
Price at the time of publication: $50.0
This oil by organix contains a blend of Moroccan argan oil that deeply heals and smoothens hair and restores its luster. It is specially formulated for dry, damaged, and coarse hair and provides intense hydration to your tresses. This oil penetrates deep into your hair strands and strengthens them from within. It also protects your hair from heat styling devices and UV rays of the sun. This product contains natural vitamin E and antioxidants that renew your hair cell structure, seal in moisture, and soften your hair strands.
Pros
Cruelty-free
Reasonably priced
Sulfate-free
Silicone-free
Paraben-free
Cons
None
Price at the time of publication: $11.98
This hair oil by CIRA contains a unique blend of botanicals that provides omega fatty acids, natural antioxidants, and vitamins to strengthen coarse hair. It deeply nourishes the scalp and hair follicles promotes the growth of healthy, strong, shiny hair.
This hair oil heals dry, damaged, frizzy hair and makes it manageable. It soothes an itchy scalp, treats split ends, and imparts a light fragrance to your hair. This product is suitable for chemically treated hair and makes coarse hair sleek, shiny, and manageable.
Pros
Certified organic ingredients
Mineral oil-free
Paraben-free
Silicone-free
Sulfate-free
No artificial colors
Cruelty-free
Great fragrance
Cons
None
Price at the time of publication: $27.0
The OGX Extra Strength Renewing + Argan Oil of Morocco moisturizes, revives, and smooths your tresses while restoring their luster. The powerful blend of organic ingredients and argan oil helps improve coarse and damaged hair while offering extra protection to your strands. The formulation penetrates your tresses to make them softer yet stronger. It also protects your hair from harmful heat styling and UV damage. This product can be used as a pre-styling primer as it seals in nutrients and keeps the shine of your tresses intact.
Pros
Organic formula
Pleasing fragrance
A little bit goes a long way
Offers pre-styling hydration
Paraben-free
Cons
Price at the time of publication: $799.0
The Medusa Hair Oil is a natural serum formulated without chemicals. Unlike other hair oils, this oil contains over 10 base oils and an essential oil blend. It contains coconut oil, avocado oil, apricot kernel oil, organic olive oil, hazelnut oil, rice bran oil, evening primrose oil, vegetable glycerin, grapeseed oil, and vitamin E. The essential oils blend contains sweet orange, rosemary, lavender, sage, juniper, lemon, and peppermint.
This oil makes your coarse hair shiny, silky, and smooth. It also contains chamomile that has antibacterial, sedative, and antiallergenic properties and reduces dryness, rosemary essential oil that is intensely hydrating, and lavender essential oil that boosts hair growth. This hair oil is non-greasy and does not weigh your hair down. Regular use of this product helps eliminate frizz and makes your hair manageable.
Pros
Contains natural ingredients
Great fragrance
Does not weigh the hair down
Cons
Price at the time of publication: $15.99
The Deesse's Elujuda MO Fluent Oil acts as a styling foundation that restores your hair's texture while making it ideal for innovative hairstyles. The formula comprises oils from the baobab tree that makes your tresses smoother and more supple. The smell of this product is neither too mild nor overwhelming. The oil does not weigh your hair down or make it look too greasy. It also helps remove unwanted frizziness and split ends while nourishing your scalp.
Pros
Oil-based formula
Lightweight formula
Non-greasy
Affordable
Cons
None
Price at the time of publication: $49.77
Coarse strands have thick hair shafts that are usually difficult to comb and can be very dry. This is where you need the right hair oil to manage them. If you are considering buying oils for coarse hair, read on for a list of what to consider when doing so.
Points To Remember While Purchasing Oils For Coarse Hair
Ingredients: For coarse hair, coconut oil is the best decision you could make. Its moisture-retaining properties make it ideal for the hair type. Frizziness and split ends can be well-treated with argan oil. A dry and irritated scalp needs oils such as jojoba oil to get rid of dryness and dandruff.
Make sure that the hair oil does not contain any artificial ingredients. Artificial agents such as paraffin, petroleum, and other harmful chemicals will harm your tresses. Opt for dermatologically-tested hair oils as they are safe to use.
Formula: Choose a formula nourishing agents. Oils that are rich in vitamins and nutrients can nourish coarse hair. Hair oils with plant extracts are ideal. They condition your hair well and have anti-aging effects. Opt for hair oils with ingredients such as sweet almonds, lavender, jojoba, and vitamin E.
Price: The price does matter when you are buying oils for coarse hair. You don't want to spend more on oil that does not add much value to your hair. It is advised to look for budget-friendly options that offer better value. Make sure your hair gets the desired results with the price you pay.
Note: If you are not aware of your hair texture, you can do this: roll a hair strand between your fingers. If it feels thick, you have coarse hair. You can also identify if your hair is coarse by comparing the thickness of your hair strand with that of a sewing thread. If your hair strand is thicker than the string, you probably have coarse hair.
That was our list of the best oils for coarse hair. They lock in moisture, deeply nourish your hair, strengthen it, and impart shine. Take your pick from the above list and watch your hair dreams come true!
Why Trust StyleCraze?
The author of this article, Shiboli Chakraborti, is a certified skin care coach and hair care enthusiast who loves trying out different beauty products. She curated this list of the best oils for coarse hair after carefully researching, checking user reviews online, and going through multiple forums for user feedback. The non-greasy products are gentle and suitable for every hair type. Not only do they offer heat protection, but they are also completely safe for color-treated hair.
Frequently Asked Questions
What is the best oil for dry and coarse hair?
The best oil for dry and coarse hair is the Deesse's Elujuda MO Hair Treatment. Its lightweight formula makes your tresses appear softer, smoother, and well-nourished.
Does coarse hair need oil?
Yes, coarse hair requires more oil than what the scalp produces. It is important to keep coarse hair well-moisturized by oiling the tresses.
Is argan oil good for coarse hair?
Yes, argan oil is good for coarse and frizzy hair. However, avoid using it too much if you have fine hair since the oil might weigh your tresses down.
Does castor oil help coarse hair?
Yes, castor oil seals in moisture and smoothens the cuticles in coarse hair. Castor oil also works wonders on coarse hair that has been further damaged due to environmental aggressors or lack of proper maintenance.
What hair type is coarse?
Coarse hair is thicker and has larger strands. This hair type comes in straight, wavy, curly, or coily tresses.
Is coconut oil good for dry coarse hair?
Yes, coconut oil is really good for dry, coarse hair. The lightweight formulation in coconut oil penetrates deep into the tresses, seals in moisture, and offers smoother locks.
Why is my hair so coarse and brittle?
Your hair might be coarse and brittle due to the lack of nutrition or the drop in ferritin, vitamin B12, and vitamin D. Hormonal issues, thyroid problems, or pregnancy can also affect your tresses and make them coarser than before.
Recommended Articles