10 Best Sanitary Pads For Sensitive Skin And A Happy Cycle
Trust these to keep you worry-free and comfortable through those crampy days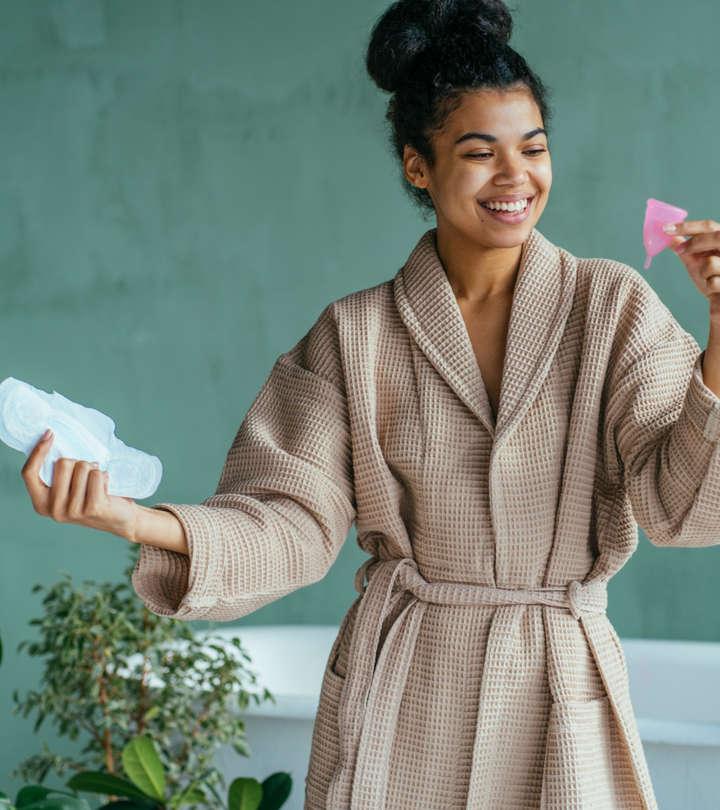 Maintaining good menstrual hygiene is extremely important for women. So, it goes without saying that you must choose the best sanitary pads, especially if you have sensitive skin. Now, you don't have to worry about choosing from a limited number of brands that offer low-quality sanitary pads. These may break you out in a rash and make an already uncomfortable situation worse.
Before you decide on purchasing the right pads for sensitive skin, you need to understand your individual preferences and menstrual cycle. Like any other feminine hygiene product, you will notice various pads available in different sizes for different flow needs. You will also find all-natural options with leak guards and wings, while others will be made from eco-friendly or reusable materials. Since it can be pretty overwhelming to choose the best sanitary pads for sensitive skin that are comfortable and gentle on your skin, we have compiled a list that will help you select the perfect product for you. We have also included a buying guide to help you look for feminine pads for sensitive skin.
10 Best Sanitary Pads For Sensitive Skin That Are Gentle And Comfortable
You don't have to worry about messing up your precious sheets with these overnight pads made from 100% cotton that helps protect sensitive skin. The pad's top sheet absorbs liquid quickly and keeps you dry. Since the overnight pads are breathable, they can be used postpartum, especially for bladder leaks. The 3x protection feature offers protection from any unnecessary leaks, odor, or dampness. Each pad is 16 inches long and comes in discreet packaging. So, whether you are experiencing a particularly heavy flow or urine incontinence, these pads will protect you all through the night.
Pros
 Breathable
 16 inches long
 100% cotton
 Super absorbent core
 Dermatologically tested
Cons
The adhesive may leave marks on your clothing
These revolutionary pads are great for women with sensitive and normal skin as they have a combination of potent botanicals and super absorbent technology. Each pad is 24 cm long, has wings, and is infused with aloe, mint, lavender, and rose essential oils to provide a comfortable and gentle experience with a cooling sensation. They also don't have any pesticides or chlorine, so you don't have to worry about breaking into a rash or being uncomfortable during the peak days of your cycle. Click on the video to know more about the The Honey Pot Company regular Herbal -Infused Pads with Wings.
Pros
 Super absorbant
 Offers a cool and refreshing feeling
 Chlorine and pesticide-free
 24 cms long and has wings
Cons
 It may not be suitable for heavy flows
These hypoallergenic sanitary pads are the perfect product for when Aunt Flo comes to visit. They are highly recommended by gynecologists because they contain no pesticides or toxins, lock in moisture, and have absorbent panels that catch leaks. These pads are organic and have soft, breathable sheets that reduce any odor and irritation. Designed for a dynamic and active lifestyle, these feminine pads for sensitive skin offer the highest levels of period protection. Watch the video to get an overall idea of the Rael Organic Cotton Cover Pads.
Pros
 Organic
 No synthetic materials
 Breathable
 Dermatologist tested
Cons
 Not suitable for postpartum use
If you are looking for pads that don't feel bulky while protecting you from heavy leaks, try these super-thin pads by Seventh Generation that will check all your boxes. This gynecologist-approved product is free from synthetic fragrances, toxins, or chlorine processing, so women don't have to worry about any allergic reaction or skin irritation. It also includes a unique Purefit design that keeps moisture at bay, preventing leakage up to 8 hours. If you are still unsure, watch the video on the Seventh Generation Chlorine-Free Pads.
Pros
 Super absorbent
 Prevents leaks for 8 hours
 Fragrance and toxin-free
 Purefit design
Cons
 May not provide full coverage
The great thing about these pads is that they are 100% organic and biodegradable, so you can use them without the guilt of harming the environment. They are soft and gentle against the skin and can be used for heavy flow days. They are also perfect for sensitive skin, as they are pH neutral. If you are looking for pads that don't contain any nasty chemicals, provide protection from leakage, and suit an active lifestyle, while staying eco-friendly, these pads are a great choice.
Pros
 100% certified organic
 Super absorbent
 Perfect for heavier flow
 No parabens
Cons
 May not provide protection for more than five hours
Reusable cloth sanitary pads are quite underrated but efficient. They provide as much absorption and comfort as the traditional disposable pads without being wasteful. These pads are great for the environment-conscious consumer because they are made from sweat-wicking bamboo and can protect you from leaks during a heavy flow for up to 10 hours. In addition, it neutralizes any odor and keeps you feeling fresh the whole day. All you have to do is snap it in place and toss it in the washer after use.
Pros
 Reusable
 Eco-friendly
 Reduces moisture
 Infused with charcoal
Cons
 It may not be suitable for intense flow days
These natural and extra absorbent sanitary pads are what you need for overnight use with an intense flow. Keeping comfort in mind, these pads come with an extra cushion and wings to ensure that the pad stays in place all through the night and no leakage. These pads are long and are individually wrapped so that you can carry them with you. They are entirely plastic-free and biodegradable, allowing you to toss them into the compost after use. Since they are GMO-free, the pads are appropriate for all skin types. Click on the review of the Natracare Ultra Extra Pads, before buying the product.
Pros
 Compostable
 Organic cotton cover
 Plastic-free
 Chlorine-free
Cons
 It may not be suitable for postpartum urine incontinence
You can sleep like a baby during your heavy flow days with these pads because they are designed to keep you dry and comfortable. The pads have an airy top layer that allows air to pass between your skin and the pad, making it great for sensitive skin since it keeps irritation at bay. In addition, it has extra-wide coverage, which protects you from any overnight leaks. Since the pads don't have any synthetic additives, your skin will remain soft and rash-free till you wake up.
Pros
 Dermatologist tested
 No fragrances or dyes
 Airy top layer
 Provides dryness for up to 10 hours
Cons
 The adhesive may not stick well
This is one of the most popular sanitary pads for sensitive skin with odor control, especially for women who have an active and dynamic lifestyle. They are preferred because they prevent any skin allergies or irritation that is caused by generic chemical-based pads. Since these are toxin-free, waterproof, and breathable, your skin will love them no matter how much you move around. The 100% cotton lining makes these pads soft and comfortable and provides maximum breathability.
Pros
 Sweatproof
 Toxin-free
 100% cotton lining
 Breathable
 Suitable for an active lifestyle
Cons
 It may not be ideal for overnight use
This is the perfect starter pack for teens, as it includes 5 regular pads, 4 heavy sanitary pads, and 3 mini pads, therefore keeping you covered for your entire period from heavy to light flow. In addition, it includes patented nanotechnology that eliminates common odor and provides protection from annoying leaks that seem to plague young girls. The leak-proof borders ensure that you never stain your clothes and feel dry throughout the day. Also, it has a soothing negative oxygen ion technology that helps balance pH levels and reduces menstrual cramps.
Pros
 Prevents leaks
 Eliminates odors
 Balances pH levels
 Alleviates irritation
Cons
 Some may find the pad too slim
How To Choose The Best Sanitary Pads For Sensitive Skin
When choosing suitable sanitary pads, you need to know that one size doesn't fit all. Every cycle is different; some women experience heavy flows, and some moderate experience flows. So, you need to choose sanitary pads with extra length if you want greater dryness and overnight protection. On the other hand, if you want a pad for moderate flow or the daytime, look for slim pads with wings as they will stay in place.
Your sanitary pad should provide you with maximum hygiene. Look for sanitary pads made from cotton, and have a fluid permeable surface as they will keep the fluids locked in and not make you feel uncomfortable or wet. Also, look for pads with a layered design, as they have a high absorbance level.
Your menstrual cycle may cause some natural odors, especially during the first and second days. Even though this is not a cause of concern, you will have to go for pads that have a high level of leakage control and breathability, along with an odor control feature.
When looking for the best sanitary pads for sensitive skin, it's important to look for one that supports good menstrual hygiene and does not cause any adverse effects to your skin. Even though you may find many menstrual products, there is something dependable and convenient about using a pad. Hopefully, our list of the top 10 sanitary pads for sensitive skin will help you find the perfect product that you can use all day or all night without having to worry about any skin irritation or rash. You can also refer to our buying guide if you need extra help with your shopping decisions!
Frequently Asked Questions
Which sanitary pads are best for sensitive skin at night?
The Tena Intimates Overnight Sanitary Pads are best for sensitive skin at night. These 100% cotton pads absorb liquid quickly to prevent dampness. They are also breathable enough for long nighttime use.
How can I stop sanitary pad rash?
Try following the steps given below to avoid sanitary pad rashes:
• Invest in good pads.
• Change at regular intervals.
• Maintain intimate hygiene.
• Keep the genital area dry.
• Use a suitable powder for the area.
• Wear light, cotton underwear.
Are cotton pads good for sensitive skin?
Yes, most cotton pads are good for sensitive skin. Cotton pads help keep your intimate parts dry and prevent rashes and infections caused due to prolonged dampness.
Is it okay to use a sanitary pad that is scented with mint for sensitive skin?
No. Scented pads are layered with chemicals to offer a pleasant fragrance; this may cause reactions in sensitive skin.
If you have sensitive skin, how long can you wear a sanitary pad?
Ideally, it is best to change your sanitary pads every six hours.
Recommended Articles