13 Best Makeup For Women Of Color – Top Picks Of 2023
For the right makeup product shades to go perfectly well and flatter your natural skin tone.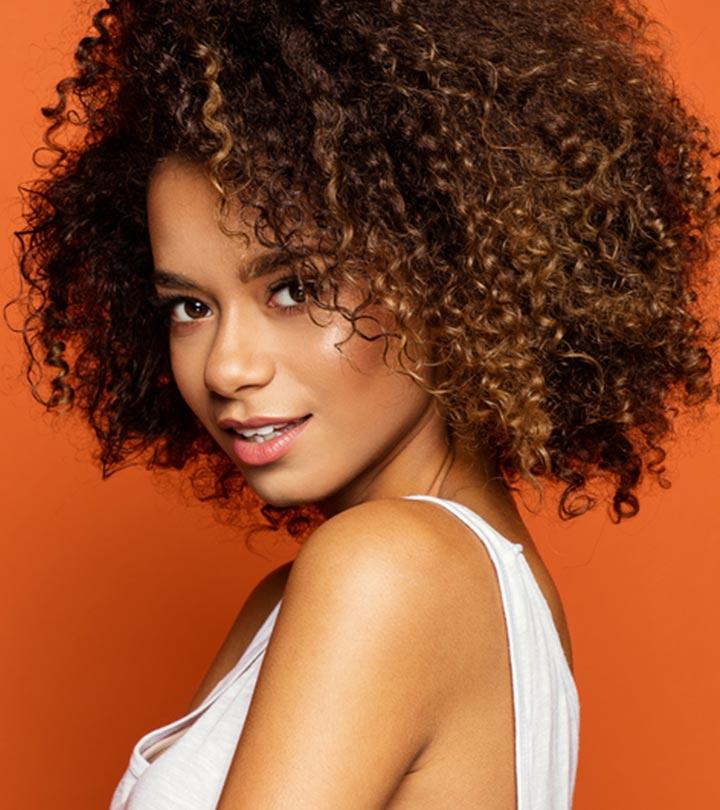 Until recently, the beauty industry made makeup solely for white women. Makeup for women of color is comparatively a new thing, but now that manufacturers have started making them, there's a boom in their production. These makeup products are made with just the right pigment to match various skin tones, textures, and undertones. As a woman of color, you can now find your ideal foundation, eyeshadow palette, highlighter, etc., a little easier. You won't have to shy away from makeup because you can't find a suitable shade.
However, with an overwhelming amount of products available in the market, finding the right shade is no cakewalk. So, we have put together a sifted list of 13 makeup products for women of color. Scroll down to grab the ones that match your preference and dazzle in a beautiful glow!
Top Picks
13 Best Makeup Products For Women With Skin Of Color
Pros
It helps in keeping your foundation set.
It helps control the shine on your skin.
It doesn't make your makeup look cakey.
Cons
It might not hold up on oily skin for a long time.
Price at the time of publication: $6.49
Pros
Oil-free and lightweight formula
It features SPF 15
It has a pump for easy and clean operation.
It offers medium to full buildable coverage.
Cons
Selecting the right shade could be a hassle.
Price at the time of publication: $10.49
Pros
Oil-free
Blendable shades
Offers full coverage
It includes an instruction chart for beginners.
Cons
You may find it difficult to apply it with a brush.
Price at the time of publication: $7.99
Pros
Cruelty-free
Non-comedogenic
It comprises hypoallergenic ingredients.
It can be used as a face powder as well.
Cons
Not ideal for people with dry skin
Price at the time of publication: $25.0
Pros
Paraben-free
Great pigmentation
The highlights last an entire day.
The formula blends pigment with liquid for a buttery texture.
Cons
The powder may crumble in the case.
Price at the time of publication: $28.67
Pros
Radiant color that lasts up to 10 hours
Paraben and phthalate-free
The shade helps in enhancing the tone of your lips.
Cons
It might have an unpleasant odor.
Price at the time of publication: $16
Pros
The shades last all-day
Ideal to be used as an everyday palette
Works great with a primer
High-pigmented eyeshadows for wet or dry use
It feels buttery smooth and is high-pigmented.
Cons
The palette is prone to breakage.
Price at the time of publication: $12.99
Be it African-American or South Asian, women from all over the world have the right to look stunning. If you have a need for professional-looking makeup for women of color, then this one is for you. Made by professional makeup artists, it has 6 pigmented and silky powder shades to help you contour your face. It feels light on the skin due to its transparent pigments that don't cause irritation. And, they donate a meal to animals for every palette purchased, how wonderful is that?
Pros
Cruelty-free
Blendable with your base foundation
It has an ultra-fine formula for the perfect sculpting.
It contains both matte and satin finishes in cool and warm tone colors.
Cons
It may look cakey on dry skin type.
Price at the time of publication: $29.99
There is very little that needs to be said about Iman. She has been in the business for over 20 years and is one of the pioneers of natural makeup for women of color. Second To None Cream is backed by such a legacy that gives you a naturally glamorous look that you deserve. The creamy yet consistent texture blends with ease and reduces the visibility of large pores. It is recommended to apply it with a sponge for a natural look.
Pros
Very affordable
Hides discoloration
Provides full coverage
It incorporates a powder for a velvety finish.
Cons
It is not ideal to be used on oily skins.
Pros
It is great for contouring
It offers full coverage
It includes a soft brush on the tip for easy application.
Cons
The product consistency may be too thin.
Price at the time of publication: $9.78
Pros
Vegan and cruelty-free
Rich texture
Highly-pigmented
It can last a full day without drying up.
Cons
It might leak onto your teeth while applying.
Price at the time of publication: $13
This is a strong mineral foundation that is combined with skin brightening serum. It is made up of natural ingredients to resist any environmental stressors. Made without oil, silicone, or fragrance, it is clinically proven to prevent discoloration for an even skin tone. The serum is lightweight, almost as if you have nothing on.
Pros
Paraben-free
Non-chemical, broad-spectrum SPF 20
Customizable coverage
Hypoallergenic, dermatologist tested and non-comedogenic formula
Cons
It might get oily over time.
Price at the time of publication: $24
Pros
Paraben-free
Cruelty-free
Lightweight and highly-pigmented
It has vitamins A, C and E to provide antioxidant protection.
It has nourishing active ingredients that moisturize and condition your lips.
Cons
It has a very strong odor
Price at the time of publication: $8.49
These were some of the best makeup brands for women of color. In the following section, we will find out how to choose the makeup that complements your skin tone.
Tips On Choosing The Right Makeup For Women Of Color
For a woman of color, it is very hard to find products that offer the desired makeup results. These tips should give you an idea on how to choose the right one for your dark skin.
Skin Tone: The first and foremost thing is that you need to choose a foundation that matches the undertones of your skin. Undertones and skin tones are two different things. Undertones remain constant, whereas, skin tones keep changing due to different reasons. They are classified into three types — cool, warm, and neutral. If the skin has a hint of yellow or gold, then the base tone is warm; if it has hints of blue, pink, or red, then the skin has a cool base tone; and it is neutral when it has a mix of both.
Skin Type: The skin type is one of the major factors that need to be considered. Oily, dry or normal — there are different requirements for each skin type. For example, if you have oily skin, then the Setting Powder from Sacha helps in controlling the oil without making it look cakey. For someone with dry skin, you will need a product that has a hydrating formula that retains the moisture on your skin.
Coverage: Coverage refers to how much of the makeup will conceal on the skin. It varies from sheer, the most transparent coverage with the least amount of pigmentation, to a full, the most opaque coverage. It depends on our preference on what you need.
Longwearing: If you are a working woman, then it is sure that you will be spending the majority of the day in your workplace. Choosing a product that will last the entire day with very minimum fallout, will save you the hassle of applying it over and over again.
Chemical-free: Most women wear makeup pretty much every single day. Doing so might affect your skin in the long run. Brands use preservatives to make the products last longer, but if you have a sensitive skin, then you should be looking at products that are paraben-free, which are safer to use.
Cruelty-free: Although this one regularly doesn't show up on people's checklist, we highly suggest that it should be one of the factors to be considered while buying cosmetics. Animals shouldn't be tested on or be harmed in any way to fulfill our requirements.
Makeup Tips For The Beautiful Women Of Color
Although there are quite a lot of beauty influencers on social media, there still seems to be a lack of understanding when it comes to women of color. If you are a beginner, we understand how intimidating it can be with all the products that are available in the market. With that in mind, we have some makeup tips that should help you get started.
Moisturize your skin properly by keeping them well-hydrated to avoid any dryness problems.
Find the right foundation shades that act as a base for the makeup. If a single shade doesn't work, you can mix it up with another (darker or lighter) to balance and match the skin tone.
Even if you have dark skin, you are bound to have dark circles. Cover it up with a concealer, which also lightens the surrounding area.
A touch of a well-balanced highlighter will instantly glow up the look of your eyes and define your face.
For the best eye makeup results during the day, you should use subtle shades like pink and gray, along with mascara. And, for the night life, you should apply shades like blue, purple, or even burgundy.
Avoid using lipsticks that give you a glossy finish and instead use shades like beige, coffee, chocolate, soft pink, plums, berry, burgundy, and gold.
Women of color need to be celebrated until kingdom come! But we also think that, there will come a day when that needn't be said anymore. Until that happens, with the help of brands from our list of the best makeup for women of color, we hope that we are making progress in the right direction.
Why Trust StyleCraze?
Chaitra Krishnan, the author, is a makeup fiend who loves exploring and sharing new makeup products. Until recently, women of color have always had it tough when it comes to makeup choices for their skin tone. After much research and investigation, the author is happy to share this list of makeup products for women of color. Each of these products has been selected because of their intense color payoff, ease of application, skin-friendliness, available shades and tones, and more.
Frequently Asked Questions
How do I know my natural skin color?
Skin tone is categorized into three types — cool, warm, and neutral. The easiest way is to look at the nerves on the inside of your wrist. If the veins have a blue or purple hint, then you have a cool skin tone. If the veins appear green, you have a warm skin tone. If it is a mix of both, you have a neutral skin color.
What color should my eye makeup be?
The most suitable colors would be gold, copper, bronze, emerald greens, rich violets, deep plums, grays, metallic shades, blues, and cobalt.
What colors look best on tan skin?
You should try pleasant colors like rich browns, orange-yellow, olive green, deep reds, and purples
Where should you match your foundation?
Ideally, you should match the foundation of your face with your neck. You can also keep it a shade lighter than your neck.
Recommended Articles