13 Best Drugstore Cream Eyeshadows For Well-Defined Eyes On A Budget!
Stunning cream-based products to level up your eye-makeup game by a sizeable notch!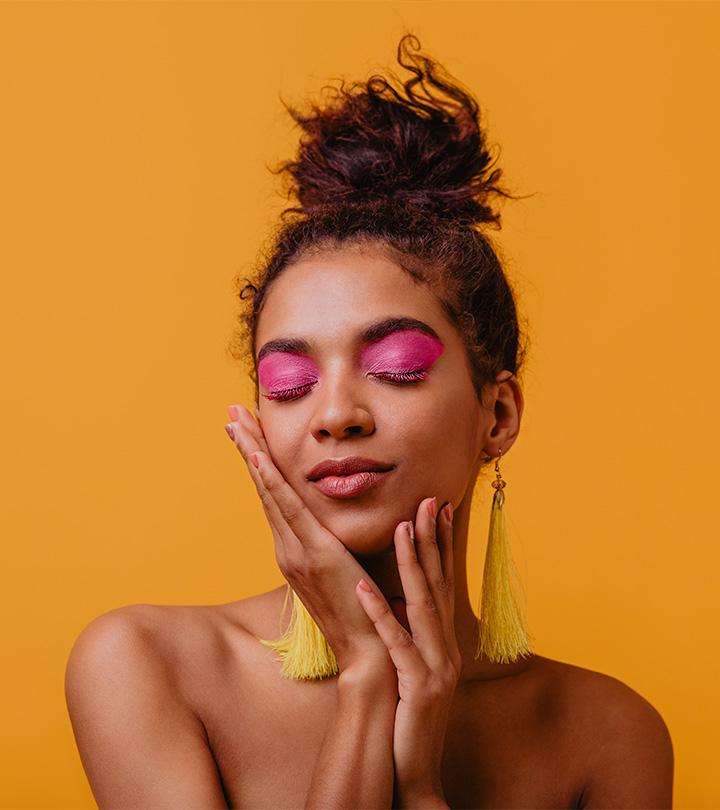 We all love investing in high-end brands for eye products, but sometimes, it can burn a hole in your pocket. To beat that, the best drugstore cream eyeshadows have got your back. Even if it doesn't work better, it works just well and is great. After all, all good things have great substitutes. The quality of the products on our list will blow your mind. Glitter, sparkle, or just plain matte – all these drugstore cream eyeshadows can be easily used to create a professional makeup look with your beginner skills.
A tinge of color or a simple pop-up of color transforms your entire appearance from drab to fab real quick. Whether it's a hectic workday at the office or late night party with friends, a little bit of your cream eyeshadow on your eyelids will doll you up instantly. These are easy to apply, smooth and gentle on skin, and ultra-fine to blend effortlessly. Whether you like metallic or shimmery finish or matte hues, we have got you covered with all kinds of affordable cream eyeshadow options. Scroll down have a look at the 13 best drugstore cream eyeshadows we have listed below.
13 Best Drugstore Cream Eyeshadows To Enhance Your Eyes In 2023
Cosmetics and beauty giant Revlon never disappoints with their formulas and unforgettable products. Since they're on the top of our list, it can only mean one thing — the ColorStay Crème Eyeshadow is one of the best pigmented drugstore eyeshadows. The ultra-smooth, incredibly blendable eyeshadow formula offers you a waterproof pigment in both matte and shimmer finishes available. The Vanilla shade is a sparkly one among 18 others that you can use as a base or highlight the inner corner of your eyes with. If you want matte shades for a bold look, or shimmery ones for a little 'oomph', this drugstore cream eyeshadow range has got it all. You can check out this YouTuber's review of the product if you require more convincing.
Pros
Ophthalmologist-tested
Lasts up to 24 hours
Blendable formula
High color pay-off
Built-in eyeshadow brush for easy application
Waterproof
Can be used as eyeliner
Cons
Price at the time of publication: $5.09
Here it is, the best drugstore single eyeshadow you've been waiting for! With a beautiful metallic finish that lasts all day long, this waterproof formula effortlessly blends without creasing or fading. The colors are highly pigmented too and they're going to stay put once you walk out the door and walk back in after a long, tiring day. It offers up to 24-hour wear, making it the longest lasting drugstore eyeshadow on this list. The 17 bold eyeshadow colors and vibrant pigments can illuminate your eyes and take your entire look to the next level. Don't be afraid to shine with Maybelline New York's pigmented drugstore eyeshadows. If you want to find out more about this product and its usage, make sure to check out this review on YouTube.
Pros
Waterproof
Crease-resistant
Doesn't fade
Highly-pigmented shades
Smooth texture
High blendability
Cons
Some may find the consistency slightly sticky
Price at the time of publication: $15.99
This classy drugstore copper eyeshadow by e.l.f Cosmetics will have you squealing in delight with their top-notch pigments. This mini-palette contains 4 neutral eyeshadow shades that can be worn as is or can be blended with other colors to achieve multiple looks. There's both matte and shimmer shades, so make your pick for a statement look that is impossible to forget. Also, there are no parabens, sulfates, phthalates, triclosan, hydroquinone, ethoxylates, and triclocarban so your eyes are healthy while looking gorgeous. So, if you're looking for a good drugstore cream eyeshadow that delivers color while being safe for you (and the environment), this is the one! If you need further convincing, check this YouTuber's review out.
Pros
Weightless creams
Vegan
Easy to blend
Cruelty-free
Travel-friendly size
Gluten-free
Ultra-pigmented
Cons
The eyeshadow may not be long-wearing
Price at the time of publication: $3
Don't you just love the convenience that comes with makeup in the form of a stick? Experience that with WUNDER2's Super-Stay Stick Eyeshadow, as it is the best drugstore cream eyeshadow stick you can get your hands on. Super-easy to use and convenient to travel with, this waterproof stick combines high pigment with no hassle of fallouts as with traditional eyeshadow palettes. The shade Moonstone is a beautiful shimmery neutral that glides on easily and instantly brightens up your eyes. This is the best drugstore shimmer eyeshadow stick and is available in 7 pretty shades for you to choose from. And what's even better, is the presence of soothing ingredients like silk powder, hydrogenated castor and safflower seed oils, and aloe vera to keep your eyes moisturized on-the-go.
Pros
Travel-friendly
Contains aloe vera to soothe eyes
Cruelty-free
Transfer-resistant
Paraben-free
Weightless formula
Cons
May feel sticky when blending with fingers
Price at the time of publication: $19.0
One of the best drugstore brand eyeshadows out there, Almay's Velvet Foil Cream Shadow will bring some sparkle into your life. With a velvety finish that shimmers, say hello to the best drugstore glitter makeup you can use for a metallic look. With a staying power of up to 24 hours, this creamy formula infused with vitamin E won't budge from your eyes and the pigments are rich and luscious. And to top it all off, this is an eyeshadow that doesn't crease! You can experiment with every eye makeup style you want to as it is available in 12 deeper colors that are easy to blend and make for great color combinations. And that's not all–you can even use these creams as a base for powder eyeshadows.
Pros
Hypoallergenic
Ophthalmologist-tested
Fragrance-free
Made with clean ingredients
Cruelty-free
Safe for people with sensitive skin and contact lens wearers
Waterproof
Cons
The cream may be a little thick
Price at the time of publication: $7
The shade Plum Fairy is a great drugstore purple eyeshadow from the Creme Eyeshadows line by Lauren Brooke Cosmetiques. Made with a base of botanical ingredients and exuding a subtle vanilla scent, this eyeshadow will give your eyes as much love as the color it delivers. Shea butter moisturizes and revitalizes your eye area and rosehip acts as an antioxidant that reduces inflammation and irritation. Along with vitamin E, a blend of oils protect the skin while jojoba seed, olive and coconut hydrate it, leaving your skin feeling nourished and well cared-for. There's also raspberry that helps reduce signs of aging so you can be on your way to youthful eyes. This is one of the best matte drugstore eyeshadow ranges and is safe for sensitive eyes as it doesn't irritate the skin. Available in 12 matte and shimmery shades, these are the best drugstore eyeshadow singles you can have in your makeup vanity.
Pros
Made with organic, non-toxic ingredients
Buttery-smooth formula
Suitable for people with sensitive eyes
Cruelty-free
Highly pigmented
Cons
May not offer long-lasting wear
Price at the time of publication: $13
For the perfect eye makeup look, you don't have to go scouring high-end brands. One of the top drugstore eyeshadows is brought to you by L'Oreal Paris.The intense pigments stay put for up to 24 hours in this powder-cream eyeshadow hybrid that blends and glides seamlessly. This luxurious formula won't crease on your eyelids and won't fade away either. It's going to stay just as fresh as when you dabbed it on with your fingertips for the first time! Enhance your eyes with the best drugstore eye makeup to turn heads wherever you go.
Pros
Highly pigmented
Waterproof
Smooth texture
Longwear cream eyeshadow
Crease-resistant
Cons
Glitter flakes can get messy
Price at the time of publication: $7.95
The neutral shade Peach in Jillian Dempsey's Lid Tint range is a warm and bright drugstore orange eyeshadow with a soft matte finish. Highly-saturated pigments, which give an instant pop of color and blend like a dream are the key features of this drugstore eye makeup.Rest assured that your eyes are in good hands with skin-nourishing ingredients that provide natural antioxidants such as cocoa and shea butter with oils like coconut, castor and rosehip seed, sunflower seed oils. These elements help repair, revitalize, and moisture the skin, so that your delicate eye-area remains healthy. And to supplement your skin with more benefits, this drugstore matte cream eyeshadow is formulated without parabens, sulfates, petrochemicals, phthalates, GMOs, synthetic fragrances or dyes.
Pros
Cruelty-free
Contains nourishing ingredients
Easy to blend
Doesn't smudge
Vegan
Made with organic ingredients
Perfect for on-the-go
Cons
Price at the time of publication: $28
A high-quality cream shadow, Glo Skin Beauty's Cream Stay Shadow Stick is best for longwear and will find a permanent place in your makeup routine. Ultra-pigmented, the stick also doubles as an eyeliner for a highly-defined look. Enriched with jojoba oil, this Cream Stay Shadow Stick intensely moisturizes and hydrates the area around your eyes for healthy skin. The 13 available shades are buildable and you can go your entire day forgetting that it's even there! You can also use this cream eyeshadow stick as an eyeshadow base and the stick comes with a built-in sharpener that makes it a convenient travel partner. Count on this drugstore cream eyeshadow stick to make you look fab even when you are pressed for time.
Pros
Works as an eyeliner and eyeshadow base
Comes with an in-built sharpener
Travel-friendly
Buildable formula
Can be used as a primer or an eyebrow pencil
Cons
Price at the time of publication: $24.02
If you love dressing up your eyes in different styles, this drugstore glitter cream eyeshadow needs to be in your vanity right now! The brightness in Marshique's Touch Fit Glitter Cream Shadow can power a whole town. Resistant to both sweat and water due to a silicone film, this drugstore glitter formula blends incredibly well and stays put for long hours. No clumping or creasing with this one, folks. This crease-proof eyeshadow can be used as a primer or a highlighter to illuminate the corners of your eyes and you can also dab a little on your lips and cheeks for a soft, flushed look. Who doesn't love a product that multitasks? The drugstore glitter pigment in Flamingo is a soft coral color with hints of pink and the range has 4 equally stunning colors to choose from. Is this one of the best drugstore eye glitters? We think so!
Pros
Creamy formula
Sweat and water-resistant
Can be used as primer, blush, lip tint
Doesn't clump together
Crease-resistant
Non-sticky formula
Cons
Price at the time of publication: $12.8
Light up your entire world with the Burt's Bees' Color Nurture Cream Eye Shadow, which is a weightless formula that blends seamlessly without creasing. With vitamin E as the main ingredient that offers antioxidant benefits, this drugstore shimmer eyeshadow nourishes the delicate eye-area. This eyeshadow is kind to your skin with the presence of soybean, castor, and sunflower seed oils. The kaolin helps draw out impurities and pore-clogging oils to render your skin a clean feeling.The Rose Cream shade is a soft pink with a light gold glimmer. You can build on these shades that are also free from parabens, sulfates, petrolatum or SLS. One of the best drugstore rose gold eyeshadows out there, this shade is ideal for transitioning from a day to a night look.
Pros
Can be used as highlighter
Blends easily
Shimmery finish
Contains vitamin E to nourish skin
Recyclable packaging
Delivers even color
Cruelty-free
Cons
It has a scent, which might be off-putting for people sensitive to fragrance.
Price at the time of publication: $8.74
Is 2 always better than 1? In this case, yes! Primarily because it means double the glam. Laura Geller's dual-function eyeshadow stick and powder glide with a silky texture to give you an eye makeup look you'll never forget. The creamy texture of eyeshadow feels luxurious and won't crease or smudge. When you lock the cream in with powder, the shade stays put without budging, so you can go about your day worry-free. It also doubles as an eyeliner, and helps create statement looks while the powder makes for a glowy look. In our books, this is a good drugstore glitter eyeshadow for a minimalistic or dramatic look. As a plus, this product doesn't use any parabens, talc, phthalates, oil or gluten.
Pros
Gluten-free
Works as eyeliner
Smooth texture
Great for on-the-go
Vegan
Cruelty-free
Cons
Price at the time of publication: $24
A good drugstore cream eyeshadow can make you feel euphoric the entire day and this Barry M Eyeshadow Cream is testament to that. This is a high-pigment eyeshadow that glides on smoothly and blends without a hassle is everyone's dream and this drugstore metallic eyeshadow is here to make your dreams come true. Blending the shade with your ring finger or a brush applicator ensures even coverage that's perfect for night or day. The shades sit well without getting into creases and are available in 6 bold colors you can choose from.
Pros
Easy to blend
Texture is smooth
Applies evenly
Crease-resistant
Rich pigments
Cons
Not resistant to water or sweat
Price at the time of publication: $4.68
Now that we've looked at some of the best drugstore cream eyeshadows out there, here are some tips to help you apply this product better.
Tips To Apply Cream Eyeshadow
If you have oily or mature skin, it always helps to use primer before using cream eyeshadow as it can get greasy or crease otherwise.
For a look with more dimension, you can layer the cream eyeshadow with some powder.
Always be gentle when blending, because if you're aggressive, you may end up tugging at the delicate skin around the eyes. This gives an uneven look.
Dab some cream eyeshadow in the middle of the eyelid and gently move inwards to the corner of your eye and outwards from the middle to ensure even color distribution.
Don't wait too long to blend, as cream eyeshadows can dry quite quickly, and make the product difficult to work with. Quick but gentle is the key.
Why Trust Stylecraze?
Our in-house makeup enthusiast, Srijita De, wrote this eloquent article where she lists the best cream eyeshadows you can get at any drugstore. Yes, it is quite possible to achieve a flawless eye look at an affordable price. She scoured the internet, investigating many products and reviews, to bring you this reliable list. These cream eyeshadows come with benefits such as high color payoff, smooth texture, color variety, skin care benefits, and more.
Frequently Asked Questions
Are cream eyeshadows better than powder?
Cream eyeshadows fare better on dry skin types due to the moisture content in them. However, they give mostly a shimmery or glittery finish, so if you're someone who's fond of matte, powder would be a better option. Additionally, cream eyeshadows are harder to mix with another color but powder eyeshadows blend easily for a dual-tone look.
Do you need primer for cream eyeshadow?
Since a cream eyeshadow is generally resistant to creasing and smudging, a primer is not necessary as in the case of powdered eyeshadows.
What is cream eyeshadow good for?
Cream eyeshadow has a creamy base, rich in texture, and blends easily into the skin. It can be used on eyelids as an eyeshadow or as a base for powder eyeshadow to make the color pop.
Is cream eye shadow better for older eyes?
Yes. For women with mature skin, cream eyeshadows impart glowing skin, offer a smooth texture, and keep the eyes hydrated.
Do cream eyeshadows need a primer?
Yes, using a primer before applying cream eyeshadows creates a smooth eyelid finish. However, especially if you have oily eyelids, it is better to use a primer to get a longer and sheen finish.
Can I apply cream eyeshadow with a brush?
Yes. You can apply cream eyeshadow with an airbrush dual-ended eye-transformer or a medium-sized fluffy eyeshadow brush for an opaque finish. You can also use a flat synthetic brush to apply cream eyeshadow.
Is cream eyeshadow good for dry skin?
Yes. Cream eyeshadows are a better choice for dry eyelids. They offer high blendability, making eyeshadow application easier. You can use fingers or a brush to blend it into the skin.
What color cream eyeshadow makes you look younger?
Pink and neutral-colored eye shadows make you look younger. Neutrals complement your makeup look without making your look awkward.
Recommended Articles