15 Best Lip Primers Of 2023 That Prevent Smudging And Fading
Get those perfectly pouty lips with hydrating, rich, and chemical-free lip primers.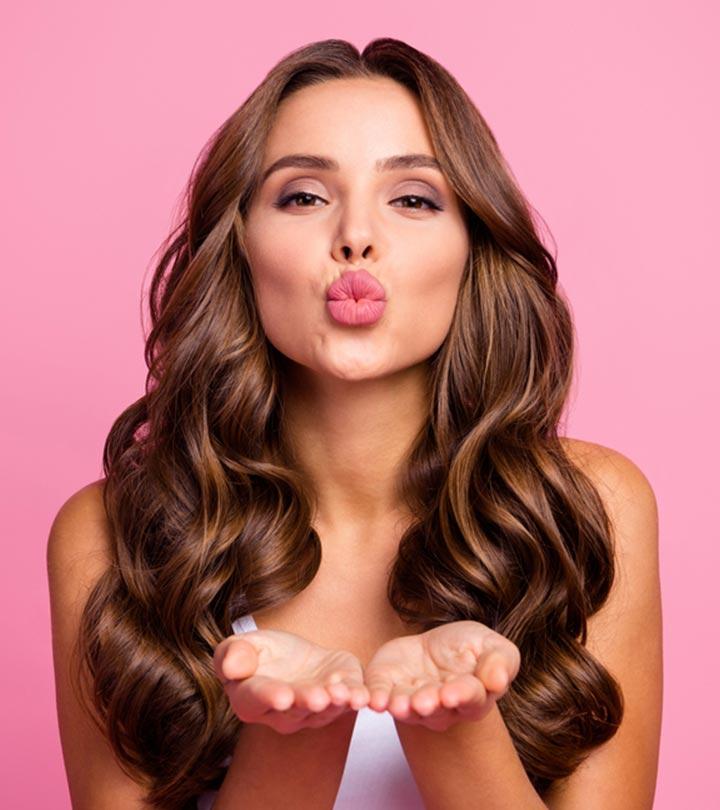 A face primer fills your pores and ensures that your base is flawless. And just like that, lip primers set the base by filling the creases and cracks present, so your lip product glides effortlessly. The best lip primers are all you need to ensure your lipstick is applied evenly and stays that way all day long. It also provides a smoother appearance and helps prevent smudging, feathering, or creasing.
Many people make the mistake of just applying lipstick or tint without a primer, and they soon repent as the lip product doesn't apply too well, nor does it stay on too long. If you don't want to commit this blunder and want a photo-ready pout wherever you go, you're at the right place. We've searched far and wide and compiled a list of the best lip primers on the market. These options on our list will ensure that you and your lips are the talks of the town wherever you'll go. Also, your lipstick will stay on regardless of the activity, and they are soft, plump, as well as luscious! So, what are you waiting for? Go on, and check them out!
What Is A Lip Primer And What Does It Do?
A lip primer, just like a face primer, is a base for your lips that increases the longevity of your lip color. It creates a smooth base for your lipstick so that it lies evenly on your lips and lasts for the long haul. A lip primer may be in the form of a lip primer pencil, lipstick, or crayons, all of which are meant to be layered under your lip color.
A lip primer basically increases the staying power of your lipstick on your lips and keeps it in place without fading. It also saves the day in case you are prone to feathered lips with your lipstick ending up in the fine cracks and lines around your pout. A lip primer also fixes any creasing of your lipstick, giving you that perfectly applied look through the day. Lip products have a nasty way of clinging to dry skin on your lips and looking patchy, but a lip primer preps and primes your lips and makes them smooth so that they look perfect till the end of the day.
15 Best Lip Primers Of 2023 To Make Your Lip Color Last Longer!
Pros
Cruelty-free
Vegan formula
No smudging
No feathering
Smooths lips
Cons
Some may find its texture waxy
Price at the time of publication: $6.99
Pros
Hypoallergenic
Cruelty-free
Waterproof
Paraben-free
Talc-free
Cons
Some may find it drying
Might ball up in some cases
Price at the time of publication: $14.32
Pros
Lightweight
Hydrates lips
Non-greasy
No smudging
Cons
May cause feathering of lipsticks in some cases
Price at the time of publication: $16
Pros
Rich HD look
Matte finish
Applies smoothly
No fading or smudging
Cons
Might melt or break in heat
Price at the time of publication: $12.91
Pros
Fragrance-free
Natural looking
Neutral color
Smooth application
Cons
May not be suitable for chapped lips
Price at the time of publication: $8.21
Too faced lip primers are like extra insurance for your lips as they are efficient in locking down lip color and preventing fading, bleeding, and creasing. Its unique, creamy formula, when applied, enhances suppleness and glides on smoothly, ensuring maximum staying power. It's enriched with vitamin E that pampers your lips while unique pigment binders protect lip colors from any imperfections. Lipsticks and lip glosses won't feather, fade, or transfer through the course of the day. It has a quick-drying formula that guarantees almost instant application of your lipstick so that it stays on looking fresh through the day. It has the added advantage of a built in applicator that always has the ideal amount of product for even coverage. Maybe it's time to give this product a try!
Pros
Paraben-free
Sulfate-free
No dyes
Enriched with vitamin E
Cons
May form a film upon drying
Price at the time of publication: $58.99
Pros
Oil-free
Color-free
Fragrance-free
Dermatologist-tested
Cons
Some might find it a bit chalky after drying
Price at the time of publication: $15.03
Pros
Anti-aging benefits
Prevents bleeding and feathering
Smudge-proof
Contains vitamin E
Cons
May not be suitable for extremely dry lips
Price at the time of publication: $25.55
Get your lips ready to stand out with their color! Achieve that perfect pout by using this multifaceted lipstick primer before applying your favorite lipstick. This lip product helps you to prep and prime your lips to achieve a professional, polished lip look as it prevents your lipstick from fading, feathering, and bleeding into the fine lines around your mouth. Create the perfect base for long-wearing, high-impact color with this multi-benefit lip primer as the perfect pout starts with smooth and primed lips.
Pros
Long lasting effect
Prevents feathering
Smudge-proof
Smooth application
Cons
Price at the time of publication: $14.29
Who doesn't like a versatile product! This 2-in-1 lip duo works both as a smoothing primer as well as a shiny lip glaze. The primer preps and smooths your lips to create a perfect base for your lip color while the lip glaze glides on smoothly with a balmy feel and leaves your lips with a lasting, soft and shiny color. It features a unique square-tip shape and gives your lips a smooth feel, a unique pigment formula, and a beautiful gloss finish. Infused with hydrating coconut and peach oils, this product locks in color perfectly. It has a customized magnetic seal cap to keep your makeup bag clean. Its high performance formula and refillable twist-on/off tool makes it one of the best lip primer duos!
Pros
Doubles as a glaze
Long lasting color
Glossy finish
Contains natural ingredients
Cons
Some may find it too sheer
Price at the time of publication: $20.4
Like its name, this holographic lip glitter is truly magical, especially on days when you want to drop a glitter bomb on the world. For best results, swipe this primer across your lips to instantly create a smooth base, and apply the loose glitter over the top. You can use the primer to apply glitter wherever you feel you need a little extra sparkle. This product stays in place all day and night without irritating your skin. It's very easy to apply as all you need to do is coat your lips with primer using the applicator. Then choose a color and use the brush's sponge tip to apply. Finally, flip the finish brush over, and wipe away the excess sparkle. Use this lipstick primer for luscious, sparkling lips or apply it wherever you need a little extra glamor and glitz.
Pros
Vegan
Cruelty-free
No smudging
Long lasting
Cons
Some may find its texture more suitable for a gloss than a primer.
Has added fragrance
Price at the time of publication: $7.99
This liquid lipstick primer can help lock your lip color and prevent it from fading, bleeding, and creasing. Its sheer and creamy formula glides on to your lips to create that perfect canvas for your lip color. It's also enriched with vitamin E to help nourish and hydrate your lips. You just need to apply it to clean lips and wait for 30 to 60 seconds for it to dry completely before applying your lip color. It glides on like a gloss and dries almost instantly, lasting all day without transferring. Your lipstick will now last all day, even through eating and drinking water while standing the test of time.
Pros
Creamy formula
Long lasting
Prevents fading and bleeding
Enriched with vitamin E
Cons
Price at the time of publication: $17.99
This product is a hydrating lipstick primer that smooths, plumps, and defines your lips as it extends the wear of the lip color. Not only does your lipstick stay put when you use this primer, it also plumps your lips. Its moisturizing formula ensures that it clings to lips, creating an adhesive-like base. Just apply it to clean, dry lips and allow the primer to dry before applying color. It is enriched with peptides that smooth and plump the lip surface, laying the path for luscious, long-wearing color while silica spheres fill in the fine lines and give your lips a 'soft focus effect'. Definitely worth a try!
Pros
Contains peptides
Contains silica spheres
Long lasting
Plumps your lips
Cons
May leave a waxy and white residue in some cases
Price at the time of publication: $19.0
Pros
Versatile
Smooth application
Prevents bleeding and feathering
Convenient to use
Cons
Some may find its texture dry and grainy.
Price at the time of publication: $7.28
This lipstick primer has a 100% natural, moisturizing formula that instantly preps, plumps, and primes your lips. This silky, lightweight primer naturally nourishes your lips, retains color for long, and prevents bleeding and feathering. Resveratrol, argan oil, and jojoba oil condition and smooth, while the perfect amount of mint plumps your lips to look naturally luscious. This product goes over your lips very smoothly and has a slightly minty flavor. It is one of the best primers to prevent feathering with some very high-end lipsticks and, as a result, your lipsticks also last much longer.
Pros
100% natural
Long term color
No feathering
Smooth application
Cons
May not prevent fading of lipstick
Price at the time of publication: $24.99
Now that you have been through our review of the 15 best lip primers of 2023, let us give you a few pointers on what to look out for while choosing one for yourself. Opting for the wrong lip primer can ruin the whole look of your makeup, so it's important to choose the right texture and prepare your lips well before applying lipstick for that perfect finish.
How To Choose A Lip Primer
A lip primer creates a smooth base coat for your lipstick, and must have nourishing and conditioning properties. That's why it's important that it should be smooth and creamy instead of drying. Of course, too much moisture can result in greasy lips which may affect the finish of your lipstick. If you have very dry lips, it's a good idea to buy a lip primer that adds extra moisture because it helps to soothe and heal cracked lips.
If you use a matte lipstick, it tends to dry out your lips; so ideally you should use a moisturizing lip primer which contains castor oil, beeswax, or carnauba wax. This will ensure that your matte lipstick goes on smoothly, evenly and offer impressive color payoff. If you use a glossy lipstick, a primer that creates a totally smooth base is what you need.
Some primers can be used for the enhancement of both eyes and lips, making them a great bonus option. If you're looking for a versatile product, you may want to consider products that come in the form of a lip primer and plumper in one stick or a lip color and primer together. If you want to add extra volume to your lip, plumper primers are a great choice.
Some lip primers contain chemical ingredients like fragrance, parabens, silica, titanium dioxide, benzyl alcohol, and BHT that can harm your lips or cause allergies. You should look for natural ingredients to nourish your lips like olive oil, jojoba oil, argan oil, or safflower oil. Or, if you have extremely dry lips, look for ingredients like castor oil, shea butter, and coconut oil that have a heavier texture and provide deeper nourishment.
Lip primers may come in the form of a pencil, stick, twist-up tube, squeeze tube, or jar. Each has its own benefits and drawbacks. Tube packaging is easy to use with no mess as you can apply it directly from the tube, but the packaging is usually of plastic which isn't as durable and may break. Jars usually have a luxury design and are more sturdy, offering durability but you'll need to use your finger or a brush to apply it on your lips, which may not be so convenient. Make sure to choose what you find convenient.
It's always wise to look for a lip primer that comes with sun protection as strong sun may lead to dryness and cracked lips. Dermatologists suggest using a product that contains at least SPF15, which can protect your lips from harmful UV rays.
If you don't know too much about lip primers, it's best to read a lot of product reviews before making a decision because it helps to narrow down the choices and be left with the good ones. Some people may have a problem like peeling or cracked lips while others may not. You need to make sure that the product works well for reviewers who have your skin type to choose the right product.
Now that you know what to look for while choosing a lip primer for yourself, it's time to pick one up. If you have any doubt in your mind about whether a lip primer should be an essential part of your makeup regimen, here are a few benefits listed for you.
Benefits Of A Lip Primer
A lip primer makes sure that you're not left with feathered lips by the end of the day, and your lipstick doesn't bleed into the lines outside your lips.
A lip primer also ensures that your lipstick application is crease-proof and its vibrancy is not compromised.
Lip primers are great for increasing the longevity of your lipstick and keeping its color in place without fading or getting patchy.
Lipsticks can cling to dry patches and settle into the fine lines of your lips, especially if you have dry lips. But if your lips are prepped and primed, it creates a smooth base for your lipstick, allowing it to look better in the end.
Why Trust Stylecraze
The author of this article, Srijani Roy Chowdhury, is our expert editor and writer who enjoys keeping up with current makeup trends to curate lists of the best beauty products. She has compared multiple products before compiling this list of the best lip primers that fill any cracks, giving you the perfect base for your lipstick. The benefits, drawbacks, and buying guide in this post will also come in handy and help you buy a primer that works best for your needs.
When to use a lip primer?
Much like the face primer we use before applying foundation, lip primer creates a smooth base for flawless coverage and should be used before applying your lip color.
Do you put lip primer on before or after lip color?
Always apply the primer before your lipstick. Smooth a thin layer of lip primer onto your lips, laying down a base for the rest of your lip makeup.
Can lip balm be used as a lip primer?
A lip primer is used to create an evenly moisturized base for your lips before applying your lipstick, but you can use a lip balm as a base for your lips instead of a lip primer, once in a while. However, a lip balm won't be as effective at prepping your lips.
Do lip primers make the lipstick last longer?
A lip primer does make your lip color last longer than usual as its formula is infused with ingredients that prevent your lipstick from fading and smudging. It creates a smooth and even surface for lipstick, which increases its longevity.
Can I use a face primer on my lips?
The skin on your face and lips are different, and the cosmetics you use on them have different formulas. For best results, you should use a different primer, specifically formulated for that area.
Can you use an eye primer as a lip primer?
Yes, on rare occasions, you can use an eye primer as a lip primer. However, on a regular basis, using separate primers will yield the best results.
Recommended Articles: