10 Best Matte Top Coats – 2023 Update
Give your nails that velvety matte finish that lasts long and looks oh-so-luxurious!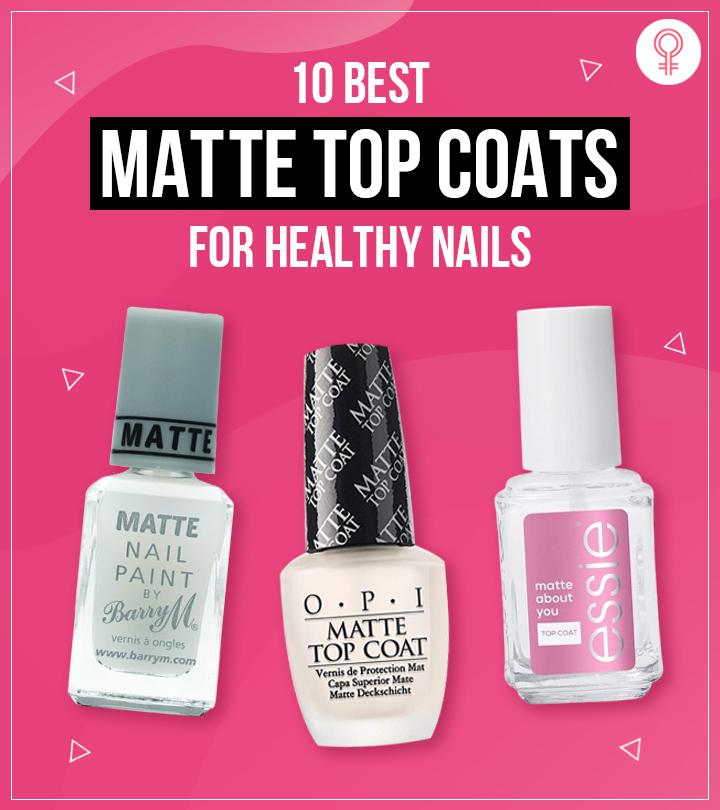 Nail paints are always hard to choose from, for their wide variety of colors, as well as matte plus glossy features. Putting the best matte topcoat gives the smooth finishing touch that everyone needs after the end of a nice manicure. Since everybody is all about DIY self-care, from beauty, hairdos, to personal grooming, it is good to find your own products that suit you best. For nails to look flawless, the top layer needs to provide protection as well as look good. It will also make the color stay longer. Nail enhancement products are evolving immensely and offer a variety of options with healthy formulas and color tones, that glide on smooth and are chip-resistant. Of course, taste differs as per individual, so choosing a matte topcoat according to your preference is quite important.
We have curated a list of the 10 best ones in the market, that you can trust blindly and purchase without any apprehension. Your color shade will last long too with these.
10 Best Matte Top Coats – 2023 Update
This award-winning matte top coat by OPI gives you a superior, velvety matte finish. It seals in color to prevent any chipping, scratches, or smudges for up to 7 days. The formula also prevents your nail polish from yellowing or staining and ensures a long-lasting protective layer. Check this video to learn more about the product.
Pros
Does not bubble up
Smudge-proof
Easy to apply
Smooth finish
Dries quickly
Cons
Price at the time of publication: $14.49
Spice up your look and fingernails with this matte nail paint by Barry M Cosmetics! It provides you with ultimate chipping protection and gives a quality matte finish. It offers a pearlescent finish and pairs perfectly with any nail paint, providing a long-lasting manicure.
Pros
Vegan
Smooth application
Comes off easily
Fast drying
Lightweight
Cruelty-free
Cons
None

Price at the time of publication: $6.28
This classic gel top coat by Essie is a must-have in your vanity. It is equipped with a patent-pending curve nail hugging brush and gives you seamless and precise coverage. This fast-drying formula is super long-lasting and can stay put for up to 14 days. The texture of the top coat is designed to glide over the nails for a seamless matte finish without streaks. The precise formula provides your nail polish with a velvety finish in just a swipe! It can be removed easily and does not require any harsh scrubbing, soaking, or scraping. Take a look at this video to get more information on the product.
Pros
Instant results
Seamless application
Vegan
DB-free
Toluene-free
Formaldehyde-free
Cons
Price at the time of publication: $9.5
If you are a manicure lover, this topcoat treatment by Sally Hansen is a definite must-buy! It enhances your nail color and sits into a flawless matte finish. It also helps protect your nails from chipping, smashing, or wearing off too fast. The quick-drying top coat is specifically designed for even application and preserves your nail color's texture and look. In addition, the long-lasting formula can stay put for up to 10 days. This video offers a more detailed explanation of the product.
Pros
Quick-drying
Precise application
Prevents yellowing
Lightweight
Does not bubble
Good staying power
Cons
None
Price at the time of publication: $7.71
The Beetles Gel No Wipe Matte Top Coat is one you will surely be coming back for! This alcohol-free top coat provides the ultimate matte finish to your nails, which can effortlessly compete with any salon-done nails. The formula does not solidify easily, so you can trust it for its durability. The product is easy to use and can deliver good coverage, making it suitable for beginners and professionals.
Pros
Toxin-free
Alcohol-free
Velvety matte finish
Chip-resistant
Smudge-resistant
Durable
Easy to apply
Cons
May cause an allergic reaction
Price at the time of publication: $6.99
The AIMEILI UV & LED Soak Off No Wipe Matte Top Coat is an easy-to-use, long-lasting product. It works tremendously and is guaranteed to provide you with a top-notch, salon-like finish. It is ideal for securing any form of nail art design. The top coat provides good coverage and durability for up to 21 days, so you won't have to worry about reapplying it. Along with its easy application and anti-fading properties, it also provides UV protection and is non-yellowing.
Pros
Long-lasting
Easy to use
Beginner-friendly
Smooth matte finish
Hema-free
Chip-resistant
Smudge-free
Cons
None
Price at the time of publication: $6.99
This unique top coat by China Glaze gives you a precise and seamless application every single time. It is free of any harsh toxins and chemicals and is safe and gentle on your nails. In addition, it turns any shiny nail polish to a beautiful matte finish in just a matter of seconds.
Pros
Instant results
Seamless application
Value for money
Prevents chipping
DBP-free
Toluene-free
Formaldehyde-free
Cons
None
Price at the time of publication: $7.46
The Kupa Gelfinity Gel Top Matte Coat is a must-have high-quality gel polish. It is formulated with non-toxic materials that do not harm the nail bed and give desired results. The lightweight product delivers a neat glaze that efficiently covers the nail art design without smudging it. It is long-lasting and works for all nail types, from natural, acrylic, and hard gels to artificial. It can be applied smoothly for a consistent finish.
Pros
Formaldehyde-free
Non-toxic formula
Easy to apply
Long-lasting
Smooth matte finish
Cons
None
Price at the time of publication: $8.71
This duo pack of top coats by Eternal enhances, protects, and complements your favorite color. It is apt for gel, natural, and acrylic nails. The polish gives your manicure a new dimension and dries into a velvety matte finish. The salon-quality results are sure to make you receive numerous compliments. It is easy to apply, and dries quickly!
Pros
Fast-drying
Long-lasting wear
Easy to apply
Formaldehyde-free
DBP-free
Toluene-free
Cons
None
Price at the time of publication: $9.99
10.
Best Professional Quality Top Coat:
Orly Matte Top Coat
This professional-grade matte topcoat instantly turns your glossy nail lacquer to a gorgeous matte finish. It prevents your nails from yellowing or staining. Your nail shade stays the same from day one. The formula is also self-leveling and dries into a smooth and elegant finish that does not peel off. It is easy to remove and does not damage your nails during the procedure.
Pros
Does not bubble up
Prevents chipping
Long-lasting
Easy to apply
Smooth finish
Fast-drying
Cons
None
Price at the time of publication: $9.99
Here are a few things to consider when choosing a matte topcoat.
What To Look For In A Matte Topcoat?
Most topcoats are formulated to dry fast. If the product dries within a few minutes, it is most likely to be indicated on the label. Otherwise, you can expect most of the topcoats to dry within 10 minutes and get fully set in hard in roughly 30 minutes. Another word of advice is that the more coats you apply, the longer it takes to dry.
Regular nail lacquer is quite similar to paint, so they air dry. On the other hand, gel top coats only dry or cure under special LED or UV lamps and last longer.
The applicator brush's shape, texture, and length is an important point to be considered. The right applicator gives a precise and seamless application.
Choose a top coat that stays put for a long time, thereby keeping your manicure intact and giving a matte finish throughout.
Why Trust StyleCraze?
Certified in makeup techniques, Baishali Bhattacharya is a makeup and fashion fanatic. In this post, she brings you a list of the best matte topcoats that are easy to apply and fast-drying. These products add shine to the nails and help the polish last longer. Baishali has intensively researched various topcoat brands in the market to shortlist matted coats that give your nails a manicured finish. She also shares handy tips on things to consider when choosing a matte topcoat.
Frequently Asked Questions
How long does a matte top coat last?
A matte top coat can last for up to 10 days. Then, as it starts wearing off, it gives a semi-shiny or satin finish.
Can we use a matte top coat on gel nail polish?
Yes, you can use a matte top coat on gel nail polish.
Does the matte top coat dry faster?
The surface of a matte tends to feel less tacky faster than a regular top coat. So, while the surface might feel solid, half of the product underneath still has to dry – but you will be able to touch the top layer.
Can you do two coats of matte topcoat?
A matte top coat gives a matte finish to your manicure and protects the gloss underneath. One top of a matte top coat nail is usually sufficient. However, there's no harm in using one extra coat.
Do you have to cure a matte top coat?
Yes, it is ideal to cure your nail polish after every coat. This way you can ensure that your manicure is thoroughly dried and will not smudge or smear unexpectedly.
How do I keep my matte nails from chipping?
Since most chipping begins at the tip of the nail, to keep chipping away, paint a vertical swipe of polish at the tip of your nail.
Can you put matte top coat over regular nail polish?
Yes, you can put a matte top coat over regular nail polish.
What's the difference between a top coat and a matte top coat?
Top coats are used to make your manicure last longer. They protect your nail polish and prevent chipping. A matte top coat provides the same benefits but without the high-shine.
Recommended Articles