11 Best Foot Rockers
Keep your feet at ease and feel relaxed all day to enjoy optimum levels of comfort.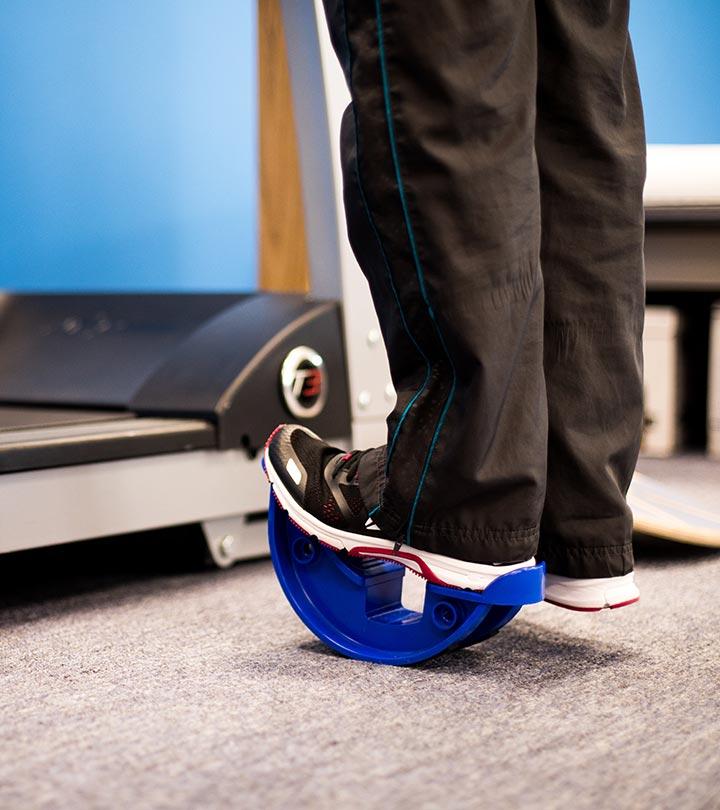 With a plethora of comfort devices making their mark, getting the best foot rocker would cut it as one of the best investments. Foot rockers are for individuals who love wearing heels or even for those who need to walk around the whole day. Rocking heels definitely gives you a sense of confidence, but the pain that follows at the end of the day is far from a walk in the park. When you cannot escape it and soothe your soles later, this device is your life savior. It helps widen and contract the tendons, ligaments, and muscles of the entire foot. If you already have ankle strain, cramps, or other sole aches, it will massage all your worries away. Take a look at this accumulation of 11 effective foot rockers, for better agility and exercise that are also great for athletes and for fitness enthusiasts.
11 Best Foot Rockers
No pain only gains with this ergonomic model! North American Healthcare Foot Rocker is what your feet deserve after a long day to minimize heel, leg, and back discomfort. Working on every muscle in your leg, you'll be surprised how efficiently it increases the flexibility, eases tight spots, and helps prevent potential foot injuries. Small enough to fit in the corner of your house, its non-slip rubber base can be used on any surface. Plus, the slip-resistance tread keeps your foot in place. Here's a video featuring a detailed review of the product.
Pros
Advisable for those suffering from chronic conditions like Plantar Fasciitis, Achilles' tendonitis, arch pain, ankle strain, etc.
It's available in two colors.
Cons
If your shoe size is about 11 inches then this rocker is not suitable for you.
May skid on slippery surfaces.
Safe and effective, this calf stretcher is designed to correct foot posture and stretch every muscle in your feet. Get rid of feet fatigue and increase the flexibility in your muscles with some stretches on this Vive Foot Rocker. A blessing in disguise for those with chronic conditions like Achilles' tendonitis. Just 10 minutes on this rocker daily, can strengthen your muscles, improve circulation, and prevent persistent discomfort. Its slip-resistant features along with raised plates hold your feet in place and ensure safe stretching. This video will help you understand the product better.
Pros
Ensures correct foot posture.
Raised heels for locking the foot in place.
The product offers a lifetime guarantee.
Cons
Slippery on the carpet.
It may not be comfortable for all.
No one stretches your leg muscles like the ProStretch Calf Stretcher. We are not saying this, the medically-proven tag is! Its ergonomic design is efficient and allows for deeper and more effective stretching than any other foot rocker in the market. Lightweight, durable, and handy, it is biomechanically engineered to correct foot posture with a gripping tread and anti-slip bottom. Check out the detailed review of the product in this video.
Pros
Biomechanically engineered design.
It comes with a 1-year warranty.
Cons
Not suitable for all shoe sizes.
It's uncomfortable to use without shoes.
Prepare your feet for the ultimate pampering session! Whether you are at home, at work, or traveling, using the ErgoFoam Ergonomic Foot Rest feels like placing your feet in heaven. And that's not all; the product's velvety material relaxes the body, eliminates soreness, and, most importantly, corrects the posture of your back, knees, legs, and feet. Made of high-density foam, it is so firm and supportive that you'd never want to leave the footrest. A product of absolute comfort, it's wider than other foam footrests and offers some much-needed relief and support.
Pros
Engineered for optimal support and comfort
Corrects back, leg, knees and feet posture
Wider than other footrests in the market
Cons
Not designed for muscle stretching
Are you recuperating from a foot injury? Hausse Foot Stretcher is crafted to maximize foot strengthening and stretching. Watch your lower leg muscles regain balance, flexibility, and strength. This rocker also provides relief from pain in the heels and arch of your foot. It has a unique design that allows you to stretch your foot without affecting the proper foot alignment. With such stellar features, it is no wonder that this rocker makes for a great purchase!
Pros
Recommended for rehabilitation or recovery from injuries
Promotes foot alignment
Cons
Not effective for those with serious foot ailments
Slippery and not very strong
This wooden balance rocker board is the physical therapy that your body needs! From straightening your posture to improving your agility, it is a must-have for all those on-the-go. Having to balance yourself on this board makes the exercise a tad bit fun. This board comes with not one, but four anti-slip and scratch pads. It also comes with a surface that provides an easy-grip for your shoes too. So quit worrying about balancing and give your core stamina a boost with this long-lasting and low-impact exercise board.
Pros
Improves stamina, agility, and balance.
Improves body posture.
Cons
Not suitable for pain relief.
Who said exercise is limited to the walls of the gym? The Powerstep UltaFlexx Foot Rocker is ideal for all foot rocker exercises anywhere, anytime. It is compact, portable, and lightweight, ideal for plantar fasciitis, achilles tendonitis, tight calf muscles, ball of foot pain, and shin splints. Engineered for comfort, it improves circulation, reduces fatigue, and strengthens and increases flexibility for the foot and lower leg. What's more? It is non-skid! Its unique tread design helps keep the rocker in place and is recommended to use with athletic shoes.
Pros
Works for all arch types
Strengthens muscles, ligaments, and tendons
Non-skid bottom
Improves flexibility
Cons
Are tight calves and hamstring giving you sleepless nights? The StepStretch Calf Stretcher Rocker is a godsend! It is efficiently designed to allow deep stretching; it loosens muscles in tight spots and improves circulation and posture. This product is suitable for use by those suffering from heel spur syndrome, arch pain, etc. And the best part is that it is a two-foot model with highly-efficient anti-slip and easy-grip features that ensure proper balance and foot positioning.
Pros
Medically-proven to provide pain relief related to all feet ailments.
Two-foot model.
Perfectly angled foot platform for good results.
For all shoe sizes.
Cons
Requires regular practice to get used to the product.
Not suitable for deep stretching.
Anyone can have Achilles tendonitis, not just athletes. It is painful and even unbearable at times. The Durable Calf Stretcher by Natural Chemistree, though primarily designed for athletes, can be used by anyone suffering from severe foot conditions. Don't stress; instead, stretch and bring back the flexibility and improve the mobility of your feet with this foot rocker. It is durable, so you don't have to worry about bending or breaking it. It is designed with a rubber base that ensures no scratches on the floor. So curb the pain before it gets to you with this super durable foot rocker today!
Pros
Improves flexibility and mobility.
Sturdy and durable.
Cons
Not suitable for all shoe sizes.
May skid on soft surfaces.
Exercising barefoot may be uncomfortable
Get two foot-healing formulas in one model! Whether you want to use it as a footrest or a rocker, this compact and uniquely designed device serves all purposes to provide you utmost relief! Apart from relieving pain, it can also keep you energetic for hours. It also comes with two options for motion. A higher setting can make the rocking motion more challenging, while the lower setting can make it quicker. The footrest is broad, and the plate is designed for maximum comfort — a must-have for officer-goers and athletes.
Pros
Designed with footrest and rocker functions.
Has two options for rocking motion.
Cons
Though efficient and ergonomic, it is not suitable for chronic foot ailments.
This stretcher board is a must for those who love the idea of working out and flexing the muscles of their legs. It improves posture and can be used for various gym exercises like planks, squats, tricep dip, etc. So get your balancing act right with this remarkable stretching board! It is ideal for athletes, gym rats, trainers, runners, and all those who love to be on the field.
Pros
Improves posture and can be used for light stretching.
Cons
Not fit for those with severe conditions.
The product has a weight limit of up to 250 lbs.
What Are The Benefits Of A Foot Rocker
Yes, they are and here is why they are a must for those suffering from chronic foot injuries and pain. Here are a few benefits:
It stretches and strengthens the hamstring, calf, and feet tendons.
It eases tension and tight muscular spots.
Provides relief from arch pain, plantar fasciitis, Achilles' tendonitis, etc.
Increases flexibility and strengthens muscles to prevent grave injuries.
Eliminates chronic pains and discomfort caused by extreme mobility.
How To Use Foot Rockers
It is extremely simple and you can easily do these stretching exercises at home. You can also follow the foot rocker instructions on the manual. Fit one of your feet in the foot rocker and make sure the posture of your leg is right. It is advised that you do the stretches while standing. Sway your foot in forward and backward motion for about 10 minutes. After an interval of 30 seconds you can repeat the process. After 10 minutes, switch and repeat. Also, we highly recommend that you use sturdy shoes while stretching. But what are the basic things to lookout for before buying a foot rocker?
Flexibility:
The more flexible your muscles, the less they are prone to feet ailments. While choosing a model, ensure it provides deep and active stretching to improve flexibility and circulation in your legs. Remember, a body that flexes every day keeps the pain at bay!
Safety:
One of the most important factors to keep in mind while choosing a foot rocker is, undoubtedly, safety. A poorly crafted foot rocker will only end up causing more damage than cure. Make sure the device you choose is safe for you and your body type.
Weight limit:
Every model comes with a weight limit. If it isn't mentioned, we recommend you choose another model or enquire for more details. You don't want to damage or break the product after purchase.
Size:
Size matters! Not all foot rockers can fit all shoe sizes. Read the description carefully before narrowing down on the model you want to buy.
Why Trust Stylecraze
Shreya Vishwanathan is a health and fitness enthusiast and in this article she advocates the importance of using the best foot rockers. She recommends them for those who have hectic schedules and want to relieve foot pain caused by it. She has conducted thorough research and reviewed various online reviews to help her readers make the best pick. She loves these products because it widens and contracts the tendons, ligaments, and muscles of the entire foot.
Frequently Asked Questions
What is plantar fasciitis?
Plantar Fasciitis is another term for the inflammation of the fibrous tissues in your feet. These tissues are located near the heel and connect it to the toes. The pain in this area is triggered after long hours of running, standing or walking.
Are foot rockers any good?
Yes, by using the foot rocker correctly, you will strengthen your muscles, enhance your endurance, and lower your chances of injury.
Are foot rockers good for plantar fasciitis?
A foot rocker can assist tight stretch heels caused by various foot and heel issues, including plantar fasciitis.
Is walking barefoot good for plantar fasciitis?
Walking barefoot is not recommended for plantar fasciitis; instead, use a nice pair of shoes with arch support to relieve pain.
How do I permanently get rid of plantar fasciitis?
Stretching, strengthening, shoes with proper arch supports, orthotics, night splints, anti-inflammatory medications, and rest could help you permanently eliminate plantar fasciitis.
Recommended Articles