The 15 Best Black Lipsticks For A Bold, Badass Look In 2022
Channel your inner Gothic diva by indulging in the awe-inspiring black-lips trend.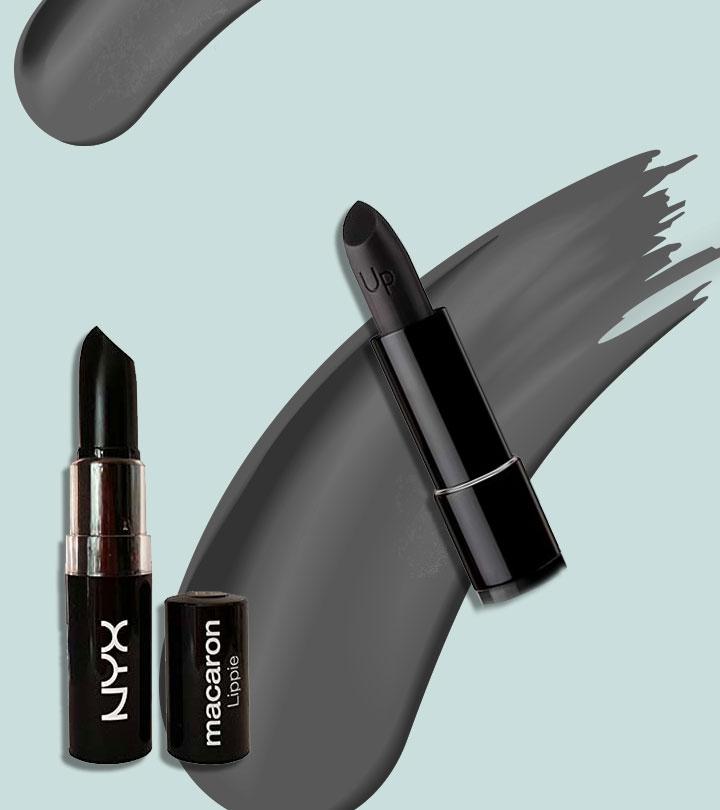 Reds and nudes have their places, but black lipsticks are on a different plane altogether! The best black lipsticks have been tested by celebrities like Rihanna and Gigi Hadid. This trend can be highly intimidating, but oh-so-haaawt! Contrary to popular belief, this lipstick shade is no longer just for Halloween or the goth cosplay. In this article, we have listed some of the top-rated black lipsticks that are favorites among women worldwide. Go ahead and check them out to bag a few!
15 Best Black Lipsticks
Pros
Ultra-matte finish
Highly pigmented
Easy to apply
Cons
Anastasia Beverly Hills Matte Lipstick In Midnight Review
This deep black shade with neutral undertones imparts a matte finish to your lips. It is lightweight and stays intact for about five hours. This lipstick does not dry, clump, or crease, leaving a velvety look on your lips.
Pros
Long-lasting
Cruelty-free
Paraben-free
Talc-free
Lead-free
Gluten-free
Cons
None
Manic Panic Raven Lethal Lipstick Creamtones Review
The Manic Panic Raven Lethal Lipstick Creamtones is a buttery black lipstick. It settles into a semi-matte finish, creating bold, dramatic looks. This non-drying formula of natural moisturizers and antioxidants in this lipstick keeps the lips super soft and smooth. The diamond etched case makes the lipstick look luxurious. In addition, the lipstick is cruelty-free, paraben-free, talc-free, and lead-free.
Pros
Long-wearing
Cruelty-free
Paraben-free
Silicone-free
Phthalate-free
Cons
None
Smashbox Be Legendary Cream Lipstick In Bankrolled Review
The Smash box Be Legendary Cream Lipstick is highly pigmented and offers a creamy, satin, and smooth finish. It is enriched with shea butter and vitamins C and E. This medium black shade with a neutral undertone lasts for up to 10 hours. It does not dry out your lips, and the smooth texture is easy to wear.
Pros
Long-lasting
Lightweight
Portable
Creamy texture
Cons
Splashes & Spills Classic Matte Lipstick in Daring Black Review
The Splashes & Spills Classic Matte Lipstick in the shade 'Daring Black' is a translucent color product with a seamless matte finish. This lipstick is a great addition to your dramatic outfit as it stays for a long time. Its creamy texture locks the moisture in, preventing your lips from getting dried up. This creamy lipstick also glides easily on the lips without any mess or spill-outs. The shade 'Daring Black' is highly pigmented and imparts a bold vampire look if applied well.
Pros
Easy to apply
High coverage
Great color payoff
Cruelty-free
Long-wearing
Cons
This does need a touch-up after a heavy meal
Winky Lux In Voodoo Review
If you are a fan of some fancy packaging – this one by Winky Lux is the winner in this department. The lipstick comes in a cute pill-shaped container that feels so luxurious to hold. This one in the shade 'Voodoo' is a true, deep black that is beautifully pigmented. You can get a fully opaque finish in just one swipe, and it settles into a matte finish. It does not drag or pull during the application, and the formula actually feels like satin. Even someone with chapped lips like mine can wear this and still have smooth-looking lips.
Pros
Easy to apply
Streak-free formula
High color payoff
100% organic and natural
Moisturizes and conditions lips
Cons
Bite Beauty Amuse Bouche Lipstick In Black Truffle Review
This lipstick in the shade "Black Truffle" can be best described as deep black-violet shade. It is an intense purple with subtle warmer red undertones and a natural sheen to it. I love how smoothly it goes onto my lips and is one of the glossier shades in the range. The wear time is great, and it's also pretty hydrating, making it a safe bet for dry lips too. I do want to mention how much I like its consistency and how it doesn't tug when you're applying it. This is highly recommended for anyone who wants a black shade with a tinge of purple in it. You may check more about this product in this video.
Pros
Easy to apply
Good texture
Long-wearing
Affordable
Cons
Could have been more pigmented
NYX Macaron Lippie In Chambord Review
Chambord by NYX is a deep, dark black with neutral undertones and a glossy sheen. It has a rich, creamy texture and it applies fairly well. This has enough pigmentation, but there could be more – however, its color is buildable, and you can manage to get an opaque finish in two swipes. It's neither too drying nor too hydrating – just somewhere in the middle. It's important to line your lips with a black liner before you go in with this to prevent it from feathering. Overall, this is full value for money and is worth trying.
Pros
Easy to apply
Sheer finish
Creamy formula
Lightweight
Cons
Revlon In Midnight Mystery Review
The Midnight Mystery by Revlon is enriched with avocado oil and vitamin E. It adds a rich and creamy black color to your lips. This lipstick is lightweight, easy to apply, and feel sbutteryon your lips. All you need is just one stroke and flaunta glam look with this shiny, smooth black shade.
Pros
Smooth and creamy
Easy to apply
Long-wearing
Buildable color
Cons
Uneven (if not applied with precision)
Kat Von D In Nayeon Review
'Nayeon' by Kat Von D is a cool black with a frost finish. If you want a black shade that has a subtle metallic feel to it, this one's the way to go. The packaging is sleek and pretty, and the formula is great. It's one of the creamiest lipsticks that I tried, and it glides on without any pulling or tugging. One swipe leaves you with an opaque finish, and it lasts you for hours without any touch-ups.
Pros
Highly pigmented
Waterproof
Velvety matte finish
Long-wearing
Cons
Rimmel Stay Matte Liquid Lip Color In Pitch Black Review
The Rimmel Stay Matte Liquid Lip Colouris lightweight and feels comfortable on your lips. The waterproof and kiss-proof formula stays for upto 12 hours. The Pitch Blackshade is highly pigmented and offers a velvety matte finish.
Pros
Easy to use
Highly pigmented
Formulated without parabens
Buildable color
Black-Up In Satin Black Review
This Paris-based line is popular for its range of professional-quality makeup and skincare that caters to the needs of darker skin tones. The shade 'Satin Black' from this brand is a deep matte black that's highly pigmented and goes on very evenly on my lips. I was majorly impressed with its staying power as it did stay on for about 8 hours. It feels lightweight on my lips and is so comfortable to wear. With the right attitude, you can successfully pull this off!
Pros
Extremely pigmented
Matte finish
Long-wearing
Transfer-proof
Cons
Lime Crime In Black Velvet Review
Liquid lipstick, anyone? 'Black Velvet' is indeed the deepest matte black. I must tell you, this is insanely transfer-proof. It just won't budge and stays in place. Coming to the application – the doe applicator can be a little messy, and it's easy to get way too much product on. However, once you get the hang of it, there's nothing like it! It lasts for around 8 hours, and through eating and drinking! The color only starts to wear away around the inside part. It's definitely one of my favorites! Do grab this when you have the chance.
Pros
Easy to use
Super creamy and saturated
Cheap and affordable
Good packaging
Cons
Maybelline New York Color Sensational In Pitch Black Review
The Maybelline Color Sensational in 'Pitch Black' is a stunning mid-tone greyish black. It needs about two swipes for a fully opaque color. You can also use this shade to alter the depth of another lipstick. It glides on the lips smoothly, but you do need a lip liner and a primer to prevent it from turning into a big mess. The wear-time is average, but one can handle this with a few applications now and then. If you're looking for a budget-friendly black lipstick, this is your answer.
Pros
Easy to use
Creamy and moisturizing
Super affordable
Cons
Contains mineral oil, paraffin, and propylparaben
e.l.f. Studio Moisturizing Lipstick In Black Out Review
This formula by e.l.f is so moisturizing and it has this sweet cocoa butter fragrance to it. It's also enriched with shea butter and vitamins A, C, and E to condition and nourish your lips. I do like the way its creamy formula seals in moisture and gives me long-lasting, comfortable wear. The shade 'Black Out' is an extremely pigmented black that goes on nicely on the lips and does not budge. For $3, this is an incredible purchase and if you don't want to spend a ton of money on black lipstick, definitely go in for this!
Pros
Good color payoff
Easy to use
Adds depth and volume to your lips
Cons
Can't be used as a stand-alone product
NYX Butter Gloss in BlackBerry Pie Review
NYX Butter Gloss in the shade 'Blackberry Pie' is a semi-opaque color coverage product that needs at least two swipes of color for an even, deep look. I feel that this lip gloss performs well if it's applied over a base lip line so make sure you completely fill in your lips with a black lip liner before you go in with this. It has an intense glossy finish that gives a gorgeous, wet lips effect (if you are into that kind of look). It's comfortable to wear and is non-sticky!
*Subject to Availability
Quick Tips To Choose The Best Black Lipstick For You And Rocking The Look
Now that you've come this far, I believe you want to try this bold, edgy, and adventurous shade to embrace your dark side. Since black is a bold color, if not applied properly, it can look tacky. So you ought to do it the right way!
Choose a lipstick finish that matches your needs – be it matte, glossy or liquid.
I can't stress enough the importance of exfoliating your lips because there's nothing worse than seeing dry, flaky lips peeping through your lip color.
Make sure you outline your lips with a clear liner to keep your color in place.
Since your lips are the focal point – it's best to avoid wearing any other bold makeup.
Black lipstick can look flat, so you can customize it and give your lip color extra depth by adding a layer of gloss.
It's pretty high maintenance, so make sure you toss your lipstick in your handbag in case you need to touch up!
Why Trust StyleCraze?
The author of this article, Esha Saxena, is a makeup enthusiast who loves bringing affordable yet fashionable products to her readers. She conducted extensive research and went through numerous user reviews on online forums and brand websites to curate this list of the best black lipsticks. The shortlisted products are free of harsh chemicals such as paraben, silicone, and lead and add an extra edge to your look.
Frequently Asked Questions
What does black lipstick mean?
Black lipstick adds a bold statement to your attire. It highlights your unique personality and showcases your fearless attitude.
Why do people use black lipstick?
Black lipstick adds intensity to your look. It has a unique aura and the ability to make the wearer the center of attraction. Also, people wear black lipstick to accentuate and complete their gothic look.
Black lipstick looks good on which skin tone?
Black lipstick looks striking on pale, fair, medium, and even dark or dusky skin tones.
Who can wear black lipstick?
Opt for black lipstick if you desire a unique and unconventional look. Wear a full-coverage foundation and create a neutral base makeup to pull out the black lipstick look with style.
Is black lipstick work appropriate?
Yes. Although mauve, cinnamon, and peach shades are considered work-appropriate lip colors, there is no harm in wearing black lipsticks if you are comfortable.
Is black lipstick trendy?
Yes, black lipstick is fashioned by many iconic celebrities like Rihanna and Gigi Hadid. Also, the style is slowly entering mainstream fashion and is loved by many.
Does black lipstick make your teeth look whiter?
Yes. Black lipsticks have a cool tone, making your teeth appear white and shiny.
Recommended Articles