12 Best Pedometers For Kids in 2023 – Reviews and Buying Guide
Keep a track of your child's health with these user-friendly and durable devices.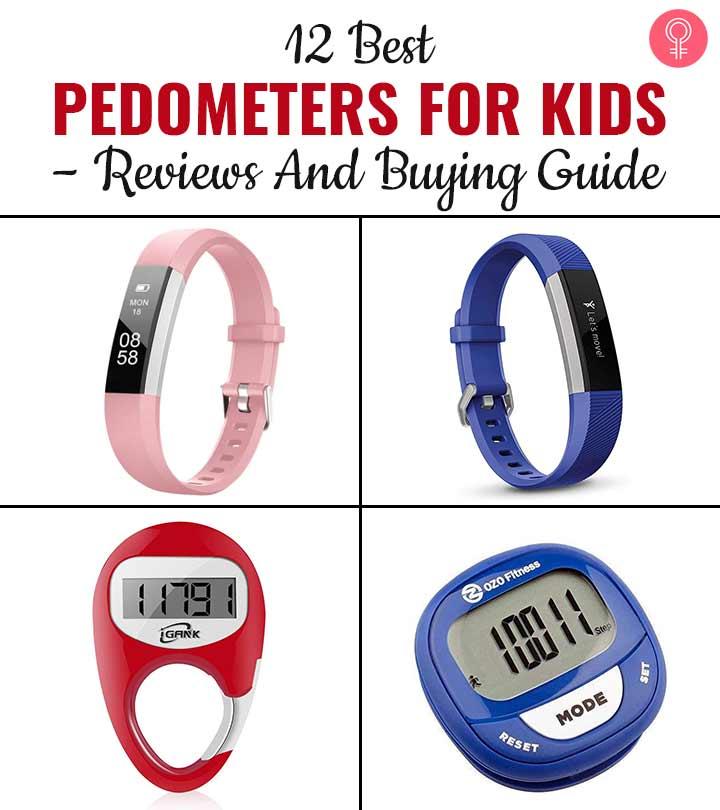 If you are looking for a perfect gadget to monitor your little one's health, get one of the best pedometers for kids available in the market. Why? These devices challenge your children to stay physically fit while keeping them from a sedentary lifestyle. Most of these pedometers come with interesting in-built features that attract tiny tots. Meanwhile, it's advantageous for parents like you as well, as you can track your child's heart rate, blood pressure, and sleep cycle, etc.
Well, not sure how to choose the best? Scroll down to check our specially curated list of pedometers for kids.
12 Best Pedometers For Kids Available Right Now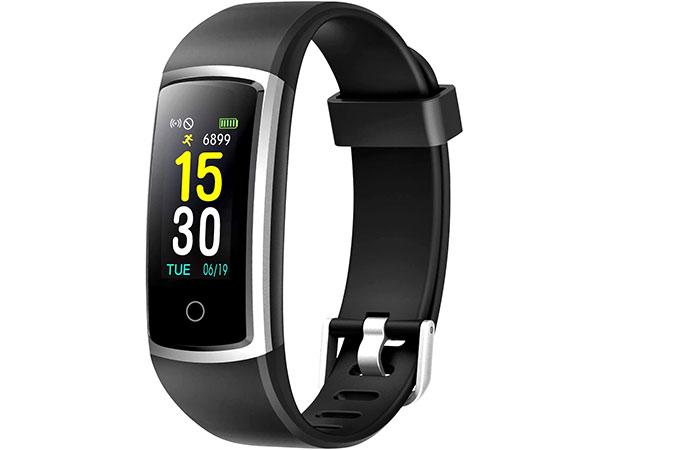 If you want to keep track of your child's blood pressure, heart rate, quality of sleep, and step count with a single device, FITFORT Fitness Tracker is a great option. It is designed with the innovative Matter Sensing and Control Technology that measures blood pressure and tracks up to 14 exercises. This IP68 waterproof pedometer tracks running or jogging along with the time duration, distance covered, and calories burned. FITFORT Fitness Tracker has a delicate color LCD with 5 different levels of brightness that enables you to see the stats clearly. It is perfect for men, women, and kids. It comes with a built-in USB plug and does not require a charging cable for charging. It lasts for about a week on just 1-2 hours of charging.
Pros
Matter Sensing and Control Technology
Tracks up to 14 exercises
5 levels of brightness
Color LCD
Built-in USB plug
Long battery life
Easy to use
High accuracy
User-friendly
Cons
No Off button
Works with smartphones only (not iPad or any other tablet)
Price at the time of publication: $30.66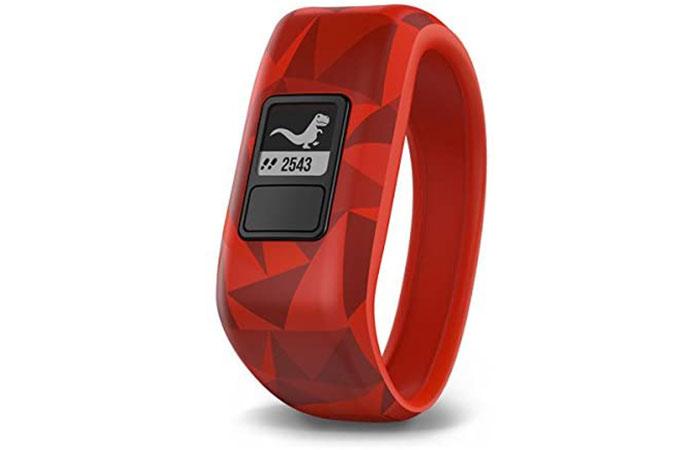 Garmin Vívofit Jr Kids Fitness/Activity Tracker is the best swim-friendly fitness tracker. The stylish and kid-friendly design is comfortable to wear. It tracks steps, quality of sleep, and 60 minutes of daily recommended activity. It can be managed by parents using the compatible app. On the app, you can track your child's sleep, daily activities, steps covered, and chore data when it automatically syncs to your smartphone. Preloaded chores are managed through the parent's phone and personalized chores can also be created. Also, the kids can earn coins that can be redeemed for agreed-upon virtual rewards with parents. It comes with a 1-year battery life with no charging needed, 24/7 wearability, a 5 ATM water-resistance silicone strap. This tracker is easy to put on and one size fits most. Its 1-piece band stretches around your child's wrist with comfort and does not stain. It is designed for wrists measuring up to 145 mm for ages 4-9. You can take a look at this detailed review to know more about this product's merits and demerits.
Pros
Durable
Comfortable
Water-resistant
Swim -friendly
Compatible parent mobile app
1-year battery life
Easy to use
Cons
Price at the time of publication: $79.99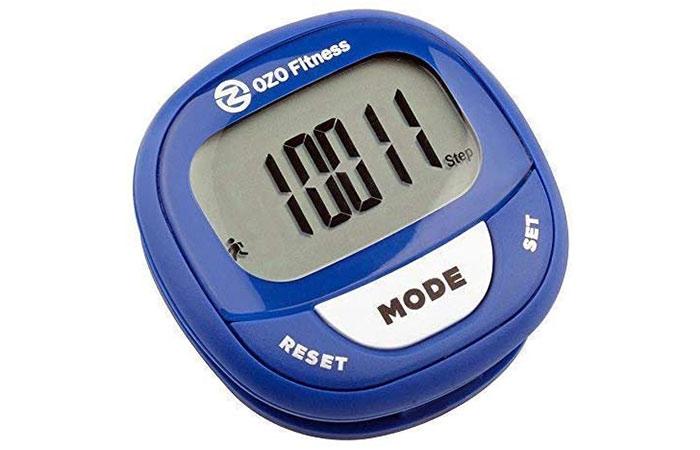 OZO Fitness SC2 Digital Pedometer is the best pedometer for walking. This smart activity tracker is designed with the advanced 3D Tri-Axis Sensor to track distance, steps, calories, speed, and exercise time accurately. It has a large easy-to-use LCD screen to check the stats and big buttons that make it convenient to program and view the different modes. The built-in clock is handy and resets at midnight. It is suitable for the elderly and kids. The 7-day memory log tracks week-long data for easy reference. It is comfortable to wear with all clothing and can be kept in your kid's pocket. If you are still unsure about this pedometer, you can check this YouTuber's unbiased review.
Pros
Large display screen
Built-in clock
Strong belt clip
Auto-resets at midnight
The sensor can be paused
7-day memory log
Extended battery life lasts up to a year
Easy to use
Cons
Does not count steps very accurately
Price at the time of publication: $19.99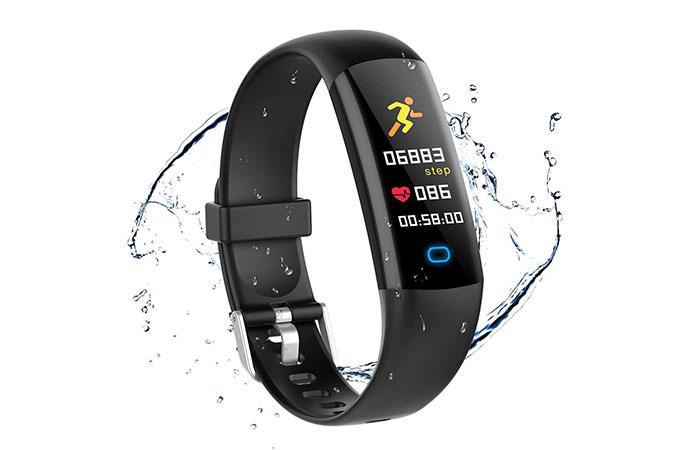 MoreFit Kids Fitness Tracker is the perfect fitness tracker for kids. This step counter tracks your kid's workout time, steps, distance, calories burned, average speed, and heart rate. It also tracks 5 exercises like swimming, running, walking, cycling, and climbing. This stylish tracker has a curved screen and illuminated buttons that offer excellent visibility, even in the sunlight. Its breathable lamp changes color as per the movement. It tracks your kid's heart rate and blood pressure all day, and you can check all these stats on the app. The screen also displays calls, messages, and notifications. This fitness tracker has a user-friendly design and is easy to sync with your phone. It can be charged with any USB cable, and it runs for 4-5 days on a single charge.
Pros
Stylish design
Can be used while swimming
All-day activity tracking
Real-time monitoring
Water-resistant
Universal USB port
Stopwatch functionality
GPS tracking
Easy to use
Cons
No turn-off feature for notifications
Price at the time of publication: $23.32
BIGGERFIVE Fitness Tracker Watch is the most affordable fitness tracker for kids. It has high-quality, flexible, and durable TPU material straps that make it suitable for kids. This affordable tracker tracks your child's steps, distance covered, and calories burned, and you can access the data easily by tapping the tracker's display or on your phone's app. It also tracks their sleep. The silent vibration alarm clock wakes your kid up without disturbing others. It comes with a built-in USB adapter, so it does not require a separate charger. It lasts up to 7 days on a single. Its free app, VeryFitPro, is compatible with smartphones with Android 4.4 above and iOS 8.0 above.
Pros
IP67 high-level waterproof design
Built-in alarm
Displays message and calls notifications
Waterproof
USB charging
Long battery life
Free mobile app
Easy to use
Accurate tracking
Cons
Unsatisfactory user manual
Price at the time of publication: $25.99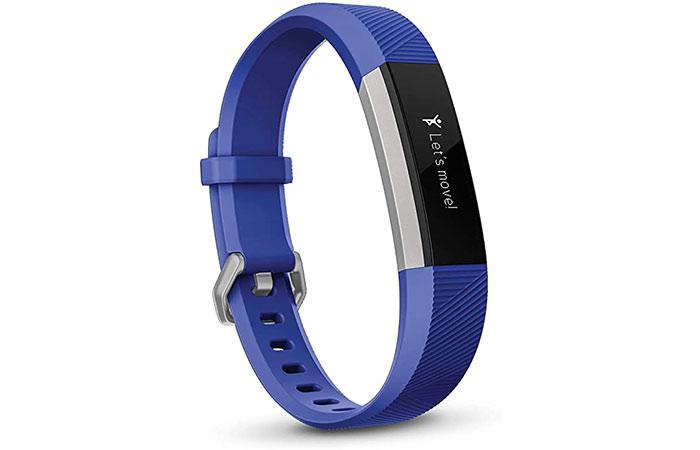 Fitbit Ace Activity Tracker is the best fitness tracker for kids 8 and up. It tracks activity minutes and steps and shows the stats on a bright tap display. It is a shower-proof tracker with a secure and adjustable wristband for growing kids. It fits wrists from 4.6″ to 6.1″ in circumference. It syncs stats automatically and wirelessly to iOS & Android devices. It has a battery life of up to 5 days and operates between temperatures -10° C and 45° C.
Pros
Accurate tracker
Bright display
Long battery life
Water-resistant
Easy to use
Cons
Price at the time of publication: $123.99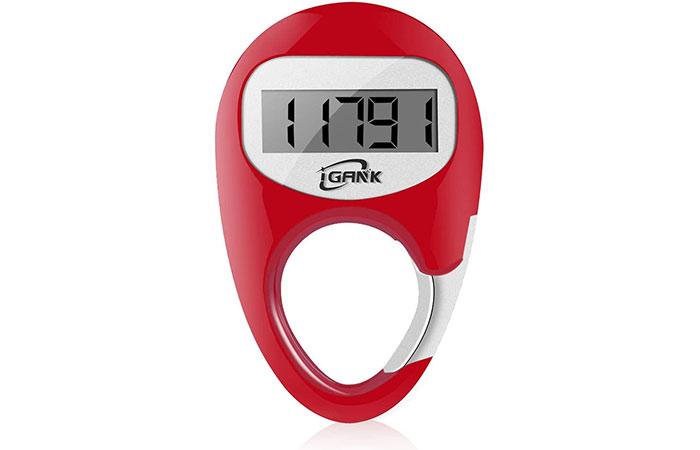 iGANK Simple Walking Pedometer is a basic step-counting device with a one-button reset function. It is perfect for men, women, and kids. It tracks steps with the help of 3D Tri-Axis Sensor technology. Its creative carabiner design makes it easy to use and does not require any lanyard or clip. You can just hook it to your kid's belt loop or put it in their pocket or bag. It has a long battery life that can last up to 12 months. Just press and hold the button on the back for 3 seconds to reset the step count to zero.
Pros
Suitable for all age groups and pets
Track steps up to 99999
Large display
No Bluetooth or other apps required
Easy to wear
Easy to use
2-year guarantee
Cons
Difficult to open the small battery screw
Price at the time of publication: $17.99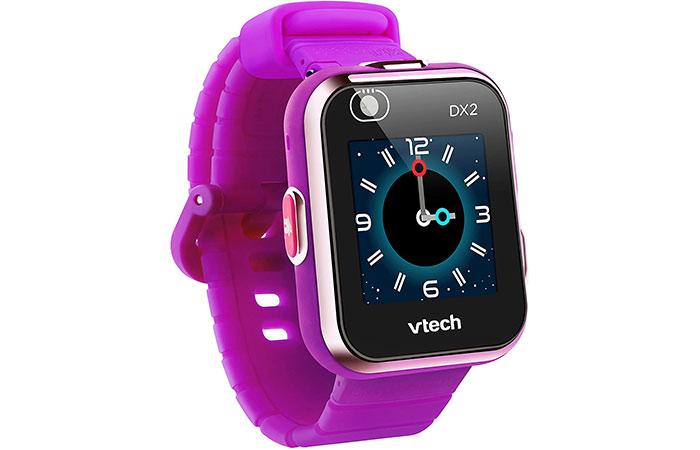 VTech KidiZoom Smartwatch DX2 is the smartest pedometer watch for kids. It is designed with two cameras that allow your kids to take videos and selfies. They can also use the photo effects, stamps, frames, and filters and make custom watch faces. It helps kids learn to tell time and has 55 digital and customizable analog clock faces. This smartwatch includes a motion sensor and a pedometer for active play challenges. It also features a Monster Catcher game that creates an augmented gaming experience. This kid's smartwatch comes with a micro-USB cable for uploading the photos and videos to your computer and for charging its battery.
Pros
Dual cameras
Rechargeable battery
256MB memory
Splash-proof
Suitable for kids ages 4 to 12
Easy to use
Cons
Price at the time of publication: $46.34
The Gogum Fitness Tracker is a slim and lightweight, all-day activity recorder. Its pedometer feature tracks your kids' heart rate, steps, distance, calories, and sleep accurately 24*7. It has a lightweight body and a bright 0.96″ IPS Color screen that displays the health data clearly. It comes with a built-in USB plug and has long battery life. In addition, it has an IP68 waterproof feature that lets your kid enjoy water sports without any worries.
Pros
IP68 Waterproof
Comes with a replacement band
Built-in charger
11 sport modes
Long battery life
Adjustable design
Great for gifting
Cons
Doesn't track steps very accurately
Price at the time of publication: $29.99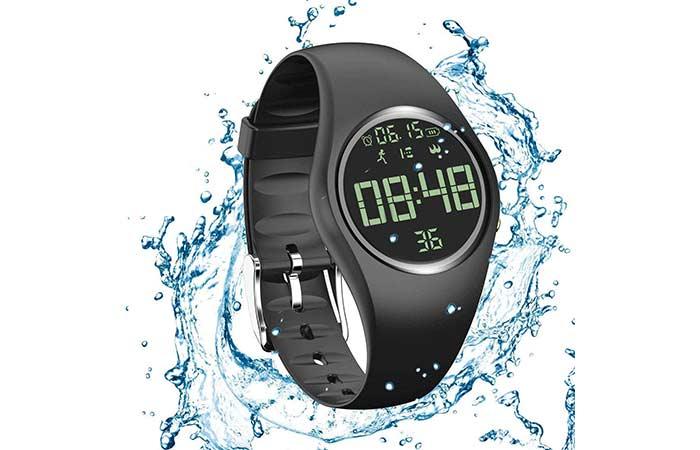 Feifuns Simple Fitness Tracker is a multifunctional non-Bluetooth fitness tracker watch. This high-quality product is specially designed for kids and young people. It tracks steps, calories, and distance covered and displays the data on the LCD screen. The simple design does not require additional setup to operate. It also does not require Bluetooth, an app, or a smartphone. It has a long battery life of about 12-15 days on a single charge. This pedometer can be charged through the USB cable attached to it. It is a water-resistant pedometer that does not need to be taken off while swimming, surfing, washing, or taking a shower. Its built-in vibration alarm clock is easy to operate and does not disturb others.
Pros
IP68 waterproof design
Does not require Bluetooth or an app
Dustproof
Easy to charge
Easy to set up
Vibration alarm clock
Cons
Low-quality battery
Not very accurate pedometer
Price at the time of publication: $24.99
Synwee Sports Fitness Tracker Watch is a high-quality fitness tracker for kids. It is designed with water-resistant material and can be worn while swimming and diving. This fitness tracker accurately tracks steps, distance covered, and calories burned. It has a long battery life of about 12-15 days after full charging. It comes attached with a USB cable that can be inserted into a USB power adapter or a PC for charging. It is also equipped with a built-in vibration alarm clock.
Pros
High quality
Waterproof
Vibrating alarm clock
Easy to charge
Long battery life
12-month warranty
Cons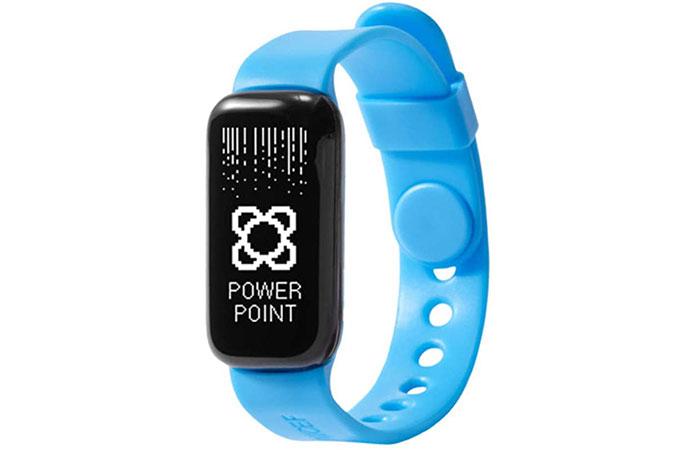 UNICEF Kid Power Band is a motivational power band for kids. It is a one-size-fits-most fitness band that tracks steps and movement. Based on your kid's physical activity, this power band unlocks therapeutic food packets that UNICEF delivers to severely malnourished children. It is specially designed for kids and easily syncs over Bluetooth. It has a waterproof IP67 design and an easy-to-read touch screen. The battery lasts up to 2 weeks when charged for an hour. The USB charging cable is included with the band. You can manage multiple bands with one device.
Pros
Tracks steps and movement
Long battery life
IP67 waterproof design
Does not track personal information
Cons
None
Price at the time of publication: $8.95
Pedometers are a great way to get your kids fit and healthy. But, there are a few factors that you need to consider before you buy one. Check them out in the buying guide below! 
Factors To Consider When Buying A Pedometer For Kids
Design
Not all pedometers are designed the same. While some are designed as fitness trackers that can be worn around the wrist, others have a clip that can be used to hook on to your kid's clothes. It is also important to make sure that the pedometer you buy is water-resistant. Kids also love colorful graphics, so look for these options in pedometers while buying.
Battery Life
Battery life is one of the most important points to consider while purchasing a pedometer. A device that has multiple features dies faster. So, opt for a pedometer that only has a few essential features. Also, look for a long battery life feature while buying.
Age–Appropriate
It is important to choose a pedometer that is suitable for your kids. Not all pedometers are suitable for all kinds of different ages. Some are more suitable for ages 8 and up while others are more suitable for kids below 8. These devices feature some interesting games, graphics, and images to motivate them.
Comfort
If you are going for the wristband design, look for a pedometer with durable and adjustable silicone straps. If your kid finds wearing anything around their wrist uncomfortable, buy a pedometer that you can hook onto their clothes or belt.
There are many benefits of using a pedometer and inculcating this habit in your kids. Check them out below. 
Benefits Of Using A Pedometer
If you want to keep your kid active, a pedometer could be a good way to motivate them. Many pedometers come with features that can record stats like steps, distance covered, and calories burned. Setting a goal in the pedometer can help your kid compete against a friend or a family member and keeps them motivated. Parents can track their children's daily activities through apps on their mobile phones. These pedometers also help parents who want to support their budding athletes. 
How Much Physical Activity Should Kids Get In a Day?
In the age of smartphones and tablets, it is really difficult to convince your kid to do some physical activity. Children above the age of 6 need at least one hour of moderate to vigorous physical activity a day, according to the Department and Health and Human Services. So, motivate them to play some sports that include some activity to keep them healthy. Running, swimming, cycling, basketball, and soccer come under moderate to vigorous exercises.
Why Trust StyleCraze?
Aditi Naskar, the author of this post, holds a diploma in health and wellness. She has used her experience and expertise to compile a list of the best pedometers for kids. As parents, you may be interested in monitoring the health parameters of your child. Our writer has come up with this list after thorough research to cater to your requirements. She has discussed the important features of each product and has provided a buying guide to help you identify the best pedometer for your child.
Frequently Asked Questions
Why are fitness trackers for kids so popular?
Setting some daily activity goals for your kids can encourage your kids to be more active. They can also help parents keep an eye on their kid's sleep pattern, heart rate, blood pressure, etc., which can be especially helpful if he/she has a health condition that needs to be monitored closely.
Are step counters good for kids?
Yes. Step counters help your child remain active and maintain a healthy life. They track your kid's calories, oxygen level, heart rate, and blood pressure while counting the number of steps they take in a day.
Should I get a fitness tracker for my child?
Yes. Buy a fitness tracker for your child to track their daily physical activities and motivate them to take exercise seriously.
Which Fitbit is the best for a 9-year-old?
The Garmin Vívofit Jr Kids Fitness/Activity Tracker is the best for a 9-year-old. It is water-resistant and connects with any smartphone. Also, the 145mm wide wristband comfortably fits the wrist of a 9-year-old kid.
How many miles are 10000 steps for a kid?
Kids take 2,000 steps to cover approximately one mile. Therefore, kids will take 10,000 steps to cover 5 miles.
How many steps should a 7-year-old do?
A 7-year-old boy should take around 15,000 steps, whereas a girl should walk 12,000 steps to maintain a healthy lifestyle.
Are cheap pedometers accurate?
Yes. Cheap or affordable pedometers like the BIGGERFIVE Fitness Tracker Watch provide accurate tracking results. Stephan Holt says "Buying a pedometer for your child is a fun way to help them stay active and healthy." To check the accuracy of the machine, set your pedometer at zero. Then walk and count 100 steps. Finally, check if the pedometer denotes the same number.
Recommended Articles