13 Best Oils For Stretch Marks And Healthy Skin
Speed up your transformation from pregnancy or weight loss by tightening your stretch marks.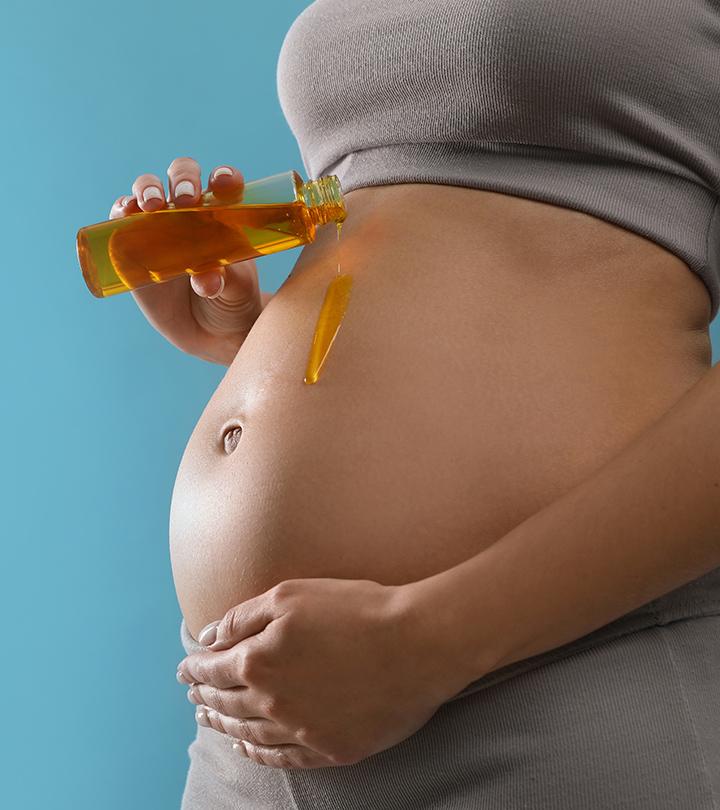 We know the struggle when it comes to searching for the best oils for stretch marks, and so we are here to help you select the best one. Stretch marks have been a consistent problem, and they stop you from wearing the dress you want and staying confident in your skin. Be it pregnancy, changing from one size to another, or a complete transformation, stretch marks will haunt you and create tiger marks on your skin. Imagine buying the perfect off-shoulder dress and not being able to wear it in fear of the thunder stripes etched on your skin. Wish there was some way to come out from the shadow and flaunt your transformed body as it is? Well, we have just what you need. While stretch marks don't go away completely, you can even it out with the help of special oils and creams crafted to cure stretch marks. These oils improve elasticity and nourish your skin with the help of cell regeneration. Want to know how to treat it the right way? Go through this list of 13 oils that will help you heal the stretch marks and keep signs of acne and scars away. So, who is ready to flaunt gorgeous skin?
What Are Stretch Marks?
Stretch marks are a type of scar that forms on our skin, when it stretches or shrinks at an unnaturally rapid pace. This can happen to regular skin if there is rapid weight gain or loss. In the case of pregnancy, your belly skin stretches to a great extent for 9 months, causing an abrupt change in collagen and elastin, and weakening your skin cells. In the deeper layers of your skin, tissue begins to tear, and is represented by stretch marks on the uppermost surface of your skin. They appear as narrow, reddish streaks across the parts of your skin that have transformed quickly.
How To Get Rid Of Stretch Marks
While stretch marks are permanent, and, like any scar, tough to get rid off completely, there are ways to reduce their appearance and help your skin heal better. The most effective stretch mark treatment is to invest in an oil for stretch marks. In fact, using a moisturizing oil that is created for stretch marks, and scars, in particular, has proven to be very useful, during pregnancy, in preventing the appearance of stretch marks. It's important to create a skin care regime for yourself, and regularly massage your skin, so that it gets a healthy dose of skin regenerating, and elasticity-promoting nutrients.
13 Best Oils For Stretch Marks To Try In 2023 That Treat Postnatal Skin
We've all heard that Bio-Oil is a sure-shot way to remedy skin blemishes and uneven tones, but here's why Bio-Oil Skincare Oil works best. Not only does it help improve the appearance of scars and stretch marks, but it also evens out your skin tone. This uniquely non-greasy and highly absorbent stretch mark oil can attribute its lightweight mixture to purcellin oil, which reduces the thickness of the oil and makes it easy to absorb quickly into the skin. It also contains vitamin A, which helps in promoting skin elasticity. What we love is that it can also double up as a handy moisturizer for your face and treat that stubborn acne you've been trying to get rid of! With lavender oil's antibacterial properties and deep hydration from rosemary oil, this is a great oil for stretch marks, clinically proven to treat everything from pregnancy stretch marks and scars to c-section cuts, surgery marks, rapid weight change stretch marks, acne, aging skin, and more. Here's an honest review of the product.
Pros
Non-comedogenic
Great for acne treatment
Promotes skin elasticity
Repairs skin damage
Safe to use during pregnancy
Cons
Fragrance may be on the stronger side
Price at the time of publication: $13.88
This deliciously blended massage oil is one of the best oils for stretch marks, mainly because it is rich in vitamin A, wheat germ, almond, and jojoba oil. Wheatgerm is a stretch mark therapy powerhouse because it promotes skin cell and tissue regeneration, ideal for post-pregnancy skin. Almond oil contains vitamin E, which deeply hydrates, soothes, and moisturizes damaged skin. On the other hand, Jojoba oil is a wonder-balm for healing wound scars because it promotes and increases skin elasticity. Weleda's Mother oil for stretch marks during pregnancy is an excellent choice of oils for stretch marks and can be used during pregnancy to prevent the formation of stretch marks.
Pros
Dermatologically tested
Keeps skin moisturized
Increases skin elasticity
Diminishes appearance of stretch marks
Cons
Contains fragrance
On the pricier side
Price at the time of publication: $16.49
Are you looking for some pampering self-indulgence with soothing aromas and moisturized healing? Light up some candles, and enjoy an incredible spa-like massage with Majestic Pure Cosmeceuticals' Frankincense Massage Oil. This stretch mark oil delivers on scar repair and rejuvenation, deep hydration, and treatment of uneven skin tones with a powerful blend of oils and plant extracts that includes frankincense, geranium, orange, lavender, lime, and grapefruit. Geranium oil is a tried and tested old favorite, as it is a skin-tightening astringent, which helps firming up loose ends left behind after pregnancy. Lavender oil helps with collagen production, while frankincense promotes skin cell regeneration, both of which aid in reducing the appearance of stretch marks.
Pros
Cruelty-free
Oil blend repairs, moisturizes, and rejuvenates skin
Ideal for stretch marks, scars, and blemishes
No artificial fragrance
Cons
Fragrance may change after a while
Price at the time of publication: $12.95
Not only does Palmer's Cocoa Butter Formula Massage Oil treat those stretch marks head-on, but what you also get in the bargain is a 48-hour moisture boost, which is incredible! This plant extract-based magic potion of stretch mark oil goodness contains collagen, elastin, moringa oil, and baobab oil. Collagen strengthens your skin's resistance to stretch marks while elastin boosts skin elasticity, flexibility and provides soft texture for your skin. Moringa oil is dense in nutrients, and antioxidants, which offer nourishment, and hydration. If this was not all, baobab oil is rich in essential fatty acids, which help your skin remain soft, supple, moisturized, and healthy. But the star of this stretch mark therapy is cocoa butter, which not only smells heavenly in the mix but also provides vitamins, flavonoids, antioxidants, and polyphenols, all of which fortify your skin against free radicals. Here's a video featuring a detailed review of the product.
Pros
48-hour moisture boost
Plant-based ingredients
Free of mineral oil, parabens, and phthalates
Dermatologist approved
Improves skin elasticity
Reduces itchiness
Fragrance-free
Cons
On the pricier side
Texture may feel thick and oily
Price at the time of publication: $10.54
This stretch mark oil pulls all the stops when it comes to reducing the appearance of stretch marks while leaving you feeling soothed, without that greasy, sticky feeling after a massage. The Honeyskin Bio-Pure Skin Oil For Stretch Marks And Scars is a lightweight formula, with no harmful ingredients, that gets quickly absorbed into your skin without a fuss! Rosehip Seed Oil works as a great preventative measure for severe stretch marks, especially marks during pregnancy, supported by sea buckthorn oil, containing vitamins E for skin repair and A for cell regeneration. It also contains grape seed oil, an astringent that helps tighten your skin and keep it toned. This is an overall skin restoration spa treatment that is ideal for sensitive skin, so massage away fearlessly!
Pros
Improves moisture and collagen levels
Leaves skin smooth and soft
Helps prevent skin cell damage and premature ageing
Fast absorbing
Hypoallergenic
Suitable for sensitive skin
Cons
May not be as effective with stretch marks and scars
Price at the time of publication: $22.49
Often, one is hesitant to use skincare products during pregnancy to be exposed to synthetic ingredients and chemicals. Keeping this in mind, Provence Beauty puts together a special elixir that would help keep your belly skin moisturized, elastic, supple, and strong with harmful additives. This resulted in reduced stretch marks during pregnancy and healthier postnatal skin. It's perfectly safe to use during pregnancy months, hypoallergenic, and for sensitive skin. What's even more appealing about this stretch mark oil is that it is easy to apply and fast-absorbing. The botanical blend of plant extract and oil such as sweet almond oil, olive oil, and argan oil relieves itchiness and inflammations for soft and soothed skin. The ingredients also promote skin cell regeneration and elasticity.
Pros
Improves skin elasticity
Regenerates skin cells
Plant-based ingredients
Lightweight and easily absorbent
Cruelty-free
Free of parabens, phthalates, and alcohols
Cons
May not be as effective on all parts of the body
May leave aftershine
Price at the time of publication: $17.95
Mustela's Maternité Stretch Marks Oil is the best friend who holds your hand along the way from the very first month of your pregnancy right up till postnatal care. This luxurious and fast-absorbing stretch mark therapy solution has been clinically proven to reduce the appearance of stretch marks. Keeping expecting mothers in mind, this stretch mark oil seeks to ease the burden and stress of pregnancy by giving your skin some extra love and TLC. The 100% plant extract-based ingredients include maracuja or passion fruit oil, which help promote and maintain skin elasticity. Then there's avocado oil, whose essential fatty acids help keep your skin hydrolipidic film. This is a must-have for expecting mothers, who seek reassuring support for their bodies from day 1.
Pros
Fragrance-free
Plant-based ingredients
EWG-verified
Fast absorbing
Breastfeeding compatible
Cons
May take longer than expected to show results
Price at the time of publication: $20
When you're looking for a simple and quick solution for skincare and being overwhelmed, try the ReTone Body Oil. This baby is easy to use, and it contains a hamper of essential oils, plant extracts, vitamins E and C, and gotu kola, which helps produce collagen, and prevents sagging. Use this stretch mark oil for no-fuss application, prevention, reduction of the appearance of stretch marks, and deep hydration of dry skin.
Pros
Prevents, reduces, and treats stretch marks and ageing
Non-greasy and quick absorbing
Easy to use
Supports skin strength, elasticity, and firmness
Cons
May contain a strong fragrance
May not be suitable for sensitive skin
Price at the time of publication: $17.75
The vegan formula uses its star performer bio sacha inchi oil, an Amazonian native of one of the richest sources of omegas 3, 6, and 9, proteins, and antioxidants. Not only does this magic formula improve skin elasticity and provide hydration, but it also heals sunburns, uneven skin tones, eczematic dryness, and scarring, proving to be a skincare superhero! This 100% natural stretch mark oil has been sustainably and ethically sourced, without any harmful ingredients like minerals, petrochemicals, sulfates, and synthetic fragrances.
Pros
100% plant-based oils
No mineral oils
Ethically and sustainably-grown ingredients
Nourishes skin cells with fatty acids
Prevents and treats stretch marks, redness, and irritated skin
Treats chicken pox scars, ageing, and sunburns
Cons
Price at the time of publication: $34
What we love about MotherLove's Pregnant Belly Oil is that this stretch mark oil doesn't work wonders only on your belly marks but can also be used all over your body! The naturally absorbing apricot oil is easily absorbed into the skin, making this plant extract-based formula a non-greasy, lightweight, and effective stretch mark therapy solution for stretch marks during pregnancy, rapid weight gain, and skin care maintenance. Rosehip seed oil helps promote the production of collagen, helping restore your tired and weathered postnatal skin. Spread this stretch mark oil all over your body — breasts, thighs, hips, waist, calves, wherever you need it and feel the plant-based ingredients gently soothe and moisturize your skin.
Pros
Vegan and cruelty-free
Promotes collagen production
Can use all over body
Produced in solar-power, zero-waste facility
Helps prevent stretch marks
Deeply moisturizes skin
Cons
Fragrance may change after some time
On the pricier side
Price at the time of publication: $19.99
The new and improved Body Boost Stretch Mark Oil is finally here! This lavender vanilla stretch mark prevention oil is a self-love gift for stretch marks, dryness, scars, uneven skin tones, and textures. The all-natural plant extract-based ingredients, including oils such as jojoba, sesame, wheat germ, grape seed extract, and sunflower, ensure deep hydration, increased skin elasticity, collagen production, skin cell regeneration, and maintenance of moisture levels. Vitamin E provides the antioxidant quotient to this magical mix, promoting anti-aging skin regeneration. What's even better is that it has been clinically tested for allergies and is proven to be safe for sensitive skin and nursing mothers and their babies.
Pros
Soothes dry, itchy skin
Safe for pregnancy and nursing
Fast absorbing and non-greasy
Linoleic acid boosts collagen
Clinically tested for allergy
Cons
Price at the time of publication: $16
There is little to nothing that can go wrong when you have pure, unadulterated jojoba oil by your side. Lighter than other oils and serums, Nova Lucia's 100% Pure & Natural Jojoba Oil absorbs quickly into your skin. It's a wonder oil that treats more than just one skin concern like stretch marks. It also treats acne, scars, wrinkles, fine lines, dryness, rashes, and sun damage. Talk about an all-rounder skin massage stretch mark therapy session! It is considered safe to use during pregnancy and thus helps prevent the formation and subsequent appearance of stretch marks. Jojoba oil is reputedly packed with antioxidants and nutrients that protect your skin from free radicals, the wear and tear of expanding bellies and bodies, and dehydration. And while you're pampering your skin, you can even use the oil for your hair, nails, and even lips!
Pros
Treats acne scars, spots, fine lines, rashes, and wrinkles
Highly absorbant and non-greasy
Can also be used for hair and beards
Safe for use during pregnancy
Organically sourced
Cons
On the pricier side
May not produce visible results instantly
Price at the time of publication: $12.95
The Clarins Tonic Body Treatment Oil is a lightweight oil formulated with beneficial ingredients to target stretch marks. It is made with 100% pure plant extracts, making it extremely gentle and suitable for all skin types. The mint oil, hazelnut oil, and rosemary oil improve skin elasticity to tone and firm your skin, reducing the appearance of stretch marks. It is a dermatologically tested oil that is free from chemical preservatives or artificial fragrances and contains 40% organic ingredients.
Pros
100% naturally derived
Recyclable packaging
Dermatologically tested
Fragrance-free
Free of coloring agents
Fast absorbing
Cons
None
Price at the time of publication: $70
Before you buy a stretch mark oil, have a look at our buying guide to help you choose your best oil for stretch marks.
How To Choose The Best Oils For Stretch Marks
Choose an oil that is hypoallergenic, and clinically tested for sensitive skin. Look for ingredients that deeply hydrate such as hyaluronic acid, aloe vera, and vitamin E. Argan and rosehip oils are also wonderful for stretch mark oils as they improve skin elasticity and help skin get firmer and softer. As always, stay clear of harmful chemicals such as parabens and sulfates.
Choose a hypoallergenic oil that is clinically tested for sensitive skin. Look for ingredients that deeply hydrate, such as hyaluronic acid, aloe vera, and vitamin E. Argan and rosehip oils are also remarkable for stretch marks as they improve skin elasticity and help the skin get firmer and softer. As always, stay clear of harmful chemicals such as parabens and sulfates.
Look for ingredients like argan oil that support, promote and treat skin elasticity. Also, you definitely want oils that help treat uneven skin tones, to do away with those darker streaks of stretched skin during and post-pregnancy. Lavender, patchouli, and neroli oils are great picks for skin lightening.
How To Use Oils For Stretch Marks
Step 1: Scoop or pour the stretch mark oil or lotion into your hands.
Step 2: Spread it onto your bump, or skin, where you have most stretch marks, and irritation, including your back, and hips.
Step 3: The best time to start would be around the 4th month of pregnancy till the 6th month.
Step 4: Avoid the nipple area, if you are breastfeeding.
Tip: Use consistently, twice a day for best results.
Why Trust StyleCraze?
Kirtana Divakar, the author, is a skin care aficionado and understands the struggles that women face with stretch marks after pregnancy, weight loss, etc. She has compiled the above list of the best oils for stretch marks after surveying tons of products available on the market and analyzing numerous reviews posted online. These oils improve skin elasticity and nourish it by way of cell regeneration.
Frequently Asked Questions
How long does it take for stretch marks to fade?
Stretch marks start fading on their own after 6-12 months, and while your skin color may even out over time, the textural changes brought on by pregnancy-induced stretch marks are likely to remain.
Does oil actually fade stretch marks?
Stretch marks are a result of literally deep tearing underneath the skin, so it's a little difficult to assume that they are easy to get rid of. While no treatment can fully fade stretch marks, they can be lessened with the use of stretch mark oils that contain ingredients like retinoids, hyaluronic acid, natural oils and aloe vera.
Does oil massage remove stretch marks?
Studies have shown that massages with stretch mark oils do help in reducing the appearance of stretch marks, because massages help break down scar tissue that forms underneath your skin and increase skin elasticity. Using oils during pregnancy can help prevent the formation of stretch marks.
Can you use vitamin E oil for stretch marks?
Mixing vitamin E with essential oils to treat stretch marks is definitely a good idea. Vitamin E is an antioxidant and is known to help with skin regeneration and fighting prematurely ageing skin.
Do stretch marks fade with Bio oil?
Stretch marks can not be completely removed by any product. So while Bio-Oil cannot guarantee the removal of stretch marks, applying Bio-Oil increases skin elasticity and can help reduce the appearance of stretch marks.
Does olive oil help with stretch marks?
Olive oil is known for its ability to deeply hydrate and moisturize your skin, but it is not likely to prevent stretch marks. What olive oil does help with is skin lightening, and can help lighten the appearance of stretch marks, while keeping your skin firm and healthy.
Recommended Articles