9 Best Hair Mascaras To Cover Gray Hair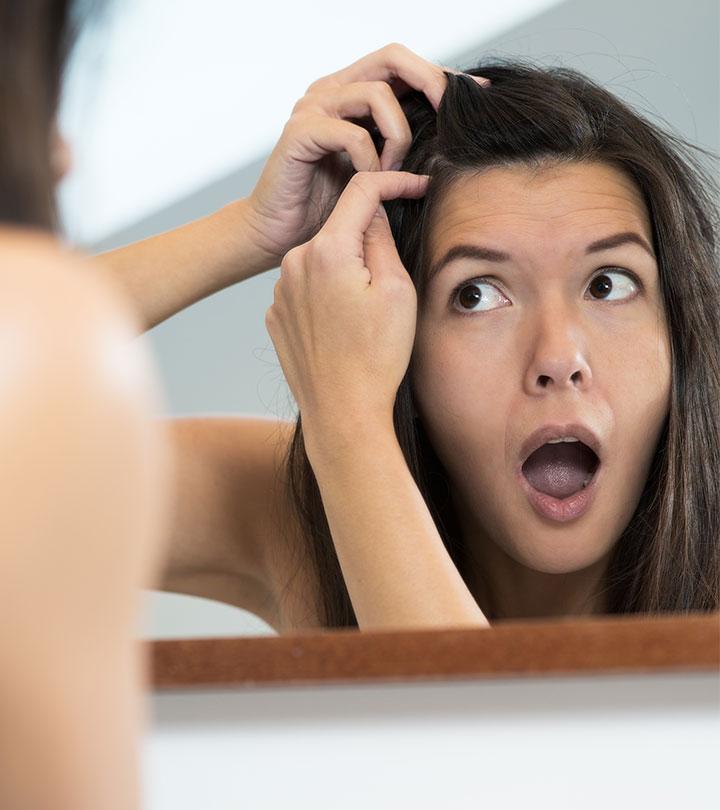 Wondering how to attend that big party with those annoying gray strands that make you feel old? Don't worry, here's a product that can take your blues away by covering those pesky grays – hair mascaras! Yes, you read that right! Just like the ones for your eyelashes, these mascaras are designed to brush out each strand and pigment it with your preferred shade. It's that easy! Want to know the best hair mascaras on the market right now? Check out the list below.
Top 9 Hair Mascaras To Cover Gray Hair
Cover your gray hair with this pigmented hair mascara. This temporary hair color comes in shades ranging from black to blonde. You can even blend different shades to match your natural hair color. This product is a popular choice among theater artists. It not only covers grays but also revives dull highlights. It lasts until you wash it out with shampoo. You can even use it on the eyebrows and eyelashes.
Pros
A little product goes a long way
Not messy
Dries quickly
Travel-size packaging
Cons
None
Similar Products:
If you want a hair root touch-up product that does not damage your hair, Mineral Fusion Gray Root Concealer is the product for you. It is infused with argan oil that helps in the smooth application of the product. It also contains vitamin E, aloe vera juice, rose extracts, and green tea extracts that nourish your hair. This lightweight formula blends into your natural hair color effortlessly. It covers grays upon first application and dries within two minutes.
Pros
Free of parabens, gluten, and sulfates
Cruelty-free and vegan
Dries quickly
A little product goes a long way
Cons
Smears onto other sections of hair
Similar Products:
Infinity Instant Hair Color Touch Up is formulated to minimize the appearance of grays in your hair. It can be used to create temporary highlights that wash out easily. It covers gray hair instantly with a natural finish. The rich antioxidants in it ensure your hair stays nourished and healthy. It can easily be applied to your hairline, sideburns, new growth, and gray strands. It blends seamlessly with your natural hair color.
Pros
Even finish
A little product goes a long way
Dries quickly
Extremely pigmented
Cons
Certain colors look different in reality than how they look online.
Similar Products:
Cover your gray hair instantly with Cover Your Gray Brush-In Wand that helps you target specific areas of your hair. It is the perfect cover-up for sideburns and scattered gray hair. This product is available in eight shades that are compatible with all hair colors. It lasts all day and washes out with shampoo. It has the perfect consistency and does not clump. This super pigmented hair mascara is excellent for long hair.
Pros
Easy to apply
Does not stain
Spreads evenly
Can be used on dry and wet hair
Cons
Similar Products:
This hair mascara covers gray strands in an instant! It is rich in antioxidants, vitamin E, panthenol, and natural waxes. This gray hair touch-up formula is available in six natural-looking shades. It is great for covering up gray hair in between expensive salon visits. It promises to give you full coverage until the next time you wash your hair. It also blends seamlessly to match your hair color.
Pros
Free of parabens, sulfates, and glycols
Easy-to-use brush
Does not clump
Each bottle lasts up to 3 to 4 months
Cons
Similar Products:
Kiss Brush-In Color Hair Color Touch-Up is perfect for covering roots and scattered gray strands temporarily. Its mascara wand allows you to coat each strand to achieve a natural look. This super-pigmented hair mascara refreshes any spots where your color has faded. It contains jojoba oil that nourishes and strengthens your hair.
Pros
Does not clump up hair
Washes out easily
Looks natural
Affordable
Cons
Not very effective at covering up grays
Rashell Masc-A-Gray Hair Mascara is perfect for covering up discolored roots and scattered gray strands. This hair mascara comes in shades like black, golden blonde, copper, chestnut, and auburn. It is super easy and dries quickly. The color remains intact until shampooed out.
Pros
Lightweight
Mess-free
Shades can be mixed to match your hair color
Does not make your hair sticky
Cons
This 2-in-1 mascara wand and sponge does double the work in covering your gray strands. This two-sided wand is perfect for scattered gray, roots, and sideburns. It especially helps in covering your roots with precision. Available in six natural-looking shades, this dual-tip formula is ideal for those who are always on-the-go. It does not clump your hair and lasts all day without smudging.
Pros
Suitable for thick hair
Blends easily
Perfect for last-minute touch-up
Does not drip
Cons
Touchback Instant Root Touch-Up actually bonds to your hair and blends seamlessly to create a natural look. Its patented formula is free of harsh chemicals, ammonia, and peroxide. It gently conditions your hair while coloring it. The applicator provides precise application on the targeted areas. The color stays put and does not rub off even when brushing your hair. This hair mascara is available in three natural-looking shades.
Pros
Gentle formula
Dries in a minute
Does not stain or smear
Highly pigmented
Cons
Shades appear dark in real life
Now that you know about the best hair mascaras, let's talk about how to use this product the right way.
How To Apply Hair Mascara
Step 1: Brush your hair thoroughly to remove all knots and tangles.
Step 2: Divide your hair into sections and start applying the mascara from the roots, working your way towards the ends. You can repeat this step to darken the color.
Step 3: If you want to add highlights, pick the sections of hair that would naturally be hit by light, and apply the mascara to them uniformly.
Step 4: Dry your hair with a blow dryer.
Say goodbye to gray hair with these amazing products. Pick your favorite hair mascara, try it out, and let us know about your experience in the comments section below!