20 Best Products To Get Rid Of Double Chin
These effective skincare products can tighten the neck skin over time.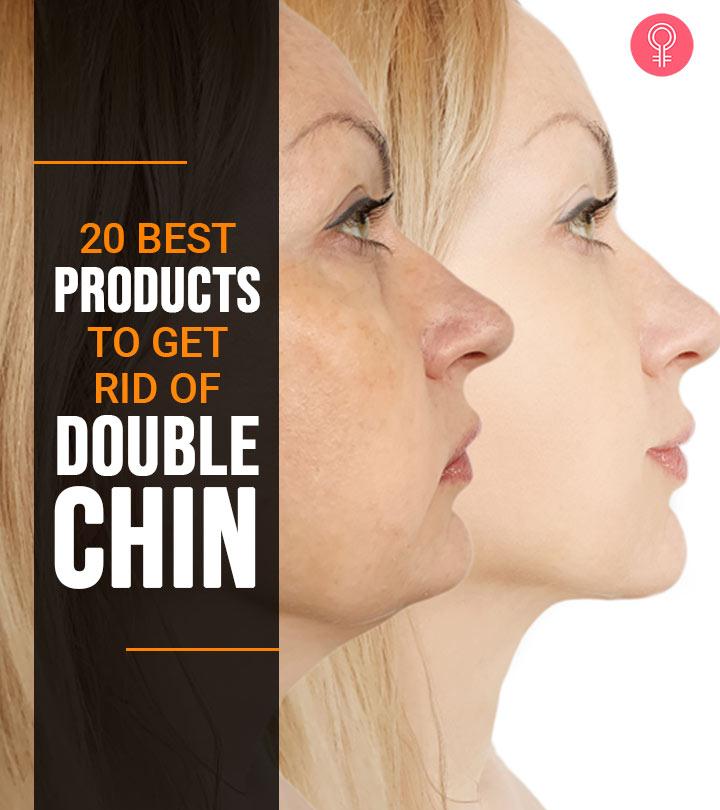 Gaining a double chin due to weight gain, thyroid, and other medical conditions is perfectly normal. However, many are insecure and wish to get rid of it quickly and do so by looking for the best double chin products. These products are generally available in a variety of forms, such as creams, bands, maks, and pills that supposedly help to get rid of your double chin. Ideally, to get rid of your double chin, you should exercise and eat healthy food! Not only will you lose your double chin, but you may also gain some muscle and lose a decent amount of weight and probably get into the best shape of your life or fall in love with fitness. However, for some reason, if you can't work out and are looking for quick fixes, we've got you covered. We've curated a list of the 20 best double chin products you can buy!

20 Best Products That Claim To Eliminate Double Chin
The StriVectin TL Advanced Tightening Neck Cream visibly tightens and firms the neck and reduces horizontal necklines. The cream also corrects uneven tone and texture on the décolleté. The neck is more delicate than your face and prone to dryness, thinning, and sagging. StriVectin helps you tackle these problems. The cream has a Gravity-CF lifting complex that improves skin elasticity. It also provides a visible lift and smoothens any sagging. The cream also contains a botanically derived brightening complex that helps even out the skin tone on the décolleté. Check out this video for a detailed review of the StriVectin TL Advanced Tightening Neck Cream.
Pros
Visibly tightens and firms the neck
Reduces the appearance of horizontal necklines
Corrects uneven tone of the décolleté
Improves skin's elasticity
Moisturizing
Cons
May cause an allergic reaction.
Price at the time of publication: $95.0
The Womaness Let's Neck instantly tightens and smoothens your skin. It is infused with seven types of sodium hyaluronate that moisturizes your skin and enhances its elasticity. It is also formulated with pepha-tight microalgae extract that firms your skin and protects it from oxidative stress and emblica that brightens your skin and reduces aging signs. This neck cream comes with a cooling roller applicator that gently massages your neck and decollete in an upward motion, lifting its appearance. Use this neck cream daily to achieve smooth and firm skin.
Pros
Easy to use
Reduces aging signs
Prevents oxidative stress
Absorbs quickly
Value for money
Gluten-free
Soy-free
Nut-free
Vegan
Hormone-free
Paraben-free
Phthalate-free
Sulfate-free
Formaldehyde-free
Cons
Price at the time of publication: $24.9
The Arvesa Neck Firming Cream has a powerful blend of retinol, collagen, shea butter, rice protein, and vitamin E. It firms and lifts the sagging neck, decollete, and also reduces the double chin. Retinol and collagen repairs skin, smoothes wrinkles, and tightens loose skin. Additionally, it also nourishes and hydrates the skin, giving your skin a youthful and glowing appearance. This lightweight formula is quickly absorbed into the skin and suits all skin types.
Pros
 Lightweight
 Absorbed quickly
 Non-greasy
 Suits all skin types
 Cruelty-free
 GMO-free
Cons
None
Price at the time of publication: $9.99
The SBLA Sculpting Wand uses macro-sphere technology to target and firm the thinnest areas of your skin that is prone to aging. Its bio-mimicking technology tightens your skin, promotes collagen production, and lifts sagging skin. This neck-sculpting tool comes in a practical pump tube that releases a measured dose of serum for clean and easy application on your neck, chin, and decollete. This serum is infused with hyaluronic acid complex, peptide complex, caffeine, and acetyl glucosamine that brighten up your skin, reverse sun damage, and reduces fine lines and wrinkles.
Pros
Ideal for all skin types
Promotes collagen production
Reduces fine lines and wrinkles
Brightens the skin
Gluten-free
Paraben-free
Sulfate-free
Cruelty-free
Cons
Pro Tip
Price at the time of publication: $89
The Doctorcos Silicone Skin Mask is made of 100% medical silicone reusable material. It features 22 torque bands that are highly effective for full-face lifting. The 3D line method rearranges 11 facial muscles to promote symmetry balance and tighten sagging skin. The mask boosts blood circulation and stimulates unused muscles in a direction that lifts the skin, promoting skin elasticity and developing smooth facial lines. Apart from pulling neck muscles and eliminating double chin, this mask effectively reduces forehead wrinkles, smoothens muscles around your eyes, and lifts your lips and cheeks. This ultra-adherent mask has straps to achieve the required tightening effect for a perfect face-lifting experience.
Pros
Reusable
Promotes skin elasticity
Reduces forehead lines
Minimizes wrinkles
Value for money
Cons
Not breathable
The clasps might bother the back of your head.
Price at the time of publication: $59
The VENeffect Firming Neck & Decollete Cream is designed to target key areas of the neck. It contains plant-based phytoestrogens that improve the brightness and elasticity of the skin. The cream also contains peptides that reduce the depth of deeper horizontal lines. Regular use of the cream will make your skin firmer and even-toned. The cream contains ingredients like grape seed, red clover, soy extracts, and resveratrol that stimulate collagen and hyaluronic acid that helps in reversing the signs of aging. The cream restores the skin's vitality and glow. It is non-comedogenic and free of parabens, fragrance, and gluten.
Pros
Makes the skin brighter
Reduces the appearance of lines and wrinkles
Fragrance-free
Hypoallergenic
Non-comedogenic
Gluten-free
Paraben-free
Cons
None
Price at the time of publication: $155.0
The Orlane Paris Neck Firming Serum is designed to protect the neck and décolleté. It visibly smooths, tightens, and hydrates the neck and décolleté area. This firming and moisturizing serum also protects the skin against free radicals and helps prevent and combat slackening. It is non-oily and will not stain your clothes.
Pros
Non-oily
Makes the skin soft
Protects against free radicals
Cons
None
Price at the time of publication: $120.0
The Meaningful Beauty Firming Chest And Neck Cream infuses the skin with hyaluronic acid. This helps improve skin elasticity and texture. The cream contains an exclusive microencapsulated melon complex that protects the delicate skin around the chest and neck areas and makes it supple and youthful. The cream also contains vitamin C and licorice extract that help even out the skin tone.
Pros
Prevents premature aging
Evens out the skin tone
Protects delicate skin
Makes the skin supple
Cons
None
Price at the time of publication: $56.0
The Activscience Triple Firming Neck Cream has an advanced formula containing retinol, aloe vera, collagen, and hyaluronic acid that firms, lifts, and repairs the skin. It boosts elastin and collagen production of the skin to strengthen elasticity for reducing signs of aging, such as wrinkles and fine lines, double chin, and uneven texture. The antioxidants hydrate, moisturize, and rejuvenate the skin's appearance. In addition, it reduces crepey skin for improved even skin.
Pros
 Suits all skin types
 Paraben-free
 Sulfate-free
 Silicone-free
 Silicone-free
 Artificial fragrance-free
 Mineral oil-free
 Cruelty-free
Cons
None
Price at the time of publication: $22.48
The BelleCote Paris Triple Firming Neck Cream is super-absorbent and filled with collagen peptides, seaweed, ginseng, and nutrient-rich essential oils. All these ingredients help in fighting the signs of aging and restore vitality to the neck. The Triple Active Marine Collagen from red sea algae delivers round-the-clock hydration and firms the neck and décolleté. Ginseng stimulates blood flow and keeps the skin around the neck firm. Rosehip and jojoba oils make your skin soft and resilient. This cream makes your skin healthy and youthful-looking.
Pros
Moisturizes the skin
Easily absorbed
Reduces hyperpigmentation
Makes the skin soft and healthy
Cons
None
Price at the time of publication: $88.0
The LipFix Intense Lifting Double Layer Mask reduces sagging around the neck and helps in shaping and lifting the face line. The patented formula contains ingredients like hyaluronic acid, adenosine, caffeine, hydrolyzed collagen, hydrolyzed elastin, lecithin, ceramides, and extracts of gingko biloba, ivy, sacred lotus, baikal skullcap, and peonia root. These powerful ingredients not only improve the firmness of the skin around the neck but also make it smooth, supple, and radiant. The mask also helps fight the signs of aging by reducing fine lines and wrinkles.
Pros
Provides long-lasting hydration
Reduces fine lines and wrinkles
Makes the skin smoother
Imparts radiance
Cons
Not for sensitive skin.
May cause breakouts.
Price at the time of publication: $29.87
The Swisskolab V-Line Lifting Mask is an anti-aging mask that imparts a tighter and youthful appearance to your chin and neck. The contour mask technology helps tighten sagging skin and combat the signs of aging, like fine lines and wrinkles. The double chin reducer mask nourishes and moisturizes the skin around the neck. It is hypoallergenic, making it suitable for all skin types. It can be used by both men and women. Check out the review of the Swissokolab Intensive V-Line Lifting Mask for more information.
Pros
Reduces fine lines and wrinkles
Moisturizing
Hypoallergenic
Suitable for all skin types
Easy to use
Cons
Price at the time of publication: $14.94
The Fernida Face Slimming Strap is made from soft and breathable material that is skin-friendly. It has an adjustable design and is hypoallergenic and easy to use. The strap tightens the skin around the neck and improves facial wrinkles to the maximum extent. It also enhances skin elasticity. It is washable and reusable.
Pros
Breathable material
Skin-friendly
Hypoallergenic
Easy to use
Adjustable
Reusable
Cons
Price at the time of publication: $13.99
The Swissokolab Reusable Lifting Bandage uses the contour mask technology to tighten sagging skin and eliminate wrinkles and fine lines. It firms your neck and tightens your chin. This V-line mask is made of breathable, hypoallergenic material that is safe for sensitive skin. It comes in adjustable sizes suitable for men and women and has wide clasps for comfortable wearing.
Pros
Breathable
Hypoallergenic
Suitable for sensitive skin
Suitable for men and women
Eliminates wrinkles and fine lines
Comfortable
Easy to wear
Sturdy
Cons
Not suitable for large faces
Price at the time of publication: $9.74
The Jawrize Jaw Exerciser is made from food-grade eco-friendly silicone. The chewing position of this exerciser is also tested and determined by dental specialists. It has a gapped structure that balances your bite and targets your jaw muscles. With regular chewing of this exerciser with your back tooth, you will notice a sharper jawline and tighter skin. It promotes facial blood circulation and lifts your saggy skin. Additionally, this non-toxic neck shaper eliminates wrinkles and fine lines and reduces stress.
Pros
Durable
Easy to clean
Pocket-size
Safe for teeth
Affordable
Promotes blood circulation
Lifts saggy skin
Eliminates aging signs
BPA-free
Cons
None
The PY Neckline Slimmer is a great resistant toning system for the neckline. The device tightens and tones the neck, cheek, and chin. It firms the underlying muscles of the neck and gives a dramatic lift. The slimmer comes with three power coils, an elegant carry bag, and an instruction manual.
Pros
Easy to use
3 levels of resistance
Cons
Price at the time of publication: $10.99
The Jawzrsize is designed to give you a lifted and contoured face. It trains the strongest muscle of the body – the masseter muscle – to reduce double chin. Using it can activate 57+ muscles in the face and increase blood flow and oxygenation. This leaves your face and neck visibly toned and youthful. The product works by increasing metabolism, which may help you lose weight. It can also relieve stress and tension in the mouth and face. It is affordable and made from food-grade BPA-free silicone.
Pros
Made from food-grade BPA-free silicone
Affordable
Easy to use
Cons
Price at the time of publication: $24.99
The Yeamons 2 in 1 Face Massager comes with a 3D roller and a T-shaped electric massage device. The 3D roller features a surface diamond-grade V design. It stimulates your cuticular, corium, and muscle layers and relaxes your body while making your skin look younger. The T-shaped device is a 360° tool that lifts your skin, brightens your face, and offers your face a sculpted look. Additionally, both devices are waterproof and easy to clean.
Pros
Waterproof
Easy to clean
Eliminates wrinkles
Easy to handle
Relaxes your body
Depuffs your skin
Cons
Price at the time of publication: $19.99
The TMISHION Electric Facial Massage Pad helps tighten your face and enhance facial contours. It has 6 working modes and 10 intensity levels, which can be adjusted based on your preference. It is made from carbon fiber that is non-toxic and durable. With regular use, this massager can help tighten sagging skin and reduce double chin and fine lines.
Pros
Made from non-toxic carbon fiber
Durable
Has 6 modes and 10 intensity levels
Cons
Price at the time of publication: $36.78
Doppeltree's All Natural Rejuvenating V-Line Lifting Mask contains aloe vera extract, caffeine, hyaluronic acid, and collagen. These ingredients combine together to visibly lift, firm, and tighten the lower part of your face. It is an anti-aging mask that promotes skin elasticity and works well on both men and women. The mask is made with a hydrogel material and microfiber that is comfortable to wear and helps in stimulating blood circulation. This mask is made with organic ingredients and is dermatologist-tested and cruelty-free.
Pros
Non-toxic
Comfortable to wear
Cruelty-free
Sulfate-free
Paraben-free
Formaldehyde-free
Dermatologist-tested
Cons
None
Price at the time of publication: $16.95
A double chin can be embarrassing at times; this happens with weight gain or when the skin starts losing its elasticity. Sometimes exercising might not give desired results and it may seem impossible to get rid of it. There are multiple products available in the market to get rid of double chin and it might be difficult to find the right one for yourself. Go through the points mentioned below to help yourself in buying the right product.
What To Consider When Buying Products To Get Rid Of Double Chin
Ingredients:Look for the ingredients like peptides, and vitamin C that boosts collagen while making your skin firmer and increasing elasticity. Also, check other ingredients like retinol, and hyaluronic acid which reduces fine lines, and antioxidants that offer immense hydration and uplift the sagging of the skin under your neck. The combination of all these ingredients boosts the regeneration of skin cells allowing your skin to appear young, tight, and toned when applied correctly.
Product Type: Do check your requirement before buying a product to reduce double chin. There are battery-operated products like neckline slimmers which massage the neckline and tone the muscles of your neck and chin but they are slightly higher in price. Lifting masks are also available which are enriched with collagen, plant extracts, and amino acids which increase firmness and elasticity. These masks are easy to use and offer quick results. You can also choose slimming straps that are made from breathable material which are skin-friendly and reusable.
Gentle Formulation:  If you have sensitive skin, choose a hypoallergenic product that hasa low chance of causing allergy. They are formulated to be gentle on your skin and can be applied liberally without any side effects. Choose gentle formulations that are made with non-toxic ingredients. Do check the ingredients list if you are buying creams and masks and avoid chemicals like paraben, silicon, mineral oil, sulfate, and coal tar.
Cost And Reviews: Cost is another parameter to be considered while buying any product. Sometimes, less expensive products offer excellent results. Also, check the product reviews online from other customers who have used the products you are aiming to purchase. Choose skin care products to reduce the appearance of your double chin after understanding how they have fared in the market.
Along with the products mentioned in the article, there are various other ways to get rid of a double chin. These are mentioned below.
How Do You Get Rid Of A Double Chin?
Massage – Massaging your face daily can also help you in getting rid of a double chin. You can massage your upper neck and jaw with olive oil and cocoa butter to reduce double chin.
Makeup – If you are looking for a quick fix, you can use makeup to camouflage a double chin. Try these makeup and dressing tricks to hide your double chin.
Why Trust StyleCraze?
After conducting thorough research, we have compiled this list of the best products to reduce double chin. The list includes firming creams, lifting masks, and other products that can help keep your neck firm and shape the chin line. We have gone through user feedback and product reviews to understand the efficacy of the products. Based on our research, we shortlisted only the best products available on the market.
Frequently Asked Questions
Does wearing a chin strap help a double chin?
Regular use of chin strap can help contour and sculpt your neck and chin areas. With regular use, a chin strap can help in reducing double chin.
Do double chin exercises work?
Yes. Doing double chin exercises strictly and regularly can help in reducing your double chin.
How long does it take to get rid of a double chin?
If you follow a proper diet and do regular chin reducing exercises, you might start seeing results within a few weeks.
Can chewing gum reduce my double chin?
Chewing gum may help in reducing facial fat, which, in turn, may reduce double chin.
What causes a double chin?
The most common reason for a double chin to occur is excess fat. However, genetics also plays a role here – if you are geneticallly predisposed, you can have a double chin even if you are of a lean built.
Why do I have a double chin even though I'm skinny?
The reason a skinny person could have a double chin may be because genetically their body has the tendency to store any extra fat around the face or jaw.
Will my double chin go away if I lose weight?
Shedding a few extra kilos can definitely help reduce double chin. A healthy lifestyle with consistency in your workout routine can give you long-lasting results.
Does drinking water make the chin slimmer?
Yes. When your body is not hydrated it retains salts causing water retention and weight gain. If you stay hydrated, you can avoid water retention and the resulting weight gain which, in turn, will also help reduce the double chin.
Recommended Articles: