10 Best Products To Get Rid Of Double Chin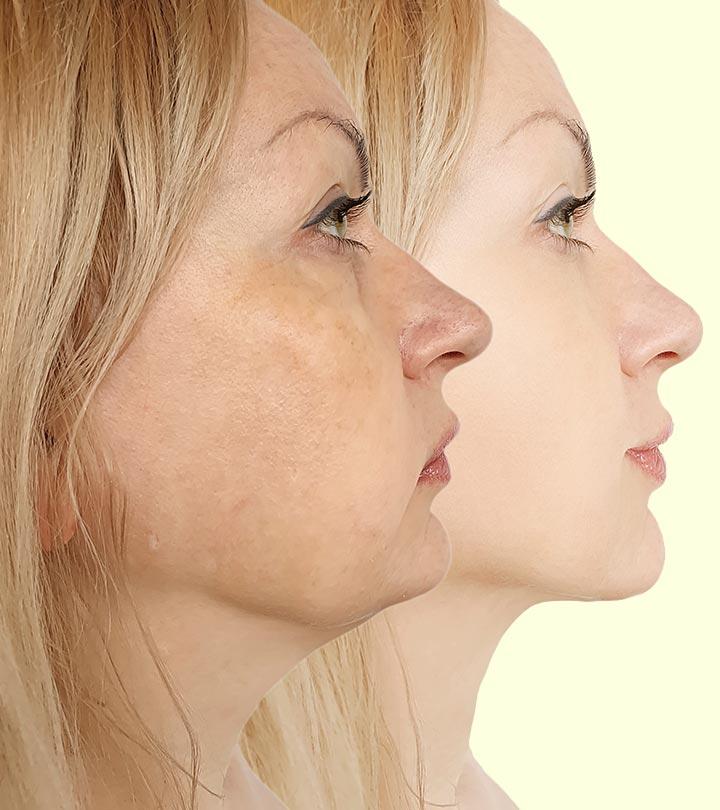 It feels good to have a companion with whom you can share your life. But when it comes to your chin, a duo is a downright no! While chubby cheeks are cute and adorable, a chubby chin is not. It can make you conscious, especially while wearing T-shirts or tops with low necklines.
Factors like thyroid, bad posture, obesity, or genetics play a major role in causing a double chin. If you have a double chin in your early 20s, it can be a sign of an unhealthy lifestyle. Besides the 10 best products that we have curated to help you get rid of double chin, you also need to follow simple home remedies and exercises to lose the unwanted fat in the quickest way possible.
We have rounded up a list of double chin reducing machines, exercising tools, masks, bands, and creams, all of which are the best on the market. Check them out!
Top 10 Products That Claim To Eliminate Double Chin
The chin straps for double chin sculpts and firms the chin and neck area. It reduces fine lines and adds perfect tone and texture to your skin. The unique gel-infused sheet is packed with a potent blend of collagen, caffeine, vitamins, and other botanical extracts that promote structural lift and firmness. With regular use, it smoothens fine lines and wrinkles and enhances your skin's elasticity. 
Pros
Dismisses double chin and saggy skin
Defines your jawline
Rich in antioxidants
Cons
None
Jawzrsize is designed to give you a stronger and leaner jawline and neckline. It increases blood circulation and oxygenation to the face, which makes your skin younger-looking. All you need to do is simply bite down the mouthpiece repetitively to put all the 57 muscles in your face and neck to work. This way, your neck, and jaw are chiseled and contoured to perfection.
Pros
Activates all the face muscles
Durable
Requires 20 minutes of use a day
Has 20 pounds of resistance 
Cons
None
Similar Products

This double chin cream is formulated to improve your skin elasticity and provide visible lift for more youthful-looking skin. The Gravitate-CF lifting complex helps smoothen the appearance of fine lines and sagginess. The patented NIA-114 technology strengthens the skin and reverses the effect of gravity to make your skin more defined and toned. StriVectin double chin removal cream tightening the skin, this cream also contains a botanically extracted brightening complex that helps even out the skin tone.
Pros
Premium quality ingredients
Delivers quick results
Brightens your skin
The skin feels soft and hydrated. 
Cons
Similar Products

This chin exercise is the perfect device for a  good neck and jawline workout. It tones the facial muscles effectively and firms loose skin. The device uses three-level coil resistance to tighten and lift saggy skin around the chin. Two minutes of jaw flex exercise per day can give you the perfectly toned chin.
Pros
Travel-friendly
Delivers effective results within weeks
Has low, medium, and high resistance levels 
Cons
Similar Products

This facial lifting belt is designed to reduce wrinkles, fine lines, and a sagging neckline. It reshapes your facial contours by tightening the skin around your jaw and chin. It burns excess fat and prevents your cheeks from sagging. The fabric is soft, breathable, and stretchy.
Pros
Comes with an inflatable airbag
Skin-friendly
Adjustable strap
Cons
None
Similar Products

This double chin reducer is designed to strengthen and tighten your chin within weeks of use. It contains vital natural ingredients and vitamins that increase the elasticity of your skin, making it appear much healthier and younger. The active ingredients in this product moisturize your skin and eliminate the signs of aging. 
Pros
Includes 5 masks
Works immediately
Easy to use
Improves skin texture 
Cons
None
Similar Products

This neck firming cream is formulated with medical-grade ingredients that help slow down the signs of aging. The cream is infused with antioxidant-rich green tea and vitamin C that fight aging and prevent the formation of deep wrinkles. This is the best cream to tighten the skin under the chin, when applied to the muscles under the skin contract, causing your skin to tighten. 
Pros
Reduces fine lines and wrinkles
Prevents skin discoloration
Adds moisture
Activates skin cells 
Cons
None
Similar Products

This double chin mask shaping V mask helps tighten and firm your cheeks and chin. It restores the skin's water retention capacity to improve the production of collagen. This slows down the aging process.
Use this shaping mask three to four times a week to enhance your facial contours, tighten the skin, and smooth fine lines. 
Pros
Improves skin texture
Reduces sagging
Replenishes your skin with moisture 
Cons
This neck firming device stimulates the acupuncture points near the neck and chin area. It improves blood circulation and promotes metabolism. The device has three vibration intensities, with blue, green, and red nodes. The blue light helps promote collagen, the green light promotes oxygen circulation, and the red light increases cell vitality. With regular use, this device reduces wrinkles, burns fat, tightens loose skin, and eliminates fine lines.
Pros
Easy to use
Lifts the skin
Brightens your skin tone 
Cons
This face roller chin exerciser machine is an effective toning machine for the jaw and double chin. This double chin exercise machine eliminates a saggy neckline and tightens the jawline. With regular use, it increases your skin's elasticity and promotes blood circulation for increased production of collagen. It keeps your skin soft and youthful. The highlight of this product is that it has 15 massager nodes.
Pros
Easy to use
Adds glow to your face
Can be used to massage different parts of the body
Cons
It takes time to deliver results.
Get a toned and contoured chin with these top-rated double chin reducing products. Pick your favorite product from the list, try it out, and let us know how it worked for you.
Recommended Articles