The 7 Best Lip Serums For A Hydrated And Nourished Pout – 2023
Awesome lip care essentials for glowing, hydrated lips that give life to your words.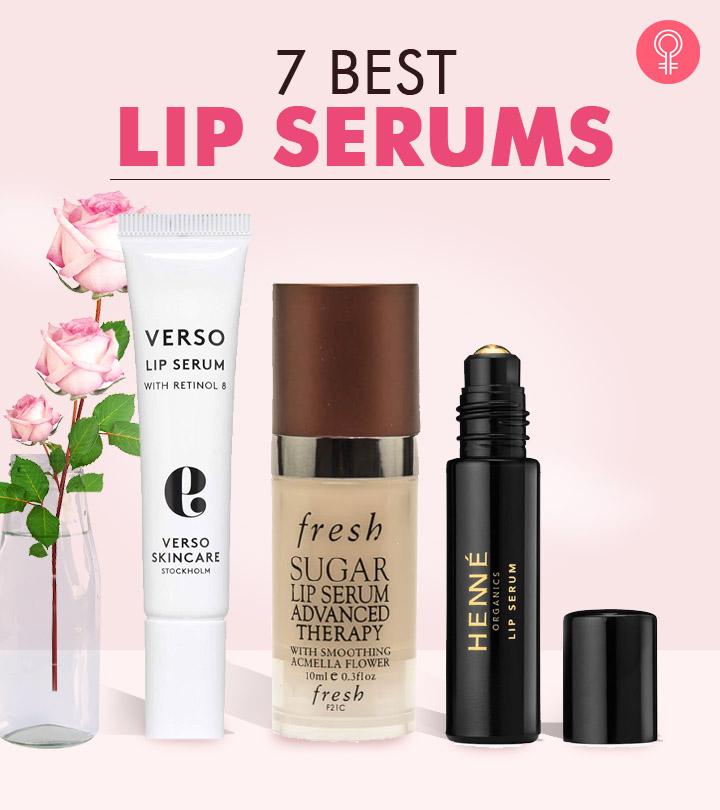 Do your lips get dull, cracked, and chapped easily? Do you keep reaching for your go-to lip balm now and then to keep these issues at bay? If yes, you need a more effective solution like the best lip serums for smoother lips.
Sun damage, humidity, and external aggressors can make your lips dull and dry. If you want a long-lasting solution to restore your lip texture and prevent dryness, you can turn to lip serums to come for your rescue. Unlike regular lip balms, lip serums are enriched with nutrient-rich ingredients that help retain moisture and prevent drying and cracking. Hillary Clark, a makeup and skin care expert, states, "Lip serums are ideal because they typically include more skin-loving ingredients with anti-aging benefits." In addition, some lip serums have a subtle tint and work like tinted lip balms. So, if you think they can help you get a hydrated and nourished pout, explore our list of the best lip serums on the market. Keep scrolling and pick one now!
Top Picks
7 Best Lip Serums
The Blistex Conditioning Lip Serum hydrates and repairs your lips from within. It is developed using an advanced formula that restores and maintains moisture in the lips while making them look fuller and fresher. The best thing about this lip serum is that it comes with a dose control pump that dispenses the right amount of serum on your lips and is easy to use. The formula is enriched with vitamin E complex that makes the lips look silky smooth and healthy. This lip serum is filled with hydrating ingredients and is best for you if you have chapped and dry lips. Check out this honest review to know more about the merits of using this lip serum.



Pros
Quickly absorbed
Non-sticky
Fragrance-free
Works well as a lip primer
Cons
Price at the time of publication: $9.18
Pros
Boosts collagen production
Long-lasting
Cruelty-free
Paraben-free
Sulfate-free
Reduces dark spots around the lips
Cons
Price at the time of publication: $65.0
Show your lips some TLC by including the ChapStick Total Hydration Lip Serum in your nighttime skin care routine. It is formulated with vitamins C and E and evening primrose oil that nourish and moisturize your lips and make them soft, smooth, and healthy. The lip serum has a thick, rich formula that helps restore the moisture barrier of the lips and reduce the visible signs of aging. Apply a coat of the almond cream flavored serum on your lips, leave it on overnight, and wake up to gorgeous-looking lips.
Pros
Thick formula
Reduces the signs of aging
Pleasant fragrance
Acts like a lip gloss
Cons
Price at the time of publication: $6.99
If your go-to lip balm is not meeting your expectations, try the it Cosmetics Je Ne Sais Quoi Hydrating Color Awakening Lip Treatment Serum. It is infused with hyaluronic acid, butter, antioxidants, and oils to nourish the lips from within. Apart from hydrating and restoring the lips, this color serum also works as a gloss and adds a soft pink sheen to the lips. This nutrient-rich serum is all you need for fuller and healthy-looking lips.
Pros
Odor-free
Skin-friendly
Long-lasting
Imparts a hint of pink color
Cons
Price at the time of publication: $25.0
The Rodan + Fields Anti-Age Lip Renewing Serum is a pout perfecting serum that imparts a light sheen to the lips and makes them look fuller and fresh. It is enriched with vitamin E and peptides that improve the definition around and on the lips and make them look naturally fuller and healthier. The peptides boost collagen production and make your lips appear plump and luscious. The serum comes with gel-filled capsules that visibly smooth the lips and retain moisture for preventing wrinkles. To apply, simply twist the capsule, extract the serum, and apply it to your lips. Leave it on overnight to hydrate and refresh your lips.
Pros
Non-greasy
Quickly absorbed
Affordable
Decreases feathering lines
Cons
Not suitable for irritated skin
Price at the time of publication: $75.25
The Fresh Sugar Lip Serum is specially designed for dry and cracked lips. It moisturizes the lips with its advanced formula featuring spilanthes camellia flower, amino acids, sugar derivatives, and adenosine. It is a concentrated lip-plumping serum that acts as a primer and visibly reduces the appearance of spots and wrinkles around the lips and makes the lips fuller and firmer. It is formulated with Kigelia Africana fruit extracts and acmella fruit extracts that improve the skin's elasticity and definition around the mouth. The brown sugar in the serum soothes and moisturizes the lips instantly. Hillary Clark, a makeup and skin care expert, remarks, " It is a favorite for immediate and long term results." You can take a look at this brief review from a skincare enthusiast to know more about this lip serum's merits and demerits.
Pros
Easy to apply
Long-wear
Non-sticky
Reduces the appearance of fine lines and deep wrinkles
Cons
Takes time to show results
Price at the time of publication: $37.99
The Henné Organics Lip Serum is an antioxidant-rich treatment for smooth and firm lips. It contains Arctic cloudberry seed oil and lingonberry seed oil that are rich in antioxidants and fatty acids that hydrate and revitalize the lips and protect them from environmental damage. The blend of rosehip, camellia, argan, and exotic Nordic oils acts like deep lip therapy by making the lips healthy and reducing the appearance of lip lines. This age-defying lip serum comes in a stunning glass bottle with 24K gold plated rollerball.
Pros
Antioxidant-rich
Cruelty-free
100% non-GMO
Reduces the appearance of lip lines
Cons
None
Price at the time of publication: $45.0
While looking after your face with the best toners, creams, and lotions, remember to pamper your lips. Reach for a good lip serum that will help heal extra-dry lips by sealing in moisture. They comprise tiny molecules that penetrate your skin quicker than lip balms. In addition, they are enriched with essential oils to soothe your lips and provide a plumping effect. Even though they are a relatively new entrant in the skincare market, many options exist. So, scroll through our tips to choose the best lip serum for achieving a hydrated and nourished pout.
How To Choose The Best Lip Serum?
Must-Have Ingredients: Look for lip serums containing ingredients like plant oils like castor and sunflower and emollients such as squalene and triglycerides. They have lip-healing properties. Formulas with vitamin E, shea butter, rosehip, camellia, argan, lanolin, peptides, and hyaluronic acid effectively moisturize your lips and offer them a plump look. Additionally, select serums rich in antioxidants like arctic cloudberry and lingonberry seed oil to eliminate the visible signs of aging by boosting collagen production.
Other Benefits: Look for lip serums that can work as a primer apart from moisturizing your lips. Such formulas can block the makeup particles from penetrating your lips. In addition, side with formulas that protect your skin from UV damage to maintain healthy lips.
Type of Dispenser: Lip serums come in different types of dispensers. The options range from roller-ball bottles, gel-filled capsules, tubes, and even a dispenser with a dose-control pump. Choose the one that you find the easiest to use.
Texture: Look for a serum that has a lightweight texture. They quickly absorb into your lips without leaving a sticky residue.
Lasting Power: Always opt for long-wearing formulas that save you from repeated applications. Look for products that claim to stay on your lips for two to three hours minimum.
Ingredients To Avoid: Steer clear of serums containing harsh irritants like parabens, alcohol, phthalates, and synthetic fragrances. They dry your lips and develop rashes.
Why Trust StyleCraze?
The author of this article, Shiboli Chakraborti, is a certified skin care coach and loves experimenting with new lip care products. She went through many user reviews on trusted online forums and researched the products to compile this list of the best lip serums for softer and smoother lips. The shortlisted products help prevent dryness and retain moisture in your lips, making them plump.
Frequently Asked Questions
Do lip serums make your lips bigger?
No, lip serums do not change the structure or shape of your lips. But they make your lips appear plump and hydrated.
Does a lip plumping serum work?
Yes, a lip plumping serum can make a temporary difference in how your lips appear. It stays on for two to three hours maximum.
Which serum is best for lip lightening?
The Verso Lip Serum With Retinol 8 is best for lip lightening. It reduces the appearance of dark spots, fine lines, and caters to alter any lip discoloration.
Can we use a lip serum on our face?
Yes, you can use a lip serum with skin-friendly formula on your face. These serums go deeper into the skin and deliver great results. However, check the ingredients list before committing to a product.
What is the right way to use a lip serum?
Gently exfoliate your lips and apply a thin layer of the lip serum. Make sure that your lips absorb the product completely. Put a lip balm or an overnight lip mask on top to complete your lip care process.
Is a lip serum the same as a lip balm?
No, a lip serum takes care of specific lip concerns including loss of volume or dryness. A lip balm is meant to add a protective layer over your lips and keep them moisturized.