10 Best Swimming Lotions For Swimmers – Our Reviews And Buying Guide
Shield yourself from skin damage with these must-have lotions perfect for swimmers. Swimming is one of the best exercises to stay fit and healthy. But if you're a regular swimmer, you know that the skin can become discolored and pruney. What you need is a few suggestions on the best lotions for swimmers that protect your skin. Swimming pools contain large amounts of bromine and chlorine meant to maintain the pH level of the water and keep it clean. However, these chemicals cause the skin to tan, dry out quickly, and discolor.
But using the right lotions and creams can protect and moisturize your skin. If you love swimming, these lotions are a god-sent gift! They form a barrier over your skin that protects it from the pool water. This barrier keeps the skin from losing moisture and prevents the chemicals from ruining your skin's health and complexion. Whether you are taking a dip in the heat of the sweltering summer or in the soft sun rays of autumn, these lotions will keep you protected. Scroll down and check out these 10 amazing swimming lotions to keep your skin safe as you swim.
Enjoy Splashing In The Pool With Our 10 Best Swimming Lotions
Packing in beach-strength protection from the sun with its SPF 70 fighting harmful UVA and UVB rays, say bye to collateral sun damage such as skin cancer and other irritable effects of prolonged exposure to chlorine. Along with its fast-absorbing, lightweight, and oil-free formulation, this one's a great lotion for swimmers. The Helioplex technology employed by the brand can be credited for taking the fight to the sun. This is water-resistant for up to 80 minutes, thereby making this a great choice for a serious swim and even just splashing about. This is also PABA-free, making it skin-safe.
Pros
Broad spectrum sun defense with SPF 70
Oil-free
Lightweight
Fast-absorbing
Water resistant for up to 80 minutes
PABA-free
Cons
Might not be suitable for people sensitive to allergies
May not offer heavy moisturization
If you love your swim but not the fishy chlorine smell that stays on much after you're done swimming, this is the lotion for you as it keeps you smelling refreshing. Aloe vera, vitamin E, and pro vitamin B5 in this lotion ensure healthy moisturization that keeps the skin supple and helps relieve sunburn and protects against the adverse effects of exposure to chlorine. It also soothes and heals dry skin. This is a gluten-free, cruelty-free, and paraben-free formulation with a citrusy grapefruit smell that will keep your skin and mood happy. It is recommended for daily-use by swimmers.
Pros
Provides heavy moisturization
Fights chlorine smell
Gluten-free
Paraben-free
Cruelty-free
Cons
Not tested for allergies
Might be too heavy for oily skin
Formulated for use in pools and hot tubs, this pre-swimming lotion protects the skin from excessive drying up and irritation in the form of rashes and itching from the chlorine and bromine in the water. This a good slather-on lotion for water-babies. This water-based lotion is made up of 97.55% natural ingredients such as coconut oil, beeswax, olive oil, and green tea leaf extract that help form a protective layer on the skin. Being paraben-free and having a mild citrus smell are great add-ons. The product is also cruelty-free, which earns it brownie points. You can also use this as a daily body lotion.
Pros
Paraben-free
55% natural
Suitable for use in swimming pools and hot tubs
Mild citrus smell helps fight chlorine smell
Cons
Might not be suitable for common forms of allergies such as gluten
Might not be suitable for all skin types
This pre-swimming lotion is a heavy-duty facial sunscreen and moisturizer with powerful ingredients such as hyaluronic acid and squalene that ensure a healthy dose of hydration for the skin. Ingredients such as green tea polyphenols, caffeine USP, silymarin, bisabolol, cctoin, vitamin E are all rich in antioxidants that fight signs of sun damage as you frolic in the pool. This is also fast-absorbing and sheer on application, therefore leaving the skin non-greasy. Micronized zinc oxide in this pre-swim lotion provides broad spectrum protection of SPF 50. The brand also claims to visibly reduce the appearance of sun damage.
Pros
Suitable for sensitive skin
Heavy-duty protection from the sun
Oil-free
Paraben-free
Non-comedogenic
Cons
Might not be effective in fighting the chlorine smell
This one's an after-swimming lotion that helps restore the health of your skin with ingredients such as pharmaceutical-grade petrolatum, mineral oil, cyclomethicone, and jojoba oil. Applied on damp skin after a swim, this is said to help boost the natural retention of moisture in the skin to make up for the hydration that is striped away during a swim. This medical-grade moisturizer is suitable for sensitive skin and helps with conditions such as eczema. Its non-comedogenic and hypoallergenic formula makes it suitable for all skin types. This comes recommended by dermatologists as a great sun-safe swimming lotion that looks after the skincare of swimmers.
Pros
Dermatologist-recommended
Hypoallergenic
Gentle for sensitive skin
Paraben-free
Cons
Might not be suitable for fighting the smell of chlorine
The Exershield swim cream uses natural ingredients that are ocean-safe and creates a barrier on your skin so that you can have fun in the water without any hassle. The natural formulation includes organic aloe leaf juice, shea butter, jojoba seed oil, sunflower seed oil, and primrose oil that provide hydration and combat the drying effects of chlorine, bromine, and other chemicals in the water. The ingredients are free of parabens and phthalates. This one's also suitable for use in pools, oceans, and hot tubs. Being vegan and not being tested on animals make this a great choice for the skin and heart!
Pros
Ocean-safe
Natural ingredients
Not tested on animals
Formulated for swimmers
No synthetic fragrances
No added colors
Cons
Might not be suitable for all skin types
With a 97.55% natural formula, this lotion of swimmers help take care of problems such as itching, rashes, drying, and other side effects of bromine, chlorine, and additional chemicals found in swimming pools. It helps by blocking the skin from absorbing the harmful chemicals generally present in the water of pools. This lotion can also be used daily and by everyone across age groups and different levels of swimmers and acts as a great moisturizer for swimmers. Great for use across swimming pools and hot tubs, this lotion is a swimmer's best pal.
Pros
Uses a 97.55% natural formula
Suitable for all age groups
Combats problems of itching and rashes caused by chemicals in pools
Doubles as a daily lotion
Cons
May not offer sun protection
This lotion for swimming takes on the many problems caused by chlorine with the help of its vitamin C content that breaks down the truant chemical at its source. This prevents skin irritation in the form of itching and rashes. Additionally, the presence of organic aloe, vitamin B5, vitamin E, and shea butter help soothe the skin. The swim lotion is also infused with green tea extract and vitamin C that fight free radicals to rejuvenate and heal. This lotion also takes care of the unpleasant chlorine odor with its mild citrus scent.
Pros
Paraben-free
Sulfate-free
Gluten-free
Dye-free
Not tested on animals
Cons
This pre-swim formulation uses vitamin C to neutralize the harmful effects of chlorine on the skin. Ingredients such as cocoa butter, shea nut butter, babassu oil, and castor oil moisturize the skin to make up for the loss of hydration that a swim in a chemical-laden pool leads to. Meanwhile, beeswax creates a barrier between the skin and the water. It has a lime and coconut fragrance that fights odor caused by chlorine and leaves you feeling fresh after a swim. It comes in an easy-to-use stick avatar that makes application smooth.
Pros
Hydrates the skin
Easy-to-apply stick format
Contains vitamin C that neutralizes chlorine at its source
Lime and coconut fragrance to fight odor caused by chlorine
Cons
Might not be suitable for sensitive skin
Be aqua-safe with this formulation devised as a hydrating body lotion and face moisturizer for swimmers that helps the skin fight the harsh effects of hard water. This can also be used for a swim as it contains a potent cocktail of ingredients for intense hydration and relief from dry, itchy skin. It has a creamy texture that is not greasy and therefore great for most skin types. The sweet almond oil, olive oil, and vitamin E in this product help in addressing problems of itchiness and rashes that are often a result of excessive dryness. A mild fragrance resulting from orange and vanilla essential oils also help you smelling sweet.
Pros
Vegan
Cruelty-free
Gluten-free
Paraben-free
Plant-based ingredients
Eco-friendly
Cons
Might require additional sunscreen
And now that we have taken a look at our favourite swimming lotions, let's take a look at what all factors you should consider to buy the best-suited lotion as a swimmer for yourself.
How To Choose Best Lotion For Swimmers 
Pick something that ideally has broad spectrum protection from the sun in the form of SPF and is water-resistant so that it does not rub off when you are splashing in a pool or the sea.
Ingredients such as vitamin C help in neutralizing the effect of chlorine and bromine, while essential oils and natural butters hydrate the skin, leaving you feeling moisturized. 
A mild fragrance helps in combating the unpleasant odor that chlorine often leaves on your skin and clothes. So, look out for fragrances or scents on the label of every product. 
Now that you know how to choose the best swimming lotion for yourself, here are a few ingredients that you should look out for to make that right decision.
Ingredients To Look Out For
Pick something with vitamin C as it breaks down chlorine at the source, thus preventing its ill effects such as rashes, dryness and itching.
Shea, coconut oil and jojoba oil are all great for natural hydration.
Tea tree extract helps soothe the skin.
SPF is great to protect the skin from sun-damage.
Look for reef-safe ingredients in your product if you're looking to go swimming in the sea.
Apart from picking the right swimming lotion, it is also important to know how to use it and here is making that easier.
How To Care For Your Skin Before And After A Swim
Step 1: Slather on a generous amount of a pre-swim lotion or cream that has the requisite ingredients to protect and benefit the health of your skin.
Step 2: Ensure you have a quick shower after a swim so that the chemicals in the pool or the salt water are all washed off.
Step 3: A post-swim cream or lotion also helps in restoring hydration.
Step 4: Make sure that you check the duration of water-resistance in your product and re-apply as per need.
Swimmers need lotions that can help them keep their skin feeling fresh, rejuvenated, and untanned. Many swimmers face the problem of discoloration which can affect their skin's health and complexion. Lotions are definitely a must for swimmers with dry skin as they have nourishing components to help in soothing the dry skin cells. People with sensitive skin should not use lotions that aren't suitable for allergies. There are many lotions that also offer heavy moisturization to the swimmers and help their skin stay well-nourished and super hydrated. There are several lightweight and waterproof lotions as well that help swimmers beat sun damage.
Why Trust StyleCraze?
The author of this article, Kirtana Divakar, is a skin care enthusiast. She has browsed multiple forums for user feedback and visited brand websites to compile the list of the best lotions for swimmers. She also considered fragrances, key ingredients, and SPF protection before shortlisting these products for her readers. These swimming lotions form a barrier on your skin that protects it from the pool water and keeps the skin from losing moisture.
Frequently Asked Questions
Can coconut oil be applied before swimming?
Yes, it can be applied before swimming to keep your skin hydrated and to create a barrier between the chemicals in the pool and your skin. However, coconut oil might not be enough to protect your skin from the sun or from discoloration.
During swimming, can tanning be prevented?
Yes, it can be prevented by using the right kind of broad spectrum and water-resistant sunscreen.
Which soap is best after swimming?
Any soap that has moisturizing ingredients to hydrate the skin and to wash off the bromine and chlorine off your body is great after swimming.
Does a swimmer's ears itch?
It might itch, depending on water entering your ears or the chlorine drying the skin and causing itching.
What kind of lotion is good for the skin after swimming?
A moisturizing lotion formulated with humectants like glycerin is excellent for your skin after swimming. Glycerin hydrates your skin and treats the damage caused by chlorine water.
How do professional swimmers protect their skin?
• Take a shower before entering the pool. Damp your body and hair thoroughly. This way, you can prevent the chlorine from getting deep into your skin.
• Use a soft towel and pat it on your skin. Do not dry the skin completely.
• Apply a barrier cream all over your body.
• Do not forget to wear swimming goggles and a cap.
• Shower immediately after coming out of the pool
• Wash your body and hair thoroughly with an SLS-free shower gel and shampoo, respectively.
• Apply a generous amount of nourishing lotion or moisturizer all over your skin.
Is calamine lotion good for swimmer's itch?
Yes, calamine lotion is good for soothing a swimmer's itch as it has antifungal and calming properties. But if you experience severe itchiness, consult a dermatologist immediately.
What do Olympic swimmers use on their skin?
Besides using moisturizers and barrier creams, Olympic swimmers apply broad-spectrum SPF on their skin before entering the pool. A good sunblock with high SPF prevents chlorine from entering the skin and reduces the effect of sun damage.
Recommended Articles
The following two tabs change content below.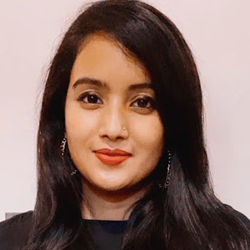 Kirtana has a postgraduate degree in mass communication and journalism from St. Joseph's College, Bengaluru. She developed a deep passion...
more