10 Best Waterproof Swim Caps Of 2022 To Prevent Hair Damage
Keep your hair tucked in safe from chlorine waters with these durable products.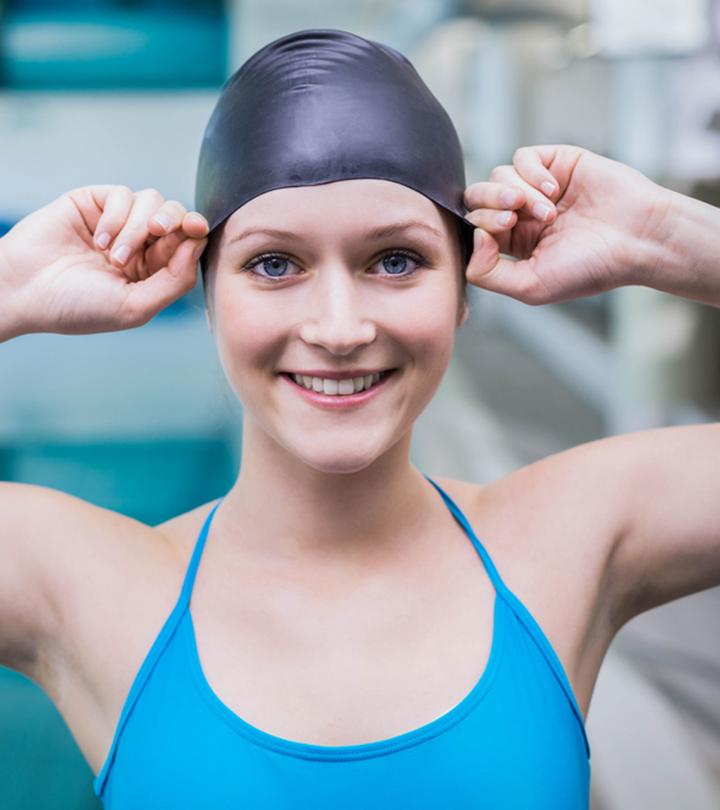 Swimming is one such activity that relaxes your mind while strengthening your body. But chlorine from pool water isn't great for your hair, and you will need the best swimming cap to prevent hair damage, dryness, and breakage. If you want to enjoy swimming, you must do it worry-free wearing a comfortable, waterproof, and trendy swimming cap.
Swimming caps are made in various sizes so that it is not just for a professional swimmer – kids, adults, the elderly – all can use them and enjoy watertime to the fullest. Unlike olden times, you don't even have to look boring while wearing the cap. Nowadays, these caps come in fun colors, designs, and patterns. You can find interesting caps to match your swimsuit. They are also made of different materials so that you can pick the one that you like the most.
With so many variants in the market, it can get overwhelming to select the right one. So, we have curated a list of the 10 best waterproof swimming caps that will protect your hair and make you look trendy. Scroll down, take a loo, and select a few (or all) for your wardrobe!
10 Best Waterproof Swim Caps Of 2022 For Your Next Pool Party
Most people with long hair shy away from donning their swimming caps thinking it might not help tuck in all their hair well. But this waterproof swim cap for long hair from Dsane makes sure you don't have to miss out on any of your swimming fun just because of that. This women's swim cap comes in a variety of colors and its ergonomic design provides extra space and comfort that keeps your long hair dry and tangle-free. Made up of non-toxic premium silicone, it is thick yet flexible enough to provide the optimum fit for men and children too. And if you are still in two minds, here's something more to help you decide – it comes with a lifetime refund warranty and free bonus accessories to take your swimming experience to the next level.
Pros
Lightweight
Non-toxic
Odor-free
Durable design
Non-slip comfortable fit
Free bonus accessories
Cons
Made with ladies and gents with long tresses and braids in mind, the Lahtak Long Hair Swim Cap is a waterproof swim cap for long hair. It easily slides on and off your head with its unique loose-fit design and provides a snug, comfortable fit. A part of it remains tightly sealed while the rest is a loose fit to contain your long tresses, buns, or braided dreadlocks with utmost ease. Moreover, you can also adjust the tightness by squeezing out the extra air of the cap to get that perfect seal. To top it all, it comes with a smaller downsized version to cater to men, teens, and kids with a moderate length of hair.
Pros
Allergy-free
Extra large
Fashionable
Luxurious colors
Cons
When you are looking for fashionable swim caps for the whole family to make a style statement at your child's next swimming lesson, look no further than the Copozz swimming caps. These waterproof swim caps come in an ergonomic design and cute prints. The size ranges from toddlers to teens, men, and women so that the whole family can have a twinning swimming time! Long hair or short, beach or pool, these swim caps add to your water fun anytime.
Pros
Cute design
Quick-dry
Non-slip with inner advanced anti-slip texture
Wrinkle-free
Toddler-friendly
Cons
Might not be easy to put on
Have you ever seen people with really long hair or beautifully braided dreadlocks and wondered with envy how they manage to maintain and carry their hair with so much ease? Well, imagine when they go out for a casual swim. That crown of hair must be protected from all the chlorinated water and it isn't possible to do it each time unless one has the right fitting waterproof swimming cap on. To keep such hair dry and tucked in safe, Interlaken comes with the perfect swimming cap for you. These are larger than the usual swim caps, especially catering to bulky hair. Want more? It comes packed in a handy zippered pouch that makes it easy to carry and store hygienically.
Pros
Comes stored in a zipper bag
Extra space
Comfortable fit
For bulky hair
Cons
Only available in two colors
Might be big for kids
When it comes to swimming gear, who can you best depend on than the experienced athletes themselves! Founded by a team of sports enthusiasts and professional swimmers, AqtivAqua knows how to make the right swimming gear and accessories to cater to all your swimming requirements. These waterproof swimming caps by AqtivAqua are made up of Spandex, the same lightweight stretchable material most swimsuits are usually made of. Hence unlike the usual silicone or latex swim caps, these don't tug at your hair and are easy to slide on and off. Also to add to the fun, you can keep your earbuds tucked in your ears safely inside these. Isn't that amazing? To swim to your favorite music! What's more? You can find all other swimming accessories to complete your poolside ensemble from the same brand too!
Pros
Non-silicone
Soft material
Quick-drying
Easy-to-clean
Cons
Not odor-free
Measures small for some adults
Not for kids
With a design based on the American head dimensions, this waterproof silicone swimming cap comes with an edge thickening that helps provide the perfect seal and makes it long-lasting. It comes with a 3D ear pocket that covers and protects the ear from water and infection while swimming. Arteesol swim cap is made up of premium elastic and no latex at all providing a good stretch and fit. It comes in a one size fit all design and is made for adults and kids as well.
Pros
Non-slip
Fashionable colors
Unisize design
No latex
Cons
Might not be long lasting
Might roll up
Summers and pool parties are all about a pop of vibrant colors. So when you need to make a style statement in your basic swimming attire, this swimming cap with lovely hand-painted leaf patterns is sure to make you stand out. This waterproof ladies swimming cap from Balneaire is made with premium silicone and comes with a comfortable fit. It is soft to touch and is not too thick or thin. Hence, it slides on and off the head easily.
Pros
Fashionable
Soft-touch
Lightweight
Cons
Might be too snug a fit for some
Those with long hair would not like to have it wet, washed, and dried each day. But that should not keep them away from their regular swimming practice or taking an impromptu plunge in the pool as and when they feel like it. All they need is a swim cap that keeps long hair dry and mess-free. That's when and how this spacious waterproof silicone swim cap from Keary saves the day! With the extra room and elasticity, it provides an easy and comfortable fit around your long hair. It comes in a pack of two so you have a spare one handy anytime. The non-slip stripes in the inner surface make for a snug and secure fit over the head that prevents any chance of slip-offs. These swim caps are also designed to provide cushioning support under the ears that prevent pressure build-up and hence are comfortable to wear for a longer period.
Pros
For long hair
Tear-resistant
Premium material
No deformation
Cons
When you wish to make swimming a fitness routine or even when learning it as a new skill, you would want to invest in the best quality swim gear available in the market. But fret not, we shall have you save your valuable time and money with this premium and versatile swimming cap from OPOM. Made with high-quality silicone material, this BPA-free quality swim cap offers resistance against daily wear and tear and is found to be durable in the long run. At an affordable price point, it also comes packed with other basic accessories like the nose plug and earplugs. Its large size with elasticity provides a uniform fit for men, women, and teenagers alike. It also comes designed with extra protection for the ears so you can swim carefree for as long as you want.
Pros
Unisex
Comes with accessories
Multiple colors
Anti-skid
Odor-free
Anti-chlorine
Cons
Many sports enthusiasts and also people on vacation like to indulge in water sports and activities including but not limited to swimming. That can be diving off a cliff, rafting, or snorkeling to name a few. How about you have essential swimming gear that fits perfectly for all the above activities? Won't that save so much time and effort? This premium and versatile waterproof silicone swim cap by Splaqua comes in 3 colors, and a universal size that is stretchable to fit all. It provides a comfortable fit and doesn't slip off, making sure you can have uninterrupted water fun anywhere anytime.
Pros
Durable design
Versatile
One size fits all
Comes in vibrant colors
Cons
Might be small to cover long hair
Now that you know some of the best waterproof swimming caps for your next beach vacation or pool party, let us now help you decide which one to go for based on a few basic criteria.
Buying Guide:
How to choose the best waterproof swim cap?
With so many tempting options available in the market and online, here are a few basic things you must keep in mind before buying a swimming cap for yourself or your child.
The first point of criteria for an essential swim gear like a swimming cap has to be whether it is waterproof or not. There is no point in getting a good quality swim cap if your hair gets all wet and messy. That not only hampers your swimming experience but also damages your hair with all the pool chlorine and other harmful debris. So first and foremost make sure the swim cap you are relying upon is perfectly waterproof.
Along with selecting the swim cap as per the dimensions of your head, you also need to be careful to check whether it helps tuck in your length of hair. Especially if you have long tresses or braided dreadlocks, you must go over one that is specially made for your hair length and bulk in mind with the necessary extra space. There might also be some with universal size for all that can save you spending time on the measurement details.
Most waterproof swimming caps are made up of water-resistant premium material like Silicone. There are many varieties of latex swim caps too but you must check whether these are resistant to daily wear and tear. Silicone swim caps are known to be thicker and more durable. You might also prefer the ones that are made of non-silicone materials like spandex. Those are what most swimsuits are made of. Other than that the material when is smooth and soft to touch gives you a more premium feel.
This one aspect is very important while choosing a good quality swim cap because it adds to the stretch and flexibility, making it easy to wear on and off. It also helps that a swim cap doesn't tug at your hair when you wear it and provides a snug fit around your ears so that you don't end up pressing your hair or ears too tight. An easily stretchable swim cap would win the game for you here.
No matter how premium a swimming cap is, nothing solves the purpose if it isn't comfortable enough. You are out for a swim in the ocean or a dip in the pool, you can't make the fun last if the swimming gear isn't comfortable. So you should have your comfort top in mind when opting for a swimming cap for yourself or your child.
Now if you have got all the basics covered and find yourself still confused between two options, then obviously go for the one that suits your color preference. Though some might want to keep it neutral in basic black or blue, there's always an advantage in getting a bright, neon-colored swim cap, especially for young kids. It gives you that added visibility at night and the ease to spot your child from a distance. Also for kids, you can go for one that depicts their favorite cartoon character in their favorite color. Win-win for you and the child both!
Why Trust StyleCraze?
The author of this article, Chaitra Krishnan, is a fashion enthusiast who loves trying out different looks. After researching and reading hundreds of online reviews, she has curated a list of the best waterproof swim caps for her readers. She believes if you want to enjoy swimming, you must do it worry-free wearing a comfortable, waterproof, and trendy swimming cap. The products listed here are fashionable, lightweight, and quick-drying.
Frequently Asked Questions
Which material is better for swim caps – silicone or latex?
Most people prefer silicone over latex caps. Silicone swim caps are more durable, comfortable, and elastic.
Should I wet my hair before putting on a swim cap?
Yes, wet your hair before putting on a swim cap. It is easier to wear a swim cap on wet hair than on dry hair.
Does a waterproof swim cap cover my ears?
No, most swim caps aren't designed to protect or cover your ears.
How long does a waterproof swim cap last?
Waterproof swim caps last for about 1-3 years.
How tight should a swim cap be?
The cap should be tight enough to stay on your head during swimming but not so tight that it forms a crease or hurts your head.
Do waterproof swim caps tug on hair?
No, waterproof swim caps do not tug on your hair.