7 Best Products With Tranexamic Acid For Skin For Added Radiance – 2023
Use tranexamic acid skincare products and say goodbye to dark spots and pigmentation.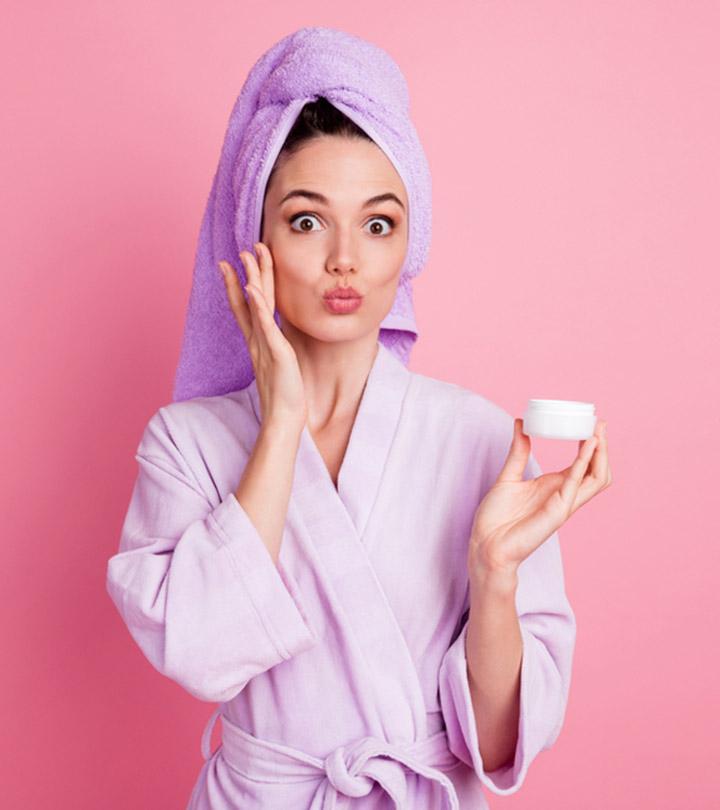 If you love makeup and cosmetics, chances are, you must be aware of certain beneficial acids in skincare products. But have you heard of tranexamic acid yet? If not, go get your hands on the best tranexamic product for skin to let this miracle acid work its magic for you! After the star acids lineup of azelaic acid, glycolic acid, hyaluronic acid, and salicylic acid, the next in line to climb the skincare bandwagon is tranexamic acid! A lesser-known acid in the skincare product lines, tranexamic acid, is now known for its beneficial effects in reducing hyperpigmentation in pregnancy or melasma. It helps reduce spots and blemishes, brightening your skin tone overall.
Moreover, it is deemed safe and not associated with any side effects as of yet. If you are still not sure, we have got you covered. To know more about this wonder acid and help you pick the right product, we have shortlisted the 7 best tranexamic acid skincare products for you to start with.
What Does Tranexamic Acid Do To The Skin?
Tranexamic acid is primarily known for its ability to brighten and lighten skin complexion while softening and smoothing the texture of the skin. It is known to inhibit the synthesis of tyrosinase, which in turn controls the production of melanin. Besides this, it also has anti-inflammatory properties, restores the skin barrier, and calms the skin. Now that you know about the powerful properties of tranexamic acid for skin, we hope you add a product from our list to your skincare routine for flawless and healthy-looking skin.
7 Best Tranexamic Acid For Skin – Our Top Picks
This biocompatible tranexamic acid for dark spots is a blend of potent level tranexamic acid, licorice, niacinamide, and kojic acid to deliver impressive skin benefits. Antioxidants are the best solution for brighter and radiant skin— and the licorice root-based glabridin gives your skin just that. Being a gentle and non-irritating formula, this dark spot corrector is suitable for all skin types and skin tones. Besides dark spots, this effective tranexamic acid product also helps in the prevention of hyperpigmentation and is enriched with ingredients that are pH balanced and optimized to work with the physiological processes of the skin. Its paraben, gluten, and fragrance-free formulation makes this tranexamic acid product worth the try. This video will help you understand this reviewer's experience of using this product. ​​
Pros
Gentle formula
Dermatologist-tested
pH level appropriate formulation
Paraben-free
Fragrance-free
Cruelty-free and vegan
Cons
Price at the time of publication: $19.99
Give your skin superlative care with this tranexamic acid serum from JJLabs. It is carefully formulated to address and fight aging signs such as wrinkles and fine lines. The star ingredients in this serum— alpha-arbutin, vitamins C and E, licorice, pure hyaluronic acid along potent tranexamic acid work synergistically to rid the skin of blemishes and spots, revealing flawless-looking skin. One of the ways of keeping your skin healthy is by ensuring collagen production and metabolism. This vitamin C serum helps promote collagen production to keep your skin healthy and young. And if your prime focus is to get rid of stubborn sunspots, the tranexamic acid in this serum will do the job for you.
Pros
Remediates dark spots
Free of parabens
Free of alcohol
A little goes a long way
Cons
Some may find the consistency too watery
Price at the time of publication: $29.5
If you're looking for a gentle tranexamic acid product for your oily or sensitive skin, this bar infused with tranexamic acid for skin is worth the pick. Specifically formulated to remediate dark spots, hyperpigmentation, and acne marks, this soap bar is also rich in kojic acid that works like magic along with tranexamic acid to help you witness visible improvement in skin texture and tone. While kojic acid works to inhibit the excessive production of melanin, tranexamic acid reduces skin inflammation and combats stubborn dark spots. This soap bar can be an easy addition to your bath routine— all you have to do is lather it well and apply to the affected areas for best results and for a flawless look.
.
Pros
Gentle formula
Suitable for oily skin
Adds radiance to skin
Remediates dark spots
Cons
Price at the time of publication: $12.28
This allergy-tested, hypoallergenic formula is enriched with skin-loving ingredients such as tranexamic acid, botanical hyaluronic acid, kojic acid, glycolic acid, jojoba oil, vitamins C and E, and much more. If your biggest skin woes include dark spots, fine lines, and other aging signs, you can count on this magic serum to dodge them away. As a plus, it also stimulates the production of collagen to give you younger-looking and firm skin. It is also clinically-tested to reduce dark spots up to 60% and the visible results are easy to witness upon consistent use. Give this fast-acting formula a try if you're a fan of chock-full of powerful and natural ingredients.
Pros
Hypoallergenic
Dermatologist-tested
Allergy-tested
No animal testing
Cruelty-free
Formaldehyde-free
Paraben-free
Organic formula
Cons
Price at the time of publication: $19.99
This powerhouse of good-for-you active skincare ingredients such as lactic acid, glycolic acid, and salicylic acid with the added punch of tranexamic acid is ideal for dry skin. It packs therapeutic properties to combat dullness, uneven skin tone, and rough texture while adding a natural glow to your face. Besides these potent acids, this tranexamic acid skincare product is also enriched with numerous extracts, essential oils, and amino acids that deliver amazing skincare benefits. What makes this peel a stand-out is that it accelerates cell renewal while giving your parched skin the hydration it needs. Among other benefits are reduced irritation and dryness, and a bright and vibrant complexion. Check out this reviewer's experience of using the Murad Resurgence Replenishing Multi-Acid Peel in this video.
Pros
Free of parabens and phthalates
Mineral oil-free
Free of oxybenzone
Sulfate-free
No animal testing
Cons
Price at the time of publication: $65
If you're looking for maximum concentration tranexamic acid for hyperpigmentation, this one from Queen New York is worth a try. Enriched with tranexamic acid, kojic acid, jojoba oil, niacinamide, glutathione, and alpha arbutin, it helps renew the skin from within while reducing the formation of melanin for a brighter and radiant complexion. It can also be used for addressing various other skin issues— from dark spots to sun damage due to UV radiation, and even tone irregularities. This product with tranexamic acid for the skin is all the more reliable as it is manufactured in an FDA-registered facility. It is free of parabens, silicones, and is not tested on animals, making it a perfect fit for your skincare regimen.
Pros
Combats hyperpigmentation
Reduces sun damage
Corrects tone irregularities
Free of parabens
Free of silicones
Cruelty-free
Cons
Some may not like its scent.
Price at the time of publication: $39.98
The Cos De BAHA Tranexamic Acid Niacinamide Serum helps to diminish stubborn acne marks and reduce the appearance of melasma, discoloration, and hyperpigmentation. It is formulated with 5% tranexamic acid, 5% niacinamide, and hyaluronic acid that work together to give your flawless skin. This serum also treats post-inflammatory pigmentation which is a side effect of laser treatments. Plus, this serum reduces your skin's sensitivity to UV damage.
Pros
Evens out the skin
Value for money
Vegan
Cruelty-free
Mineral oil-free
Sulfates-free
Dimethicone-free
Alcohol-free
Fragrance-free
Artificial colors-free
Paraben-free
Cons
None
Price at the time of publication: $11.99
With countless types of products with tranexamic acid for beauty, being confused about making the right decision is quite natural. That is why we're here with a buying guide to help you keep in mind a few factors when you hunt for the best product with tranexamic acid for skin.
How To Choose The Best Products With Tranexamic Acid For Skin?
Products with tranexamic acid for skin come in many forms— lotions, creams, gels, serums, and even powdered form. What you choose would depend on how easy the product form is to include in your skincare routine. While lotions and moisturizers are an easy pick if you want to make the most out of the benefits of tranexamic acid throughout the day through the constant application, you can opt for a night cream or a serum to have a systematic skincare routine that also includes a tranexamic acid product.
Tranexamic acid benefits and how quickly they deliver results may differ from product to product based on the concentration of the acid incorporated in the formulation. If you have chronic hyperpigmentation, dark spots, you can pick a product with a higher concentration of tranexamic acid which could be around 5%. However, if you're addressing a mild case of hyperpigmentation and other skin issues, you can opt for a low to medium concentration of around 1-2%.
While tranexamic acid is very beneficial for skin woes such as dark spots, high melanin production, freckles, etc., other ingredients such as vitamin C, vitamin E, hyaluronic acid, kojic acid, glycolic acid, etc. can increase its efficacy. So, it is a good idea to look for scientifically formulated ingredients that are good for the skin.+
Tranexamic acid can be drying. If you have oily or combination skin, it won't be a hassle to find the right tranexamic acid products to suit your skin type. However, if you have dry skin, try to pick a moisturizer that is infused with multiple hydrating ingredients such as aloe vera, jojoba oil, almond oil, etc. to keep your skin hydrated and prevent it from drying out.
Tranexamic acid clearly has numerous skin benefits. But what are those benefits? let's find out!
Benefits Of Tranexamic Acid For Skin
Tranexamic acid is most popular for its skin lightening and brightening and radiance properties. It helps inhibit excessive production of melanin, thus restoring the natural radiance of the skin.
It is one of the best ingredients that different products include for addressing skin problems such as hyperpigmentation, dark patches and spots, acne scars, spots from sun damage, freckles, and improvement in skin tone.
Tranexamic acid can also remediate acne when combined with other ingredients as it has anti-inflammatory properties.
It helps restore the natural barrier of the skin while calming the skin.
Why Trust Stylecraze
Kirtana Divakar's love of writing began as an obsession with innovative skin and hair care products. She is an experienced reviewer who enjoys finding and researching products that can make her readers look and feel their best. Her review process involves extensive research into each product's features, benefits, and consumer feedback. In this post, she talks about the best products with tranexamic acid that can help bring radiance back to your skin by reducing hyperpigmentation, spots, and blemishes.
Frequently Asked Questions
Is tranexamic acid good for skin?
Tranexamic acid is one of the best ingredients for skin care as it has countless skin benefits from remediating hyperpigmentation and dark spots to inhibiting excessive production of melanin.
Is tranexamic acid used for skin whitening?
Yes, tranexamic acid can be used for skin whitening as it helps keep a check on melanin production.
Are there any side effects from tranexamic acid?
While tranexamic acid is safe for all skin types, some may experience certain side effects, commonly irritation. This can happen if you're sensitive to acids and are using a high concentration tranexamic acid product to begin with.
How long does it take for tranexamic acid to work?
This highly depends on the type of product you're using, other ingredients included in the formula, concentration of tranexamic acid in your product, and how severe your skin issues are.
Does tranexamic acid exfoliate skin?
Unlike many other acids, tranexamic acid does not exfoliate the skin.